Are you looking for something fun to do outdoors? Well, look no further! Take some time to visit one of the best botanical gardens in Connecticut. Not only are they outdoors, but they're super tranquil as well.
Throughout this post, you'll learn all about Connecticut's best botanical gardens in no particular order. Luckily, they're located all over the state. No matter where in the state you're visiting, you'll most likely be able to find a breathtaking garden not too far away!
Keep reading to learn all about the best botanical gardens in Connecticut.
Bartlett Arboretum & Gardens
Location: 151 Brookdale Rd, Stamford, CT 06903
First up is Bartlett Arboretum & Gardens, one of the best botanical gardens in Connecticut. It's located in Stamford and is one of the more well-known gardens in the state, so it's definitely one of the more popular ones to visit.
The gardens are quite large at, just shy of 100 acres of land. Throughout the gardens, there are lots of green spaces, plants, and even hiking trails that are available for public use so people can explore and get outdoors.
One of the great things about Bartlett Arboretum & Gardens is that it's completely free to visit no matter what state you're from. It's open between dawn and dusk, so hours are slightly longer in the summer months versus in the winter.
For a really unforgettable experience, consider visiting Bartlett Arboretum & Gardens during one of the many events that they hold throughout the year. You can check out their schedule here; it's always being updated!
Hollister House Garden
Location: 300 Nettleton Hollow Rd, Washington, CT 06793
Located in Washington, Connecticut, Hollister House Garden is a beautiful place to visit if you're looking for some serenity during your visit. It's a more traditional and classic garden that many people say is also one of the most picturesque.
Hours fluctuate throughout the week but tend to be longest on Saturdays. Some days they are only open for just two to three hours, so be sure to do research online to make sure they'll be open during your visit.
Throughout the garden, there are many great spots to visit. It was built to represent a classic English garden that you'd find in the United Kingdom. Some great spots throughout the garden to explore include Indian Walk, Kitchen Garden, Walled Garden, and Grey Garden. Stream Walk is also extremely serene.
Similar to Bartlett Arboretum & Gardens, there are many great events hosted at Hollister House Garden throughout the year. They've hosted fun events like Family Day at Hollister House Garden, Evening in the Garden, and even Artists and Photographers.
Elizabeth Park Rose Garden
Location: 1561 Asylum Ave, Hartford, CT 06105
Easily one of the most visited botanical gardens in Connecticut is Elizabeth Park Rose Garden in Hartford. It's incredibly picturesque, with beautiful flower arches, walkways, and arrangements throughout that could keep you busy for hours.
This is one of Connecticut's more historic gardens as it dates back to 1903, when it first opened. It was designed by Theodore Wirth and is actually the third-largest garden of its kind in the United States. Don't forget your camera; you'll want to take photos everywhere here!
The best time of year to visit Elizabeth Park Rose Garden is between June and July. This is when all of the roses are in full bloom, which allows you to see the park in its full beauty. This is also when all of the arches are in bloom, so there's genuinely the most color during this time of year!
Marsh Botanical Garden
Location: 265 Mansfield St, New Haven, CT 06511
Marsh Botanical Garden is located in New Haven, right at Yale University! It's primarily used for research as a nursery by those who work at the school. It includes a few greenhouses, spots outdoors, and of course, tons of plants and flowers.
The Marsh Botanical Garden is open on weekdays and aims to educate every visitor. The best time of year to visit is during the summer months when you can see the flowers in all their natural beauty. Springtime is also beautiful when the flowers are just starting to bloom.
One of the great things about Marsh Botanical Garden is that experts give many different talks throughout the year. These are open to the public and allow you to learn tons about the flowers and plants within the gardens from those who know the most about the topic. You can learn more about their upcoming events on their website.
Richard D. Haley Native Plant Wildlife Gardens
Location: Potter Rd, Pomfret Center, CT 06259
Another of the best botanical gardens in Connecticut is Richard D. Haley Native Plant Wildlife Gardens in Hampton! It's located in the James L. Goodwin State Forest and is one of hte more naturalistic gardens to visit within the state.
This garden, in particular, was created in memory of a researcher named Richard D. Haley, which is where the garden got its name. It's a bit different from other gardens in Connecticut because it's run by some local gardens who work to keep it in tip-top shape throughout the year. They all work as volunteers.
There are signs that you can read throughout the garden to learn more about what you're looking at. There are also guided tours available of the Richard D. Haley Native Plant Wildlife Gardens upon request!
Connecticut College Arboretum
Location: 270 Mohegan Ave, New London, CT 06320
The Connecticut College Arboretum is absolutely massive. It's located in New London and is right on the campus at Connecticut College, so it's very well-maintained. It's another of the more historic botanical gardens in Connecticut, dating back to the 1930s.
There are 750 acres of land throughout the park, so there really is a lot to explore. The public is actually welcome to explore every acre of the park if they want to! The best way to get around the park is to explore using their different trails which can be walked. They are also great for running if you want more exercise.
Should you not want to explore Connecticut College Arboretum on your own, there are also guided tours by experts that are available. They happen pretty limitedly, so be sure to plan your trip wisely. They are normally on Sundays between May and October.
There are also self-guided tours for those who are more independent when exploring. Grab a brochure of the best self-guided tour routes right at the Williams Street entrance to have a little bit of guidance!
Dinosaur State Park and Arboretum
Location: 400 West St, Rocky Hill, CT 06067
The Dinosaur State Park and Arboretum is one of the lesser-known gardens throughout the state, which is why it should be on your list. Most people visit Dinosaur State Park to learn about the history of dinosaurs.
Throughout the arboretum portion of the park, there are many different plant species to explore. In fact, there arae more than 200 different ones there! There arae even some unusual species on display, like monkey puzzle trees, weeping katsura, and coral beads.
All of the plants throughout the arboretum are representative of those from the Mesozoic Era, making this one of the more unique places to visit on this list. This is a place that even kids will love, especially those who love dinosaurs and history!
Wickham Park
Location: 1329 Middle Turnpike W, Manchester, CT 06040
Wickham Park in Manchester is a tranquil garden area filled with green spaces, ponds, places to sit, and more. It's absolutely beautiful no matter the time of year and is pet-friendly. It's just shy of 300 acres, so it's another larger garden to visit.
There are a few different beautiful gardens at Wickham Park to explore. There's The English Garden, The Scottish Garden, The Irish Garden, and more. There's even a beautiful spot called The Lotus Garden which features a gorgeous fountain that can't be missed.
The best way to explore the park is to just go on a stroll using the different trails that are available. This allows you to walk through the park at your own pace and discover everything on your own. You never know what you'll find around the corner while there!
Harkness Memorial State Park
Location: 275 Great Neck Rd, Waterford, CT 06385
Harkness Memorial State Park in Waterford, Connecticut, is a beautiful garden to visit. Of course, the main feature of this CT state park is a botanical garden! Plus, there's a mansion there, too, making it even more of one of the must-visit botanical gardens in Connecticut.
These gardens are absolutely lavish and resemble what you'd expect to find at palaces in Europe, not in Connecticut! There are unique statues, fountains, and more. There are tons of trails throughout the park that will lead you through the most beautiful parts of the gardens.
For a fun time, be sure to visit during one of the great events that are hosted at the park. They are hosted throughout the year, and there's usually about one event per month. In the past, there have been events like Friends of Harkness Members' Picnics, Freedom First Wildlife Refuge, and Ghost Stories by the Connecticut Storytellers.
This post covered all of the best botanical gardens in Connecticut! These are just some of the gardens you can find in the state, all of which are worth visiting. Don't forget to save this post and share it for later!
---
You might also like: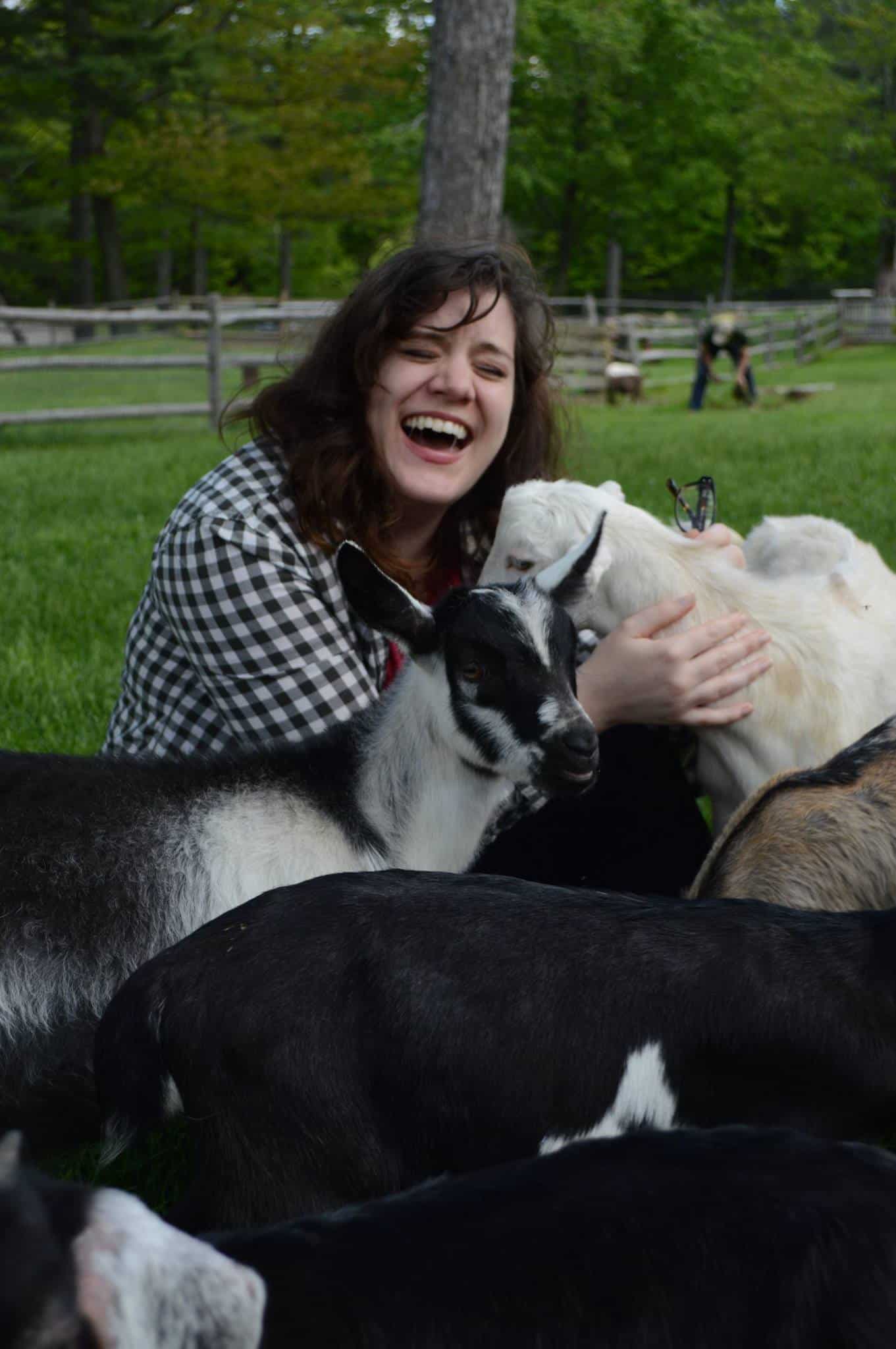 Amy Hartle is the founder and Editor-in-Chief of New England With Love, a comprehensive resource for travel in the New England region. Amy has been exploring New England since 2001. She lived in Vermont for many years and is a graduate of Plymouth State University in New Hampshire. Amy has been writing about travel for over a decade. On this site, Amy aims to share her love of New England and help you to have the best possible adventures!
Amy has been a full time blogger since 2012, and is also the publisher of Two Drifters, where she writes about couples travel and relationships, as well as Let's Adventure Baby, a family travel site. When not traveling the world or creating epic blog content, Amy can be found cuddling with her husband, son, and cats, & drinking a maple latte.