---
*Links in this article may be affiliate links, from which we may earn commission. See our
Privacy Policy
for full details.
---
One of the best parts of traveling is experiencing local cuisine (let's be honest), and this is absolutely true when exploring New England. If you're looking for the best restaurants in Hartford CT, you'll find them here on this list.

These restaurants range in budget and cuisine type; there's truly something in Hartford for everyone. Historic local joints? Check! Fine-dining restaurants fit for a romantic night out? Absolutely!

There are so many fun things to do in Hartford, you'll definitely be working up an appetite… and when you do, use this guide to find the best restaurants in Hartford CT!
Tisane Euro-Asian Cafe
First up is Tisane Euro-Asian Cafe! Despite having the word "cafe" in the name, this place is only about half a cafe. That's because it doubles as a coffee shop and a night lounge! That's right; you can stop by for coffee in the morning only to relax and enjoy Asian-fusion food and cocktails once the sun goes down.
This restaurant has mid-range pricing and has ample indoor seating but is also available for takeout. They're usually open until the early morning each night, so this is the perfect place to go out in the evening.
Ichiban
If you're in the mood for Japanese and Korean, head to Ichiban! This restaurant is huge inside, and there's tons of seating, making it a great place to go if you're dining for some sort of get-together.
The restaurant is right near downtown, so it's impossible to miss it! The chefs who own the restaurant have been cooking this type of cuisine for over 20 years, and they pride themselves on offering traditional cuisine.
Ichiban's menu is pretty extensive… in fact, they have over 250 dishes that you can order! Pricing is mid-range, and nothing really costs over $20.
Sorella
Hartford's best Italian food can be found at Sorella, a lovely restaurant that makes traditional pizza, pasta, salads, and more. It's one of the more popular places to grab dinner in Hartford, so try to reserve a table in advance if you can!
Sorella has mid-range pricing and a very neutral yet warm atmosphere that will make you feel right at home. Plus, everything on their menu is made using local ingredients. For an unforgettable entree, order a wood-fired pizza.
This restaurant is a fantastic place to go for a fun romantic evening out or just to hang out with friends for a get-together.
U.S.S. Chowder Pot IV
One of the best restaurants in Hartford, CT, that's unique is U.S.S. Chowder Pot IV! It's a seafood restaurant that has a fun, nautical theme inside. While dining inside, you'll forget that you're not directly on the coast.
U.S.S. Chowder Pot IV is a super casual restaurant, and they occasionally host dinner shows while guests dine. The menu includes everything from chowder to stuffed shrimp! There's also a specific menu available during lunch featuring tons of tasty sandwiches like Philly cheesesteaks and Chowder Pot's cheddar bacon fish sandwich!
Families visiting Hartford will especially enjoy dining at U.S.S. Chowder Pot IV.
Max Downtown
Max Downtown is the best place to go in Hartford for fine dining. The interior is upscale yet also features tons of fun art on the blue walls. Its atmosphere is very soft, relaxing, and inviting, so it's the perfect place to have a nice lunch or dinner out.
Because this is an upscale restaurant, pricing is more expensive than other best restaurants in Hartford, CT. However, the pricing is worth it for how good the food is! Fun additions on the menu include aged New York strip steak, USDA prime tomahawk, and even lemon-long pepper roasted organic chicken.
Feng Chophouse
The best steakhouse in all of Hartford is Feng Chophouse. Even though it's a steakhouse, it focuses explicitly on Southeast Asian cuisine! With mid-range pricing, Feng Chophouse is one of the best restaurants in Hartford, Connecticut, that you won't want to miss.
The restaurant is located right downtown, so it's a great place to eat dinner after a long day exploring Hartford. The menu features many dishes like wagyu and even many sushi rolls, including angry dragon rolls and spicy tuna rolls.
Dhaba Wala Indian Kitchen
Indulge in amazing budget-friendly Indian cuisine at Dhaba Wala Indian Kitchen. The restaurant has a very casual and comfortable atmosphere, but there is limited indoor seating. It's best to order something to go here unless you're visiting outside of peak times like lunch or dinner.
Choose between soup, tandoor, and more at this restaurant. Plus, Dhaba Wala Indian Kitchen even has a long vegetarian menu and tons of street food options, like chicken tikka kati rolls and masala fries. Order a classic Indian dish once you're done as a treat!
Agave Grill
The Agave Grill is a Mexican restaurant in Hartford that serves some of the best guacamole available in the entire city! Every Mexican dish that you can imagine is on the menu, including tacos, enchiladas, and more.
Agave Grill also has a fantastic selection of take-home boxes as well if you'd rather make the food at home. These take-home boxes are a bit more expensive (at around $50 and up) but are the perfect platters to bring to a party or a larger gathering you may be hosting.
Be sure to pick from one of their menu tequila or margarita options to pair with your entree!
Salute Restaurant
Another excellent Italian restaurant in Hartford is Salute Restaurant! This fun restaurant has mid-range prices and is known for its drool-worthy pasta. What's even better is they have gluten-free options available! Their most well-known pasta is the rose pasta which is made with tomato cream, sausage, and more!
The restaurant's interior is exquisite and upscale, but it feels modern and trendy at the same time. Grab a seat at the bar for quick service or sit and enjoy your time with friends at one of the many tables available for indoor dining.
Salute Restaurant is one of the top spots in Hartford for a romantic evening out at affordable prices!
Muse Paintbar & Eatery
While not a traditional sit-down establishment, the Muse Paintbar and Eatery is definitely one of the best restaurants in Hartford, Connecticut, just because you get to paint while you eat some of the tastiest appetizers! There are even alcoholic beverages supplied too. What more could you want for a fun night out?
Tickets for the paint and dining events at Muse Paiantbar and Eatery should be purchased well in advance so that you can reserve your spot. There are limited seats for each time slot, and classes only happen on certain days of the year. At the end of the class, not only will you have a beautiful piece of art, but also a full belly!
Black Eyed Sally's
This colorful restaurant has the greatest barbecue in all of Hartford! The restaurant may not look like much from the outside, but once you go in, you'll be greeted by vibrant walls filled with fun paintings and decor, along with bright red booths. There are also usually live music nights, including local jazz and blues bands.
Black Eyed Sally's has mid-range pricing, and they're open for both lunch and dinner. For traditional southern food, you really can't go wrong with eating here. To ensure that you can get a seat, be sure to reserve a table in advance, especially if you plan on visiting during a live music night.
G's Steaks & Grinders
G's Steaks & Grinders is a terrific place to eat for Philly cheesesteaks and other types of sandwiches. This restaurant is the most popular place in all of Hartford to grab a Philly cheesesteak, and visitors come far and wide to try them!
Most of the sandwiches are around $10, but the price varies depending on which type of sandwich you purchase. Choose between fun flavors like the egg stuffed burger and chicken bacon ranch, or get a more traditional cheesesteak!
Thai Farms Restaurant
Thai Farms Restaurant is a classic Thai restaurant with unique, rustic decor and a laidback atmosphere. The restaurant is usually open for lunch and dinner and has an eclectic menu, with everything from crispy spring rolls to Thai basil fried rice.
The menu changes throughout the day, as there's a different lunch and dinner menu. Dinner prices tend to be a little higher than lunch prices, but the food is still just as good. While Thai Farms Restaurant has indoor seating, they also have a great patio where you can enjoy the outdoor weather while indulging in tasty Thai food.
Hartford is one of the best places to visit in Connecticut, and there's plenty to do spring, summer, fall, or winter. Have fun checking out these great places to eat in Hartford CT!

Read these next: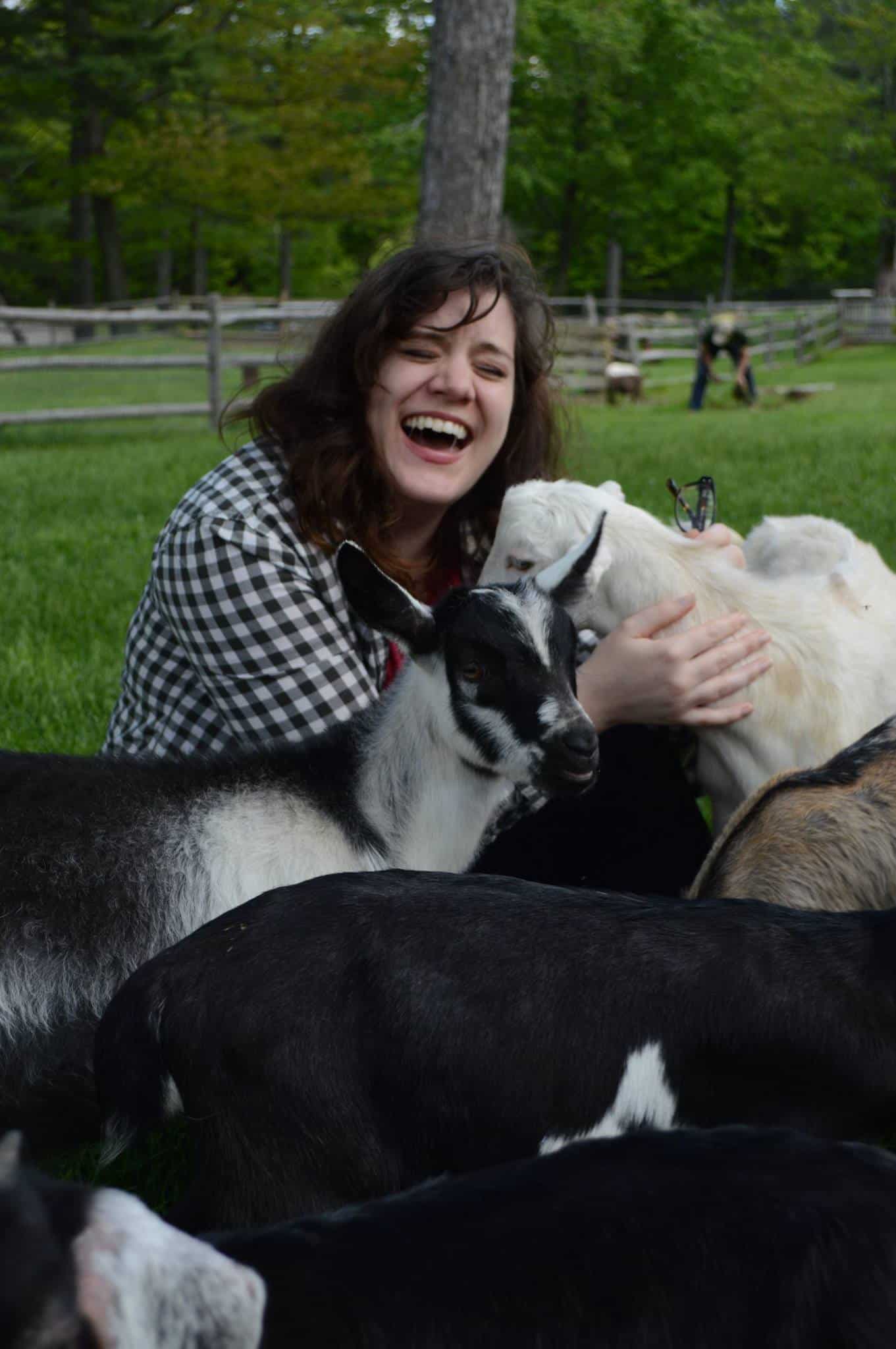 Amy Hartle is the owner and editor of New England With Love, a comprehensive resource for travel in the New England region. Amy lived in Vermont for 15 years, attended Plymouth State University in New Hampshire, and continues to travel regularly around the entire New England region. On this site, Amy aims to share her love of New England and help you to have the best possible adventures!
Amy has been a full time blogger since 2012, and is also the publisher of Two Drifters, where she writes about couples travel and relationships, as well as Let's Adventure Baby, a family travel site. When not traveling the world or creating epic blog content, Amy can be found cuddling with her husband, son, and cats, & drinking a maple latte.