*This site uses affiliate links; if you make a purchase through these, I may receive a small commission at no cost to you.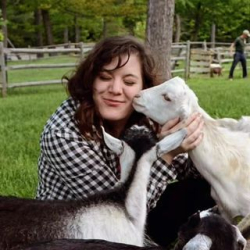 Latest posts by Amy Hartle
(see all)
Believe it or not, but there's a lot of famous people from New Hampshire! Some of them are current-day actors and athletes while others are historic figures, politicians, and activists.
To save you the time of researching all of these famous people on your own, we've rounded them all up into one post. Some of the people might surprise you, while others might not! So, what are you waiting for? Keep reading to learn all about some of the most famous New Hampshire famous people, from all over the state.
Seth Myers
Seth Meyers originally hails from Bedford, New Hampshire, and even went to Manchester High School West. He often returns back to Manchester for shows since the success of his hosting on "Late Night with Seth Meyers," an American Talk Show that covers news and other topics.
J.D. Salinger
Though not born and raised in New Hampshire (he's actually from New York), J.D. Salinger lived in Cornish for around 30 years or so. He's a famous American author, known mostly for The Catcher in the Rye, a classic that is often read in high school English classes.
Matt Czuchry
Another Manchester celebrity, Matt Czuchry is a famous actor who has been on The Good Wife, The Resident, and Gilmore Girls. He was born in 1977 and lived there until he was 9 years old, when he moved to Tennessee.
Alan Shepard
Alan Shepard was born in East Derry, NH, and went on to become the first-ever American to be in space when on the Freedom 7. Because of Shepard and his crew, JFK went on to make it a goal to finally have a landing on the moon.
Sarah Silverman
You've most likely seen Sarah Silverman, a comedian born in Bedford in the '70s, in media like A Million Ways to Die in the West, Saturday Night Live, Wreck-It Ralph, and of course, School of Rock. She went to school at Derryfield and has made quite the name for herself.
Daniel Webster
A lawyer born in the 18th century, you'll often find different spaces named after Daniel Webster in New Hampshire. He grew up in Salisbury, New Hampshire, and went on to attend Dartmouth College before moving to Boston to practice law.
Wilson Bethel
Born in Hillsborough, Wilson Bethel is an actor most well known for his role in the soap opera The Young and the Restless. He also spent lots of his time during childhood in Keene, one of the best places to visit in New Hampshire.
Richard McDonald
You've more than likely heard of the fast food chain McDonald's, especially if growing up in the USA. Well, Richard McDonald, one of the founders of the fast food chain, was born in Manchester, New Hampshire. He worked with his brother, Maurice, who was 7 years younger than him.
Chip Kelly
Chip Kellly was born in Dover, New Hampshire, and is now a football coach for the UCLA Bruins. He initially gained popularity for coaching the Oregon Dukes and has had quite the record, allowing him to make a name for himself as a coach.
Phineas Gage
Phineas Gage has quite the story; he was injured while working and ended up surviving, though his personality was completely different after the accident. What happened to him resulted in lots of learning about the human brain. He was born in Grafton County.
Robert Frost
While Robert Frost was born in San Francisco, California, he did have a home in New Hampshire in Amherst, where he lived between 1916 and 1938, and he spent a lot of his younger years in the New England area in Massachusetts.
Ronnie James Dio
Ronnie James Dio was born in Portsmouth, New Hampshire, and was a famed heavy metal singer who passed in 2010. He sang in many bands, including Black Sabbath (yes, that Black Sabbath), Hear 'n Aid, and Rainbow.
Joyce Maynard
Joyce Maynard is a NYT bestselling author who has written novels like Labor Day, The Usual Rules, and Count the Ways. She was born in Durham and went on to attend the University of New Hampshire like many other locals.
John Bosa
John Bosa was born in Keene, New Hampshire in 1964 and is a defensive football player, most well known for playing a few seasons with the Miami Dolphins team. Growing up, he used to play at Keene High School and went to later play at Boston College.
Bode Miller
Many famous winter Olympians are from New England, which makes perfect sense, and Bode Miller is one of them! He was born in Easton and currently has six Olympic medals, and is an alpine skier. He has the most medals out of all other male skiers from the USA.
Adam Sandler
Yes, the actor Adam Sandler spent most of his childhood in Manchester, New Hampshire, where he was raised, despite being born in Brooklyn, New York. Sandler is very well-known for his Hollywood movies like Happy Gilmore, 50 First Dates, and Grown Ups.
John Irving
John Irving is a novelist hailing from Exeter, New Hampshire. He's most well known for his book The World According to Garp, which was made into a movie in 1982.
Laura Silverman
Laura Silverman was born in Bedford, New Hampshire, just like many others on this list. She's an actress but also a writer, known for many different media, like The Comeback, Half Baked, and Dr. Katz, Professional Therapist.
Kelly Ayotte
Kelly Ayotte is a former US senator for New Hampshire, having served between 2011 and 2017. She's a NH native herself, born in Nashua in the 1960s.
Chris Carpenter
Chris Carpenter is a famous baseball player who was born in Exeter, New Hampshire. After his birth, he spent much of his childhood growing up in Raymond and, later, Bedford. He played baseball as a kid before playing for the Boston Red Sox and the Chicago Cubs.
Jane Pierce
Jan Pierce was born in Hampton and was a First Lady of the United States, having been married to Franklin Pierce. She died at the age of 57 during the 1800s, and many say that she was like the characters you read about in Victorian novels.
Sam Fuld
Born in Durham, Sam Fuld used to play professional baseball for the Minnesota Twins, Tampa Bay Rays, Oakland Athletics, and the Chicago Cubs. He attended Standford University and is now a GM for the Philadelphia Phillies.
Triple H
Triple H, who also goes by real name Paul Michael Levesque, is from Nashua, New Hampshire. He's most well known for being a pro wrestler, and is said to be one of the best in history. Today, he's still with the WWE, but as a chief content officer.
Matt Bonner
Matt Bonner was born in Concord in the 1980s and is most well known for being a pro basketball player. He played for both the San Antonio Spurs and the Toronto Raptors, having won the NBA championship twice during his career.
Dan Brown
Famous author Dan Brown was born in Exeter and he still lives in New England! His novels are thrillers, and he's most famous for writing The Da Vinci Code, but he has also written other novels. One unique thing about his books is that they usually all take place over the course of a day!
Eleanor H. Porter
Eleanor H. Porter is another author hailing from New Hampshire! She grew up in Littleton in the 1800s and passed in the early 1900s in Cambridge, Massachusetts. She's most well remembered for her novels Just David and Pollyanna.
Barbara Cochran
Barbara Cochran is a famous winter athlete from Claremont, New Hampshire, though she also spent a lot of her childhood in nearby Richmond, Vermont. She has a gold medal and was also a World Cup alpine ski racer during her time as an Olympic athlete.
Adam Petty
Though born in North Carolina, Adam Petty, unfortunately, passed in Loudon, New Hampshire, during a practice session for the Busch 200. He was a fourth-generation stock car driver and is part of one of the most well-known NASCAR families in the USA.
Trish Regan
Trish Regan is a television host who was born in Hampton, New Hampshire. She went to school at Columbia where she received a B.A., and went on to host Trish Regan Primetime on Fox Network.
Eliza Coupe
Eliza Coupe is another actress from New Hampshire, having been born in Plymouth, and she lived there until she graduated high school in 1999. Today, she's most well known for being part of television shows like Scrubs, Happy Endings, and Future Man, as well as movies like The Estate, Shanghai Calling, and The Last Time You Had Fun.
Sam Huntington
Sam Huntington is an actor from Peterborough, New Hampshire. He's been in quite a few starring roles, including in Superman Returns and Being Human. He's currently married to Christine Stabile and they have one child together.
Mandy Moore
Last but certainly not least is Mandy Moore, an American singer whom you've surely heard of! She was born in Nashua and has been in films like Chasing Liberty, The Princess Diaries, and A Walk to Remember.
There you have it; some of the most famous people from New Hampshire! Hopefully you've enjoyed learning about them, and maybe even encountered a few surprises.
---
You might also like:
7 Must-Visit Breweries in Portsmouth NH
11 Excellent Museums in NH for All Ages
9 Charming Lake Winnipesaukee Cabin Rentals