Are you ready to embark on a mouthwatering seafood journey through the charming coastal state of Massachusetts? If you're a seafood lover, there's one iconic dish you simply can't miss: the legendary lobster roll.
Bursting with succulent lobster meat, nestled in a buttery bun, and often served with a side of crispy fries, lobster rolls are a quintessential New England delight.
Whether served chilled or warm, lobster rolls are just quintessential New England goodness! There's something about these delightful seafood sandwiches that just always hit the spot.
The Bay State has plenty of incredible restaurants, but if you're looking for the best lobster roll in Massachusetts? Well, of course this is somewhat subjective, but we've done our best to round up the top spots in the state for this seafood staple!
On this list, we've got cold lobster rolls, hot buttered lobster rolls, and lobster rolls that have so many ounces of lobster meat spilling out of the bun that you'll feel like you've got a second sandwich.
We asked our followers over on Instagram where to find the best lobster roll in Massachusetts, and we heard you loud and clear!
Thanks for helping us put together this list of where to find the best lobster rolls in MA, from Boston to Cape Cod and all around!
Let's celebrate this quintessential New England seafood delight!
Where to Find the Best Lobster Roll in Massachusetts
The Seafood Shanty, Bourne
803 Scenic Hwy, Route 6, Bourne, MA 02532

Unassuming from the outside and one of those places that would be easy to drive right past… but if you're looking for the best lobster roll in Massachusetts, you definitely should not!
The Seafood Shanty is a no fuss seafood shack that is an absolute treasure of the Upper Cape. Their cold lobster roll is creamy, flavorful, and the perfect accompaniment to the fries and housemade slaw that are served on the side.
This place is cash only with outdoor dining. The picnic tables offer a fantastic place to enjoy each delightful bite of one of the best lobster rolls on the Cape!
Neptune Oyster, Boston
63 Salem St # 1, Boston, MA 02113
Located in Boston's historic North End, Neptune Oyster has become a bit of a mecca for seafood enthusiasts seeking an unforgettable lobster roll experience.
This cozy and intimate eatery serves up classic renditions of the Maine lobster roll, featuring generous portions of freshly shucked lobster meat drizzled in warm butter (or tossed cold with mayo) and served on a toasted brioche roll.
Be prepared for a potential wait, as you won't be the only one coming to this Boston restaurant for seafood. Neptune Oyster's popularity speaks for itself!
Read Next: 13 Best North End Restaurants in Boston
The Canteen, Provincetown
225 Commercial Street, Provincetown, MA 02657
The Canteen in Provincetown is serving up classic lobster rolls both hot and cold, with a quarter pound of hand shucked, locally caught lobster into each and every one!
No wonder this is such a crowd favorite, that's a lot of fresh caught lobster in each roll! Both their hot and cold lobster rolls come garnished with chives, adding a lovely depth and finish to each bite.
The Canteen does not take reservations, but they have indoor seating, tent seating & outdoor seating on their beach. Oh, and they're dog friendly, too!
Read Next: 8 of the Best Restaurants in Provincetown MA
Luke's Lobster, Boston
75 Exeter Street, Boston, MA 02116
Priding themselves on serving up sustainably sourced seafood for their prized lobster, shrimp, and crab rolls, Luke's Lobster is always a lobster roll favorite!
Luke's Lobster serves their lobster rolls chilled, New England-style, with inventive takes on sauces for a little variety. You can find them located in Back Bay, right around the corner from the Boston Marathon.
Try a Lobster Roll Flight to sample more than one flavor of lobster roll; guests especially appreciate the sweet heat combo of the spicy honey lobster roll!
Read Next: 11 Scenic Rooftop Restaurants in Boston, Massachusetts
Skipper Chowder House
152 South Shore Dr, South Yarmouth, MA 02664
One of the oldest waterfront seafood restaurants on the Cape, Skipper Chowder House is a classic. It's one of those Cape Cod seafood restaurants that you go to once, then declare you will go every single time you are in the area, because it is just that good!
Whether you decide to go hot and buttery or cold and creamy, the lobster roll at the Skipper Chowder House is scrumptious, but if you're visiting with a group, consider ordering the Skipper Family Clambake!
This clambake meal serves four and includes 1½ pound lobster, mussels, steamers, clam chowder, linguicia, corn on the cob, and red potatoes. You'll feel like you didn't have to go to the clambake because the clambake came to your table!
Don't forget to order something from the Skipper's Ice Cream Shack while you're there, too!
Read Next: 12 Best Cape Cod Ice Cream Shops for Your Next Sweet Treat
Pier 37 Boathouse, Falmouth
88 Scranton Ave, Falmouth, MA 02540
Located on Historic Pier 37 in Falmouth, Pier 37 Boathouse is known for both their fantastic food menu and their gorgeous waterfront views.
In addition to the many other offerings on their menu, the Boathouse Lobster Roll is always a crowd favorite. Served chilled with celery on a toasted brioche bun, it might just be the perfect complement to that craft cocktail you've been craving for your waterfront dinner out!
This is always a popular nightlife spot in Cape Cod, too, so keep that in mind if you're looking for somewhere to go dancing on Friday night, too!
Read Next: 15 Must Visit Cape Cod Towns: Where to Go for the Perfect Getaway
James Hook & Co, Boston
440 Atlantic Avenue, Boston, MA 02110
Located on Boston's historic waterfront, James Hook & Co has been serving lobster to Bostonians since 1925 and was even awarded Best Lobster from Boston Magazine.
In addition to selling their classic New England lobster on hot dog rolls, they also sell lobster meat to take home and make your own lobster rolls! Their freshest lobster claw meat and knuckle meat is available for purchase so you can take a little of the lobster roll experience home to share with the family.
James Hook & Co offers a classic waterfront seafood dining experience in Boston, and it's reputation speaks for itself, ie, there's probably going to be a line out the door when you go!
Read Next: 15 Tasty Food Tours in Boston: Food Tours to Book
Saltie Girl, Boston
279 Dartmouth St, Boston, MA 02116
Saltie Girl has locations in Boston, Los Angeles, and London, and Saltie Girl Seafood Bar has a strong rep in each of these markets!
They serve up their New England Lobster Roll either warm or chilled, on a buttery split-top bun with a lovely little crunch from the grill. The owner calls herself a lobster roll purist and says sweet lobster meat should always be the star of the show!
They have received rave reviews from such notable critics as Zagat and were named the best Back Bay restaurant by Boston Magazine in 2021, and their lobster roll is one of the reasons its such a crowd favorite.
Reservations are strongly encouraged, and patio seating is first come, first serve. Bon Appétit!
Chatham Pier Fish Market, Chatham
45 Barcliff Ave, Chatham, MA 02633
Chatham Pier Fish Market is one of those iconic seafood restaurants in Massachusetts that pass the test of time. With seafood so fresh you can watch it be brought on to the pier while you order, this is an iconic Cape Cod lobster spot.
This is one of Cape Cod's seasonal restaurants, so don't expect to come in winter and order a lobster roll here! However, come summer, this is the place to be in Chatham for lobster, clams, scallops, and more.
Choose your lobster roll served warm and buttered or cold and creamy. Either way, it's going to come piled high on a brioche bun that complements the sweet lobster meat perfectly!
Read Next: 11 Scrumptious Chatham MA Restaurants
Yankee Lobster Co, Boston
300 Northern Ave, Boston, MA 02210
Another one of the best places in Boston for lobster rolls, Yankee Lobster has been serving up lobster to Beantown for three generations now!
In addition to their traditional cold lobster roll and their hot, buttered lobster roll, they also serve up a fried lobster roll. I must confess, I've never actually had a fried lobster roll, but it sure sounds intriguing!
They also have a raw bar and several other seafood platter offerings, so if you're a seafood lover, you're going to love it!
The Lobster Pot, Provincetown
321 Commercial Street, Provincetown, MA 02657
If you've been to Commercial Street in Provincetown, you've no doubt noticed this red and white building with its iconic blazing red neon sign, right?
The Lobster Pot has been one of the top places on the Cape for fresh lobster dishes for generations! Not only do they serve some of the best lobster rolls on Cape Cod both hot and cold, but they are served with a special recipe potato salad that is its own mouthwatering experience.
If we're talking iconic places to eat a lobster roll in New England, The Lobster Pot is always going to be up around the top of that list!
Sesuit Harbor Cafe, Dennis
357 Sesuit Neck Rd, Dennis, MA 02638
If you're looking for a classic seafood shack experience on Cape Cod, check out Sesuit Harbor Cafe. Their "World Famous Lobster Roll" is served on a buttery New England Style hot dog bun and their signature lobster salad is basically everything you want a lobster roll to be: a celebration of lobster, by and large!
They also have a great raw bar, but one of the best parts about a visit to this Cape Cod seafood shack is the absolutely serene harbor views you get while you eat. It's just kind of an all around perfect Cape Cod dining experience!
Roy Moore Lobster Co, Rockport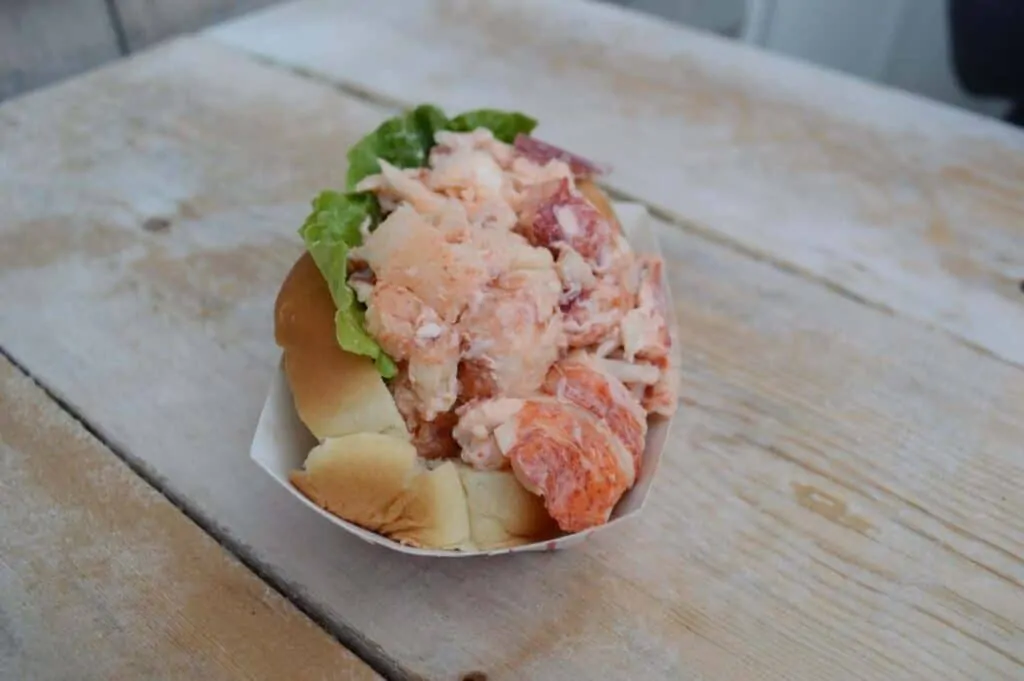 39 Bearskin Neck, Rockport, MA 01966
We love visiting Rockport, and Roy Moore Lobster Co is one of our favorite places to eat! In addition to the great menu, the vibe in this place is just always really cool. We like to say it's a madhouse, in the best way possible!
The mood there is so friendly and upbeat and the lobster offerings are just unreal. We haven't tried the full boiled lobster there yet, but we've heard it's absolutely phenomenal.
What we have had has been amazing, including their cold lobster roll, which was just everything a New England style lobster roll should be! We had ours with clam chowder and a fish cake and it was all just absolute *Chef's Kiss!*
Read Next: 5 Tasty Spots for the Best Breakfast In Rockport MA
Lobsta Land, Gloucester
84 Causeway Street, Gloucester, MA 01930
With a name like Lobsta Land, you just kinda already know it's got to be serving up a strong lobster game, right? Well, you're right!
Lobsta Land in Gloucester is one of the top spots on Cape Ann for those with a craving for lobster, and that's saying quite a lot, of course.
The lobster roll at Lobsta Land is served lightly dressed on a grilled brioche roll, and flavor reigns supreme always! You've got plenty of other great seafood options on the menu, too, like spicy littlenecks, clam chowder, and lump crabcake.
Oh, and they have live music many nights, too!
Arnold's Lobster & Clam Bar, Eastham
3580 Route 6, Eastham, MA 02642
Venture to the charming Cape Cod town of Eastham, and you'll discover Arnold's Lobster & Clam Bar, a beloved seafood joint cherished by locals and visitors alike. In business for over 40 years, the lobster rolls here are a true testament to the region's culinary prowess.
Picture a lightly toasted, buttery bun cradling a heap of succulent lobster meat (chilled or hot!), perfectly seasoned and served with a side of golden fries or coleslaw. It's a match made in seafood heaven!
Another cool thing about this iconic MA lobster roll restaurant is that they are also serving up the perfect sweet treat for a hot summer's day on the Cape. Cap the experience with scoop or two of their offerings from Arnold's Ice Cream Shop. Sounds like the perfect summer meal!
Oh, and Arnold's Lobster & Clam Bar is cash only, but they do have ATMs on the property.
As you can see, there are plenty of options for where to find a lobster roll in the Bay State, and all of them let the flavors of the fresh caught lobster be the star of the show. Served hot or cold, these are just absolute culinary masterpieces!
Whether you decide to head to your nearest lobster shack or you're going for a sit down restaurant experience, you'll find delicious lobster at any of the seafood spots on this list. So grab a napkin, roll up your sleeves, and get ready to savor the taste of Massachusetts lobster rolls!
Read Next: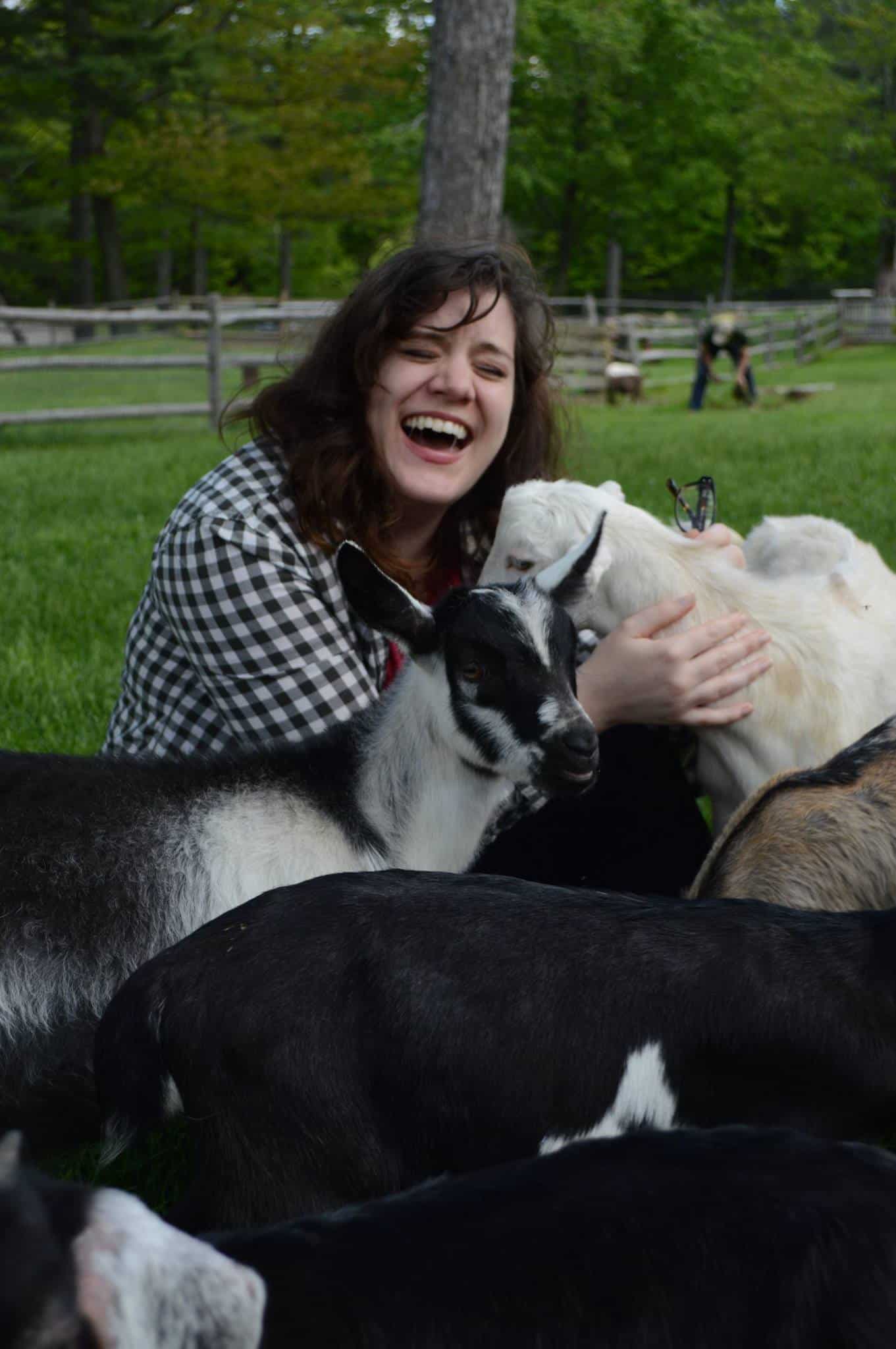 Amy Hartle is the founder and Editor-in-Chief of New England With Love, a comprehensive resource for travel in the New England region. Amy has been exploring New England since 2001. She lived in Vermont for many years and is a graduate of Plymouth State University in New Hampshire. Amy has been writing about travel for over a decade. On this site, Amy aims to share her love of New England and help you to have the best possible adventures!
Amy has been a full time blogger since 2012, and is also the publisher of Two Drifters, where she writes about couples travel and relationships, as well as Let's Adventure Baby, a family travel site. When not traveling the world or creating epic blog content, Amy can be found cuddling with her husband, son, and cats, & drinking a maple latte.