*This site uses affiliate links; if you make a purchase through these, I may receive a small commission at no cost to you.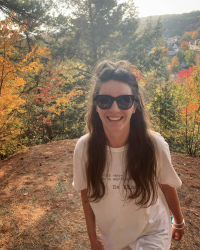 Latest posts by Hannah Moore
(see all)
I'd be here forever if I had to list every single one of the great things to do in Rhode Island. You name it, the Ocean State has it. A classy jazz brunch, killer sunset views, mouth-watering seafood and miles of beautiful rugged coastline? Keep on reading! I've done my best to try and narrow it down to 50+ great things you can do in this fabulous state I get to call home.
When to Visit Rhode Island
When is the best time to visit Rhode Island?
There's fun to be found in RI year-round! However, while there are amazing winter things to do in RI and fun summer activities, a visit to Rhode Island in the fall just can't be beat! You've got the fall foliage, the apple picking, the pumpkin patches and the corn mazes… how could you possibly go wrong?
But whatever time of year you visit this sweet little state, you'll find something fantastic to do. Here are 50+ Rhode Island activities, destinations, and sites not to miss.
50+ Best Things to Do in Rhode Island
Visit the Roger Williams Park & Zoo
1000 Elmwood Avenue, Providence, RI 02907
Looking for fun family activities in Rhode Island but don't have a clue where to go? You can't go wrong with the Roger Williams Park & Zoo. Fun for all ages and a great way to spend the day seeing your favorite animals and having a wander through the beautiful park grounds. Don't forget to look out for the carousel!
Relax on Watch Hill Beach
151 Bay Street, Westerly, RI 02891
Whether it's a lovely summer's day spent lounging on this beach with friends or a cold brisk walk on a winter's evening, just make sure you stick around for a coastal Rhode Island sunset as you'll struggle to find anywhere better in the Ocean State than here. We live super close so it's our go to beach through the week when we fancy a post work walk!
Stroll along the Cliff Walk
117 Memorial Boulevard, Newport, RI, 02840
Spanning 3.5 miles along the eastern coast, the peaceful Cliff Walk should be on everyone's list to gaze at the enchanting Gilded Age Mansions whilst taking in the fresh sea breeze. Wrap up warm in winter, it can get super windy. Also, don't make the same mistake we did, it's 3.5 miles one way!
Experience luxury at Ocean House
1 Bluff Ave, Westerly, RI, 02891
Welcome to the most exquisite and elegant establishment in Rhode Island, Ocean House. Located in Westerly, this is a gorgeous hotel with lots to offer.

Treat yourself to their wonderful Sunday Jazz Brunch to finish off your weekend nicely, or in the winter months, get in touch to reserve a spot at their annual 'Gondola Village' – an Alpine inspired experience you won't want to miss in restored, vintage gondolas. Beware for cheese overload; I was in one of the most delightful food comas ever after my visit to this RI paradise with friends!
Click Here to Check Prices & Book!
Read More: The Best Beach Towns in Rhode Island
Tour an Ivy League campus at Brown University
Brown University, Providence, RI, 02912
Grab yourself a takeout coffee and get lost within the charming grounds of Brown University. If you can tie it in with the start of term, you can blend in like a student amongst the hustle and bustle. If you're lucky, you might even get to hear one of the informative student tours like we did. I completely understand why Serena van der Woodsen wanted to attend here (xoxo!)
Have a fun-filled day at Misquamicut Beach
257 Atlantic Avenue, Misquamicut, Westerly, RI, 02891
For a bit more of a lively beach day, this place is calling your name. This is one of the best beaches in Rhode Island for fun. Whether it's jet skis, paddle boarding, karaoke, beach concerts or bar crawls, Misquamicut beach has it all. Nearby they have their 'Water Wizz' water park too which makes for great family fun! It's an extremely popular summer thing to do for both Rhode Island and Connecticut residents so make sure you get there early to secure your spot!
Go back in time at the Newport Mansions
424 Bellevue Avenue, Newport, RI, 02840
Transport yourself back in time to the charming Gilded Age with a visit to the Newport Mansions. My favorites are the Breakers and the Elms which are oozing in 250 years' worth of history, elegance and wealth. You can also purchase a duo ticket for these to save money! If you can, you should definitely make time to visit during the Christmas Holidays where the mansions are transformed into winter wonderlands!
Read Next: Christmas in Rhode Island: The Best Activities, Events, and Sites | 5 Best Christmas Tree Farms in Rhode Island
Discover wildlife in Sachuest National Wildlife Refuge
769 Sachuest Point Road, Middletown, RI, 02842
This is another great Rhode Island sunset spot with magnificent ocean views. What I love the most though is the abundance of wildlife you can find here. I've been here a number of times now and each time I'm either joined by a family of rabbits hopping along the pathway with me, spotting swooping birds above or catching a glimpse of deer in the distance. It's a really popular place for fishing too!
Dive into culture at Providence Performing Arts Center
220 Weybosset Street, Providence, RI, 02903
Who needs to go all the way to Broadway when you can catch an incredible live performance right here in Rhode Island? With a capacity to seat 3100 people, the Providence Performing Arts Center is located in the very heart of the capital's entertainment district. A stop here would be the perfect evening plan after a day trip to Providence. Check out their website for upcoming events!
Read Next: 17 Awesome Things to Do in Providence, RI
Enjoy summer at Block Island
Block Island, New Shoreham, RI, 02807
If you don't go to this beautiful Rhode Island place at least once a year, you need to start! This will be my third summer where I plan to go for a full day to Block Island with friends where we hire bikes and explore the beautiful beaches. I think my favorite is Mohegan Bluff! When you get hungry, make sure you head straight to The Oar for some food and their ever so famous Mudslide cocktail! I promise you won't regret it.
See the Beavertail Lighthouse & Museum
Beavertail Road, Jamestown, RI, 02835
Located in Beavertail State Park and built in 1856, this is one of Jamestown's most iconic landmarks and a must visit if you are in the area. The charming lighthouse also symbolizes the entrance to the picturesque Narragansett Bay. The museum itself delves deeper into the history and artifacts associated with the Lighthouse. Take a walk along the rugged RI coastline or if you're short on time, you can admire the views from the comfort of your own car!
Read More: 10 Loveliest Lighthouses in Rhode Island
Play like a kid at Yawgoo Valley Ski Area & Water Park
160 Yawgoo Valley Rd, Exeter, RI 02822
It's the only ski resort in Rhode Island, so you have to make time to visit here at least once! In the winter months, you can choose from skiing, snowboarding or tubing and in the summer, Yawgoo Valley becomes a water park, therefore the perfect day out for the family! Check out details online on their website.
251 Benefit Street, Providence, RI, 02903
I don't think I've ever stepped into a library so endearing. Located on the ever so popular Benefit Street, this historical establishment was founded in 1836. Full of unique charm and authenticity, I could have spent all afternoon getting lost amongst the books. If you're after a mesmerizing backdrop for your RI nuptials, an elopement here would be absolutely magical.
Browse Bowens Wharf
Bowens Wharf, Newport, RI, 02840
If you're passing through Newport, make sure you stop by the vibrant Bowen's Wharf to explore the quaint shops, cafes, galleries and excellent seafront restaurants. My favorite thing to do in the summer here is to dine al-fresco and people-watch with a glass of wine or two! If you have a bit more time, book yourself onto one of the many sight sailing cruises. I've heard the sunset cruise is beautiful.
Sip at Tilted Barn Brewery
One Hemsley Place, Exeter, RI 02822
Taking pride in being Rhode Island's first farm brewery, the Tilted Barn is the perfect place to visit to unwind and relax after a long working week. It's not often you get the opportunity to really see and understand the ingredients that make up your tasty beverage but here you can via regular tours that take place. Check out their website for a list of the beers on tap at this Rhode Island brewery!
Hear awesome tunes at Newport Folk Festival
80 Fort Adams Drive, Newport, RI, 02840
Held every July at Fort Adams State Park, the Newport Folk Festival brings together all the folk lovin' people! Even if you're not a massive fan of folk music though, the atmosphere is incredible and it's definitely a very cool Rhode Island event to attend at least once.

Take the kids to the Providence Children's Museum
100 South Street, Providence, RI, 02903
Looking for things to do with kids on a rainy day in Rhode Island? Head to the Providence Children's Museum for a family day with a mixture of interactive and hands on exhibits. Providing a twist on educational learning to make it engaging and enjoyable, this is a great place to explore for a fun understanding of science, arts and history!
Hop aboard the Watch Hill 'Flying Horse' Carousel
153 Bay Street, Westerly, RI, 02891
I know I've already mentioned the fantastic beach but have you ever fancied seeing the only flying horse carousel in Rhode Island? Here's your place! After a fun day at the beach, don't forget to head to one of the top Rhode Island attractions for a ride on the carousel. If you're lucky enough to grab the brass ring at the end you win a free ride! Did I mention it's also the oldest continuously operating carousel in America where the horses are suspended from chains…
Marvel at Point Judith Lighthouse
1460 Ocean Road, Narragansett, RI, 02882
Stood tall and rugged on the rocky Rhode Island coastline, Point Judith Lighthouse is a great historical place to visit in RI. Originally built in the early 1800's then replaced in 1857 by the building that remains there today, it often attracts both locals and tourists.
I visit here every now and again after work, although I do sometimes nearly get blown away so hold onto your hat! I've not made it yet for sunrise (my bed is too appealing!) but I've heard so many good things.
Explore Federal Hill (Little Italy)
Federal Hill Neighborhood, Providence, RI, 02903
A full day of overeating on pasta, pizza and wine? Sign me up! Dubbed as Rhode Island's 'Little Italy', Providence's Federal Hill neighborhood emits a sense of community spirit that makes you want to never leave. The Italian culture is still going strong and there are so many restaurant choices available to satisfy your bolognese cravings. Don't forget about the desert!
94 Bellevue Avenue, Newport, RI, 02840
Fancy rubbing shoulders with some of the Tennis Hall of Famers? On a visit here you can explore the interactive museum which has thousands of artifacts, photographs and videos, helping you to piece together the history of the sport over the years. You can test your knowledge of the sport whilst learning about the tennis legends of the world. You can even make a reservation for the tennis courts to play a game yourself!
Head to Fort Adams State Park
80 Fort Adams Drive, Newport, RI, 02840
As well as playing host to the annual Newport Folk Festival, this Rhode Island park is a historical place that preserves Fort Adams. You can leisurely wander round yourself or reserve a spot on the one hour guided tours where you will be given an overview of the history and design of the Fort. Don't forget to check out the underground tunnels too!
Taste RI wines at Newport Vineyards
909 East Main Road, Middletown, RI, 02842
Sipping on a crisp white wine as you lounge on your blanket on a lovely Rhode Island summer's day…sounds great, right!? Newport Vineyards can offer you all of this plus more. Situated on over 100 acres of preserved farmland, this is the ideal place to relax and unwind with friends, your partner, or both! They also have their Taproot Brewing available too if you fancy a beer! Check out their website for a full list of what's available!
Stay or spa at Castle Hill Inn
590 Ocean Drive, Newport, RI, 02840
Where better to take in the magnificent views of Narragansett Bay than Castle Hill Inn. Feel like royalty with a stay here in this enchanting, elegant hotel. Sip cocktails on the lawn in the summer months, take a stroll to the nearby Castle Hill Lighthouse or treat yourself to a relaxing afternoon in their Spa, one of the best in RI. I hear guests also get access to the private beach too!
Click Here to Check Prices & Book!
Read More: Things to Do in Narragansett, Rhode Island
Pick fruit at Salisbury Farm
11 Peck Hill Road, Johnston, RI, 02919
This fantastic Rhode Island farm has been run by five generations of the Salisbury Farm since the 1800's. Throughout the summer, farm activities include 'pick your own' strawberries, sweet corn and raspberries and as Fall approaches, head back for some pumpkin picking and hayrides. Don't miss out on the giant Corn Maze too!
Head up to the rooftop at the Providence G
100 Dorrance Street, Providence, RI 02903
Enjoy the evening sunset and starry skies on the best rooftop bar in Providence. With outdoor firepits, live entertainment and igloos available to reserve, this place is a must visit in Rhode Island! They list their full entertainment schedule on their website. You can't go wrong with the Blueberry Gin Sling and Less Is S'more cocktails!
Towers of Narragansett
35 Ocean Road, Narragansett, RI, 02882
The Towers of Narragansett hold a lot of history and are one of the most iconic landmarks in the area. After several fires and terribly bad weather in the past, the Towers are actually the only original part of the Narragansett Pier Casino that remain intact. The Towers are a beautiful location for a wedding and are often booked for a variety of social events as well as being in close proximity to the local town beach – ideal!
Catch a film at the Misquamicut Beach Drive-In
Wuskenau Beach Pondside – 316 Atlantic Avenue, Westerly, RI, 02891
Grab your deck chair, blanket and popcorn and head to Misquamicut for the ultimate movie drive in! Whether it's laughing your head off at Superbad, or hiding behind your hands at Jaws, there is so much choice of films to cater for everyone at this Rhode Island beach drive-in! I've been here several times now and I love it. Check out their website online for their full schedule and make sure you book your tickets online so you don't miss out!
Marvel at WaterFire in Downtown Providence
4 North Main Street, Providence, RI, 02903
WaterFire is an independent non-profit organization whose aim is to demonstrate a powerful work of art that illuminates the three rivers of downtown Providence. Lighting over 80 bonfires, over ten million visitors have strolled along the adjacent pathways to witness this spectacular piece of art. The lighting of the bonfires normally occurs at sunset and stay lit until just after midnight!
Visit Save the Bay's Exploration Centre & Aquarium
175 Memorial Boulevard, Newport, RI, 02840
Their mission is to protect and improve Narragansett Bay and it's admirable to see how much dedicated work has gone into the amazing improvements that have been made so far. Home to more than 40 species and a number of interactive exhibits, this is a great place to visit and have fun in Rhode Island, whilst learning so much about what goes on here and what you can do to help!
Wander through the Blithewold Mansion, Gardens & Arboretum
101 Ferry Road, Bristol, RI, 02809
When people think of Rhode Island Mansions they tend to always think of the Newport Mansions, but there is a hidden gem in the Blithewold Mansions and Gardens. The 33-acre estate is rich bin history and authenticity and their gardens are home to unique and unusual plants that are just waiting to be explored. As with the Newport Mansions, the most magical time to visit is the Christmas Holidays.
Shop at Providence Place Shopping Mall
101 Ferry Road, Bristol, RI, 02809
Where better to spend all your money on a shopping trip than the largest shopping mall in Rhode Island – Providence Place. There are over 100 stores to choose from ranging from clothing to fitness to health and beauty, and when you can't shop anymore, head to one of the 20+ available dining options for a well-earned break!
1 Goat Island, Newport, RI, 02840
There is plenty to enjoy here in all seasons, but winter in Rhode Island is exciting. From November, an ice-skating rink is set up where you can skate to Christmas tunes and have clear, picturesque views of Newport Harbour, Goat Island Lighthouse and the stunning Newport Bridge. Hungry afterwards? Make sure you reserve one of their themed igloos where you can enjoy one of their signature cocktails, play games and enjoy a variety of snacks!
Don't miss Shayna's Place
45 Brown St, North Kingstown, RI, 02852
I know this is quite a bold statement to make, but I have honestly never had a sandwich in Rhode Island that was as good as the one here at Shayna's Place which is why it deserves a special shoutout in this RI bucket list. Located in Wickford, North Kingstown, Shayna's Place is a family owned and operated quaint cafe serving up a fantastic selection of sandwiches, salads, smoothies and much more. Make sure you head here if you get the chance, you won't be disappointed!
See Rhode Island from the sky
211 Airport Access Road Middletown, RI, 02842
Rhode Island is beautiful when viewing it on foot, but imagine how beautiful it is from the sky from a bird's eye view?!
Having celebrated over 20 years of flying, and over 60,000 passengers, I can't think of more capable hands to be in than with the family-owned Newport Helicopter Tours. Their most popular Rhode Island tour is the 'Island Tour' but there are plenty more to choose from such as the 'Mansion Tour', 'Sunset Tour and 'Lighthouse Tour'.
Pop up to the Vanderbilt Roof Deck
41 Mary Street, Newport, RI, 02840
Absolute bliss. This is the only way to describe our evening here watching the Rhode Island sunset dip under the Newport Bridge and slowly disappear. Situated on the roof of the magnificent Vanderbilt Hotel, the menu choices are mouth-watering and their cocktails divine. This really is a hidden gem in Newport that fits both casual dining and celebrations, and would certainly be a cool place to stay in Newport, too.

Click Here to Check Prices & Book!
Cycle the East Bay Bike Path
201 India Street, Providence, RI, 02903
A lovely Rhode Island summer's day calls for a bike ride! A really popular choice for this is the East Bay Bike Path which runs for 14.5 miles beginning at India Point Park and finishing at Independence Point Park in Bristol. The trail takes you past eight parks altogether with fantastic unobstructed views of the Providence skyline. The reviews online speak for themselves!
Read Next: 15 Things To Do In Bristol Rhode Island
Chill out on East Beach
East Beach, Westerly, RI, 02891
This is another popular RI beach choice in the Westerly area. Located very close to Watch Hill Beach, East Beach is a great alternative, especially for smaller crowds. There are plenty of dining options available in Watch Hill too (hello Ocean House!) and if you're really lucky, you may even catch a glimpse of the one and only Taylor Swift whose mansion on the rocks overlooks East Beach!
Play at Ryan Family Amusements
268 Thames Street, Newport, RI, 02840
Has a rainy day spoiled your outdoor plans? Head to Newport to visit Ryan's Amusements. This is a popular place for RI children to go and play on over 50 types of video and skill games. If you have a birthday in the family coming up, you can also arrange a private birthday party room! There are more details on their website as well as a list of the other locations in New England you can find Ryan's Amusements.
Peer at the Green Animals Topiary Garden
380 Corys Lane, Portsmouth, RI, 02871
How cool to be able to visit America's oldest and most northern topiary garden?! Purchased in 1872, this estate is located in Portsmouth, Rhode Island and is the ideal place to spend an afternoon wandering the beautiful garden made up of more than 80 pieces of topiary. These include a variety of geometric shapes, animals and birds! It opens daily from April 16th.
Spend a day at the Rhode Island Museum of Science and Art (RIMOSA)
Looking for Rhode Island family fun? The Rhode Island Museum of Science and Art (RIMOSA) is a great place to visit — rain or shine. In this 2,000 square foot museum aimed at older kids, teens and adults, what you will experience depends on the day. The hands-on, open-ended exhibits and activities change constantly. They may include Animation Station, where you can make your own stop-motion animations, or bicycle powered Spin-Art where you can create a masterpiece with paint and centrifugal force.
Or maybe you'd like to spend your time in RIMOSA's maker space creating a marble roller coaster with pipe insulation-track, dominos and found objects. It's all about kindling the flame of curiosity. 763 Westminster Street, Providence, 02903. Open Thurs/Fri 1:00 – 5:00pm & Sat/Sun noon – 5:00pm.
Catch a Providence Bruins ice hockey game
1 La Salle Square, Providence, RI, 02903
Catch an ice hockey game at the Dunkin' Donut Center in Providence. The Providence Bruins are a professional ice hockey team in the American Hockey League (AHL) and bagging tickets is generally relatively easy! Look out for Samboni the mascot too!
Dine at the White Horse Tavern
26 Marlborough Street, Newport, RI, 02840
Who wouldn't want to dine in the oldest operating restaurant in the USA? The White Horse Tavern has had its welcoming doors open for over 350 years, serving both locals and visitors. Check out their website for the delicious menu options, as well as the detailed history of the tavern owners through the years…it was once owned by a pirate!
PS it's also considered one of the most haunted places in Rhode Island!
Cruise Ocean Drive
Bellevue Avenue, Newport, RI, 02840
Cruise the ten-mile Ocean Drive Road for an incredible scenic trip along the southern coastline of Newport. Take in the stunning views of the Atlantic from your car or bike whilst admiring the beauty of Castle Hill Hotel & Lighthouse, Brenton Point State Park and Gooseberry, Bailey and Belmont Beach!
Climb aboard La Gondola
1 Citizens Plaza, Providence, RI, 02903
Want to imagine what it feels like to be in Venice? Whilst the obvious option would be to fly to Italy, why not head into Providence instead for a much cheaper option! Book tickets for a memorable Venetian experience on the river in a gondola with your very own gondolier. Whether it's a romantic date night, fun with your friends, or even your wedding day, they cater for every type of event!
Try your luck at Twin River Casino
100 Twin River Road, Lincoln, RI 02865
Fancy your chances at poker? The Twin River Casino is the place to be! Whether it's the 4000+ slot machines you're after or one of the many table games of blackjack, craps or roulette, this casino has you covered if you're looking for fun things to do in Rhode Island for adults. As well as an abundance of dining options, it is also home to an events center which holds just over 3000 people with plenty of entertainment choices!
Get your fill at Matunuck Oyster Bar
629 Succotash Road, South Kingstown, RI, 02879
There's nowhere quite like the Ocean State when you're after exquisite seafood. Matunuck Oyster Bar provides the freshest seafood around. Their Matunuck Oysters are grown in Potter Pond, right on the waterfront and their vegetables are grown on their very own organic vegetable farm. I challenge you to find anywhere better than here to satisfy your seafood cravings!
Peruse the Rhode Island School of Design Museum
224 Benefit Street, Providence, RI, 02903
Founded in 1877, the Rhode Island School of Design Museum boasts a collection of more than 100,000 works of art and design, some of which are available to view online and others on view in the Museum. The collection ranges from historical to present times and there are regular events and exhibitions held throughout the year too! Did I mention it's the 20th largest art museum in America too?
Get onboard Sightsailing of Newport
49 America's Cup Avenue, Newport, RI, 02840
Another fantastic way to see the beautiful coastline of Rhode Island is by water. 'Sightsailing of Newport' offer visitors the chance to board one of the daily public sailing cruises or book a private sailing charter to tour the Narragansett Bay and Newport Harbour and take in the stunning views. For added luxury why not consider the morning mimosa trail or the champagne sunset sail!
Watch the 'Around The Island' Sailing Race
Conanicut Yacht Club, 40 Bay View Drive, Jamestown, RI, 02835
Any fans of sailing out there? Held every year since 1927, the 'Around The Island' sailing race is one of the best sailing events in Rhode Island. It's a 20 mile course around Conanicut Island and is extremely popular! We found the best place to watch the 100+ boats was Beavertail State Park near the Lighthouse!
Hike Hike Hike!
Rhode Island
There are far too many to choose from but I couldn't end this blog without mentioning how good the hikes are in Rhode Island, you're spoilt for choice! There are great woodland ones and beach ones. My favorite website/app to use when picking a hike is All Trails. I've created a folder for Rhode Island and I save all the hikes I want to do in there, it's so useful. I've done around 60+ hikes so far and so many more to go!
See also: Camping in Rhode Island | Glamping in Rhode Island
Whether you're looking for family fun with the kids in Rhode Island, a romantic RI getaway, or just some all around interesting things to do on your next Rhode Island vacation, you've got plenty of options in the Ocean State!
---
You might also like:
---