---
*Links in this article may be affiliate links, from which we may earn commission. See our
Privacy Policy
for full details.
---
As one of the most popular places to visit in Maine, it's easy to see why Bar Harbor could be seen as a foodie city. No matter what type of food you're in the mood for, you'll be able to find it at one of the best restaurants in Bar Harbor Maine!
Throughout this post, you'll get an insider's look at some of the top places to eat in Bar Harbor, including hidden gems and even some of the restaurants that are a bit more popular that you absolutely can't miss. Plus, there's such an eclectic food scene, including Irish, Mexican, and even BBQ restaurants throughout the city.
Read on to learn more about the top restaurants in Bar Harbor Maine!
Jalapeños Cantina & Mexican Grill
Location: 191 Main St, Bar Harbor, ME 04609
First up is Jalapeños Cantina & Mexican Grill, one of the best spots to go in Bar Harbor if you're in the mood for Mexican food. It's family-friendly and has a super laid-back atmosphere. However, it is only open in the late afternoon through early evening for dinner, which is something to consider. They're not open for lunch.
The inside of the restaurant is incredibly bright and vibrant, with neon orange, blue, and green walls. The warm wooden accents help to create a natural feel. There's tons of fun Mexican decor on the walls with ample seating throughout.
Almost every type of Mexican food that you'd like would probably be able to be found on the menu. There's tacos, salads, burritos, fajitas, quesadillas, and more. Plus, there's a long drink list, with tequila, margaritas, beer, wine, and more, in addition to traditional Mexican Coke.
Geddy's
Location: 19 Main St, Bar Harbor, ME 04609
For some traditional seafood (which Maine is well-known for), stop by Geddy's, one of the top restaurants in Bar Harbor Maine. It's located right on Main Street, so it's impossible to miss. Plus, it's one of the town's most popular restaurants, with a staggering 2400 reviews on Google!
The restaurant's ambiance is incredibly eclectic, with fun, unique nautical decor everywhere. The interior is overall very dark, but there are fun-colored lights throughout, which help to lighten the place up. There is also an abundance of seating, including a large bar area as well.
The menu is full of classic seafood dishes, like New England chowder, along with more unique dishes like seared wild-caught haddock, Cap'n Geddy's lobster bake, or even Geddy's "bacon jalapeno" lobster rolls.
Paddy's Irish Pub and Restaurant
Location: 50 West St, Bar Harbor, ME 04609
You absolutely can't go wrong with any type of Irish food! So, if you're in Bar Harbor and you're craving a hearty meal, look no further than Paddy's Irish Pub and Restaurant. It's a very laidback restaurant that also often has live music.
The inside of the restaurant feels classically Irish, with dark wood accents and red walls throughout. Look closely at the walls, and you'll also be welcomed by the Irish decor, featuring posters, wall paintings, plaques, and more. When the weather is nice, there's also tons of outdoor seating, which overlooks the water in Bar Harbor.
Everything on the menu is mid-priced, with dishes like onion and Irish ale soup, Dublin pub dip, Irish farmhouse chicken and quinoa salad, Celtic caesar salad, and even traditional corned beef and cabbage. Don't worry; there's classic pub-style fish and chips as well!
Siam Orchid
Location: 30 Rodick St, Bar Harbor, ME 04609
Siam Orchid is one of the lesser-known restaurants in Bar Harbor Maine which makes it a bit of a hidden gem. So, you'll definitely want to pay it a visit if you're in the mood for Thai food! They serve traditional Tahi dishes with a comforting atmosphere.
The dishes on the menu are incredibly affordable. There are dishes like miso soup, dumplings, fried spring rolls, edamame, Thai fried rice, Thai lo mein, many types of curry, and more. The menu is super long, so pretty much every type of Thai dish you can think of will be on there.
The restaurant's interior is fairly simple inside, but that's because the main focus is the food. There are calming green walls with dark wood tables and fun accent tablecloths. There's also lots of outdoor seating with umbrellas so you can enjoy the beautiful Maine weather.
McKay's Public House
Location: 231 Main St, Bar Harbor, ME 04609
McKay's Public House is an amazing American restaurant in Bar Harbor located in an old Victorian house. Prices are mid-range, and the restaurant is well known for its tasty food and comforting service.
The majority of the restaurant is outside, as there's ample outdoor seating. Don't worry; there are also outdoor heaters and umbrellas if the New England weather decides to take a turn! The restaurant's interior is very pub-like, with dark wood tables and a bar with barstools.
At McKay's, the owners like to say that they do pub food with a twist. The menu consists of more traditional dishes like caesar salad and clam chowder but also ventures into some fun options like bruleéd oysters and po'boy pita sandwiches. Some of the dishes cost around $40 depending on what you order (so, the Prime New York steak strip, for instance).
Havana
Location: 318 Main St, Bar Harbor, ME 04609
Even though it's a bit more costly with its entrees, Havana is easily one of the top restaurants in Bar Harbor Maine. As you may have guessed by the name, this restaurant uniquely serves Latin American food. Plus, they have a lively atmosphere and a welcoming service.
The interior of the restaurant is truly Instagram-worthy. You can't help but pay attention to the giant area behind the bar, which has been decorated so nicely. There's also great decor all around and fun lighting that adds to the overall ambiance.
Most entrees on the menu cost around $40. There are dishes like charbroiled filet mignon, smoked jackfruit, grilled ribeye steak, and more. Many appetizers and small dishes like Maine cheese plate, lobster cake, garlic shrimp, and even classic oysters.
The Reading Room Restaurant
Location: 1 Newport Dr, Bar Harbor, ME 04609
Out of all the restaurants in this post, The Reading Room Restaurant may be the most iconic due to its incredible window views. This elegant restaurant is also known for its live music (usually piano) and seafood. It's the perfect place to go for a romantic evening out or even just a celebratory dinner.
The dining room in The Reading Room Restaurant is exquisite and top-notch. It's very open, and there's tons of seating, but that doesn't mean that you shouldn't make a reservation, especially if you want to eat there on a specific date. Try to ask to get seated near the window for a breathtaking view.
Dishes on the menu are classically what you'd expect to find, all curated by Chef Zach Dallesandro. All ingredients come from the New England area to keep it local. There are dishes like lobster, steak, and more. They're also open for breakfast, when it may be easier to snag a window-side table.
Galyn's
Location: 17 Main St, Bar Harbor, ME 04609
Galyn's is another seafood restaurant in Bar Harbor that's a bit upscale, but you won't want to miss out on it. It's located inside an old boarding house from the Victorian era and has unique decor, excellent service, and a long drink list.
The inside of the restaurant is very simplistic, with minimal but unique paintings on the wall. There's a touch of elegance in how the ceiling was made, with wooden furnishings. There are also tons of warm lights throughout the restaurant, which help to bring some warmth to the ambiance.
There are so many different seafood dishes on the menu that it can be hard to choose! Even the pickiest of eaters will be able to find something to order from this menu. There are bacon-wrapped scallops, crab cake plates, dijon mussels, and more. There are also stews, sandwiches, and other types of dishes.
Mainely Meat BBQ
Location: 15 Knox Road Bar Harbor, Maine 04609
Last but not least is Mainely Meat BBQ, the perfect place to go on a summer's day if you're craving some classically smoked meat with local beers. It is seasonal and is open during the summer months because it's an outdoor restaurant located at Atlantic Brewing Company.
Think of the restaurant almost like a beer hall. It's laid back, situated under umbrellas and pavilions, with a walk-up style of ordering. Plus, you sit at giant red picnic tables that can fit even a large group if necessary! That's why it's the perfect place to eat in the summer.
The menu is simple, but that's all that's needed at a BBQ restaurant. There are ribs, quesadillas, full meat dinners, burgers, and more. There's also a simple kid's menu, including hot dogs and grilled cheese.
This post was all about the best restaurants in Bar Harbor Maine. Hopefully, you've found the perfect place to eat during your visit! No matter where you choose to eat from this list, you're truly in for a magnificent meal.
---
You might also like: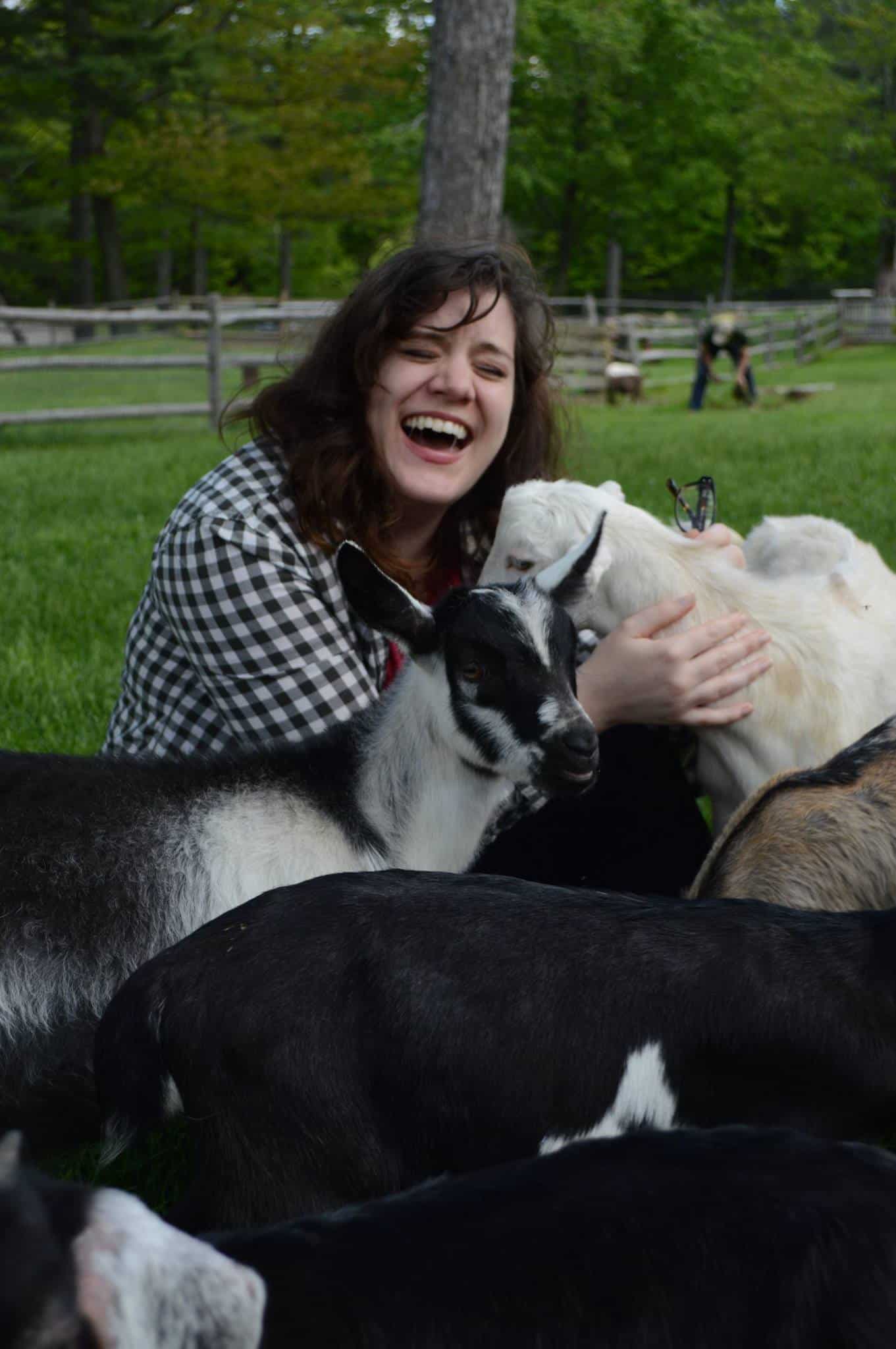 Amy Hartle is the owner and editor of New England With Love, a comprehensive resource for travel in the New England region. Amy lived in Vermont for 15 years, attended Plymouth State University in New Hampshire, and continues to travel regularly around the entire New England region. On this site, Amy aims to share her love of New England and help you to have the best possible adventures!
Amy has been a full time blogger since 2012, and is also the publisher of Two Drifters, where she writes about couples travel and relationships, as well as Let's Adventure Baby, a family travel site. When not traveling the world or creating epic blog content, Amy can be found cuddling with her husband, son, and cats, & drinking a maple latte.