Greenwich, Connecticut is known as the "hedge fund capital" and is the wealthiest town on Connecticut's Gold Coast. There are so many great things to do in Greenwich CT; add in that coastal Connecticut small-town allure and it's no wonder it's considered one of the most charming towns in New England!
Here are all of the best things to do in Greenwich CT!
Audubon Center
Greenwich's Audubon Center sits on 285-acres of protected natural space. In the Main Sanctuary is the Kimberlin Nature Education Center, the place where nature programs, educational workshops, and exhibits are held. It is also home to the Perch Coffee Lounge and the Nature Store, so you can get your coffee fix and pick up a quick souvenir.
Surrounding this space are 7 miles of hiking trails that provide an excellent opportunity for bird watching. Check the events page to see what's coming up next at the Audubon Center.
Putnam Cottage
Once known as Knapp's Tavern in Revolutionary times, Putnam Cottage was originally built in the late 1600s as a private home before being turned into a tavern and meeting place. It is historically verified that Putnam Cottage also hosted George Washington and his troops during the Revolutionary War, and this historic site is now a museum that provides historical reenactments, tours, and more.
Bruce Museum
Bruce Museum is home to a variety of exhibits, including collections of art, science, history, ethnology, and more. There is a campaign to expand and reinvigorate the Bruce, which will see space doubled to make room for additional exhibits and allow for more hosting of community events.
Bruce Museum hosts two Greenwich community events: an Outdoor Crafts Festival in spring and an Outdoor Arts Festival in fall, both featuring exhibits, activities, demonstrations, and great local eats. The Bruce also runs a seasonal Seaside Center that leads tours and nature walks on the beach.
Greenwich Avenue
In keeping with Greenwich's status as the wealthiest community on Connecticut's Gold Coast, Greenwich Avenue is the place to go for top-tier shopping and dining options! You'll find designer staples like Armani, Hermes, and so many more luxury name brand stores on this little stretch of street downtown.
Shop your heart out at stores like Saks Fifth Avenue and then go grab a bite at one of the upscale restaurants nearby, like Terra Ristorante Italiano, one of Greenwich's favorite spots to enjoy a nice meal. When it comes to a swanky, fashionably high-brow feel, Greenwich Avenue is where it's at!
Greenwich Point Park
One of the reasons Greenwich has been the spot that so many big-city big shots have chosen to relocate to is because of its gorgeous natural scenery. Greenwich Point Park is a great example of this!
This waterfront park has a lovely beach and trails for walking, biking, jogging, and more that offers incredible views, like the trail that leads to Tod's Point, considered one of the most beautiful spots in Connecticut. Greenwich Point Park requires a visitors pass for non-residents, so plan to pick that up before your visit!
Greenwich Polo Club
Greenwich Polo Club is home to one of the most successful polo teams in history: White Birch. Polo is a very established, traditional sport that involves players, horses, and a lot of contained excitement as the ball is moved up and down the field towards the goals!
Public matches can be attended on the weekend with a ticket, and one of the fun aspects of polo is that there is a bit of crowd participation: during half time, the crowd comes on to the field to participate in "divot stomping" to repair the divots that the horse's hooves create on the lawn. Dress up, because a polo match is not the place to show up to in ripped jeans and a baseball cap.
Magic at the Delmar
Located in one of the most stunning boutique hotels in New England, Magic at the Delmar is a notable night of entertainment that offers the latest that sleight of hand and comedic magicians have to offer. Come for a dinner at the onsite L'Escale, the upscale French restaurant at Delmar, and then follow up with a night of Magic at the Delmar. With so many things in this world that are predictable, isn't it nice to have options for places to go where you can expect the unexpected?
The Babcock Preserve
The Babcock Preserve is 300 acres of beautiful woods with easy to moderate hiking trails, perfect for a simple stroll in the great outdoors. There are boardwalks through wetlands, a small waterfall, and a variety of gorgeous trees such as birches, maples, weeping willows, and so much more.
The Babcock Preserve is also home to many different species of native wildlife, so keep your eyes peeled and you might just see some interesting coastal Connecticut critters!
Visit an Art Gallery
Greenwich is home to several art galleries that are all worthy of a visit, but every May, the town holds its annual Art to the Avenue festival, featuring various forms of art on display in Greenwich's storied downtown. Live music provides the soundtrack as Greenwich Avenue turns into an outdoor art gallery. Exploring and enjoying both Greenwich's lovely downtown and the local art offerings all at the same time? Yes, please!
Binney Park
Located in the Old Greenwich section, beautiful Binney Park is 32 acres of absolute tranquility and charm. With a gazebo, footbridges, and a pond, the eye candy is scrumptious in Binney Park! This well-landscaped greenspace also has walking paths and picnic areas, so it's the perfect spot to pack a snack and enjoy the views. In the summer, there is a summer concert series to look forward to, as well!
The Bush-Holley House
Construction began on the Bush-Holley House in 1728, and it served as a private residence until it became a boarding house that catered mostly to writers and artists. In 1957, the Historical Society of the Town of Greenwich bought the house and turned it into a museum the following year.
Today, it is a National Historic Landmark and museum that features a variety of exhibits and hosts several community events throughout the year, including a Fall Family Festival in early October that includes an annual scarecrow building competition!
Great Captain's Island
Take a ferry over to Great Captain's Island, the well-preserved island that is home to several different species of birds and a lovely little lighthouse. There is a swimming area, picnic tables, restrooms, and trails available for public use, or you can decide to take the 2-hour Cruise to Nowhere that offers a relaxing, 2-hour tour of Greenwich's waters and the lovely features found there, like Great Captain's Island.
Mianus River Park
Straddling the towns of Greenwich and Stamford, Mianus River Park is a gorgeous 391-acre nature reserve that is comprised of three separate, yet connected spaces: Mianus River and Natural Park, owned by Greenwich; Mianus River Park, owned by Stamford; and Mianus River State Park aka Treetops, owned by the state of CT! You can travel freely between these spaces, enjoying the great trail system, the miles of river, and the other gorgeous natural features of this pretty park.
There are many great places to visit in the Nutmeg State; if Greenwich, CT wasn't on your list of places to visit in Connecticut, it surely should be now!
---
You might also like:
---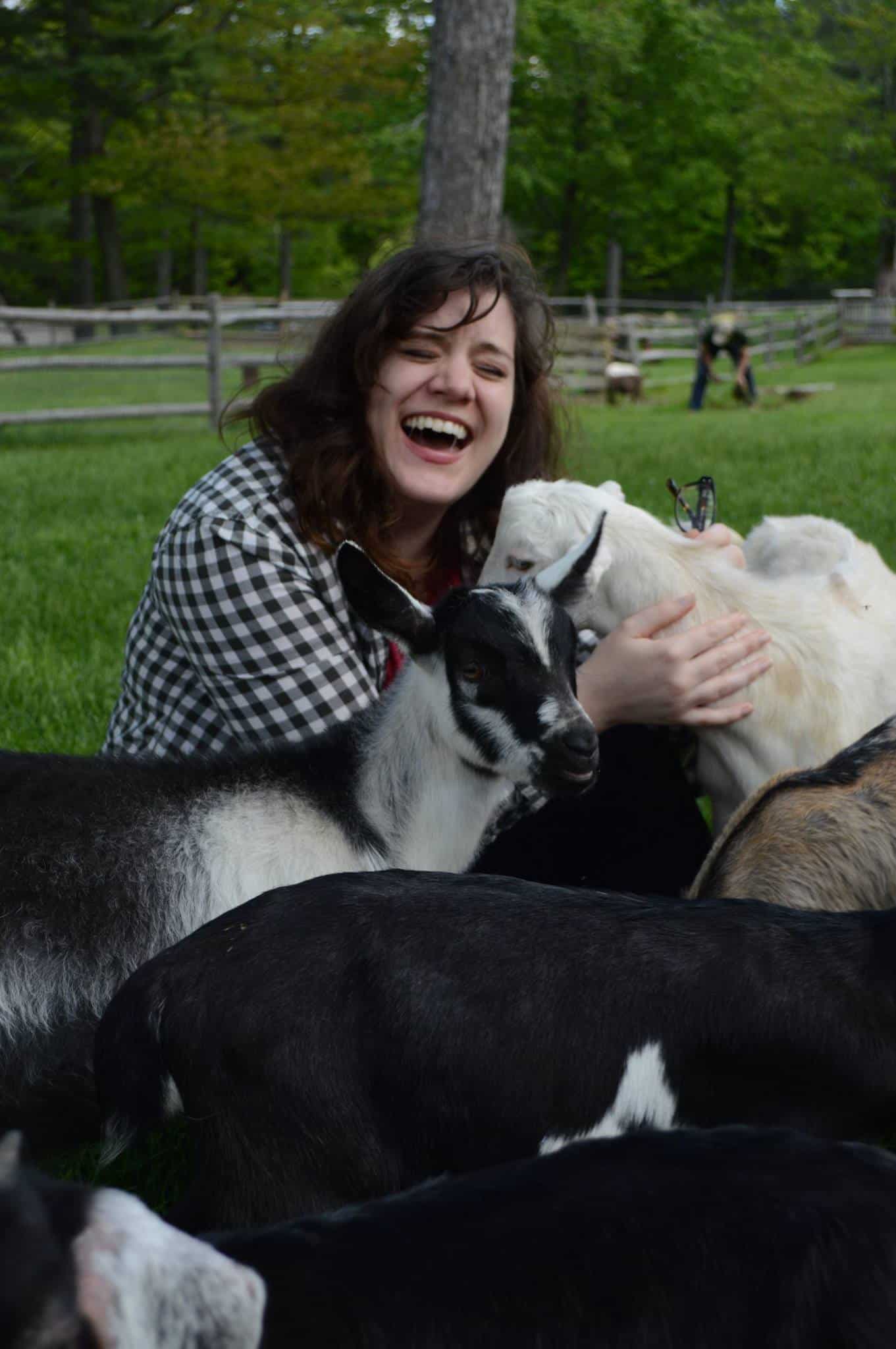 Amy Hartle is the founder and Editor-in-Chief of New England With Love, a comprehensive resource for travel in the New England region. Amy has been exploring New England since 2001. She lived in Vermont for many years and is a graduate of Plymouth State University in New Hampshire. Amy has been writing about travel for over a decade. On this site, Amy aims to share her love of New England and help you to have the best possible adventures!
Amy has been a full time blogger since 2012, and is also the publisher of Two Drifters, where she writes about couples travel and relationships, as well as Let's Adventure Baby, a family travel site. When not traveling the world or creating epic blog content, Amy can be found cuddling with her husband, son, and cats, & drinking a maple latte.