Camden is a picturesque coastal town in
Maine
that is known for its stunning views of the Atlantic Ocean, charming downtown, and of course, its incredible restaurants. While on any
Maine vacation
, you've got to know where the
best restaurants
are, of course!
From fresh seafood to farm-to-table cuisine, there are some pretty fantastic restaurants in Camden ME that are sure to impress your inner foodie. You can find great family-friendly places to eat, date night restaurants, and of course, fresh-caught Maine seafood at Camden restaurants.
Best Restaurants in Camden ME
Long Grain
Long Grain is a popular Camden restaurant that serves authentic Thai dishes. You'll find Thai classics like crispy spring rolls, house-made kimchi, and steaming bowls of flavorful pho, every dish creatively plated in a way that makes the experience just as visually impressive as it is tasty!
The ambiance at Long Grain is cozy and casual, making it the perfect spot for a casual night out in Camden.
Franny's Bistro
Located on the former site of Francine, Franny's Bistro is a very cozy, American fare restaraunt. On the menu, you'll find seafood favorites like lobster fritters, crab cakes, and pan-seared arctic char alongside classics like grilled rack of lamb.
The restaurant has a very cozy, intimate atmosphere, perfect for a romantic Camden dinner date. Save room for the homemade ice cream!
Waterfront
Aptly named, Waterfront offers stunning views of the harbor. This Camden restaurant features fresh caught Maine seafood and classic New England dishes like lobster stew and Maine Blue Mussels. Not in the mood for seafood? There are plenty of landlover options too, like the roast beef dip served on a crusty baguette – yum!
With a relaxed, casual vibe, this Camden restaurant with a view is a great choice for lunch or dinner!
Cuzzy's
With a great local tavern vibe, Cuzzy's is a welcoming, warm place to grab a bite to eat in Camden. You'll find classic tavern style offerings like fried mushrooms, brick oven pizzas, and juicy steakburgers available in both the downstairs main dining area and the upstairs bar.
Cuzzy's is a great place to go for a relaxed lunch or dinner in Camden.
Wolfpeach
One of the newest and hippest Camden restaurants on this list, Wolfpeach is a hyper-local farm-to-table restaurant that sources ingredients from Midcoast Maine and greater New England. The menu changes seasonally, but you can always expect fresh, locally sourced cuisine prepared with care. Even the spirits and the wines served at Wolfpeach are local to New England!
Wolfpeach is sustainable fine dining, and the ambiance is simple and progressive; this would make for a very interesting date night spot. Oh, and service staff is paid a livable wage, so no tips are accepted!
Natalie's
Natalie's is located at Camden Harbour Inn, and this fine dining restaurant serves up beautifully crafted dishes, a la carte. This Camden restaurant was even featured as one of the 100 Best Restaurants in the US by Diner's Choice Award and is a AAA Four Diamond Restaurant.
Reservations are strongly encouraged, even if you're staying as a guest of this exclusive Relais & Chauteaux Inn, but there is also opportunity to sample some of the culinary delights at the bar and in the lounge, too. Jackets are not required at Natalie's, but this is a very dressy place, so if you're looking for a fancy night out worth dressing up for, this is it!
Camden House of Pizza
Are you in the mood for some simple Italian? Perhaps a hand tossed pizza? Then you'll want to check out Camden House of Pizza, one of the best pizza places in Camden.
This quaint and cozy pizza joint serves up all the traditional pizza options, including Greek dishes, gyros, and more! Just look for the little hole in the wall with the red and white checkered curtains in the window off of Mechanic Street!
Peter Ott's on the Water
Peter Ott's is a waterfront restaurant in Camden that serves up classic New England seafood dishes like oysters, mussels, and lobster rolls. Not in the mood for seafood? No problem, because Peter Ott's also does a heck of a job with fantastic steak cuts like filet mignon.
You'll find a relaxed and casual atmosphere at this lovely waterfront restaurant, making it a great place to eat for a family dinner or a night out with friends.
The Jack
Are you in the mood for great pub style street food? Check out The Jack, Camden's go to spot for street food made from scratch with a side of fun. Comfort style pub food like hush puppies, sliders, and street tacos are some of the most popular items on the menu.
With bocce ball courts and an overall friendly, cozy ambiance, The Jack is a fantastic place to go with friends for a night out in Camden.
The Camden Deli
The Camden Deli is a local favorite, serving up handcrafted sandwiches and salads with a gorgeous view of Harbor Falls since the 1980s! You'll find a variety of options on the menu from classic deli fare like reubens and BLTs, and signature Maine style options like the lobster roll and the crab roll.
You'll find that The Camden Deli has a casual, laid-back vibe that makes it perfect for a relaxed meal out, and the views of beautiful Harbor Falls are just icing on the proverbial cake… or perhaps sauce on the proverbial sandwich, he he!
40 Paper
40 Paper is an Italian bistro that serves up Italian dishes with Mediterranean influences. There's an emphasis on locally sourced ingredients found throughout the menu, with local favorites like their savory puttanesca featuring mussels and shrimp.
40 Paper has a vibrant atmosphere, with a lively bar scene that makes this a great choice for a dinner out with friends.
River Ducks Ice Cream
Looking for a sweet treat on a hot Camden's summer day? Head to River Ducks Ice Cream, one of the cutest ice cream shops in Maine. There's a great variety of classic sundaes, soft serve, milkshakes and more on the menu, so if you've got a sweet tooth in Camden, River Ducks can help!
The location of this lovely ice cream shop cannot be beat, either, within walking distance of all kinds of great Camden things to do. This is a summer must visit while visiting this cute coastal town in Maine!
Boynton-McKay
Located in what was once Camden's drugstore/soda fountain, Boynton-McKay is today the place to go in town for hearty breakfast and lunch dishes. From sweet waffles to savory sandwiches, every dish is made with care.
The ambiance at this restaurant is relaxed and somewhat whimsical, with homage to its former glory as town apothecary.
Marriner's Restaurant
One of the top casual lunch places in Camden, Marriner's Restaurant is a very laid back, relaxed eatery with seafood staples like fish and chips, lobster rolls, and seafood chowder for lunch. They are also open for breakfast with all the classic breakfast favorites like pancakes and eggs.
One of the coolest parts of a meal at Marriner's Restaurant is the outdoor seating, directly over Harbor Falls. When the water volume is up, there is no better place to sit and enjoy this scenic waterfall in Camden!
Scott's Place
Interested in hidden gem restaurants in Camden? You've got to visit Scott's Place, the sandwich stand so tiny and nondescript that you could blink and miss it… if it weren't for the lines that are often formed at the window during the summer!
Sandwiches like the haddock melt, lobster roll, and cheeseburger are all crowd favorites, but with a menu that is focused exclusively on sandwiches and sides like french fries and fried mozzarella, you can be sure that they know what they're doing in that department no matter what you order!
There is certainly no shortage of incredible places to eat in Camden, Maine. Whether you're in the mood for seafood, Italian, or Thai, there's something for everyone and just about every kind of craving in this cute coastal community in Maine.
While this isn't by any means a comprehensive list of the best restaurants in Camden ME, this list is a great place to start.
You might also like: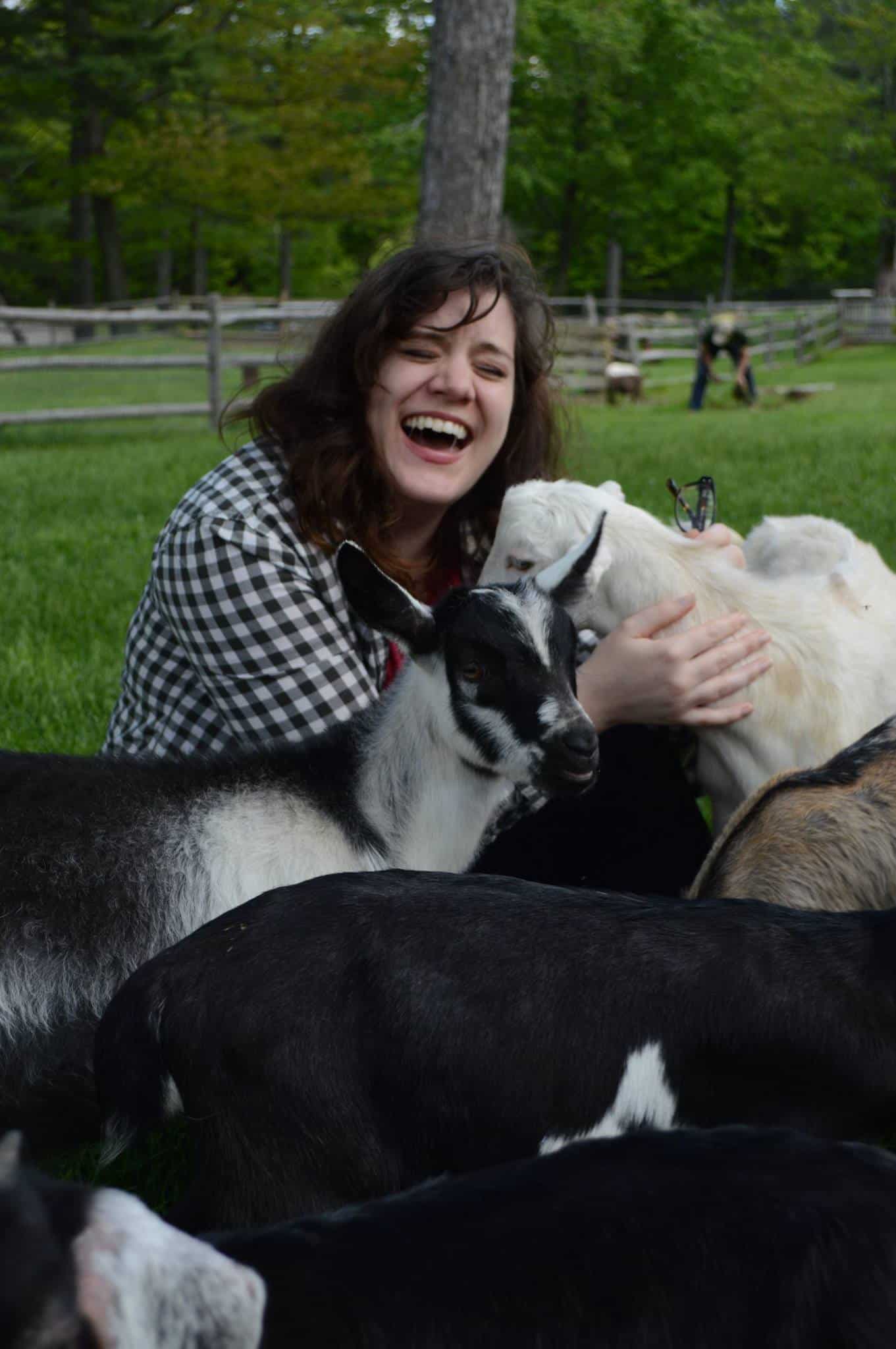 Amy Hartle is the founder and Editor-in-Chief of New England With Love, a comprehensive resource for travel in the New England region. Amy has been exploring New England since 2001. She lived in Vermont for many years and is a graduate of Plymouth State University in New Hampshire. Amy has been writing about travel for over a decade. On this site, Amy aims to share her love of New England and help you to have the best possible adventures!
Amy has been a full time blogger since 2012, and is also the publisher of Two Drifters, where she writes about couples travel and relationships, as well as Let's Adventure Baby, a family travel site. When not traveling the world or creating epic blog content, Amy can be found cuddling with her husband, son, and cats, & drinking a maple latte.