New England is famously known for its small towns, and luckily the state of Maine is filled with them. If you want to experience them for yourself, the best way is to visit one like Brunswick, located in Maine.
There are so many fun things to do in Brunswick Maine, no matter what type of activities you like to do while you're traveling! Brunswick is known for being a college town since it's home to Bowdoin College, but it is also filled with many other activities.
Brunswick is the perfect destination for couples, families, and solo travelers looking to experience more of Maine's small-town life. So, what are you waiting for? Keep reading to learn more about the best things to do in Brunswick Maine!
Peruse Masterpieces at the Bowdoin College Museum of Art
If you love experiencing art and history, then you'll want to add Bowdoin College Museum of Art to your list of must-do activities in Bowdoin. It's located right inside a building on the Bowdoin College campus, which dates back to the early 1800s.
Within the museum, you can truly step back in time. Even though the museum is relatively small, it's filled with tons of amazing pieces of art filtered through different collections. There are also some artifacts and exhibits that you won't want to miss.
Once you're done perusing the masterpieces, be sure to stop by the Bowdoin College Museum of Art's shop, where you can grab some fun souvenirs to remember your visit. There are even fun prints that you can buy of your favorite piece of art!
Hike at Bradbury Mountain State Park
Another of the best things to do in Brunswick Maine is none other than hiking in Bradbury Mountain State Park. This park is technically located in Pownal but is right near Brunswick. This area is perfect for those who love getting outdoors while visiting new places!
While there are lots of different hikes within the state park, the best one is the Bradbury Mountain Park Boundary Trail. This is an easy hike that's only about two miles long with around 300 feet of elevation gain. It's kid-friendly, and dogs are allowed on the trail if they are on a leash.
Other great trails in the park include Bradbury Mountain Northern Loop Trail, Tote Road Loop, and the Switchback Trail.
Visit the Harriet Beecher Stowe House
The Harriet Beecher Stowe House is a must-visit and is one of the great things to do in Brunswick Maine if you're interested in history or visiting historic sites. This historic home is technically still owned by Bowdoin College and dates back to the 1800s.
The home is the very place where Uncle Tom's Cabin was written along with Calvin Ellis Stowe. Harriet didn't live there for very long, but it's still an interesting place to visit, and the architecture (built in the Greek Revival style) is fantastic to witness firsthand.
The public space inside the home that you'll want to visit is called Harriet's Writing Room. The rest of the home has actually since been turned into offices for faculty. Today, the building is considered a National Historic Landmark.
Have a Pint at Flight Deck Brewing
Take a break from learning history by stopping at Flight Deck Brewing! This brewery is one of the lesser-known places to visit in Brunswick but is still a super cool place to visit. It's mostly only visited by locals.
The brewery first opened back in 2017 and is located inside the old Brunswick Naval Air Station. Before long, the brewery was winning awards, such as "Best in Maine" for their tasting room from none other than Down East Magazine!
They recently added wood-fired pizza to their menu, which pairs perfectly with any of their brews. The place is kid-friendly, and dogs are also welcome to come while you're there. Be sure to ask what's new on the tap list!
Shop at Brunswick Farmers Market
The best way to support local businesses is to head to the Brunswick Farmers Market! It's usually open between May and November, just a few days a week. This is the perfect place to go if you're looking to grab some fresh food.
This is one of the longest-running farmer's markets in the state, and there are usually around twenty different vendors on any given day of the market. They sell everything from fruits and vegetables to baked goods and even soap!
To learn more about the Brunswick Farmers Market and to see the latest news on the vendors, be sure to visit their website.
Attend a Program at Hamilton Audubon Sanctuary
One of the more unique places to visit in the Brunswick area is the Hamilton Audubon Sanctuary. This area is extremely tranquil, and the best way to explore it is to go on one of the many trails, like the Red, Blue, Yellow, or Green trail, to bring you through the park.
There are also many programs that are held at the park throughout the year for you to learn more about it. These are run by rangers in the area who know a lot about the park and want to educate visitors!
Relax at Thomas Point Beach
Obviously, this list of things to do in Brunswick Maine, would not be complete without including at least some type of beach! The most popular one in the area is Thomas Point Beach & Campground.
There are tons of great activities at Thomas Point Beach. There's a playground, a disc golf course, and even a place where you can rent canoes and kayaks to go out on the water. Plus, they host lots of fun summer concert events!
In addition, the campground can be a super unique place to stay in the area if you don't want to stay in a hotel. There are around 100 different campsites, so there's ample room for you to book a stay there.
Learn at the Joshua L. Chamberlain Museum
Another of the more educational places to visit in Brunswick is the Joshua L. Chamberlain Museum. The museum is named after Joshua L. Chamberlain, who was president of Bowdoin College and the governor of Maine.
The museum is situated in Chamberlain's old home. There are guided tours for about half of the year. The home recently went through major restorations in 2019, which has helped the home maintain its old historic look a lot.
On average, people spend about an hour at this museum. While it's not super large, there's a lot of information to take in while you're there.
Snap a Photo at Doubling Point Lighthouse
There are so many incredible lighthouses in Maine, and there happens to be one not far from Brunswick out in Arrowsic called the Doubling Point Lighthouse. It overlooks the Kennebec River and was built in the 1800s.
Guests are welcome to come and explore the grounds of the lighthouse and take in the view over the river, so it's a great place to go to snap a quick photo. However, guests are not allowed to go inside of the lighthouse.
If you're interested in going out on the water, there are also some fun cruises that you can book that will show you the lighthouse from more of a distance out on the water.
See a Performance at Maine State Music Theatre
If you love art, consider seeing a short at the Maine State Music Theatre. Located in Brunswick, the primary season of the theatre company is in the summer. Typically there are quite a few shows put on throughout the summer, including ones specifically for children.
SSome of their past shows includes The Color Purple, Disney's Frozen Jr., The Sound of Music, and Kinky Boots. No matter what show you opt to see, you'll truly enjoy it. Be sure to go to their website and check their online calendar to see what upcoming shows they have planned so you can get tickets and plan accordingly.
Enjoy a Treat or Meal from Wild Oats Bakery & Cafe
For a sweet treat or meal, be sure to stop by Wild Oats Bakery & Cafe. They bake goods from scratch and also have other things on their menu, like bread, soups, and sandwiches. Everything is relatively well priced as well.
Some unique dishes on their menu include chicken bacon ranch wraps, Caprese panini, and potato bread that you can buy! They bake different types of bread throughout the week, so you could visit multiple times in the same week and try a different kind each day.
The cafe is very welcoming from the outside, with a bright blue awning. Outdoor seating is abundant with umbrellas too, so you can sit outside and enjoy your meal while also experiencing the beautiful Maine weather.
Hopefully, this post has introduced you to all of the best things to do in Brunswick Maine! Don't forget to save this post and share it for later.
---
You might also like: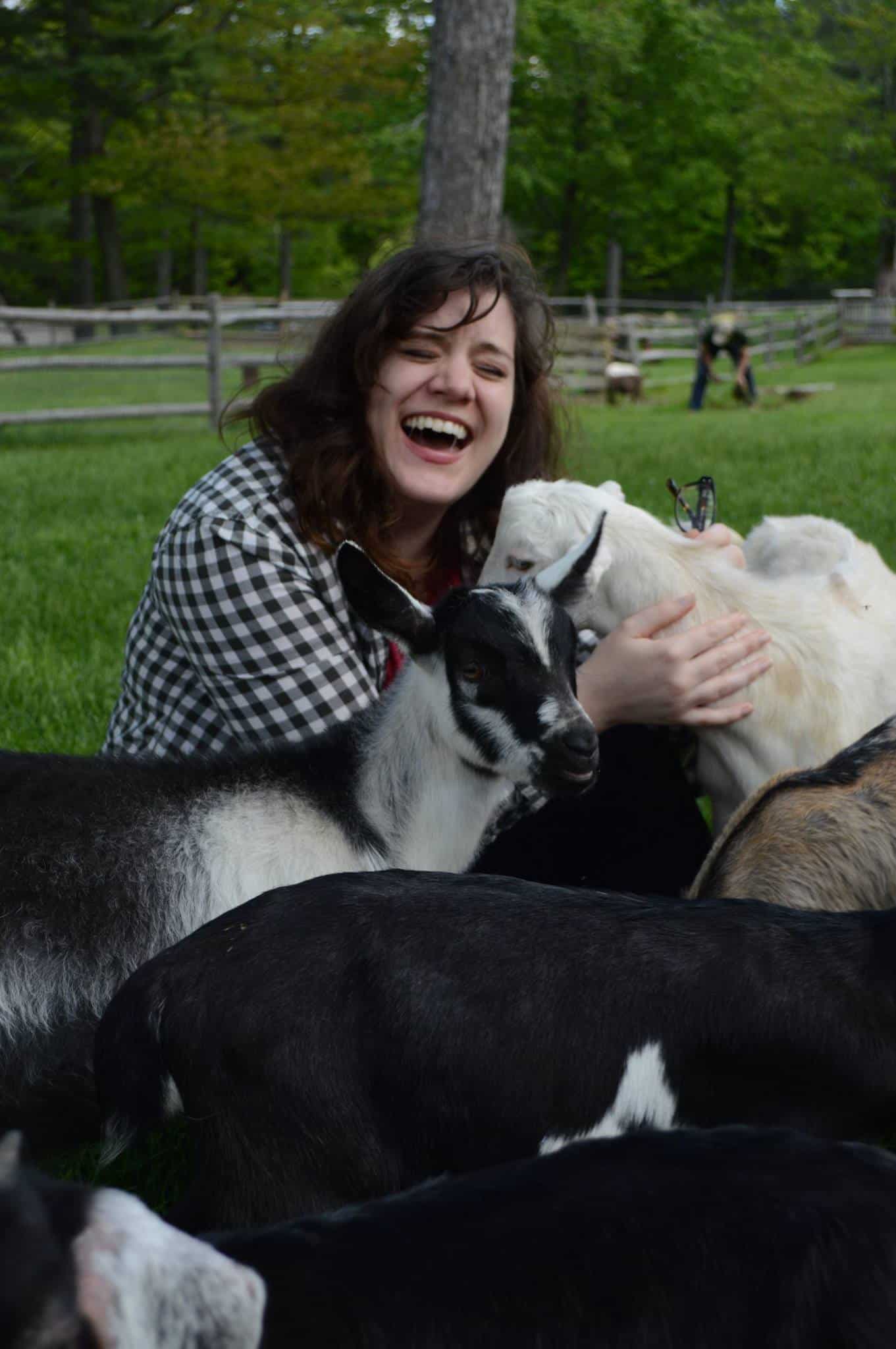 Amy Hartle is the founder and Editor-in-Chief of New England With Love, a comprehensive resource for travel in the New England region. Amy has been exploring New England since 2001. She lived in Vermont for many years and is a graduate of Plymouth State University in New Hampshire. Amy has been writing about travel for over a decade. On this site, Amy aims to share her love of New England and help you to have the best possible adventures!
Amy has been a full time blogger since 2012, and is also the publisher of Two Drifters, where she writes about couples travel and relationships, as well as Let's Adventure Baby, a family travel site. When not traveling the world or creating epic blog content, Amy can be found cuddling with her husband, son, and cats, & drinking a maple latte.