If you're from New England (or you're thinking of traveling to the area), you're going to want to learn these fun facts about Maine! To save you time, we've rounded up some of the most unique facts, and some of them might even surprise you.
Known for its lobsters and beautiful coastlines, Maine is truly paradise when it comes to the east coast. It's easy to see why anyone would vacation there, whether for a romantic getaway or a family vacation.
So, what are you waiting for? Here are some of the most unique ME fun facts.
Facts About Maine
Maine is the 23rd state.
Maine was officially a state in 1820, right after Alabama. Missouri joined in 1821 after Maine.
The state capital is Augusta.
Augusta is located along the beautiful Kennebec River and has a population just shy of 20,000. It's one of the best places to visit in the entire state.
It's home to New England's only national park.
While areas in New England are run by the NPS, there's only one national park: Acadia National Park. This is a must-visit park for any outdoor lovers.
Maine has more coastline than Texas and California.
Many people assume that California has the most coastline out of any state, but Maine has more! There's just shy of 3500 miles of coastline, only about 50 miles more than California.
The state is well known for lobster.
Anyone who visits Maine knows that they have to try a classic lobster roll during their trip. Maine produces around 100 million pounds of lobster for the USA every year, and it's freshest right in the state.
Its state bird is the chickadee.
As of 1927, the black-capped chickadee is the Maine state bird. Be on the lookout for this cute birdie during a trip to Maine; it's mostly white and fluffy but has a little black cap!
There are more than 4500 islands.
Yes, you read that right! Maine has more than 4500 islands off the coast, though you can't actually visit all of them. The best way to see some of the islands is to take the Casco Bay Ferry from Portland.
Maine's state insect is a honeybee.
Maine's state insect became the honeybee in 1975, and that's because of the importance they play in the state's agriculture.
There are more than 5000 lakes.
There are more than 5000 lakes throughout the state, which is why it's such a lovely place to go during the summer months. There are an infinite number of places to cool off!
More than 60 lighthouses can be found in Maine.
So many people add seeing the lighthouses in Maine to their bucket list. There are 65 different lighthouses in total throughout the state, though not all of them are actively used.
The state fish is landlocked salmon.
The landlocked salmon became Maine's state fish in 1969. This was because of the number of them found throughout the state.
Maine's nickname is "The Pine Tree State."
The state's nickname is "The Pine Tree State" because of how much forest the state is made up of!
Only one state borders Maine.
Out of all the states in the USA, Maine is the only one to border just one state. To its west, it's on the border of New Hampshire.
Maine's state tree is white pine.
Going off of the state's nickname, Maine's state tree is the white pine. This was put into action in 1895.
Author Stephen King resides partly in Maine.
Stephen King is one of the famous people from Maine, known for penning many horror novels like The Shining and It. He's from Portland and lives half the year in Maine, but he goes to Florida for the cold months.
Maine was once a part of Massachusetts.
For a short time, Maine was actually part of Massachusetts. This was directly after the ending of the Revolutionary War!
The reasoning behind the state name is unknown.
Funnily enough, nobody actually knows why Maine is named Maine. Some people think it may have been named after an English village, while others thing it's just because the area is on the mainland (versus the islands off the coast).
Maine locals don't say their "R's."
You can easily find who is a local when visiting Maine by paying attention to how they talk. The locals won't say their "R's!"
L.L. Bean was founded in Maine.
The famous L.L. Bean, known for their Bean boots (a New England staple in the winter months), was founded in Maine.
The world's oldest mass transit museum is in the USA.
Be sure to stop by the Seashore Trolley Museum when visiting Maine to check out the museum for yourself. It's located in Kennebunkport.
Mount Katahdin is Maine's tallest point.
This mountain is just over 5,000 feet tall and many locals also refer to it as the Great Mountain, which is what Katahdin means.
Maine is New England's biggest state.
In fact, Maine is actually largest even when all the other New England states are combined in size! It's much bigger than people think.
The state berry is a blueberry.
The wild blueberry was officially declared as Maine's state berry in 1991, and they're commonly picked in the summer months.
Eastport, ME is the first location in the USA to see the sun.
Head to Eastport to see the sunrise in America before the rest of the country! It's officially the first spot to see daylight every morning.
Famous poet Henry Wadsworth Longfellow is from Maine.
Born in Portland in the early 19th century, Henry Wadsworth Longfellow is a Mainer. He's known for many of his poetry pieces, like "Paul Revere's Ride."
It's the 9th least populated state.
Maine's population as of 2021 is just about 1.3 million people, making it the 9th least populated state in the United States.
It's the 12th smallest state in the USA.
In addition, Maine is fairly small in actual size compared to the rest of the USA, making it the 12th smallest state in the country. For comparison, it's about the same size of Portugal.
Most of America's toothpicks are made in Maine.
Many refer to Maine as the world's toothpick capital. For a while, they were even making 20 million toothpicks each and every day!
Maine's state animal is a moose.
The state animal is the moose as of 1979. They can be found often throughout the state. In fact, many souvenirs will have a moose on them.
Locals are called Mainers.
Anyone born and raised in Maine as a native is called a Mainer!
It's the only state name with one syllable.
Just in case you don't believe us, try to think of all other states in America right now. We bet you can't find another one with just one syllable!
Maine's motto is "Dirigo."
"Dirigo" became the state motto of Maine, which quite literally means "I lead." It can be found on Maine's flag right near the Northern Star.
The blueberry capital is in Maine, Cherryfield.
Cherryfiield calls itself the "Blueberry Capital of the World" even though it's a small town because of the blueberry fields there. Funnily enough, it's named Cherryfield after the many cherries that the town used to have!
Maine is a top mining spot for zinc, garnet, and copper.
Much of New England is a jackpot for mining different minerals. Maine is just no exception!
You could be charged a fine for having Christmas decor up past January 14.
This law is not really enforced anymore, but for a while, this could actually happen. Hopefully, you're not one of those people who keep their tree up too long!
Maine has 1 brewery for every 10,000 people.
If you love a good brewery as much as we do, you are in luck. They are very easy to come across when visiting Maine!
Maine's first newspaper was the Falmouth Gazette.
The first newspaper published in Maine was actually all about the state officially becoming its own state and no longer being a part of Massachusetts.
Maine was the first state to prohibit alcohol.
From 1851 to 1934, Maine had a law that completely banned selling and making liquor. That's quite a while for it to be in effect!
The state has one of the US's coldest spring seasons.
Because of its location on the water, Maine temperatures can easily drop. Plus, it's so far north!
Many people Maine was founded by Vikings.
While this fact has yet to fully be proven by researchers, some people believe that the state was first found by Vikings back in the day.
Maine's Cadillac Mountain was named after the car.
Cadillac Mountain is one of the top destinations to visit in Maine. It was actually named after the car!
The Revolutionary War's first naval battle took place in Maine.
A fight called the Battle of Machias occurred in 1775, right off the coast of the state. It was the first naval battle of the Revolutionary War.
Donut holes (yes, like Dunkin's munchkins) were first made in Maine.
When they were first created, the creator, Hanson Crockett Gregory, called them greasy sinkers. He was just a teenager at the ripe age of 15 when he first made them.
The largest city is Portland.
Portland is one of the top places to visit in the state and has a population of 68,000 people as of 2021.
The most photographed lighthouse in the world is in Maine, Portland Head Light.
Located by Fort Williams Park, the Portland Head Light attracts visitors from all over the world because of its beauty.
Well, there you have it! We hope you enjoyed this post on facts about Maine and maybe even learned a new thing or two. Don't forget to share it with other travelers who love Maine just as much as you!
---
Read these next: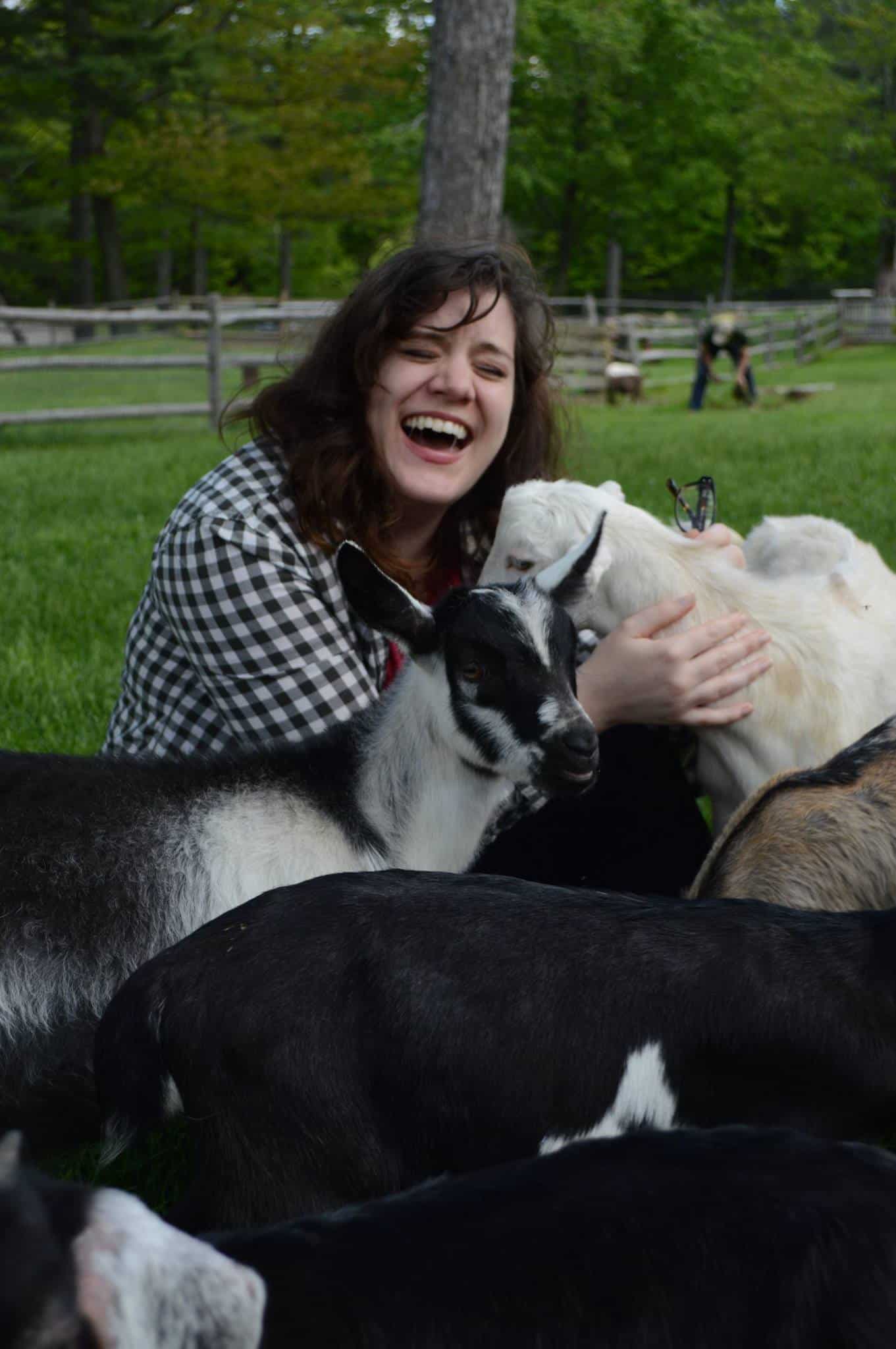 Amy Hartle is the founder and Editor-in-Chief of New England With Love, a comprehensive resource for travel in the New England region. Amy has been exploring New England since 2001. She lived in Vermont for many years and is a graduate of Plymouth State University in New Hampshire. Amy has been writing about travel for over a decade. On this site, Amy aims to share her love of New England and help you to have the best possible adventures!
Amy has been a full time blogger since 2012, and is also the publisher of Two Drifters, where she writes about couples travel and relationships, as well as Let's Adventure Baby, a family travel site. When not traveling the world or creating epic blog content, Amy can be found cuddling with her husband, son, and cats, & drinking a maple latte.