---
*Links in this article may be affiliate links, from which we may earn commission. See our
Privacy Policy
for full details.
---
Rockland is a smaller city in Maine that's completely underrated when it comes to visiting places in the northeast! There are incredible activities, outdoor adventures, and restaurants in Rockland ME that are worth experiencing at least once.
Throughout this post, you'll learn all about Rockland's top restaurants, in no particular order. There are restaurants for pretty much every type of food that you can imagine: seafood, Italian, sushi, and even hot dogs!
Be sure to grab your pen and paper because you'll want to write some of these down. Keep reading to learn all about the best restaurants in Rockland ME!
Home Kitchen Cafe
Location: 650 Main St, Rockland, ME 04841
First is none other than Home Kitchen Cafe, one of the top breakfast restaurants in Rockland ME. Not only is their food delicious, but they also use all local ingredients in their meals, so this is the perfect way to support a local business.
The restaurant looks like your classic northeast breakfast establishment, with a grey shack-like exterior. There's a huge patio on the second floor of the restaurant where you can usually see people already eating spectacular food. The interior is a bright, cheery yellow shade, and there's ample seating!
The menu is relatively extensive, and almost every type of breakfast food that you can imagine can be found on it. There are omelets, breakfast sandwiches, french toast, oatmeal, burritos, and more. One of the most unique menu items is the breakfast fried rice which comes with eggs, veggies, and tamari-based ponzu sauce.
Rustica Cucina Italiana
Location: 315 S Main St, Rockland, ME 04841
Next is Rustica Cucina Italiana, the perfect place to go if you are in the mood for Italian food. With mid-range pricing, ample seating, and friendly staff, you really can't go wrong with eating there. Pretty much everything you order on the menu is spectacular!
This restaurant has a reasonably casual yet elegant vibe. There's warm lighting, beautifully set dark wood tables, and an industrial feeling with exposed brick on the walls. However, most people who go to eat there dress rather casually!
No matter what type of Italian food you're in the mood for, you'll be able to find it on the menu. There's chicken parmesan, cavatelli saltimbocca, fettuccine alfredo, and more. There are also some pretty unique pizza options, like goat cheese pie or even eggplant parmesan pie with three kinds of cheese.
Sammy's Deluxe
Location: 488 Main St, Rockland, ME 04841
A great American restaurant in Rockland is Sammy's Deluxe! This is a super laidback place to eat known for its excellent and friendly staff. They also, of course, have incredible food that sources the best ingredients for all of their meals.
The restaurant's interior is very modest and will make you feel right at home. There are colorful table clothes, wooden finishes that warm up the inside, and a bar that serves as the main point of interest.
The menu is relatively eclectic, with dishes like cheeseburgers, house-smoked haddock, brown bread, simple salads, and even smoked eel jalapeno poppers. Everything is moderately priced, with the larger dishes costing between $15 and $20 for the most part.
Wasses Hot Dogs
Location: 2 N Main St, Rockland, ME 04841
One of the most casual restaurants for quick food in Rockland is Wasses Hot Dogs! As the name suggests, this restaurant is known for hot dogs, and you can literally walk right up to the window and order. It's perfect if you're in a pinch or you just genuinely want an easy meal!
The restaurant is relatively small, as it's literally a walk-up window. You're immediately greeted with a giant that says "over five million sold," so you immediately know that the hot dogs are good. There are also some picnic tables around where you can sit and enjoy your food.
The menu is relatively small, and that's because they pretty much make just hot dogs and french fries! However, there are many different hot dog types that you can choose between, like bacon dogs, cheese dogs, chili dogs, bacon chili dogs, and even their specialty, the western dog. Everything on the menu costs around $5, so it's super affordable!
Archer's on the Pier
Location: 58 Ocean St, Rockland, ME 04841
Another of the absolute best restaurants in Rockland ME is none other than Archer's on the Pier. This is yet another seafood restaurant, and as the name suggests, it's right on the water. So, you can eat your food with a superior view!
The restaurant has a bright white exterior with navy and black accents, fitting in perfectly with the coastal vibe of Rockland. They have ample outdoor seating with a covered patio that overlooks the water, where you can watch the boats come in and out.
In addition to daily specials, the menu features everything from salads to lunch classics, including burgers, fish, wraps, and sandwiches. For a real treat, be sure to try their local wild oysters, which are superb.
Suzuki's Sushi Bar
Location: 419 Main St, Rockland, ME 04841
This list of best restaurants in Rockland ME would not be complete without including at least one sushi bar! This classic sushi restaurant is perfect if you're craving noodles or sushi, and they genuinely do have impeccable service.
Suzuki's Sushi Bar may be easy to miss from the outside because it's in an area where there are tons of restaurants, but once you go inside, you'll be welcomed with warm lighting and pale green accents. There's also ample seating, including a bar area.
The menu is pretty long, and most dishes are relatively affordable, with not many dishes costing more than around $20! There are tons of sushi roll options, including tuna and avocado, spicy salmon, and even the Rockland roll. Of course, there's also sashimi, noodles, rice, and even gyoza.
Clan MacLaren
Location: 397 Main St, Rockland, ME 04841
For a great sandwich, head out to Clan MacLaren. This sandwich shop is a great place to go for a quick meal, and it's a short walk from other nearby attractions, like the Farnsworth Art Museum. Plus, they have great staff.
The inside of the restaurant is very laid back, with white walls, unique lighting, and green accents throughout. There's ample seating to eat your sandwich inside unless you'd rather take it to go.
As you may have guessed by the name, there's also an overall Irish vibe to the restaurant, which is super unique for a sandwich shop! There are great sandwich options with individual names, like Jan's BLT, Cape North, and the Lorelai. Most sandwiches cost around $10. There are also many chips that you can grab to go with your sandwich!
The Lobster Shack
Location: 346 Main St, Rockland, ME 04841
One of the other great restaurants in Rockland ME, for seafood, is none other than The Lobster Shack. It's another place that's frequented mainly by locals, but that's how you know it's good. Plus, their bread is homemade!
This is a relatively laid-back restaurant with tons of outdoor seating. Seriously, it's so hard to miss it with their bright umbrellas and their outdoor seating! You can walk right up to the shack's window and check out the menu to order.
The menu is written on a whiteboard so they can easily change their offerings. They always have lobster rolls and crab rolls and sometimes have other sandwich types and salads and soups, so there are many options when it comes to food, especially if you're traveling with someone who maybe isn't a seafood fan.
The Grey Owl Bar & Grill
Location: 2 Park Dr, Rockland, ME 04841
The Grey Owl Bar & Grill is one of the hidden gems in Rockland, so it's worth checking it out. It's located in the Trade Winds Inn, a great place to stay if you're wondering where to stay in Rockland Maine.
The restaurant has a very clean and minimal vibe, and honestly, it's pretty Instagrammable if you're a foodie. There are clean wooden tables with dark brown seating and tons of white walls with accent wallpaper throughout.
They are open for breakfast, lunch, and dinner. Some great meals on their restaurant menu include short rib poutine (with garlic aioli), loaded nachos, creamy roasted balsamic Brussel sprouts, and cheddar cheese curds.
Mé Lon Togo Camden
Location: 10 Leland St, Rockland, ME 04841
One of the more unique restaurants in Rockland ME is Me Lon Togo Camden! They serve west African food and recently opened a few years ago, so they are one of the newer restaurants in the area.
The restaurant itself is relatively elegant, with brown wood finishes and stained glass windows, which add a unique flair. There's tons of indoor seating with leather accents. This is the perfect place to go for a romantic evening out with a significant other.
The menu is pretty short, but that's because they know what they make well. There are unique dishes like dje & amada (sweet potato and plantain), me lon togo salad, duck de Provence, and even cognac chicken. They also have traditional West African tapioca pudding with lemongrass broth for dessert.
This post was all about the best restaurants in Rockland ME! No matter where you opt to eat, you'll enjoy the food. Hopefully, you found a great option by reading our post!
---
You might also like: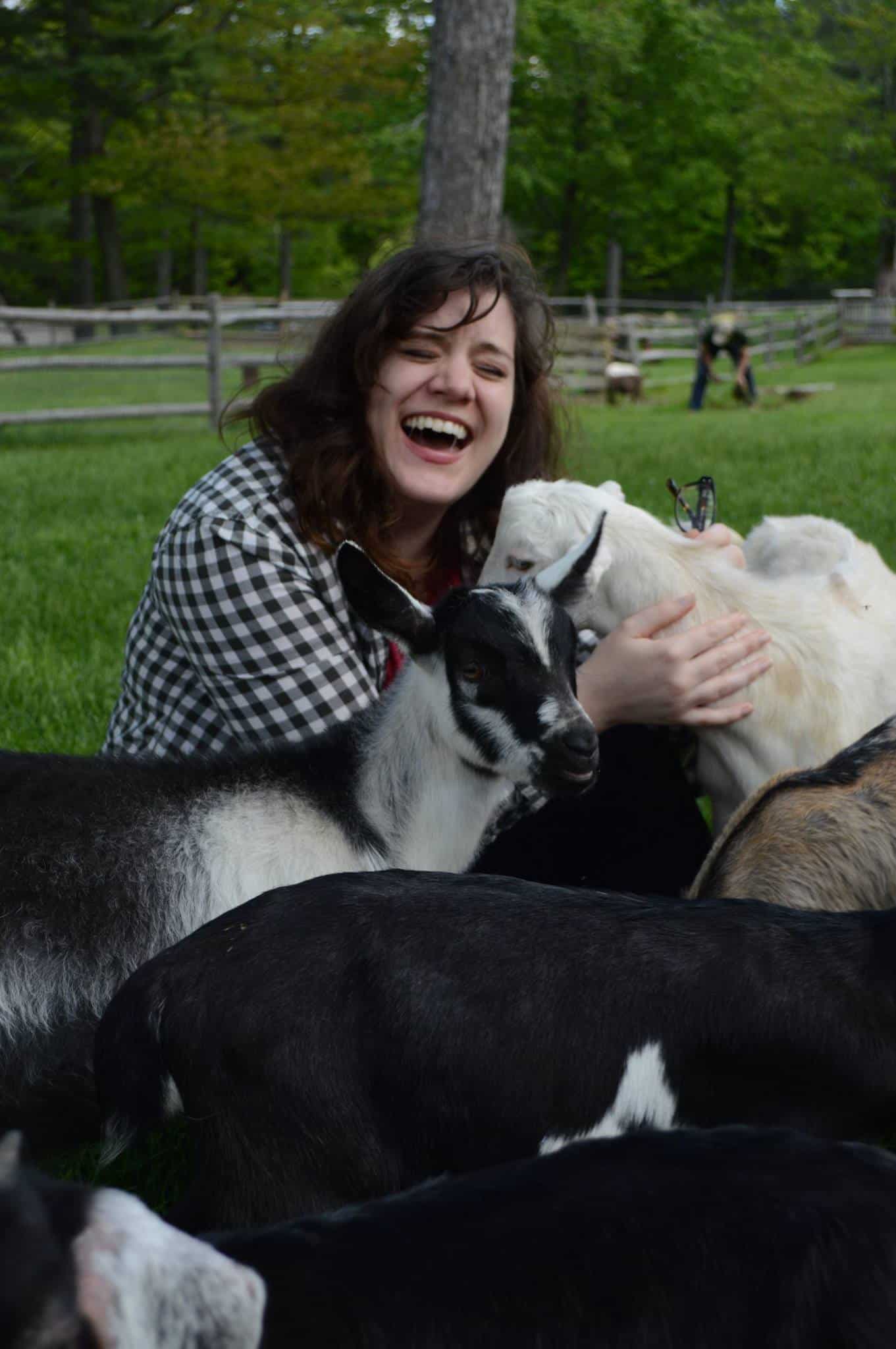 Amy Hartle is the owner and editor of New England With Love, a comprehensive resource for travel in the New England region. Amy lived in Vermont for 15 years, attended Plymouth State University in New Hampshire, and continues to travel regularly around the entire New England region. On this site, Amy aims to share her love of New England and help you to have the best possible adventures!
Amy has been a full time blogger since 2012, and is also the publisher of Two Drifters, where she writes about couples travel and relationships, as well as Let's Adventure Baby, a family travel site. When not traveling the world or creating epic blog content, Amy can be found cuddling with her husband, son, and cats, & drinking a maple latte.