*This site uses affiliate links; if you make a purchase through these, I may receive a small commission at no cost to you.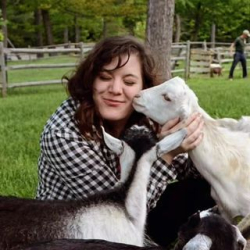 Latest posts by Amy Hartle
(see all)
Welcome to a festive journey through Vermont's enchanting Christmas tree farms! As the holiday season twinkles to life, what could be better than selecting the perfect tree from the very land where it grew?
In this post, I'm going to share with you the best Christmas tree farms in Vermont, where the scent of fresh pine and the thrill of finding your ideal tree create unforgettable holiday memories.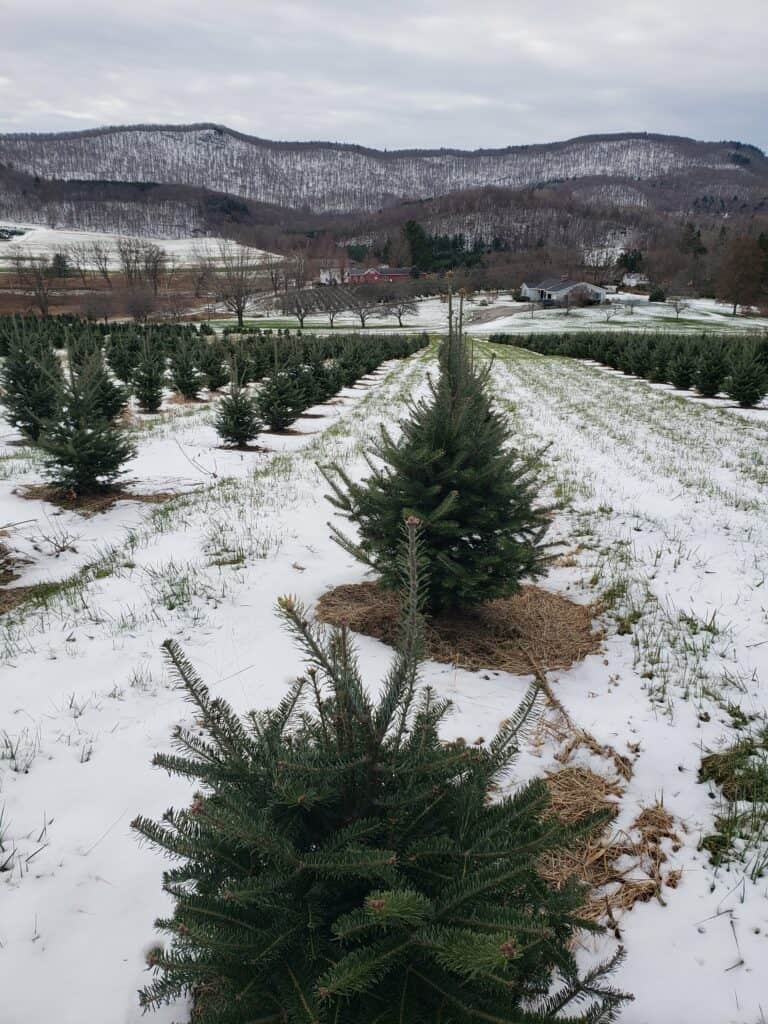 Best Christmas Tree Farms in Vermont
What I love about Vermont (among many things) is it's strong sense of tradition and the great stewardship of its people. Vermonters have a tremendous commitment to the environment and to a culture that supports agriculture. It will come as no surprise that all of the Christmas tree farms on this list are family-owned Vermont businesses. If you love to support and shop local, choosing your own holiday tree from one of these locations is an excellent choice this festive season.
All of these tree farmers are known for their beautiful crop (with its heavenly scent) but they also have raving reviews from customers who love their prices, gorgeous locations, kind people, and festive atmospheres. Let's find you your tree!
Werner Tree Farm, Middlebury VT
Family-run Werner Tree Farm in Middlebury, VT is a prime example of quaint Vermont Christmas charm.  Whether you cut your own tree or choose from their pre-cut stock, the Werner family provides all that you need to have a fun, festive experience while picking out the perfect Christmas tree!
Spruce, fir, pine? They've got all varieties of evergreen at this farm, so you can take your pick.
Complimentary hot chocolate and cookies will keep your energy up as you hunt for your tree, and when you return, you can head in to check out the farm shop! You'll find a wide selection of handcrafted garlands, wreaths, kissing balls, and other Werner Farm staples, like their maple syrup and raw honey products.
Oh, and a special note for families with kids: don't leave this VT Christmas tree farm without meeting Twister, the Christmas pony!
2023 Werner Tree Farm Info
Tuesday – Friday, 12 pm – 5 pm,
Saturday & Sunday, 10 am – 5 pm
Closed Monday
Christmas Trees of Vermont, Springfield VT
Located in beautiful Springfield, Christmas Trees of Vermont has more than 70 acres of healthy and strong Fraser Firs to choose from.
If you visit on the weekends, you can hop on the "Jolly Trolley," their whimsical holiday wagon to ride out to the fields to cut your tree or hunt for your perfect Christmas tree among the selection of pre-cut trees.
Once you've got your tree, head in to visit the Christmas Cottage to warm up by the fire with your hot cocoa as you check out the selection of wreaths and ornaments.
If that doesn't rev up your Christmas spirit-ometer, rumor has it that if you stop by the Christmas Cottage on the weekends, you might just run in to Santa himself!
2023 Christmas Trees of Vermont Info
Opening for Christmas 2023 on November 24, 2023, 10 am – 4 pm then daily (same hours) until inventory is gone
Russell Christmas Tree Farms, Starksboro VT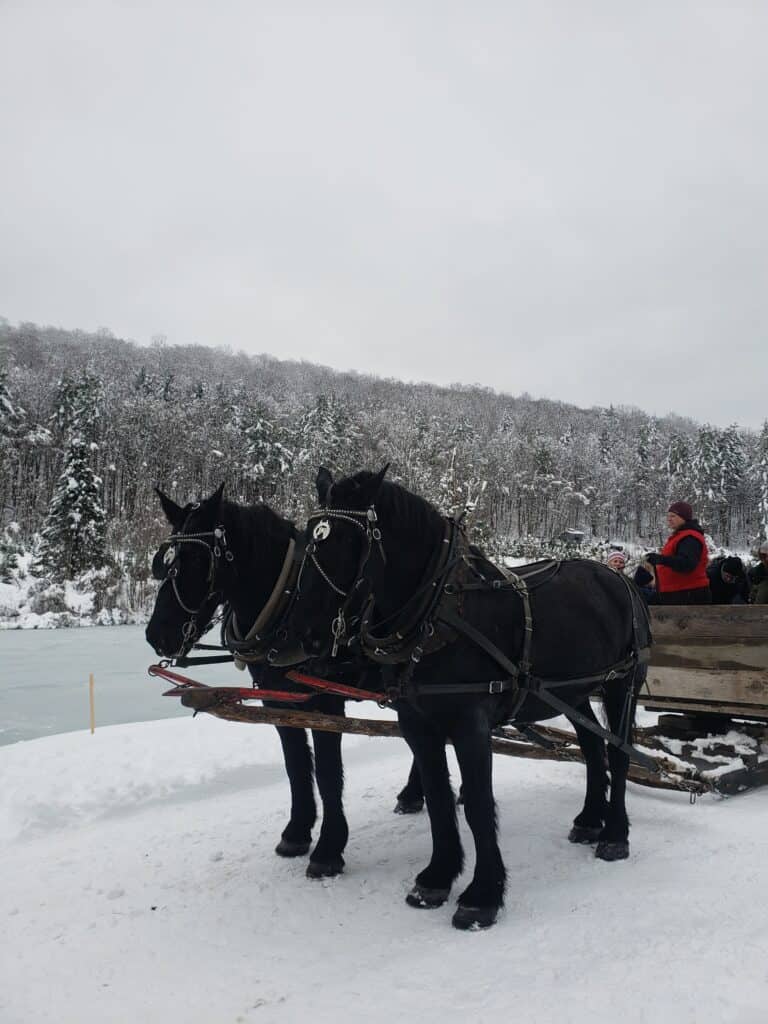 The Russell Christmas Tree Farm is my favorite of Vermont's Christmas tree farms. With a horse-drawn sleigh ride through the woods and a cozy cabin stocked with steaming hot cocoa, this is a true holiday experience, and makes a wonderful tradition for families.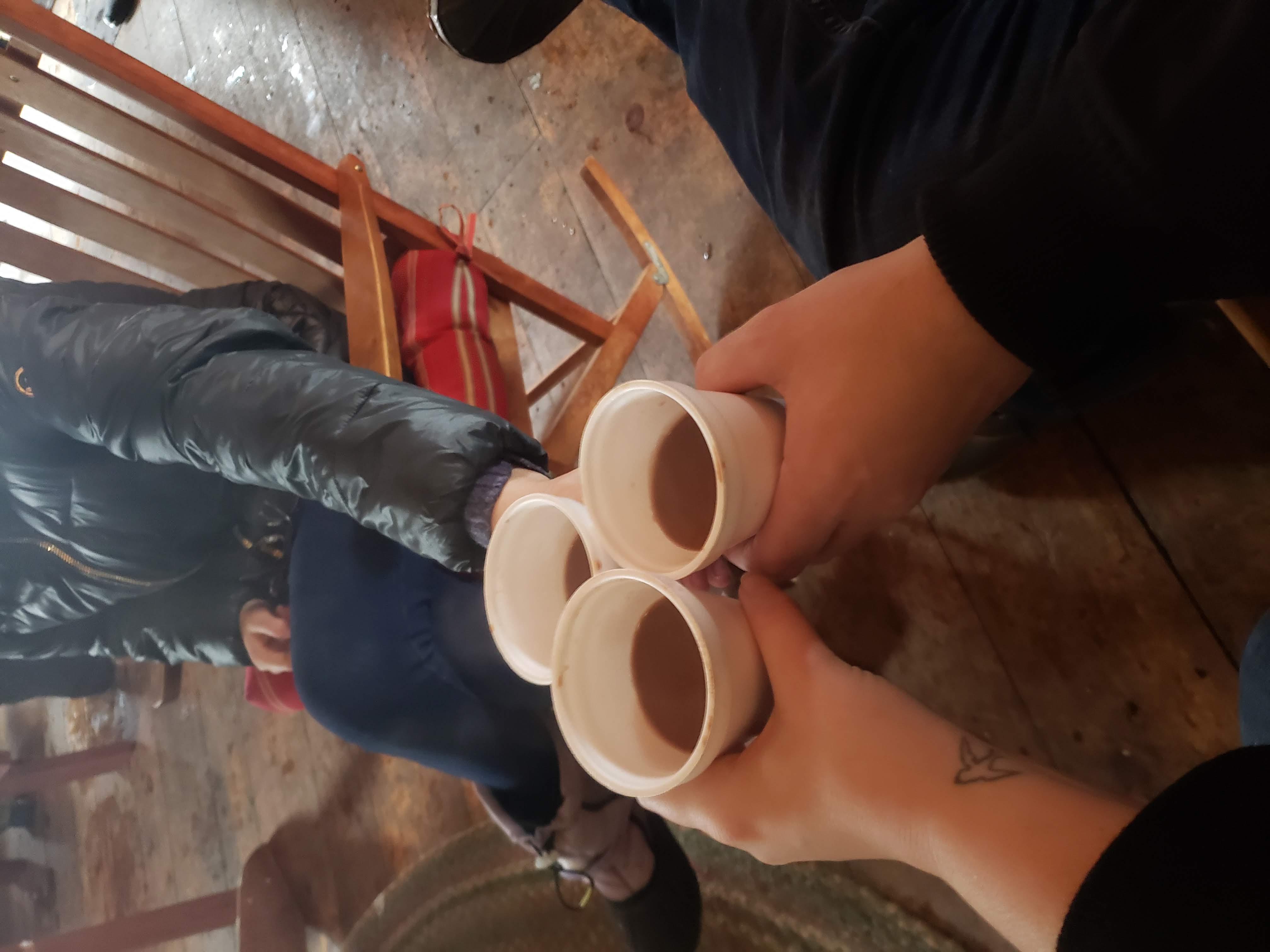 But let's talk trees. There are Balsam Fir and Fraser Fir varieties available. You can also pick up some handmade fresh wreaths, garland, and Russell Farm maple syrup to complete your Christmas experience shopping.
The prices are reasonable, too. $90 gets your whole family a sleigh ride and includes the cut-your-own tree.
2023 Russell Christmas Tree Farm Info
Opens November 24, 2023, 10 am – 4 pm, then Saturday & Sunday, 10 am – 4 pm
Elysian Hills Tree Farm, Dummerston VT
When you want a picture-perfect New England Christmas experience, you need to head to Elysian Hills Tree Farm in Dummerston, VT!
This gorgeous tree farm offers certified organic trees of the Balsam and Canaan Fir varieties. In addition to their cut-your-own and pre-cut options, they also have a great selection of handcrafted wreaths, kissing balls, garlands, and centerpieces.
Elysian Hills is a part of Walker Farm, a lovely organic farm that offers lots of fabulous farm-fresh goodies, like maple syrup, cheese, and veggies. I love what their website says:

"Real Vermont Christmas Trees are a recyclable agricultural crop. Approximately 1,500 new trees are planted at our farm each year. With an Elysian Hills tree, you'll not only get to enjoy the beauty and freshness of a real Vermont tree, you will be doing something good for the environment and supporting Vermont agriculture."
Once you've picked out your tree, head to the farm store to get your complimentary hot chocolate or cider and pick up some marshmallows to roast over the open fire. What more could you possibly need to get in the spirit of the season?
2023 Elysian Hills Tree Farm Info
Christmas 2023 Cut your Own & Pre Cut is November 24 – December 24, 2023, Monday – Friday, noon – 4 pm, Saturday & Sunday, 10 am – 4 pm
Pleasant Valley Tree Farm, Bennington, VT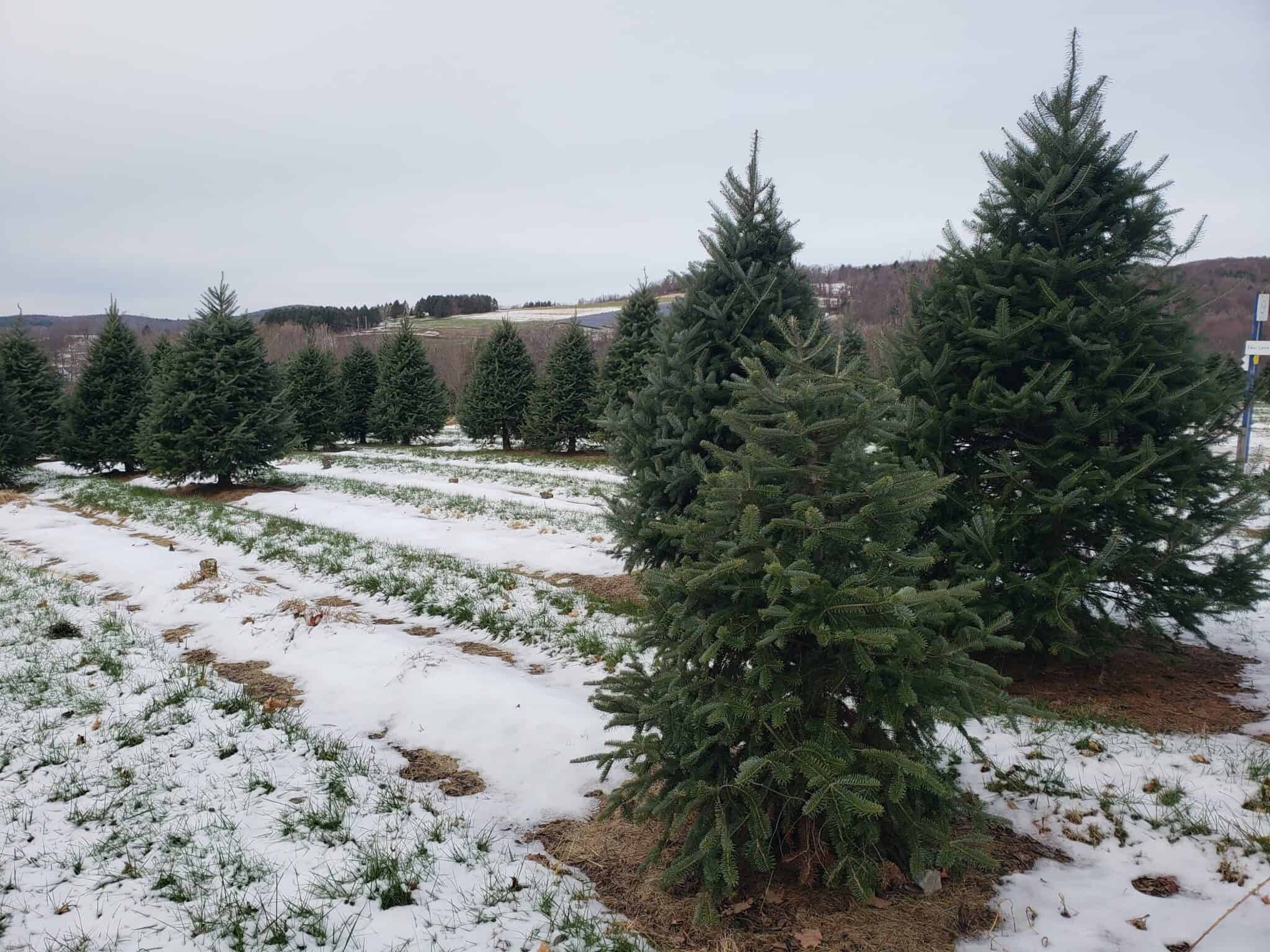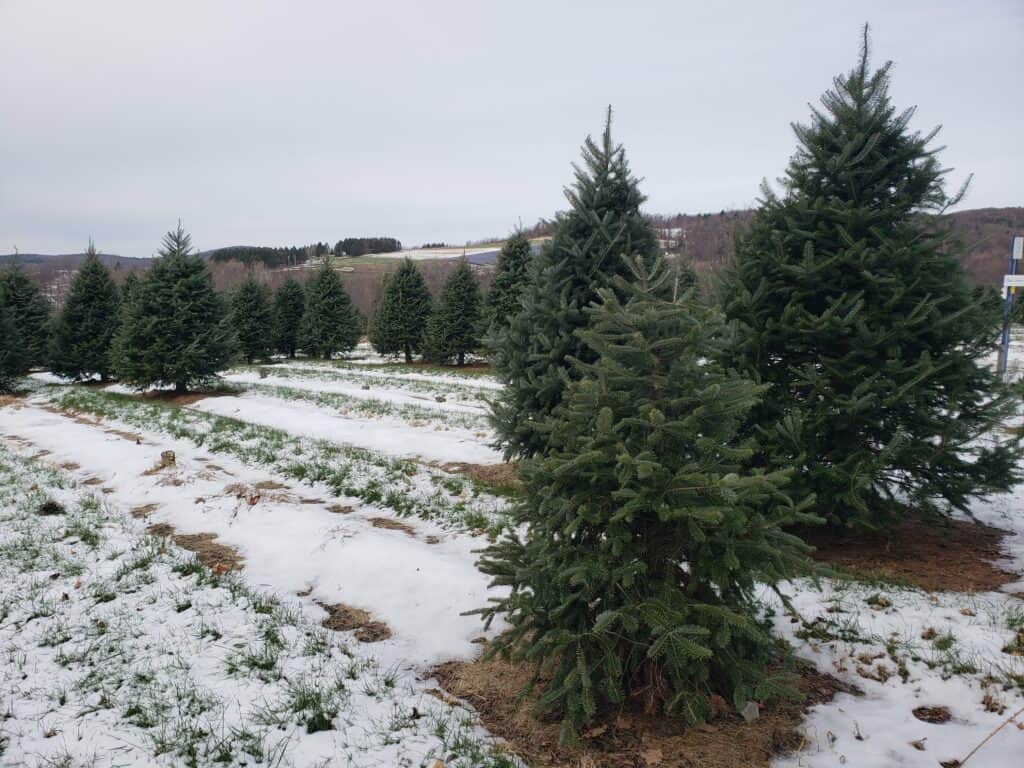 With a scenic location in Bennington, Vermont, Pleasant Valley Tree Farm is more than just a farm; it's a slice of family history that's been around for more than a century. What began as a dairy and chicken farm has blossomed into an 80-acre wonderland of Christmas trees since the 1950s. With a lively rotation of 30,000 trees, ranging from sprightly 4-year-olds to grand 16-year-olds ready for your living room, there's always something growing. Each year, 2,000 new trees join the party!
Come on over and make a day of it. Trek through the crisp, snowy fields, saw in hand (don't worry, they've got spare saws if you forget yours!), and find the perfect Fir to light up your home or office. While you're here, you can soak in the breathtaking views of Mount Anthony, the lush Green Mountains, and the majestic Taconic Mountains. It's a true Vermont-style adventure, with a bit of festive cheer thrown in for good measure!
2023 Pleasant Valley Tree Farm Info:
November 24th: Every day 9:00am to 4:00pm
The Fields CLOSE at 3:30pm
Tester's Vermont Christmas Trees, Barton VT
Located in the scenic "Northeast Kingdom" of Vermont, Tester's Vermont Christmas Trees offers the classic Christmas tree farm experience.
On the weekends, Tester's offers hayrides to take you out to the fields so you can look for your perfect tree to cut down yourself, or you can choose from one of their freshly-cut, ready to buy options.
Tester's cites their tree farm's elevation of 2000 feet as being one of the reasons their trees are exceptionally hardy and known for holding their needles a long time.
Once you've found your Christmas tree, you can warm yourself up with a cup of complimentary hot cider or cocoa. In addition to trees, Tester's also sells hand-crafted wreaths and hand-painted ornaments, so you can get all you need to deck your halls and make your home merry and bright!
2023 Tester's Vermont Christmas Tree Farm Info
Open weekends, Thanksgiving to Christmas for Choose & Cut, 9 am – 4 pm
Wandering Moose Farms, Franklin VT
This cute little Vermont farm is a great spot for Vermont Christmas trees, with Wandering Moose Farms in Franklin offering Fraser, Balsam, and even "Fralsam" Firs with a wide range of sizes, with some ranging up to a whopping 14 feet tall!
There are also handcrafted Christmas wreaths onsite, so this cute Christmas tree farm can help you find all your live Christmas decor!
2023 Wandering Moose Farms Info
Opens for the Christmas season November 24, 2023, 10 am – 4 pm, then Saturday & Sunday, 10 am – 4 pm, Monday – Thursday, 12 pm – 4 pm
Paine's Christmas Trees, Morrisville VT
In the village of Morrisville, VT, there is a Christmas tree farm that has been drawing Vermonters from all across the state for over 60 years: Paine's Christmas Trees.
Cut your own or choose a pre-cut (or mail-order delivery), and then stop by the shop where you can find all kinds of goodies, like unique Christmas decorations and ornaments, hand-crafted kissing balls, wreaths, and garlands, and plenty of the other product that Paine's is famous for producing: maple syrup!
2023 Paine's Christmas Trees Info
They haven't released info for Christmas 2023 yet, but I will update as soon as they do!
Brochu's Tree Farm, Hardwick VT
Offering some of the best Vermont Christmas trees, Brochu's Tree Farm in Hardwick is the whole package deal for a great Christmas experience.
You can find and cut down your own Balsam or Fraser Fir or choose a pre cut, and the beautifully handcrafted Balsam Fir wreaths are the perfect addition to your holiday decor.
Enjoy hot cocoa and cookies and soak in the wholesome holiday experience offered at this cute Vermont Christmas tree farm!
2023 Brochu's Tree Farm Info
Opens Saturday, November 25, 2023, 9 am – 5 pm, open Saturday & Sunday, 9 am – 5 pm while supplies last!
Isham Family Farm, Williston VT
Isham Family Farm in Williston is a historic 108-acre farm that offers Christmas trees and hand crafted wreaths made from fresh Balsam Fir.
What is a better wholesome Christmas in Vermont experience than cutting down your own Christmas tree with your family? Don't forget to pick up your Vermont maple syrup during your visit.
2023 Isham Family Farm Info
Opens Black Friday, 9 am – dusk, then weekends, 9 am – dusk, Monday – Friday, 3 pm – dusk
Fish Hill Christmas Tree Farm, Randolph VT
Fish Hill Christmas Tree Farm in Randolph is one of those family run Christmas tree farms in Vermont that looks like a scene out of a Christmas storybook.
Offering a great selection of Christmas trees to choose from and hot chocolate and hot cider to warm up with. Christmas tree farms in Vermont offer a great chance to hand pick your perfect Christmas tree!
2023 Fish Hill Christmas Tree Farm Info
Opens for Christmas 2023 on Friday, November 24, 2023, 10 am – 4 pm, then weekends, 10 am – 4 pm
2023 VT Christmas Tree Farms Wrap-Up
Winter in Vermont is always spectacular, but there is something about bringing home a fresh-cut Christmas tree that really sets the stage for Christmas magic.
Most Christmas tree farms open shortly after Thanksgiving, so don't wait too long to go check out one of these adorable Christmas tree farms in Vermont. Happy Christmas tree hunting!
---
Read these next:
---