There's a very good reason Rhode Island's official nickname involves water! The Ocean State is the place to visit if you love all things water related. We have beautiful beaches, a captivating coastline and legendary lakes! The lakes in Rhode Island are unlike any other.
Whether it's kayaking, canoeing, paddle boarding or swimming, there's a bunch of activities for everyone to love. Below are 16 Rhode Island lakes worth adding to your travel itinerary when you make a trip to the smallest state in the USA!
Lakes in Rhode Island
Edgewood Lake – Providence County
Edgewood Lake is located in the southern part of Providence Country, just a couple of miles away from nearby Cranston. It can also often be referred to as Edgewood Pond or Cunliff Pond. It's a popular spot to visit for any day trip to Providence, especially if you're heading to the Roger William Park which is often a highlight for families, both local and tourists.
A popular hike is the 3.8 Roger William Pond Loop which takes you around the park's lakes, including Edgewood lake, offering lovely views of the surrounding areas and ample opportunity to spot some wildlife. A great place to start the hike is from the Boathouse.
Fishing is very popular at this lake too! I've not been myself, but after speaking to some colleagues who do, they mentioned two of the most popular species of fish you would likely find here are Red Drum and Largemouth Bass. If fishing isn't your thing, you could always choose to rent one of the swan boats or electric boats for a leisurely ride along the lake!
Also just a five minute drive away is Edgewood Beach if you fancy swimming, relaxing or want to go paddle boarding!
One day here is never enough, so make sure you book a camping spot at either Waters Edge Family Campground or Lincoln Woods Campground, both within a 30 minute drive from Edgewater Lake, so you can enjoy a long weekend exploring.
Quicksand Pond – Newport County
Located in Little Compton, Quicksand Pond is over 300 acres of beautiful protected freshwater at the Goosewing Beach Preserve. This pristine natural space is a popular spot for birders and is also home to the Benjamin Family Environmental Center, a nature center where visitors can learn about this unique coastal pond/barrier beach ecosystem.
Spring Lake – Providence County
Located in the lovely village of Glendale, this lake is one of my favorites. It's extremely popular amongst the residents of Rhode Island as it is also home to Spring Lake Beach. There are so many recreational activities and amenities on offer.
The shop located on the beach offers visitors the chance to purchase sports equipment for both badminton and volleyball and there are even swimming lessons available with a schedule posted online with additional information on.
Boat rentals are popular with many hiring out canoes and kayaks to enjoy on the water during the summer! Restrooms and outdoor showers are available for everyone to use as well as a playground for younger children.
Make sure you bring food with you as there are picnic benches available for families to use too. Lifeguards are present when the beach officially opens and there is a resident/non resident fee for entry to the lake and beach.
Make sure you also check out the arcade which is famous for having some of the oldest types of arcade games in America! There are some great antique games available to play, some even just for a penny!
Echo Lake – Providence County
Quite often referred to as Pascoag Reservoir, Echo Lake is a freshwater lake that has superb water quality and is a hit with both locals and tourists on a hot summer's day. Those lucky enough to own one of the lakefront houses, have their own private docks to take their boat out on with ease!
For non-residents, there is also access to the lake via a ramp where you can equally enjoy being out on the water. This can also be used to launch kayaks and canoes too!
Fishing is also popular here, although it can get a little windy sometimes. Fish species you may catch include the Golden Shiner, Smallmouth Bass, Yellow Perch and more!
Due to the impressive water quality, people often come here to swim too, although there are certain restrictions for non-residents so it's worth reading up on before you visit. Other notable activities people love includes jet skiing and paddle boarding!
For non-residents, Echo Lake Campground acts as the main entry point and is conveniently located next to the lake, offering tourists the chance to optimise their time in the Ocean State and stay for longer! There are plenty of camping spots to choose from as well as a store for supplies and picnic benches that can be used.
Winnapaug Pond – Washington County
Winnapaug Pond is a 2.5 mile lake that is separated from the Atlantic and is sometimes referred to as Brightman Pond.
This coastal lagoon is what is known as a salt pond by the locals, and is a popular swimming spot for families with small children looking for protected waters near Misquamicut Beach, just on the other side of the sandbar. Misquamicut Beach is one of the most popular beaches in Rhode Island, so there are amenities aplenty in the area.
Olney Pond – Providence County
Looking for swimming lakes in Rhode Island? Olney Pond in Lincoln is a great choice. Not only does this 128-acre reservoir have plenty of space to accommodate swimmers and boaters alike, but there are amenities year round at this lovely lake because REI runs a kayak school (and rents kayaks) in the summer months and in the winter months, this is a popular ice skating spot!
Bowdish Lake – Providence County
Located very close to the neighboring state of Connecticut, Bowdish Lake sits in the northwest corner of Rhode Island, welcoming all members of the public. There are two great camping options nearby that are great for families.
The Bowdish Lake Campground is located on the northeast side of the lake and offers a great outdoor experience. Check out their website online for all their activities!
The second campsite located near the southeast shoreline is the George Washington Campground which is smaller and quieter but still offers ample opportunity for swimming and boating on the lake.
If you own a boat but aren't a resident, there is a boat ramp available to use in order to gain access to the water. Have a relaxing day lounging on your boat, but make sure you check up online first about the rules around speed limits whilst on the water.
Fishing is also popular here, especially for those with lakefront houses! Sunbathing and swimming is also an option as well as taking a hike around the nearby Walkabout Trail Loop!
Lake Aldersgate – Providence County
If you have enough time, it's worth checking out Lake Aldersgate near the town of Glocester too. Whilst being out on the water here is fun, a lot of people thoroughly enjoy spending a lot of their time at nearby Camp Aldersgate.
They have put together a number of family fun programs promoting a friendly and supportive environment for all. Programs include swimming, orienteering, hiking, arts and crafts, horse riding, boating, kayaking, archery and more!
There are summer camps available for children and staying here gives you full access to enjoy this beautiful lake!
Lake Mishnock – Kent County
With more than 40 acres to explore, Lake Mishnock is definitely not one to be missed. Located near the town of West Greenwich, you're spoilt for choice in what to do in the area. Depending on where you're coming from, check out either The Kayak Centre in North Kingstown or Rhode Island Paddle Sports in East Greenwich for kayak and canoe rentals that you can use on the lake!
After a swim and some lunch, make sure you fit some hiking in too. Big River Management Area is close by and a really popular walk is the leisurely four mile loop around Carr's Pond and Tarbox Pond which has some beautiful scenery.
There's a great hike at nearby Browning Mill Pond Area too. If you're not too tired, grab your bikes and hit some of the trails around the lake. Most people choose to spend the night either at Colwell's Campground or Camp Sunrise – both ideal choices!
As you are visiting the smallest state in the US, lots of people choose to make the most of their time here and often check out Yawgoo Valley which provides skiing and snowboarding in the winter and a water park in the summer!
Any golf enthusiasts? Head over to Coventry Pines Country Club, less than a ten minute drive away!
Worden Pond – Washington County
Wondering what the largest natural lake in Rhode Island is? That would be Worden Pond, clocking in at a respectable 1,043 acres.
Worden Pond is a nice RI recreation lake, with fishing, swimming, and boating being popular things to do here, but it is very shallow so if you're planning on bringing a boat, it's best to only bring smaller vessels. Worden Pond is ideal for canoeing and kayaking.
Lake Washington – Providence County
Located in the north west of the state, Lake Washington is another fantastic lake to visit in Providence County. As with most lakes in Rhode Island, fishing is extremely popular here, as well as boating, however, it's worth noting only non-motorised boats are allowed here as well as those only powered with an electric motor.
You'll also find many paddle boarders here in the summer evenings. You're not too far from Providence if you wanted to rent some kayaks or canoes to take with you!
The George Washington Campground is right by the lake too, making it the ideal place to head to after a full day on the water. If you're after a hike, Pulaski State Park and Recreation Area is less than a five minute drive away and offers fishing in the 13 acre Peck Pond, a variety of nature trails and scenic picnic areas to relax with family and friends!
Wallum Lake – Providence County
Wallum Lake is wonderful. It sits between both Rhode Island and Massachusetts, with the northern end being in Massachusetts and the southern part belonging in Rhode Island. Buck Hill Management Area is within close proximity and boasts a large campground area that's extremely popular with both locals and tourists – reservations are definitely recommended!
There are plenty of opportunities for hiking, as well as access to swimming, canoeing, fishing, boating and kayaking on Wallum Lake and nearby Wakefield Pond.
There is a wildlife marsh too which is kept maintained which is the perfect place to look out for a variety of bird species. Wallum Lake also has three boat ramps in total, with one being situated at the southern end of the lake in the lovely town of Burrillville.
If you want to extend your stay but fancy stopping somewhere different, Douglas State Forest surrounds the northern tip of the lake in Massachusetts and is a great addition to your trip if you want to explore further! Popular activities here include swimming, boating, and cross country skiing in the winter months.
There are plenty of picnic benches and restrooms but the top tip would be to get here early, especially in the summer. The parking lot has been known to reach full capacity by 09:00am!
Point Judith Pond – Washington County
Another lovely salt pond, Point Judith Pond is especially popular for wildlife lovers, as parts of this pond are surrounded by woodlands, and is home to Ram Island and Great Island.
Bordered by Narragansett and South Kingstown, this is the second largest South County salt pond, and it's fairly busy with a bustling marina, working oyster farm, commercial fishing port, and more. Kayakers are advised to stay along the South Kingstown side of the pond for safety.
Boone Lake – Washington County
Dubbed as one of the Ocean State's best lakes, Boone Lake is located in the lovely area of Exeter. Whilst it is a private lake for residents, it's not completely off limits! If you fancy stopping a weekend in Rhode Island, you can rent one of the lakeside homes and have full access to one of the cleanest lakes in the state!
Nearby, you'll find Beach Pond Management Area and Arcadia State Forest, offering you and the family plenty of choice for hitting some trails and exploring. The Browning Mill Pond and Tefft Hill hike is a favorite of mine!
As a resident (even if it is just for a weekend!), you can fish, swim and use your boat here too! Hope Valley Bait & Tackle store is nearby if you wanted to rent a canoe, kayak or fishing equipment for your trip!
Scituate Reservoir – Providence County
The largest freshwater body in Rhode Island, Scituate Reservoir is the source of water for Providence Water. This is not a recreational lake and there are several no trespassing signs posted to remind visitors that any sort of water activity on this protected water source is prohibited and strictly enforced, but it is a quiet spot that makes for a nice stroll when you're looking to get away and clear your thoughts.
Miscoe Lake – Providence County
Although this lake is partially shared with Massachusetts, many Rhode Island residents would argue that most of it sits well within the Ocean State. Located in the northwest, this beautiful lake is an ideal place to visit in the summer months.
There's an abundance of wildlife so I'd definitely recommend bringing some binoculars. Many people have spotted turtles, beavers and herons during their trip here.
If you fancy a stroll, Diamond Hill Park is located a few minutes away and includes a variety of hiking trails and picnic benches which you can use. Another option for a walk is the Mercy Woods Trailhead too.
In terms of the lake itself, you will get full access if you're able to rent out one of the lakeside properties – have a look at their availability online! Also at the southern part of the lake, you will find Grants Mill Pond Dam, built in 1937, which is a good history lesson if you have time to read up about it prior to your visit.
If you head to Miscoe Lake via Providence, you'll pass through plenty of kayak and canoe rental shops that will be happy to help you out for your trip to the lake!
It likely goes without saying that the nickname The Ocean State would mean there's plenty of water to be found around its borders, but now you know where to find the best freshwater lakes in Rhode Island, too!
---
You might also like:
---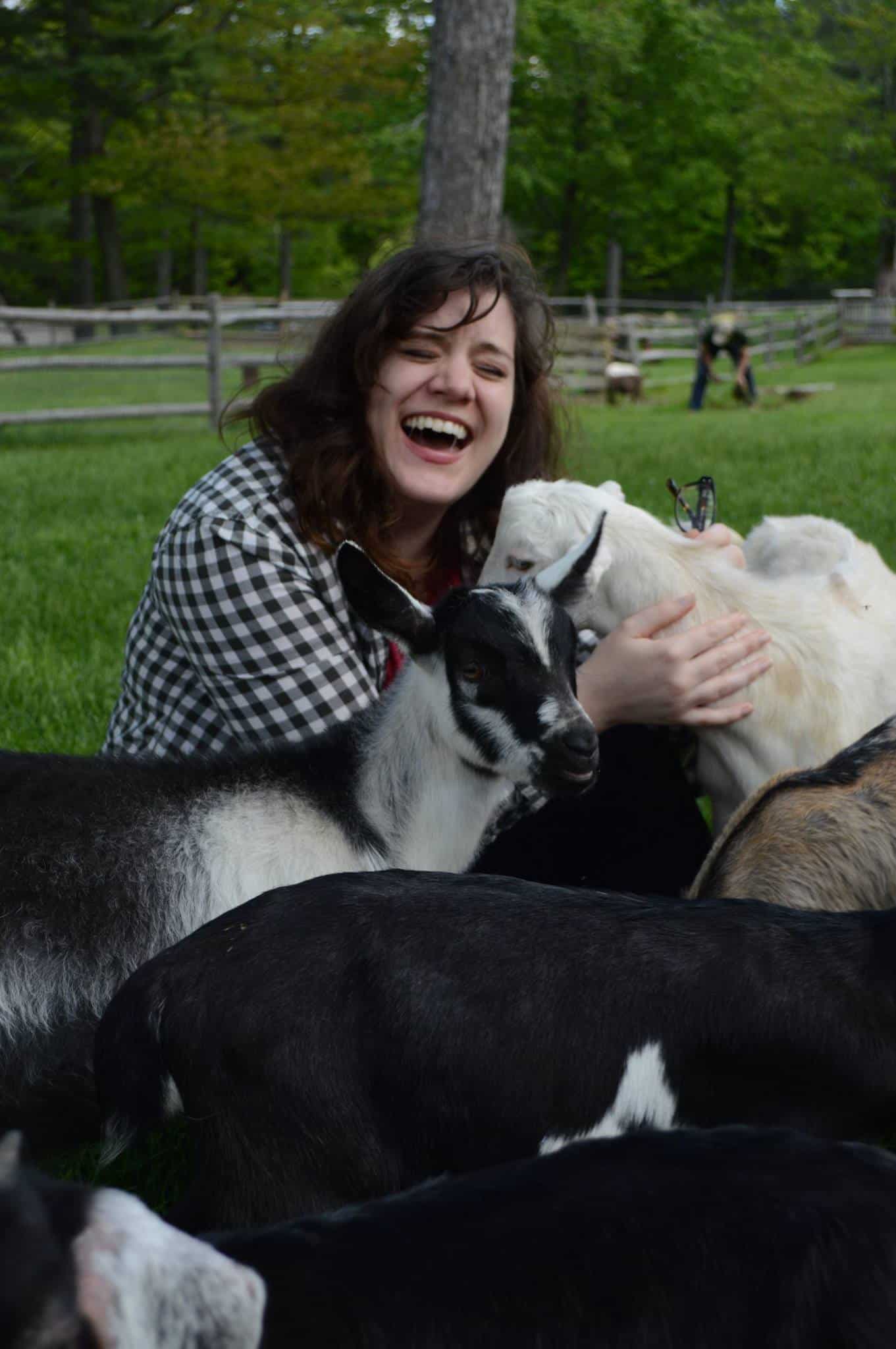 Amy Hartle is the founder and Editor-in-Chief of New England With Love, a comprehensive resource for travel in the New England region. Amy has been exploring New England since 2001. She lived in Vermont for many years and is a graduate of Plymouth State University in New Hampshire. On this site, Amy aims to share her love of New England and help you to have the best possible adventures!
Amy has been writing about travel for over a decade, and is a full time blogger, publishing both Two Drifters and Let's Adventure Baby. When not traveling the world or creating epic blog content, Amy can be found cuddling with her husband, son, and cats, & drinking a maple latte.