Are you looking for the best resorts in Vermont for families? You're in luck! Vermont offers the perfect backdrop for a family vacation – beautiful rolling hills, fresh mountain lakes, snowy places to ski, and endless outdoor activities. But with quite a few resorts in the state, it can be hard to figure out which one is best for your family.
That's why we've put together this list of the top family-friendly resorts in Vermont to help you make your decision easier. From charming lodges to luxurious classic resorts, each of these accommodations will give you and your family a vacation to remember.
So, grab your notebook and start planning your Vermont family vacation after finding the perfect resort.
My Top 3 Picks: Vermont Family Resorts
🍁 Family-friendly atmosphere
🍁 Great location in Stowe
🍁 Many activities like on-site hiking trails
🍁 Located in Stowe Village
🍁 Family rooms & suite options available
🍁 Average 4.5 star rating
🍁 Free trolley to the ski resort
🍁 Book hot air balloon rides in warm months at the hotel
🍁 2 on-site restaurants
Best Resorts in Vermont for Families
⭐️ RATING: 4.5/5 Stars | 📍 LOCATION: 700 Trapp Hill Road, Stowe, VT 05672 | ✅ Book it!
Our top pick for a Vermont family resort is the Trapp Family Lodge. Situated on Trapp Hill Road, this Stowe accommodation boasts a 4.5-star rating with more than 2200 reviews from past guests.
This accommodation is a Bavarian-style resort surrounded by the beautiful Green Mountains, featuring 96 rooms throughout. It's one of the most famous resorts in the USA, with its name hailing from the von Trapp family (yes, that von Trapp family)!
The Lodge itself has lots of great activities that families will love, like the miles of trails through the woods, which are perfect for summer hiking. Plus, there are two swimming pools, an on-site restaurant, and a fitness center.
"We liked the friendly and family atmosphere. It was a place we wanted to visit for many years as we were familiar w/the Trapp family's courage and journey out of Austria." -William (Read more reviews)
⭐️ RATING: 4.5/5 Stars | ⏳ LOCATION: 7412 Mountain Road, Stowe, VT 05672 | ✅ Book it!
Next is our #2 top pick, The Lodge at Spruce Peak. It's another Stowe family resort that's a 4-star accommodation maintaining an average 4.5 rating from around 2,000 reviews from past guests.
This kid-friendly resort is super popular in the winter months as it's right in Stowe Village, not far at all from the Stowe Mountain Ski Resort. It serves as the perfect home base for winter fun, especially for families. There are around 250 rooms throughout the resort.
The resort itself boasts an on-site restaurant (called Solstice, which has organic local food), a golf resort, a live concert venue, and even a spa for the adults. Family rooms are available, as well as full suites up to two bedrooms. You can usually snag a good discount by booking far in advance.
"The Lodge at Spruce Peak had Friendly staff, eager to help, beautiful location, and great rooms. It is a beautiful hotel and there is lots to do and see." -Heather (Read more reviews)
⭐️ RATING: 4/5 Stars | 📍 LOCATION: 1746 Mountain Road, Stowe, VT 05672 | ✅ Book it!
Another of the greatest Vermont resorts for families is the Stoweflake Mountain Resort & Spa. Again, this is another resort located in Stowe, but it has a free trolley to the Stowe Mountain Ski Resort.
The resort itself looks out over Mount Mansfield and has lots of amazing amenities, including two different restaurants, rooms with gas fireplaces (so you can warm up after a day of skiing with the kiddos), and a golf course. Families will enjoy Charlie B's Pub, which has classic pub dishes on the menu.
However, it doesn't stop there. Now that you know some of the fun winter activities, it's time you also know that you can get private hot air balloon rides during the summer months at Stoweflake! There's also a children's program and on-site tennis courts, among other amenities.
"Great location with easy access to the bike path and near many restaurants and breweries. The hotel room was very large and easy to accommodate our small family. Major bonus points for letting us take our happy pooch!" -Amy (Read more reviews)
⭐️ RATING: 4.5/5 Stars | 📍 LOCATION: 4323 VT-108, Jeffersonville, VT 05464 | ✅ Book it!
Located in Jeffersonville, Vermont, Smugglers Notch Resort is easily one of the top resorts in all of VT for families looking for the perfect vacation. This 3-star hotel maintains a 4.5-star rating with more than 3,400 reviews online and counting from past guests.
There are tons of fun activities here that will keep families super busy during their vacation. Consider booking some of their seasonal experiences for a great bundle, like the Mountain Experience in winter, which includes daily lift tickets, mountainside lodging, indoor pool access, after-ski activities, Ozone at FunZone, and even evening entertainment. What more could you want?
The FunZone, in particular, is one place families will love, which is a 26,000 square-foot indoor space with everything from giant slides to bouncy houses and even an arts and craft station. Plus, there's even fun laser tag inside… so even the adults can have fun.
"One of our favourite family resorts. The shuttle throughout the resort makes the experience easy for large groups. Skiing is reasonably priced compared to other resorts. Pools are clean and well maintained. Haven't tried the restaurants, but the general store is well stocked." -Rilee Steckler (Read more reviews)
⭐️ RATING: 4.5/5 Stars | 📍 LOCATION: 830 Jay Peak Road, Jay, VT 05859 | ✅ Book it!
Another amazing resort can be found in Jay, Vermont, at Jay Peak Resort. This is a 3-star hotel maintaining a 4.5-star review rating from more than 3,000 reviews. This is a year-round resort that actually has the only indoor waterpark in all of Vermont! It's called the Pump House and features tons of fun slides, pools, and lazy rivers.
One of the things that makes Jay Peak Resort amazing that they have a wide range of rooms available. They have cottages, lodges, suites, and classic rooms. They all range a lot in price, so you can choose one that best fits your budget for your family vacation.
Jay, Vermont, is filled with tons of fun activities for the family, too, like classic restaurants, hikes, lakes, state forests, and more. It's truly beautiful year-round. You can also, of course, ski right at Jay Peak Resort.
"So many options for kids activities and places to dine, all affordable prices. My kids would choose Jay Peak weekends over Disney trips any day." -Michael (Read more reviews)
⭐️ RATING: 4/5 Stars | 📍 LOCATION: 3567 Main Street, Manchester, VT 05254 | ✅ Book it!
Head to beautiful Manchester, Vermont, in the southern part of the state, for a fun family getaway and book a stay at The Equinox. This part of Vermont has a slow-paced feeling which can be great for a vacation.
The accommodation is family-friendly despite being a luxury 3-star golf resort and spa. They have a variety of accommodation types available, ranging from mountain view resort rooms to townhomes and even classic rooms.
One of the unique aspects of The Equinox is that if you let them know that you're traveling with your family, they can actually put a tipi into your room! Just be sure to ask ahead, and they should be able to put one in your room if they have any available.
"The historical buildings on this property are something to behold. It was really a great visit for our entire family – I'm a tough traveler to please and they exceeded my expectations at this resort. There was also added bonuses I wasn't expecting such as an Easter egg hunt for the kids and afternoon cider. Great bedding! Amenities stocked well in the rooms. Just pleasant extra details that made our stay extraordinary. The facilities offer so much for a family to partake in. The location was great too for shopping and dining." -Misty (Read more reviews)
⭐️ RATING: 4.3/5 Stars | ⏳ TOUR LENGTH:  hours OR 📍 LOCATION: 70 Essex Way, Burlington, VT 05452 | ✅ Book it!
Located in Essex, not far from Burlington, The Essex Resort is another great family-friendly resort. It has cooking classes on-site in addition to a restaurant and two swimming pools. Plus, cribs are available upon request.
There are about 120 different guest rooms at this accommodation, plus many outdoor walking trails that you can walk with your children. However, as mentioned earlier, the cooking classes are truly what set this resort apart. Just imagine teaching your kids how to cook something with a fun chef by your side!
Room types here vary,and range between culinary suites, to regular suites, and even options with sleeper sofas if you have four in your family. Try to book further in advance to see if you can save some money versus booking last minute.
"The resort overall was wonderful. It was a very well spent time with my family. We played games that the front desk provided us with, we made s'mores at the bomb fire, played with the snow with no worries and everyone was friendly." -Learianis (Read more reviews)
⭐️ RATING: 4/5 Stars | 📍 LOCATION: 4000 Mountain Road, Stowe, VT 05672 | ✅ Book it!
One of the lesser-known family-friendly accommodations and resorts in Vermont is Topnotch Resort, which again, is another Stowe spot! It's a 4-star hotel. However, it truly does ooze luxury. It's right near Mount Mansfield and isn't far away from many of Stowe's top spots.
There are just over 100 different rooms available throughout the accommodation, ranging from resort homes to classic hotel rooms. So, you can easily pick one that best suits your family's needs. Some of the suites also host kitchens, so you can save some money by cooking your own meals.
"The gym was amazing!!! The food was delicious in the restaurant up front near the lobby and the bed/room was comfortable and cozy. They even had stuff out for doggos when they stay…just loved this place!!" -Leslie (Read more reviews)
⭐️ RATING: 4.5/5 Stars | 📍 LOCATION: 18 Main Street, Stowe, VT 05672 | ✅ Book it!
Stowe's Green Mountain Inn is a lovely family resort to stay at! It's located very centrally on Main Street and isn't far at all from Ben & Jerry's Ice Cream Factory, which is a must-visit for families in the area.
On-site is a lovely restaurant called Whip Bar & Grill which has local dishes from farms. There's also the Main Street Dining Room with amazing breakfast options. Afternoon tea is even served at the accommodation!
This classic New England accommodation is perfect for families because of its amenities and close proximity to many lovely Stowe must-visit places. Nearby are skiing trails, golf parks, hiking trails, and lakes for kayaking or even fishing.
"Perfect family getaway. Something for everyone." -Leigh (Read more reviews)
⭐️ RATING: 4.3/5 Stars | 📍 LOCATION: 434 Edson Hill Road, Stowe, VT 05672 | ✅ Book it!
The Stowehof (also in Stowe) is a family resort that has a classic Alpine feel. It's surrounded by many beautiful mountains and will make you feel like you're in Switzerland because of how beautiful it is.
The accommodation has a sauna, restaurant, and two swimming pools. Plus, cribs are available upon request. There's breakfast in the Mansfield Room. Plus, adults can enjoy drinks at the Fritz Bar, which also has meals with a Vermont meets Bavarian twist.
It's great for families with its big living room space available for all guests, places to play board games, and even the fire pits where you can make summer memories and enjoy s'mores.
"The location is excellent. The resort is located on the Edison Hill, very exclusive and great view of Mt. Mansfield. If you enjoy the nature and want to be away from the modern life, this is a great place. It is 2 mins drive away from the Wiessner Woods trail, which is great for family-friendly hiking. 5-10 mins drive from the downtown." -Yicle0011 (Read more reviews)
⭐️ RATING: 4.6/5 Stars |📍 LOCATION: 213 Paine Turnpike N., Montpelier, VT 05602 | ✅ Book it!
While the Comfort Inn and Suites at Maplewood isn't your traditional resort, it still deserves a spot on this list. It's located in Montpelier, so if you want to visit the capital with your family, this is a great place to stay.
Rooms feature amenities like microwaves and coffee makers, and some suites even have living areas so you and your family could even have a family night. Most rooms are king suites, and your family can wake up with a tasty breakfast in the mornings right on-site.
"eveything…great location…great amenities…they provide water..refreshments cookies coffee all free…great location near highway..great recomended for familities..super clean" -Miguel (Read more reviews)
Final Thoughts: Vermont Family Resorts
Vermont has plenty of wonderful family-friendly resorts to choose from, depending on what kind of vacation experience you're looking for. Whether you're interested in a luxurious classic resort or a cozy lodge, Vermont has something for everyone. Enjoy your family vacay!
Read more: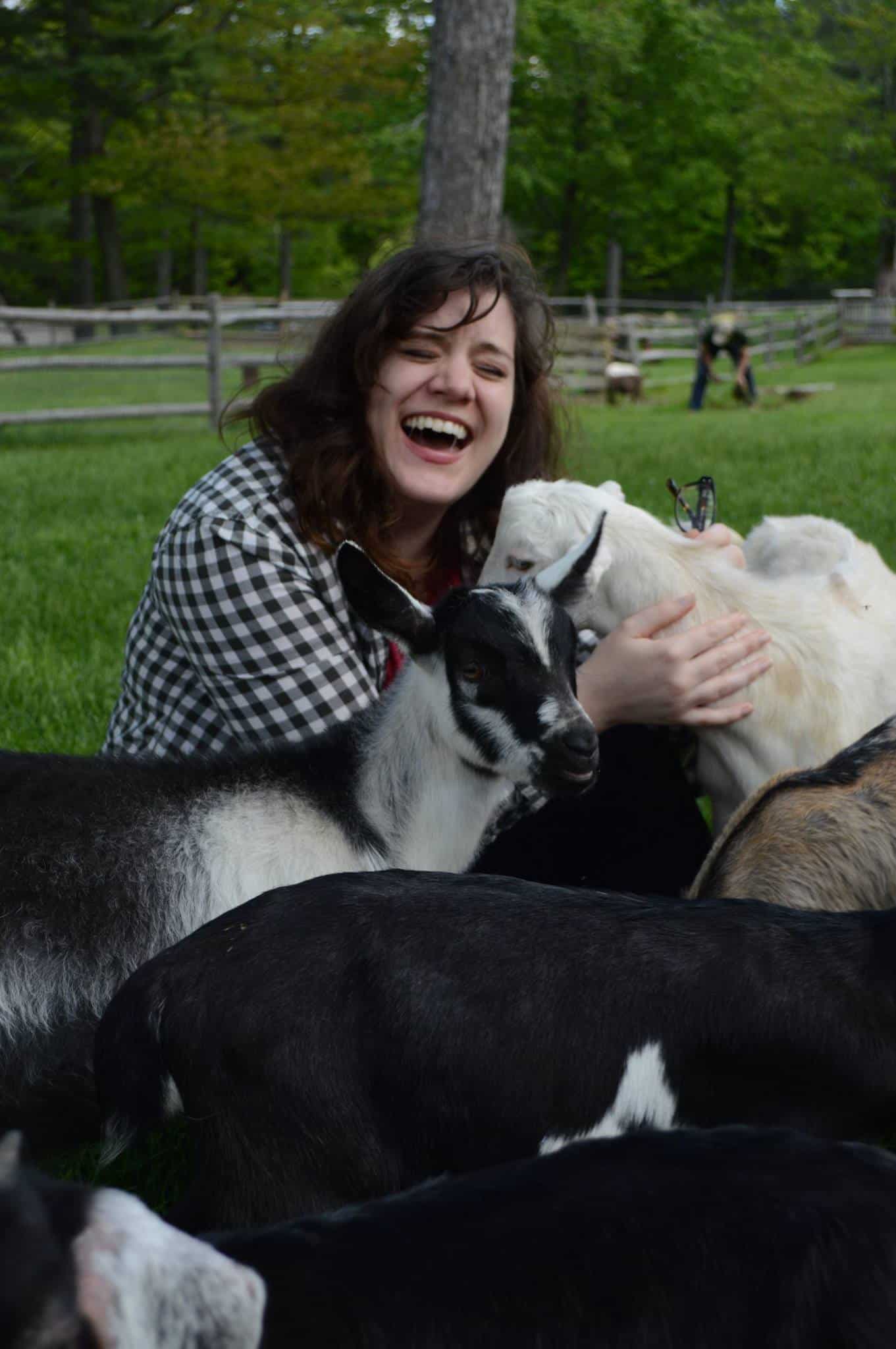 Amy Hartle is the founder and Editor-in-Chief of New England With Love, a comprehensive resource for travel in the New England region. Amy has been exploring New England since 2001. She lived in Vermont for many years and is a graduate of Plymouth State University in New Hampshire. Amy has been writing about travel for over a decade. On this site, Amy aims to share her love of New England and help you to have the best possible adventures!
Amy has been a full time blogger since 2012, and is also the publisher of Two Drifters, where she writes about couples travel and relationships, as well as Let's Adventure Baby, a family travel site. When not traveling the world or creating epic blog content, Amy can be found cuddling with her husband, son, and cats, & drinking a maple latte.