Vermont has a lot to offer for couples looking for an enjoyable romantic getaway. From stunning vacation rentals with views to cozy inns, there's something for everyone in this small northeastern state.
For those couples who are looking to really indulge and pamper themselves, there are plenty of romantic getaways in Vermont with jacuzzi that make the experience even more special.
In this post, we will explore some of the top romantic getaways in Vermont that have a jacuzzi so you can make the most out of your time together. Whether you're looking for a weekend away or a longer vacation, these places to stay have everything you need for a truly memorable and indulgent stay.
Romantic Getaways in Vermont with Jacuzzi
First up is The Inn at Ormsby Hill, a great romantic place to stay in Manchester, Vermont. Guests who stay here get access to a hot tub – what could be more romantic than that?
Of course, the inn has a great selection of amenities in addition to the jacuzzi that will make your stay even more enjoyable. The bed and breakfast has a la carte breakfast, free parking, and free wifi, and some rooms even have a balcony with mountain views. Oh, and did we mention that you can even get wine or champagne sent to your room?
The majority of rooms here can sleep two people or more per night, making it perfect for a romantic getaway.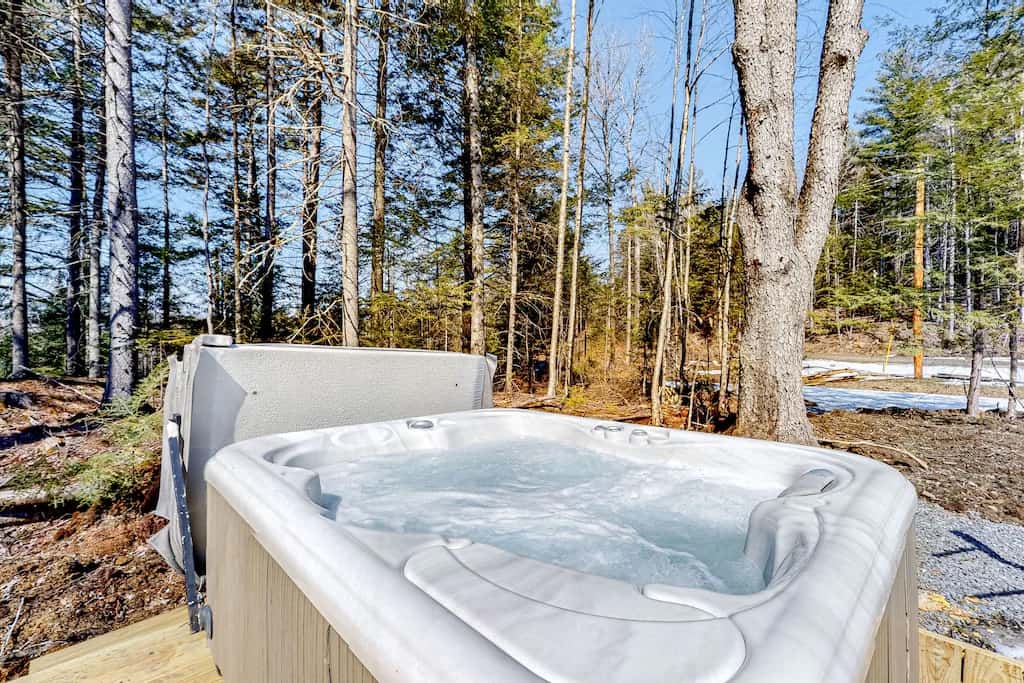 Looking for a vacation rental with a jacuzzi in Vermont? You're in luck because this custom mountain home in Morristown is a great option. There's a hot tub that's completely private right in the backyard behind the home.
The home can sleep six (because it's quite large at 1200 square feet), but it's also perfect for two for a romantic getaway. There are two bedrooms, a bathroom, a living room, a kitchen, and a patio. The home has a classic rustic charm to it that you'd expect to find in Vermont.
Hotel Vermont in Burlington is a luxurious and romantic spot to stay in the Green Mountain State! It's centrally located in the city, near Old North End, and is a short walk from the popular Church Street Marketplace.
Rooms here are warm and rustic; some have great views. Other amenities here include parking on site, a restaurant, breakfast, a fitness center, a bar, and free wifi. There are also massage services.
The best way to enjoy a spa tub in a room is to book the King Room with Spa Bath. This 315-square-foot room has air conditioning, a spa tub, and air conditioning for ultimate comfort.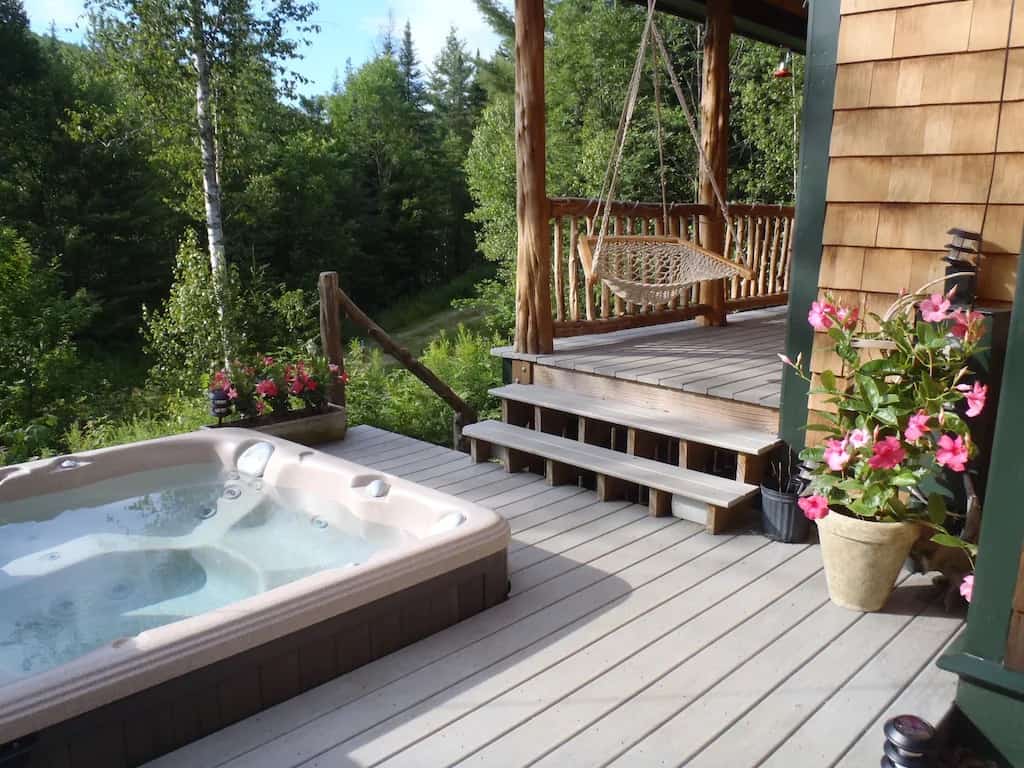 Next is this Granville Romantic Retreat! It's a classic Vermont cabin (who doesn't love those?) in the woods. Inside, there's a lofted design with a fun spiral staircase and large windows that allow in so much natural light. The home sleeps five but has two bedrooms, two bathrooms, a kitchen, a deck, and a dining area.
Oh, and did we mention the hot tub? It's outdoors, so you can hop in romantically under the stars if you want. There's also a home theater with hundreds of movies that you can enjoy with your partner.
What if you could have a hot tub directly in your room? You can at The Manchester View, situated in Manchester VT, in the Green Mountain National Forest. There are amenities at this home, like an outdoor swimming pool, free wifi, and free parking.
What makes this accommodation so great is that some of the rooms actually have a hot tub and even a fireplace. How romantic is that? There's also cable television and a fridge in the rooms for ultimate comfort.
Located in Montgomery Center, VT, the Phineas Swann Inn & Spa is an incredible Vermont romantic getaway. This inn has tons of amenities that make it romantic, like an on-site hot tub, pre-fixe dinner on the weekends (by reservation), and hot breakfast in the mornings.
Rooms here are quirky and comfortable, and the accommodation is well-maintained. There's a multitude of rooms that are perfect for just two guests. Consider checking out the Queen Room with City View for an unforgettable experience.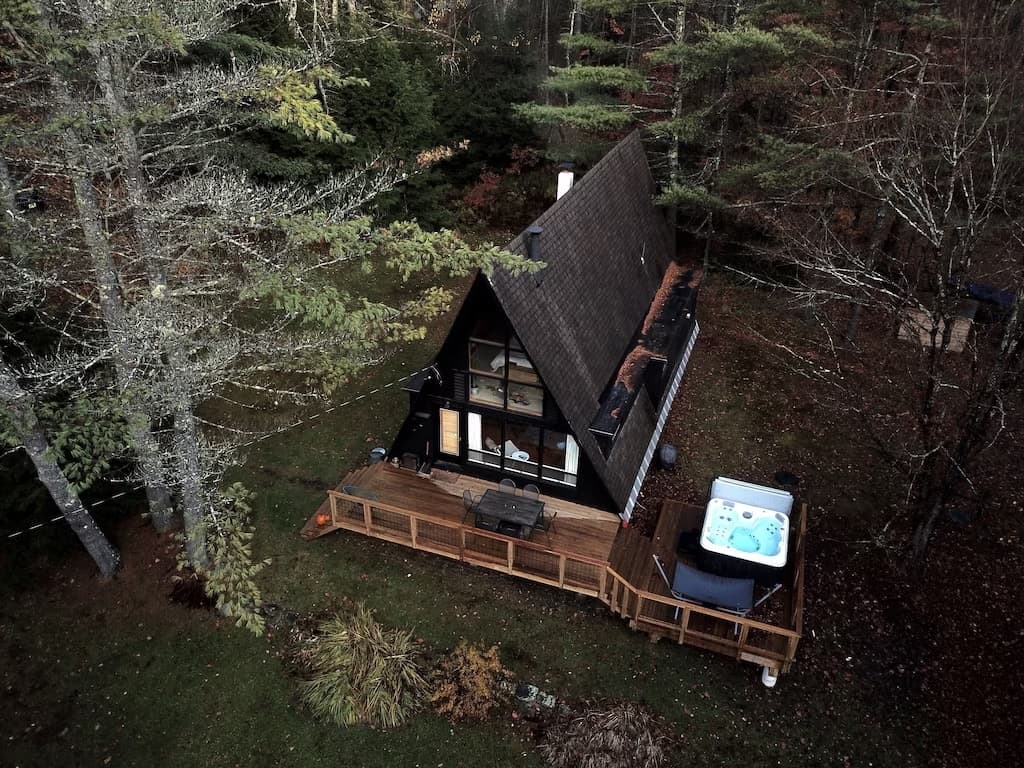 An A-frame in the woods is one of the best romantic getaways, especially when it has a hot tub. Luckily, this one in Wardsboro (near both Mt Snow and Stratton) is available for you and your partner to stay at.
The inside has a classic lofted A-frame style, with large windows that let in tons of natural light. Though the cabin sleeps five, it's perfect for two. The hot tub is outdoors right on the patio attached to the home, so you can hop in under the stars.
Other amenities here include air conditioning, internet, a fireplace, television, parking, and a heater.
Next is 506 on the River Inn in the beautiful Woodstock, Vermont. Many rooms here have beautiful views of the nearby river, which is impeccable during the fall months. A jacuzzi is also right at this accommodation.
Amenities at this inn include an indoor swimming pool, free parking, a spa, a fitness center, a bar, and a restaurant. The 506 Bistro & Bar is a romantic place to dine with beer, wines, and misc. seasonal dishes!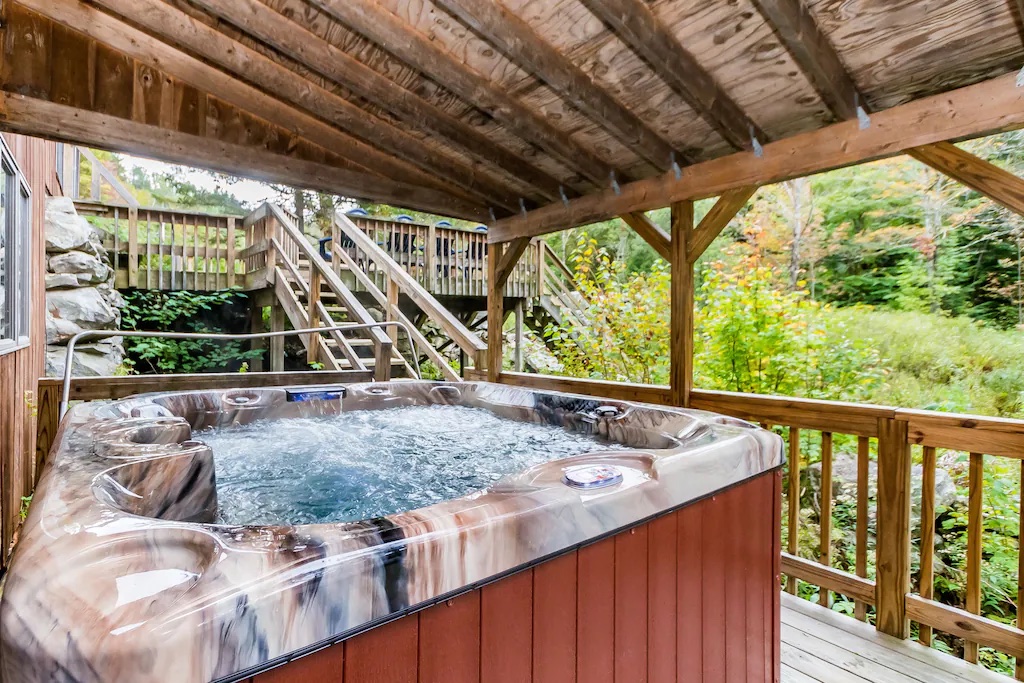 Book a stay at The Mill Stream House, a luxury home located right on the river. Though it can host ten guests, it's still a great place to stay for a romantic getaway. There are four bedrooms to choose from, plus two bathrooms, a kitchen, a dining area, and a patio overlooking the forest.
The inside is rustic chic, with lots of blues and natural tones, along with pattern pops to add some depth. The home boasts an outdoor jacuzzi, where you can relax with the pleasant sounds of the stream nearby. What's better than that?
The Smugglers' Notch Resort in Jeffersonville is an iconic romantic getaway near the mountains; it's especially beautiful in the winter months. It's a 5-star hotel filled with eight pools, seven on-site places to eat, four waterslides, free parking, and a fitness center. There's also an on-site jacuzzi, obviously!
Rooms here are rustic, and many have balconies that overlook the area. A studio apartment or luxury triple would be the perfect place to stay for those looking for a romantic getaway in Vermont with a jacuzzi.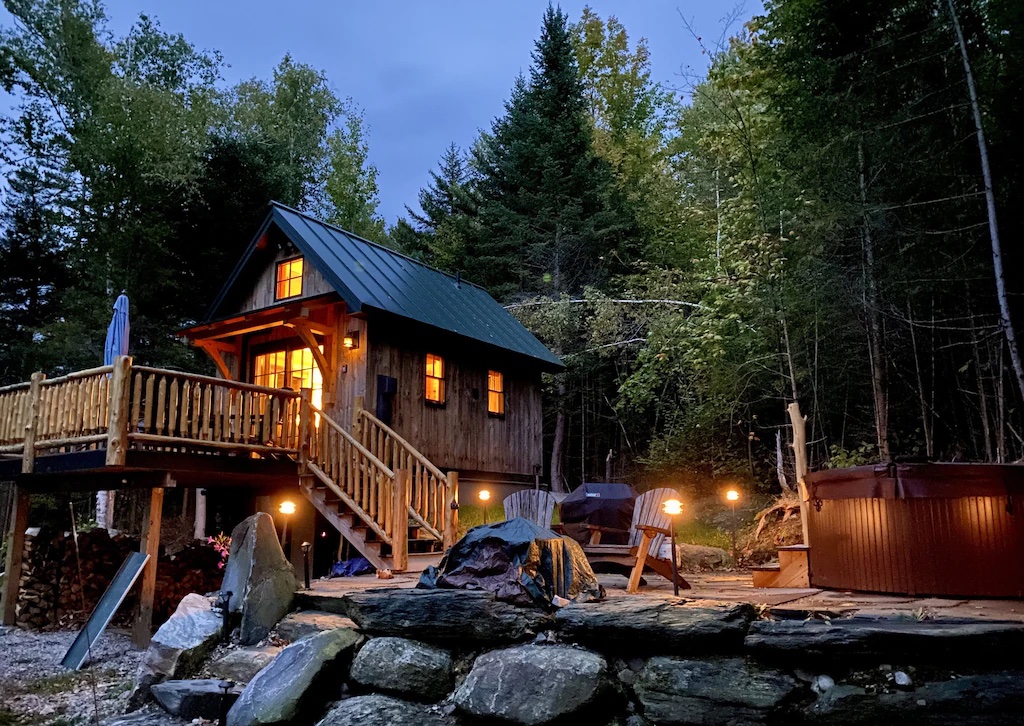 Another accommodation that's essentially a lovely cabin in the woods boasting an outdoor hot tub is this Granville Cozy Loft for Two. The home is perfect for two guests (that's the maximum capacity), and it features a bedroom, bathroom, kitchen, patio, and living room.
Those who love rustic stays will enjoy this accommodation. There are eight windows throughout the cabin which really helps it feel like a woodsy escape with natural light. Plus, the outdoor patio has beautiful views of the nearby area.
A hot tub can also be enjoyed at the Green Mountain Inn in Stowe, Vermont. While many families love staying here, it's also perfect for couples. It's got a jacuzzi, sauna, afternoon tea, massage therapy, an outdoor swimming pool, free parking, and a restaurant.
The rooms here are comfortably furnished. It's an ideal place to stay for those who love outdoor activities because nearby are places to golf, kayak, hike, fish, and even ski if you visit in the winter.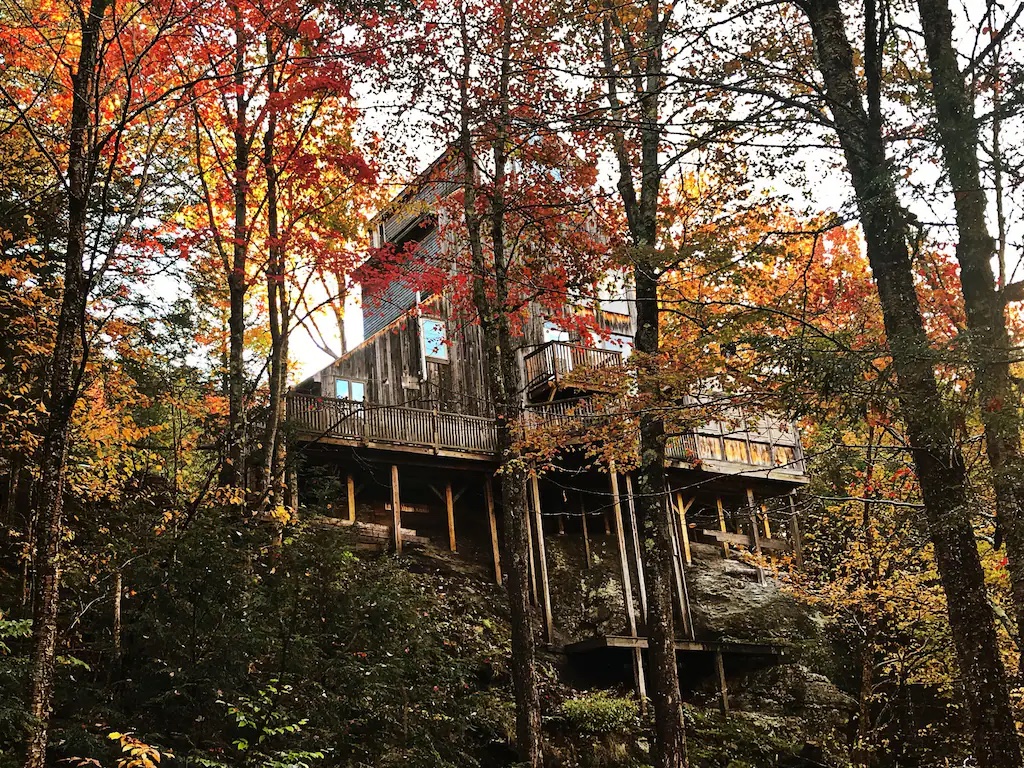 Last but certainly not least is this Romantic Stowe Getaway! And yes, it's actually a treehouse with a jacuzzi. It's quite big at around 1800 square feet, and it's nestled in the woods. In the fall, it becomes a magical place to stay with the foliage.
The hot tub is indoors here, unlike many of the other vacation rentals on this list. The treehouse has three bedrooms, three bathrooms, a kitchen, a living room, and a patio. Trails can be found here, too, which lead to beautiful spots to have a picnic.
Other amenities include a heater, washer and dryer, television with cable, air conditioning, internet, and parking.
Now you know all about the best romantic getaways in Vermont with jacuzzi! We hope you enjoy your trip to this lovely state.
---
Read these next: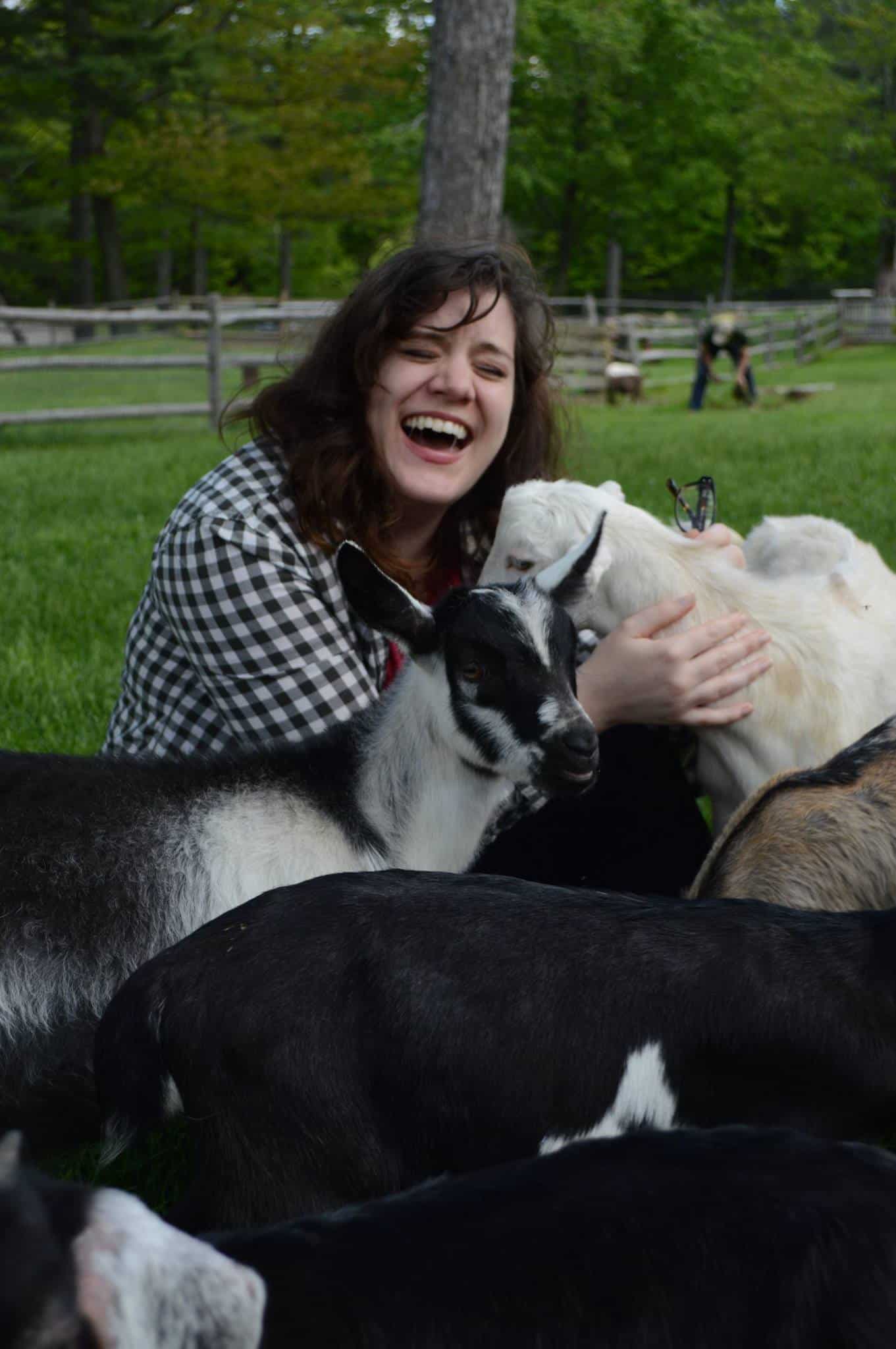 Amy Hartle is the founder and Editor-in-Chief of New England With Love, a comprehensive resource for travel in the New England region. Amy has been exploring New England since 2001. She lived in Vermont for many years and is a graduate of Plymouth State University in New Hampshire. Amy has been writing about travel for over a decade. On this site, Amy aims to share her love of New England and help you to have the best possible adventures!
Amy has been a full time blogger since 2012, and is also the publisher of Two Drifters, where she writes about couples travel and relationships, as well as Let's Adventure Baby, a family travel site. When not traveling the world or creating epic blog content, Amy can be found cuddling with her husband, son, and cats, & drinking a maple latte.