When you think of fall in New England, you probably immediately see Maine scenery in your mind. That's because Maine is absolutely breathtaking and is filled with tons of great fall activities! Plus, there are many great pumpkin patches in Maine, too.
If you're traveling to Maine with family, then you'll definitely want to bookmark this post for later because it includes all of the must-visit Maine pumpkin patches located all over the state.
Without further ado, here are the best pumpkin patches in Maine.
Best Pumpkin Patches in Maine
Pumpkin Valley Farm
With a name like Pumpkin Valley Farm, you know this place deserves a spot on the list of the best pumpkin patches in Maine! It's located in Dayton and can genuinely take more than one day to experience fully. Obviously, the pumpkin patch is the main attraction here, so be sure to stop by that first.
Next, be sure to check out the amazing corn maze. It's one of the biggest corn mazes in the area, covering just over five acres of land. There's even a smaller maze that was made just for children! In addition, there's face painting, a hayride, and more that's available to keep kids entertained.
Read Next: 10 Best Corn Mazes in Maine
Sandy River Farms
Next up is Sandy River Farms. Located in Farmington, this farm has an epic pick your own pumpkin farm. Similar to some other farms later in this list, Sandy River Farms has tons of different pumpkin varieties.
The farm is absolutely massive, too, and covers around 600 acres of land. That's nearly one of the biggest farms in New England! In addition to pumpkins, Sandy River Farms Market sells everything from meat to delicious pies and even fresh milk.
Read Next: Fall in Maine: Where to Go and What to Do for Autumn Magic
Wolfe's Neck Center
Freeport is arguably one of the most popular destinations in Maine, so it's just amazing that there is a great pumpkin patch there! It's called Wolfe's Neck Center and is open on the weekends during the fall.
To get to the pumpkin patch here, you have to hop on the hayride, which provides excellent views the entire way. Plus, it's the perfect way to check out fall foliage while visiting Maine. One of the things that makes Wolfe's Neck Center so unique is that you can actually rent bikes here too and ride them around the farm.
Read Next: 15 Breathtaking Maine State Parks to Visit
Berry Fruit Farm
Berry Fruit Farm in Livermore Falls is easily one of the best and most historic pumpkin patches in Maine. It's been run by a family for more than one hundred years and has been passed through the generations.
What makes Berry Fruit Farm so amazing is that it actually has tons of different pumpkins that it sells. You'll find ones that are out of the ordinary, but there are also many that truly look picture perfect too. There are tons all over the farm, so no matter what type of pumpkin you're looking for, you'll be able to find it at this Maine pumpkin patch.
Read Next: 10 Lovely Orchards to Go Apple Picking in Maine
County Fair Farm
Located in Jefferson, County Fair Farm is one of the great pumpkin patches in Maine. It has a decent-sized pumpkin patch where you can pick your own pumpkins. They do have a bit of a limited selection, so you'll want to visit early to make sure you can actually get one.
In addition to pumpkins, there are also tons of apples in the orchards that you won't want to miss out on. For a fun tour of the area, be sure to also take a hop onto the hayride, which will bring you around the farm.
Read Next: 60 Awesome Things to Do in New England with Kids
McDougal Orchards
In Springvale, you can find none other than the amazing McDougal Orchards! This is one farm that you'll never run out of things to do at. Obviously, the main thing to do here is to go to the pumpkin patch to find the perfect pumpkin to bring home.
After you're done getting your pumpkin, you can check out the amazing hayride. This hayride will bring visitors all over the farm and even through the orchards, which is why it's one of the best things to do at McDougal Orchards. Before leaving, you absolutely must stop by the donut shop to grab a delicious apple cider donut with some warm cider.
Read Next: 10 Family Vacations in New England to Wow the Fam in 2023
Brackett's Orchard
Brackett's Orchard in Limington is genuinely remarkable. They have a great pumpkin patch filled with pumpkins just waiting to be picked by you and your family. No matter what type of pumpkin you want to find, you'll surely find it here at this popular Maine pumpkin patch.
There's also an epic shop that sells warm apple cider and giant apple cider donuts. Plus, they're always fresh. Keep in mind that pick your own pumpkins is only open a certain amount of hours each week, so you'll want to check in online before arriving to make sure that you don't get disappointed.
Read Next: 10 Scenic Drives in Maine that are Perfect for Fall Foliage Views
Ricker Hill Orchards
Ricker Hill Orchards in Turner, Maine, is another one of the best pumpkin patches in Maine. They have one of the best pumpkin patches on this list too, with pumpkins that almost seem never-ending.
Tons of great fall activities take place at Ricker Hill Orchards too. You can find fun playground slides, a corn maze, and even a fire truck for kids to play in. The corn maze, in particular, is quite large, covering more than an acre.
At Ricker Hill Orchards, you absolutely have to stop by the store too. Try out some of the apple cider as well as the amazing apple cider donuts.
Read Next: 8 Wonderful Weekend Getaways in Maine
Zach's Corn Maze
Located in York, Zach's Corn Maze has one of the best pumpkin patches in Maine. It's a pick your own pumpkin patch with pumpkins that continue for as far as the eye can see. Similar to other Maine pumpkin patches, you have to hop on the hayride to get to the pumpkin patch.
Because this place is called Zach's Corn Maze, you can surely bet that the corn maze here is absolutely out of this world. It's around 17 acres large and is truly massive! It opened in 2004 and has been a popular destination in the area ever since.
Read Next: 9 Abandoned Places in Maine
Homewood Farm
Homewood Farm is located in Blue Hill and is a great Maine pick your own pumpkin patch. Plus, they have a whole area where you can just grab a pumpkin that's already been picked too. This is an excellent option if you tend to be a picky pumpkin picker.
There are tons of great activities at Homewood Farm. You can check out the corn maze or even ride on the fun hayride. One thing to keep in mind is that Homewood Farm has limited hours and is usually only open on the weekends.
Read Next: 16 of the Best Airbnbs in Maine You'll Want to Book Now
Spiller Farms
Spiller Farms is one of the best pumpkin patches in Maine, located in Wells. This is a classic farm that you won't want to miss when visiting Maine in the fall. They have a decent-sized pick your own pumpkin patch and also have a fun hayride that will bring you on a tour of the entire farm.
Another absolute must-do while visiting Spiller Farms in the fall is also to pick some apples. The apples are so incredibly fresh, and you can pay by the bag, so you can get just as many as you'd like. Plus, the pumpkins and apples make really great pies too!
Read Next: 101 Best Things to Do in New England Bucket List
Hope Orchards
Hope Orchards is located in none other than Hope, Maine. It has an epic pick your own pumpkin patch and has a fun, family-friendly atmosphere since it's such a local business. If you're traveling and want to get away from tourists, this is the place to go.
They have tons of great apples to pick here, too, in addition to pumpkins. Keep an eye on their fall festivities, too, as they often host a Fall Festival, which is the perfect way to have Maine autumn fun.
—
As you can see, Maine is seriously filled with so many great fall activities. The best pumpkin patches in Maine are each amazing, too, so no matter which one you decide to visit, you'll genuinely have a blast. Plus, some of them are located near each other so that you could visit a few in just one trip!
Have you been to a pumpkin patch in Maine before?
---
You might also like:
---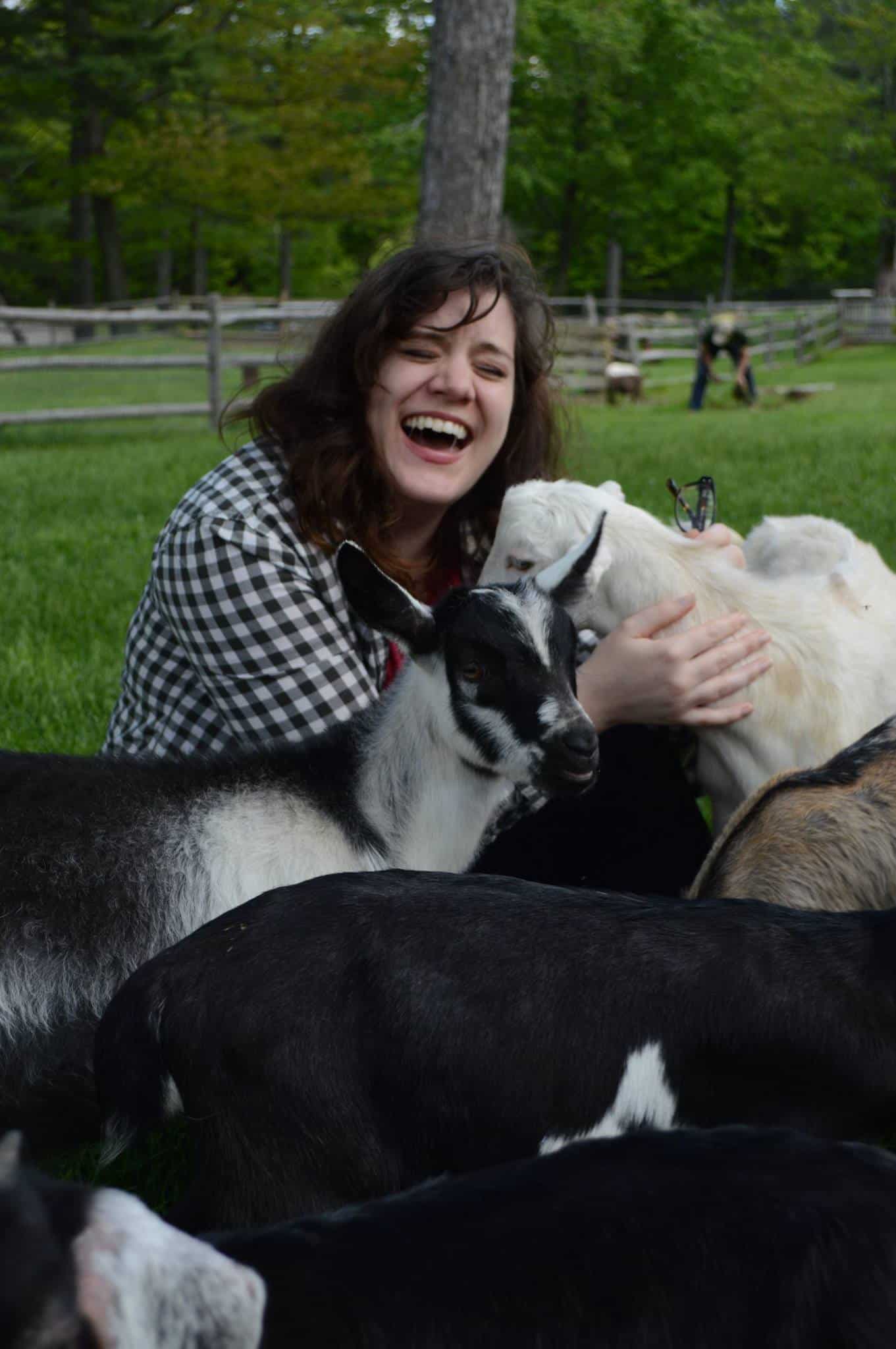 Amy Hartle is the founder and Editor-in-Chief of New England With Love, a comprehensive resource for travel in the New England region. Amy has been exploring New England since 2001. She lived in Vermont for many years and is a graduate of Plymouth State University in New Hampshire. Amy has been writing about travel for over a decade. On this site, Amy aims to share her love of New England and help you to have the best possible adventures!
Amy has been a full time blogger since 2012, and is also the publisher of Two Drifters, where she writes about couples travel and relationships, as well as Let's Adventure Baby, a family travel site. When not traveling the world or creating epic blog content, Amy can be found cuddling with her husband, son, and cats, & drinking a maple latte.