What's better than spending time outdoors, enjoying the fresh air, on one of the Cape Cod bike trails? There are so many places to enjoy cycling outdoors in this area of Massachusetts.
From outdoor parks to national seashores and even rail trails, the opportunities are endless for a biking adventure. For those who like biking, Cape Cod truly is one of the best places to go, and with beautiful weather for at least half the year, it's pretty easy to plan a cycle trip.
To help you with your planning, keep reading to learn about some of the top Cape Cod bike trails that you won't want to miss out on.
Nauset Trail
First up is the Nauset Bike Trail, which is part of the Cape Cod National Seashore. It's not super long at just 1.6 miles, but it is perfect for those wanting a more laidback bike ride during the day. The bike trail also has quite a few beautiful landscapes you'll bike through, including sandy spots and a breathtaking forest.
This is a nicely paved trail, but there may be spots of sand and dirt along the way. Overall, it's extremely well-kept. There are a few places where you can access the trail, including the Doane Rock Parking Area, Salt Pond Visitor Center, and the Coast Guard Beach.
Overall, it's a free year-round bike trail, and reservations aren't needed. Pets aren't allowed, and it usually takes less than an hour to bike fully, especially if you don't make any stops along the way.
Nickerson State Park Bicycle Trails
Next is the bike trails located inside Nickerson State Park in Brewster! There are many state parks throughout Massachusetts, but this one in Cape Cod is perfect for biking, especially in late spring and early summer.
The main bike trails in Nickerson State Park are around eight miles in length and connect to the Cape Cod Rail Trail, which you can read about later on in this post! It's a kid-friendly trail that's mostly of moderate difficulty; just a small part of it can be said to be strenuous.
The landscape of the trails is beautiful, switching between lakes and forests. It's perfect for those who just love fresh air and don't mind a trail with a few hills. Plus, there are great spots throughout the park where you can stop and enjoy a picnic during your day biking.
There are two different parking lots that you can park in, and one is much larger than the other, closer to the entrance of the park.
Cape Cod Canal Bikeway
One of the most gorgeous bike trails on Cape Cod is the Cape Cod Canal Bikeway. As the name suggests, this bike trail actually goes right along the Cape Cod Canal and offers beautiful views of the water and the boats that use the canal.
The length of it is around 8 miles in total, and it runs between the Bourne Bridge and the Sagamore Bridge. It's more of a flat trail, making it completely family-friendly and perfect for those wanting a leisurely bike ride.
This path, in particular, is well maintained and paved, so people do often come here to skate, run, or walk, too. It's also lined to show two-way traffic easily, making it great for safety!
One thing that makes this path in particular unforgettable is that there are landmarks along the way that you can stop and learn more about. It begins at the east end and is a great way to learn more about the area. Benches are also scattered along the bikeway.
While in the area, be sure to stop at the Cape Cod Canal Visitor Center!
Head of the Meadow Trail
The Head of the Meadow Trail is another of the ones that can be found in the Cape Cod National Seashore! This trail is just two miles long but is four if you do it out and back. It's a fairly easy bike experience, as it's well-maintained and mostly flat.
Along the way, enjoy beautiful trees as you bike from High Head Road over to the pretty Head of the Meadow Beach, where you can enjoy some facilities like restrooms. The two places to park are at either end: in Truro for High Head Road or near Head of the Meadow Beach. These do have parking limits and/or a fee, depending on the season.
In total, it takes around 60 minutes or less to bike this trail fully, and there's no activity fee or reservation needed. It's open year-round! Unlike some other trails, pets are allowed on this one, but there are some restrictions (must be leashed, only allowed during certain parts of the year, etc.). Be sure to check their website to double-check restrictions.
Shining Sea Bikeway
For a longer bike ride on Cape Cod, opt to enjoy the beauty of the Shining Sea Bikeway! With a name like that (named after America the Beautiful), you know you can't go wrong with the scenery you'll see along the 10.7-mile stretch.
It's built on top of an old railroad area and is very evenly paved the entire path, but of course, there are some small hills along the way. Some spots of note on the bike trail include the cranberry bogs, beaches, and even a bird sanctuary.
What makes this trail even more unique is that there is actually a spot along the trail where you can stop to fix up your bike if needed. This is a great addition because sometimes unexpected happenings do occur during the day.
The trail is also used for walking, cross-country skiing, and inline skating throughout the year. You can park at either end of the trail, but most people will opt to begin at the Depot Road side. It truly is one of the most beautiful Cape Cod bike trails.
Province Lands Trail
Located in the Cape Cod National Seashore, Province Lands Trail is a 5.5-mile loop bike trail that can't be missed. It includes stops at Bennett Pond, Herring Cove, and Race Point Beach along the way! Because of that, you can start at any of those spots or at the Province Lands Visitor Center or Beech Forest Parking Lot.
This is one of the more interesting trails in the seashore featuring many different types of scenery along the way. Bikers see cranberry bogs, forests, dunes, water, and more. It's the perfect way to enjoy time outdoors because you can also stop by any of the beaches to relax along the way.
Due to the types of landscapes, it is a more difficult trail that's better for intermediate bikers. There are also some tunnels and sharp turns throughout the trail, so it's better for those who have a bit of biking experience from prior rides. There are also steep grades, so be prepared!
Cape Cod Rail Trail
Easily the most popular bike trail on this list is the Cape Cod Rail Trail! That's because it almost serves as a great introduction to Cape Cod. Along the way, pass through towns like Brewster, Wellfleet, Yarmouth, Harwich, Dennis, Eastham, and Orleans.
It's a bit longer at 25 miles, but many of the bikers will opt just to do a section of it if they aren't up for the whole thing. It offers a variety of different breathtaking landscapes along the way and only has small grades, so it's pretty flat and well-paved for the majority of the trail.
The bike trail is best enjoyed between sunrise and sunset, and most people opt to park over at Nickerson State Park. There is a small fee to park there (the price depends on if you're a Massachusetts resident or not) throughout the year.
Free parking can also be enjoyed at a few spots, including the Salt Pond Visitors Center in the Cape Cod National Seashore, South Dennis's trailhead, and a few other spots. The accessible trail also has facilities to be enjoyed, like bike rentals nearby, viewing areas, and restrooms when needed.
Old Colony Rail Trail
Last but certainly not least is the Old Colony Rail Trail which also connects with the Cape Cod Rail Trail, like many others on this list! It goes between Harwich and Chatham and is eight miles in length in total.
The paved trail is named after an old railroad that went between Rhode Island and Massachusetts, and though it is a bit longer in length, it doesn't take that long to bike. Part of the trail is also right on the road, so be sure to follow all safety precautions along the way.
To best enjoy this trail, be sure to do it earlier in the morning, and begin in Chatham near Hitching Post Road and Depot Road. Along the way, go through forests, neighborhoods, and other woody areas.
As you can see, there are so many incredible Cape Cod bike trails! While this was by no means an extensive list, we hope that it's introduced you to some of the can't-miss trails that the area has to offer. No matter what trail you choose to enjoy, we know that you'll have the best cycling adventure ever!
---
You might also like: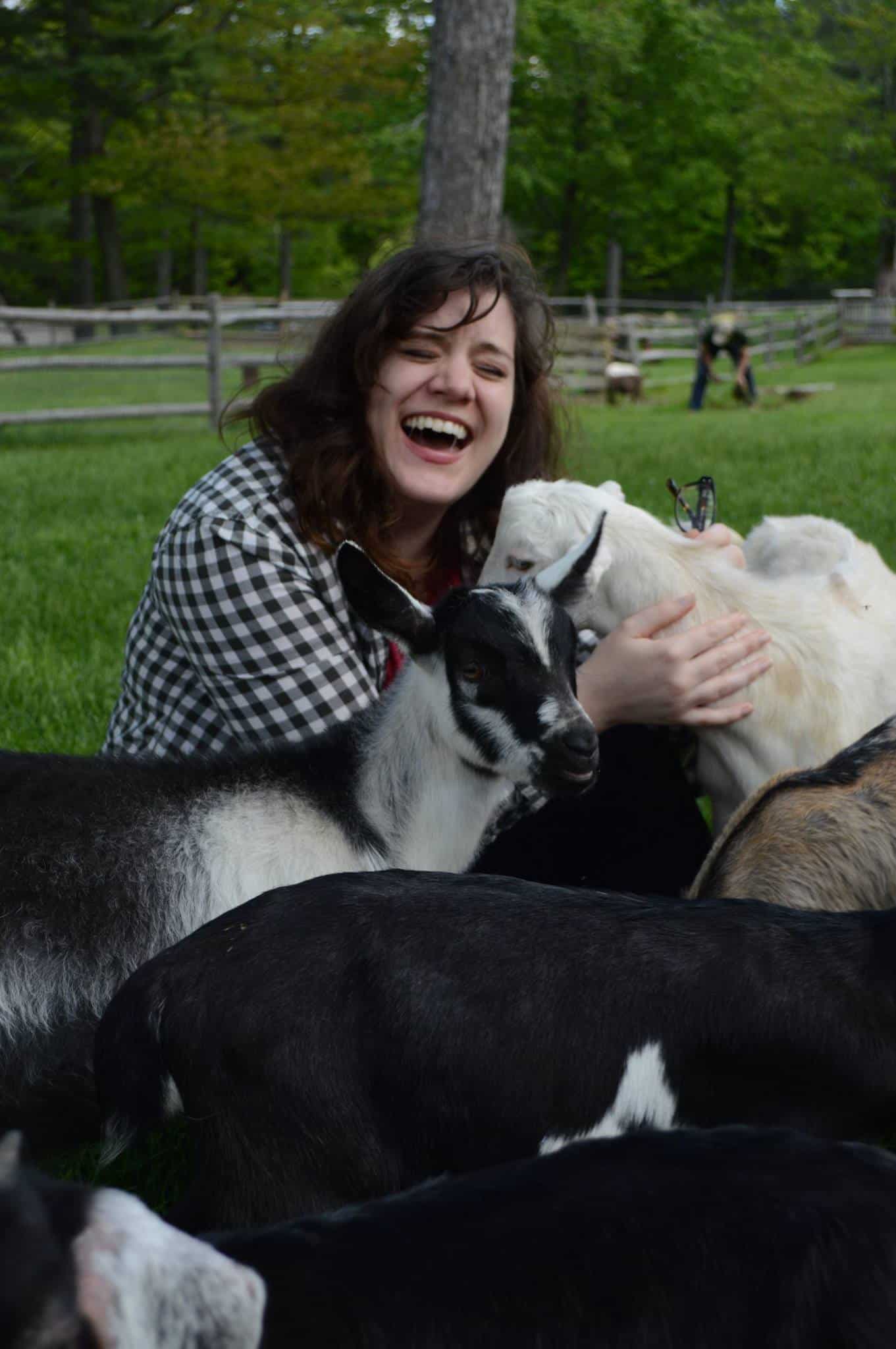 Amy Hartle is the founder and Editor-in-Chief of New England With Love, a comprehensive resource for travel in the New England region. Amy has been exploring New England since 2001. She lived in Vermont for many years and is a graduate of Plymouth State University in New Hampshire. Amy has been writing about travel for over a decade. On this site, Amy aims to share her love of New England and help you to have the best possible adventures!
Amy has been a full time blogger since 2012, and is also the publisher of Two Drifters, where she writes about couples travel and relationships, as well as Let's Adventure Baby, a family travel site. When not traveling the world or creating epic blog content, Amy can be found cuddling with her husband, son, and cats, & drinking a maple latte.