---
*Links in this article may be affiliate links, from which we may earn commission. See our
Privacy Policy
for full details.
---
When you think of Massachusetts and its coastal towns and beaches, Nantucket is most likely one of the first places that comes to mind. While this is a perfect place for a serene vacation full of relaxation and peace, a day trip to Nantucket is also an incredible addition to any trip to Massachusetts.
Located right off of Cape Cod, Nantucket is a charming town with cobblestone streets, peaceful beaches, beautiful lighthouses, and plenty to do whether you are there for a day or a full trip. Not only will you get an unforgettable day on this gorgeous island, but you also get amazing views on the ferry to and from the island.
Let's dive into what you can do on a day trip to Nantucket.
Is it worth it to take a day trip to Nantucket?
Before we dive into what to do in Nantucket, is it worth it to take a day trip to Nantucket in the first place? Absolutely! Nantucket is a relatively small island, and there are a lot of different activities you can do and places you can explore in just a short amount of time.
While you will have to spend some of your day traveling to and from the island, you get to do so on a ferry with incredible views of the Massachusetts coast. The ferry ride can take around an hour or two depending on where you are starting your trip from and if you choose to bring your car along or not. Most ferries to Nantucket leave from Hyannis, New Bedford, or Martha's Vineyard.
How to get to Nantucket
While there are a few airlines that will bring you from some of the major cities on the east coast right to the island, that probably isn't the best bet for a day trip. However, there are ferries that make it simple to get from the Massachusetts coast to the island.
As mentioned above, you can catch the ferry from Hyannis or New Bedford if you are already on the mainland. You can also hop over from Martha's Vineyard to experience two of the most popular islands off the Cape.
If you are starting from the mainland, you are most likely going to be coming from Boston. You can definitely take a day trip to Nantucket from Boston, but you will have to plan your time out as it can be about an hour and a half to two hours to get from Boston to Hyannis or New Bedford. If you are trying to plan a longer day in Nantucket, it may be worth it to stay the night in either of those towns so you can catch the first ferry out to the island.
Traveling in Boston without a car? No problem at all! There is a Peter Pan bus line that will take you from downtown Boston to Hyannis where you can catch the ferry making it easy for anyone to visit Nantucket.
There are two different types of ferries you can take to Nantucket, one which you can take your cars on and a high-speed, passenger-only ferry. If you are just heading to Nantucket for the day, there is plenty you can do without a car so the passenger ferry is a great option!
Top things to do on a day trip to Nantucket
Walk around the town
No trip to Nantucket is complete without a stroll around the downtown area. This is a great way to start your trip as it will give you a chance to stretch your legs after the ferry ride, and it's located right near the harbor where you will come in.
Downtown, you'll find beautiful cobblestone streets and brick sidewalks. There are plenty of local shops and restaurants that you can wander around as well as beautiful historic buildings. If you are a fan of art, there are also galleries around town featuring local Nantucket artists and more!
Taking the first ferry onto the island to maximize your time? Definitely stop by one of the local cafes right near the harbor to pick up a coffee and pastry to start your day off right!
Head over to Madaket Beach or Siasconset
There are two main areas that people will suggest seeing while you are visiting Nantucket: Madaket and Siasconset. They are both beautiful areas, and you can't go wrong visiting either.
Madaket is often seen as one of the most beautiful beaches on the island. If you are a fan of sunsets, this is definitely the beach for you. This is a great option if you are looking for a place to sit down and relax on the beach.
There isn't much around the beach so if you are planning on spending time on the beach, I'd suggest packing a picnic or picking up some food in town before you head out here. If you are visiting without a car, you can bike to the beach or take the NRTA shuttle bus depending on the season.
Siasconset, or 'Sconset as locals know it, is a great option if you are looking for an area that has a bit more to do. Here, you can walk the beautiful Sconset Bluff Walk or visit the Sankaty Head Lighthouse.
While there are not as many shops and restaurants as the main downtown area, there are still a few spots around the area to explore as you walk around the area. You can get to 'Sconset via one of two different bike paths (one a bit more strenuous than the other) or by an NRTA shuttle during the on-season.
Take in the site of Brant Point Lighthouse
The historic Brant Point Lighthouse is a must-see while visiting Nantucket and is a super easy thing to cross off your list. The lighthouse is most likely the first thing you'll see as you come in on the ferry and is just a short walk from the downtown area.
The Brant Point Lighthouse was added to The National Register of Historic Places in the late 1980s, and the one you see standing today is actually the 10th lighthouse at the point! This is a great first stop as you start your day trip to Nantucket and is a great place to capture that perfect picture of the island.
Visit a museum
Looking to learn more about the history of Nantucket and so much more? Be sure to stop by one of the many museums that you can find throughout the island.
Some of the most popular ones include the Whaling Museum, the Nantucket Shipwreck & Lifesaving Museum, and the Lightship Basket Museum. The museums have different exhibits and events that go on during the year, so be sure to take a look at their websites before you visit to see if there are any events you want to attend during your trip!
Rent a bike to explore the island
If you don't bring your car, which isn't really necessary if you are only taking a day trip to Nantucket, then renting a bike is the perfect way to get around the town. There is public transportation that is available during certain seasons, but if you visit during the off-season or want to explore more of the island on your own, then renting a bike is a must!
If you are a New England local, you can bring your bike on the ferry with you to take around the island. For visitors from other states or those who don't have their own bikes, there are also a few different shops on the island where you can rent bikes for the day.
The island features bike trails throughout that have beautiful views and take you to some of the most visited places on the island. We also suggest bringing your own water bottle, as there are bottle refill stations throughout all of the downtown areas for you to use!
Take a fishing charter
What's better than hitting the open water and catching some fish? Even if you are only in Nantucket for a day, you can still take advantage of some amazing fishing charters during your trip.
There are a few different charters that operate out of Nantucket, and some of them are only two and a half or five hours, giving you plenty of time to explore more of the island before you head back for the day. Be sure to check with the charter company to make sure you can make it to the island before the charter is set to leave!
So, is a day trip to Nantucket worth it? Yes! There is so much you can do in just a day, whether you want to explore the museums, relax on the beach, or bike around the island. This island is a beautiful place to stop and take a break; just make sure you do your research before you plan your trip, especially in the off-season!
---
Read these next: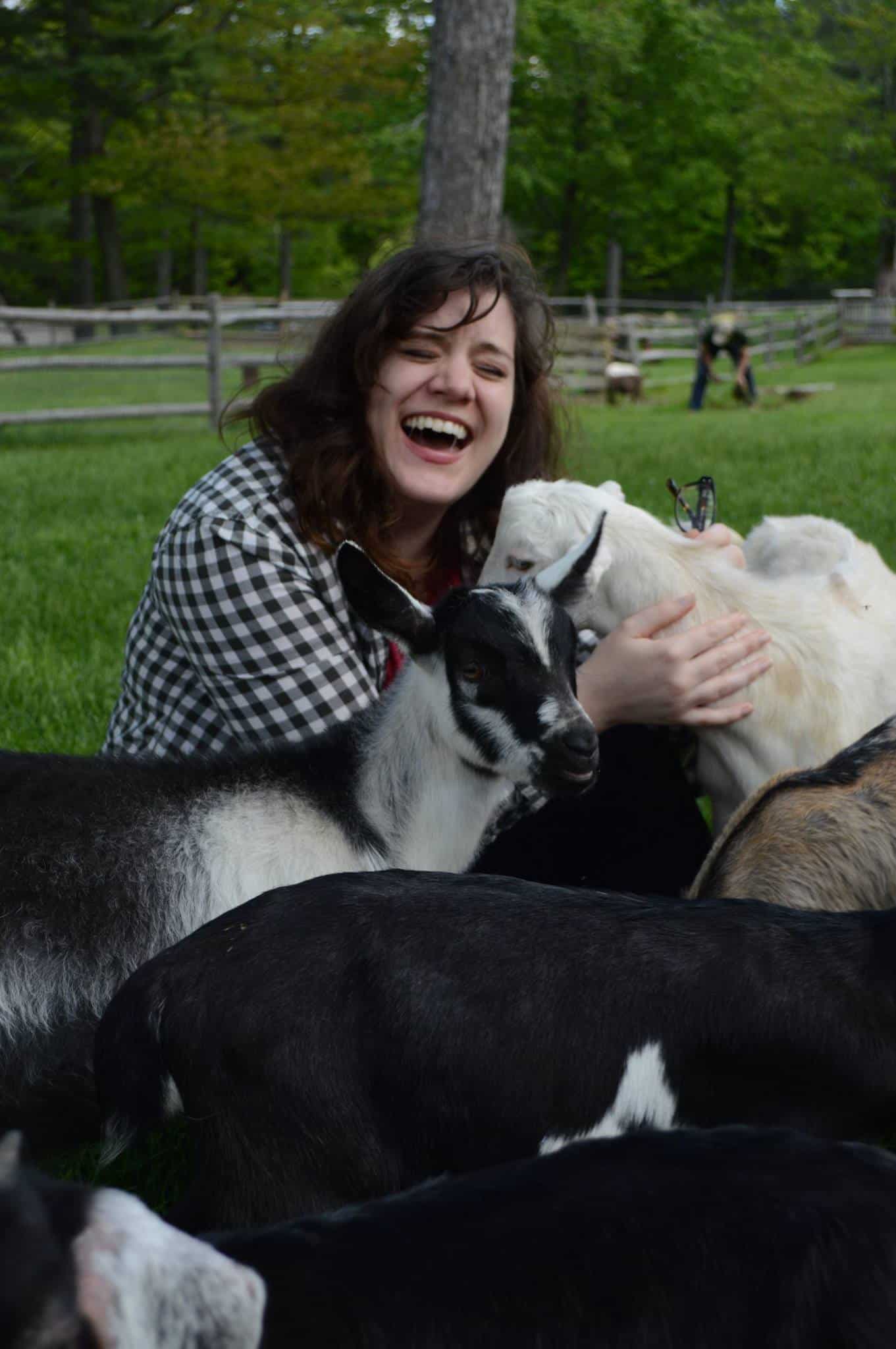 Amy Hartle is the owner and editor of New England With Love, a comprehensive resource for travel in the New England region. Amy lived in Vermont for 15 years, attended Plymouth State University in New Hampshire, and continues to travel regularly around the entire New England region. On this site, Amy aims to share her love of New England and help you to have the best possible adventures!
Amy has been a full time blogger since 2012, and is also the publisher of Two Drifters, where she writes about couples travel and relationships, as well as Let's Adventure Baby, a family travel site. When not traveling the world or creating epic blog content, Amy can be found cuddling with her husband, son, and cats, & drinking a maple latte.