No trip to Maine is complete without trying a local favorite! That's why we've rounded up the ultimate list of the best lobster rolls in Portland Maine.
Maine is one of the top local foods, and New Englanders travel from all around just to come to the state to enjoy one on the coast. A lobster roll is essentially lobster meat with butter placed in a roll, similar to a hot dog bun. Often, local restaurants will elevate their lobster rolls by adding garnishes like lettuce, bacon, and more.
What are you waiting for? Keep reading to learn all about Portland's best lobster rolls.
Where to Get the Best Lobster Rolls in Portland Maine
The Highroller Lobster Co.
Location: 104 Exchange St, Portland, ME 04101
First up on our list is none other than The Highroller Lobster Co. on Exchange Street. This restaurant is incredibly unique and feels like a diner on the inside, with white brick walls, comfortable seating, and red accents throughout.
While Highroller has many fun menu dishes like lobster cheese crisp tacos and seafood cocktails, they are well-known for their lobster rolls. They are one of the restaurants in Portland that offers a unique twist on them!
At Highroller, you get to build your own lobster roll. They come packed with chopped romaine lettuce, your choice of sauce (they recommend the lime and jalapeno mayo for a twist), and four ounces of Maine lobster, all on a freshly baked brioche bun.
Eventide Oyster Co.
Location: 86 Middle St, Portland, ME 04101
For a high-end lobster roll experience, look no further than Eventide Oyster Co. Situated on Middle Street in Portland, this restaurant is definitely the type of place that you would go to for a big celebration or even a romantic dinner.
Eventide's lobster roll is incredibly unique because instead of being made with regular butter, it's actually made with brown butter. To make your dish complete, add on a side like a cole slaw, potato chips, or even kimchi. For those looking for a classic lobster roll experience with a touch of uniqueness, Eventide's is the way to go.
Luke's Lobster Portland Pier
Location: 60 Portland Pier, Portland, ME 04101
Another incredible seafood spot for tasty lobster rolls is none other than Luke's Lobster Portland Pier, which is right on the waterfront. This rustic restaurant feels sophisticated but has mid-range pricing, making it a perfect spot to try lobster rolls.
They have a classic lobster roll on their menu, with options of four ounces or six ounces. Theirs is lobster with mayo, seasoning, and lemon butter. On the side, there are chips with a pickle. Talk about a tasty treat!
Dock's Seafood
Location: ​​15 Evans St, South Portland, ME 04106
A great casual eatery with incredible lobster rolls is Dock's Seafood. Not only is it a restaurant, but it's also a marketplace, so the ambiance there is always very lively. Plus, the service is always impeccable.
Similar to other restaurants on this list, Dock's Seafood serves up a classic lobster roll served at market value. There's is fresh Maine lobster on a Mighty Grains roll that's been toasted along with light mayo. It's perfect for those looking for a more traditional taste.
Becky's Diner
Location: 390 Commercial St, Portland, ME 04101
Becky's Diner is an affordable place to go and have some tasty lobster rolls. They are on Hobson's Wharf and opened in 1991. In addition to the lobster rolls, Becky's is pretty well known for their incredible breakfast.
The lobster roll at Becky's Diner is sold at market value and comes with ⅓ pound of fresh Lobster, mayo, shredded lettuce, and melted butter. They serve it with cole slaw, french fries, and a pickle. What could be better than that?
Boone's Fish House & Oyster Room
Location: 86 Commercial St, Portland, ME 04101
For a historic restaurant, look no further than Boone's Fish House & Oyster Room. It's on Portland Harbor and is on the pricier side, but this chic restaurant is one that you'll want to visit at least once.
The menu at Boone's features two different types of lobster rolls: there's the Nor'easter and the classic. The Nor'easter is fresh Maine lobster with butter, arugula, and a side of fries. Meanwhile, the classic one is made with lemon mayo and arugula. They are sold at market price.
Scales
Location: 68 Commercial St, Portland, ME 04101
Situated inside the New England Ocean Cluster, Scales is an incredible highly-rated seafood restaurant known for serving up some tasty delicacies, like lobster rolls. It's right on the waterfront, so the atmosphere is top-notch.
On Scales' menu, they have a classic warm buttered lobster roll served with french fries, coleslaw, and a dill pickle—the lobster roll features house mayo on a griddled split top roll. Be sure to add some of their tasty sides to complete your meal, like cauliflower and bacon gratin with cheddar cheese curds.
The Porthole Restaurant & Pub
Location: 20 Custom House Wharf, Portland, ME 04101
This vintage diner is a must-visit for lobster roll lovers! The Porthole Restaurant & Pub has a casual atmosphere and both indoor and outdoor seating. Plus, they occasionally have live music, which makes the ambiance even more lively and fun.
The Porthole opened back in 1929, making it a classic Maine spot. Their Porthole lobster roll includes lobster on a roll with lettuce, and then you can choose between mayo, butter, or lemon aioli. There's also the option to make it gluten-free. All sandwiches are served with chips and a pickle!
Bite Into Maine
Located in: Allagash Brewing Co, 50 Industrial Way, Portland, ME 04103
Another of the top places for a lobster roll in Portland is Bite Into Maine. They have locations in Cape Elizabeth, Portland, and Scarborough, so you can also find them across the rest of the state.
At Bite Into Maine, you can enjoy a lobster roll with Maine lobster with butter on baked bread and a side of chips. Choose between two sizes, regular or XL, depending on your hunger levels.
They have a unique set of flavors on their menu that you can choose from. There's Maine style (mayo and chives), Picnic style (coleslaw, butter, and celery salt), CT style (warm butter), Wasabi (with wasabi mayo), Chipotle (with chipotle mayo), and Curry (yellow Indian curry). Talk about some unique flavors! We suggest trying the Maine style first, plus one of the others that pique your interest.
For a fun time, you could also consider trying out their lobster roll flights, which include three flavors so you can try more than one. This can be a fun choice for those who may not make it to Maine often!
J's Oyster
Location: 5 Portland Pier, Portland, ME 04101
Easily one of the most-visited seafood restaurants that serves up tasty lobster rolls in Portland is J's Oyster. This seafood restaurant is on a pier and has tons of classic dishes, and it's always super lively with good vibes all around.
J's has a traditional lobster roll that's served with pickles and chips. Their lobster roll is served on Botto's Bakery bread with lettuce and mayo. They also have a tasty crabmeat roll if you'd like to try something else!
Old Port Sea Grill & Raw Bar
Location: 93 Commercial St, Portland, ME 04101
Old Port Sea Grill & Raw Bar is a great chic restaurant with lobster rolls that you won't want to miss. It's near the waterfront right in Old Port, and they have local seafood, so you can guarantee it will be fresh.
At Old Port Sea Grill & Raw Bar, their classic Maine lobster roll is served with french fries. They dress their lobster roll in herbed mayonnaise and lettuce, and it's served on a brioche roll that's been toasted.
Susan's Fish n Chips
Location: 1135 Forest Ave, Portland, ME 04103
Susan's Fish n Chips is a hole-in-the-wall seafood restaurant with extremely affordable prices! They're known for their fish dishes, ranging from deep-fried fish to lobster rolls and everything in between.
On their menu, they have a traditional "lobstah roll" that's served with french fries. You could pair this with other dishes like clam strips or even haddock nuggets. No matter what you choose, you'll definitely enjoy eating at this restaurant. The inside has a really fun nautical theme that will make you feel like you're on a ship!
Well, there you have it! Now you know all about where to go to enjoy incredible lobster rolls in Portland. We hope you enjoy your trip!
---
Read these next: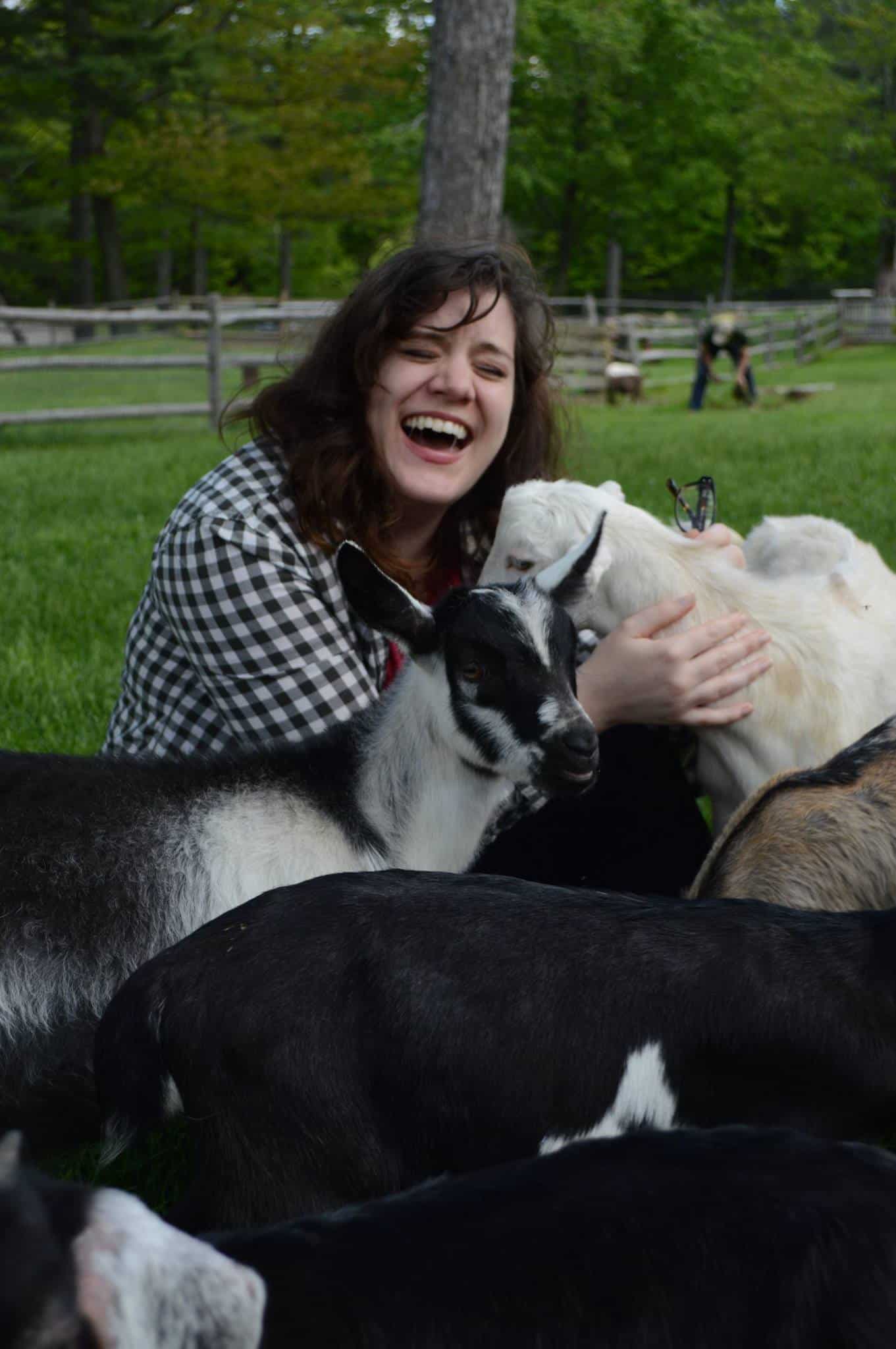 Amy Hartle is the founder and Editor-in-Chief of New England With Love, a comprehensive resource for travel in the New England region. Amy has been exploring New England since 2001. She lived in Vermont for many years and is a graduate of Plymouth State University in New Hampshire. Amy has been writing about travel for over a decade. On this site, Amy aims to share her love of New England and help you to have the best possible adventures!
Amy has been a full time blogger since 2012, and is also the publisher of Two Drifters, where she writes about couples travel and relationships, as well as Let's Adventure Baby, a family travel site. When not traveling the world or creating epic blog content, Amy can be found cuddling with her husband, son, and cats, & drinking a maple latte.