Easily, one of the most fun activities for people of all ages is snow tubing in Vermont! This lovely New England state is filled with winter activities like sledding, snowshoeing, and skiing (duh!), but snow tubing is one pastime that everyone loves.
One of the best things about snow tubing is that it's really easy to pick up. It truly doesn't require any skill (in comparison to skiing and snowboarding), as all you have to do is sit on a snow tube and ride. It's kind of like sledding, but with more speed and even more fun.
Luckily, we've put together the ultimate list of some of the can't-miss snow tubing VT locations. Keep reading to learn more about them!
Killington Tubing Park, Killington
One of the most popular places to go snow tubing is at the Killington Tubing Park in Killington! It's located right near the Killington Grand Resort Hotel and is fun for all ages. There are quite a few lanes, and there are also lift services, so you won't have to tire your legs as you go up and enjoy your way down.
Sessions at Killington Tubing Park are only an hour long, and the fee includes a tube rental, lift service, and access to the tube park. Those who do ride on the tubes have to meet the minimum height requirement of 36″ tall. Larger groups can inquire to get a lower rate, which is great if you're going with your entire extended family!
What makes this park so amazing is that there's also an on-site restaurant nearby called Clubhouse Grill, where you can enjoy hearty meals like pizza and other entrees that you'd often find in a pub. It's the perfect place to warm up after an hour of tubing with family and friends.
Ascutney Outdoors, Brownsville
Next up is Ascutney Outdoors which is located in Brownsville. Most people who visit this snow tubing area tend to be locals, so it's still a bit of a hidden gem, which makes it worth visiting! There's a whole area here that's completely dedicated to tubing.
On-site, visitors get to enjoy a tubing lift that brings you up to the top of the slope so you can enjoy the ride down without tiring your legs out as you go up the mountain. The slopes are super well-groomed!
Similar to other places on this list, guests can get a tube with a lift ticket over at what they call the "Tubing Hut." Hours are only on weekends, usually in the late afternoon. Saturdays tend to have longer hours than Sundays.
They do have quite a few rules that must be followed, like only using the provided tubes (can't bring your own from home), only one person in a tube, riders must be 42″ to tube, and those under the age of 10 do need to have a parent on-site. Their passes work a bit differently, as one pass is good for six rides. The tickets can be purchased on-site at the Tubing Center!
Mount Snow, West Dover
Located in West Dover, Mount Snow is one of the best places to enjoy snow tubing in Vermont! This is definitely one of the more popular places to go because they have so many fun winter activities for the entire family in the winter.
This tubing center has eight different lanes, so you won't have to wait in long lines. It's located near the on-site hotel and is home to some of the biggest hills in the entire state. Guests can enjoy a nearby lift called the Magic Carpet to make it easy to go up and down the mountain without getting tired.
Unlike other places in Vermont on this list, Mount Snow does require visitors to purchase their tickets online and then pick them up during their visit at the ticket window. This way, you can also be sure that you'll be able to go tubing! Book in advance to secure during peak season when children are off from school.
All tickets start at $30 and include two hours of tubing. Pricing is the same, no matter the age of the person who needs the ticket. Lap riders aren't allowed, so be aware of your child's height to make sure that they can ride independently.
Smugglers' Notch Resort, Jeffersonville
Located in Jeffersonville, Smugglers' Notch Resort is an amazing place to enjoy snow tubing in VT. In fact, it's one of the most popular activities that the resort has to offer… and they have a wide variety of winter activities!
What makes this place so different from the others is that they also offer night tubing. That's right; the entire path gets lit up with fun winter lights, which illuminate the entire path in the darkness. It's truly a unique and memorable experience that won't ever be forgotten.
Riders must meet the minimum height requirement of 42″ because they have to be able to stop themselves and ride independently. They have two different tubing hills available, including at North Hill and Sir Henry's Hill. Both are fun, and they do provide tubes for you!
Magic Mountain Ski Area, Londonderry
Magic Mountain Ski Area is a lovely seasonal place to enjoy snow tubing in Londonderry. Riders here do have to be 44″ tall in order to enjoy the activity, which is a bit higher than other locations on this list. Riders must also normally wear a helmet, but they are available for rental right on-site.
Keep in mind that this is one of the tubing areas that are fairly local, so it will mostly be other Vermonters enjoying their time with their families. The majority of people go here to enjoy skiing, but there are still usually at least two lanes open for tubing.
This park has limited hours but can normally be enjoyed on the weekends and also on specific holidays throughout the wintertime. When you get a ticket, you're also able to enjoy tubing for the entire day rather than just an hour or two! So, it's truly a great deal, and the nearby area is also super fun to explore, with local restaurants and other outdoor activities.
Sharp Park, Milton
In Milton is a lovely place for snow tubing called Sharp Park! It's a rec park that has fun activities throughout the year, depending on the season. And, you guessed it, snow tubing is one of the most fun!
The slopes here are mainly gradual with their decline, which means they are great for younger riders. However, there are some that were recently made specifically for older riders and adults to enjoy, like one called the Son of Chute, which has curves and is a bit more vertical! (Plus, did we mention it has SIX launch pads!?)
The park officially opens depending on the weather, as they need six inches of snow in order to open. That date usually changes throughout the year, so you'll want to keep a close look at their website to see when the date is. They are fairly good at always posting updates to keep you informed!
Snow tubes are available for rent for around $25, and there is a parking fee of $10. You can bring your own tube, but you'll want to check in with them when you get there to make sure it's safe to use on their terrain. Helmets are highly recommended for everyone under 18, and they can be rented for free. This is also a walk-up hill, meaning there's no Magic Carpet or lift on-site.
Coca-Cola Tube Park, Stratton Mountain
Obviously, this list would not be complete without including Stratton Mountain's Coca-Cola Tube Park! This is one of the most fun snow tubing spots in the entire state, and they have great amenities, like a lift, fire pit, and drinks.
There are four different lanes normally, and they can be used both during the day and at night for some unique night-tubing. These lanes are highly groomed and well-maintained always to ensure the best ride possible. All riders must be over the age of 5.
Tickets have to be purchased in advance for guests to enjoy this activity, especially because the tickets tend to go quickly. Those who have Ikon or Stratton passes can enter two people for the price of one!
Okemo Ski Resort, Ludlow
Last but not least is Ludlow's Okemo Ski Resort! They have their own tubing hill where this fun pastime can be enjoyed. It's a four-lane park near Stargazer Carpet, and many people love to enjoy it after a day of skiing and snowboarding.
It usually opens right before the winter holiday, and they have hours throughout the week and on the weekends, minus Tuesdays! So, they have much longer hours than other places around the state. They are normally between 11 a.m. to 5/6 p.m.
Tickets are priced by the hour and are cheaper if purchased online, usually starting at around $18 per hour for those 6 and under and $22 per hour for those 7 and older. Riders must be 42″ tall, and only one person is allowed on a tube at a time.
Well, there you have it! Some of the best places to enjoy snow tubing in Vermont. We hope you have the best trip possible!
---
Enjoy more winter in Vermont posts: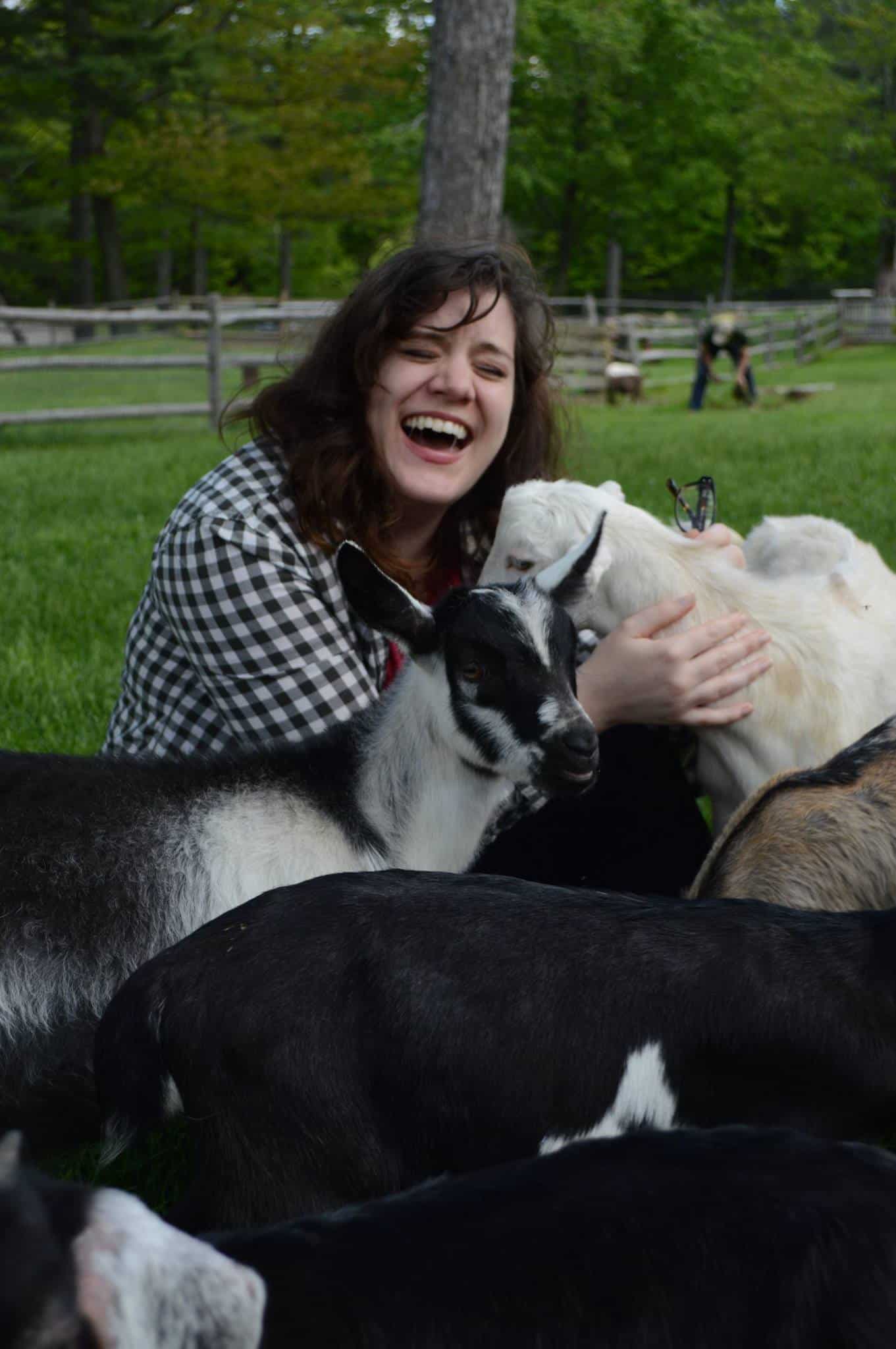 Amy Hartle is the founder and Editor-in-Chief of New England With Love, a comprehensive resource for travel in the New England region. Amy has been exploring New England since 2001. She lived in Vermont for many years and is a graduate of Plymouth State University in New Hampshire. Amy has been writing about travel for over a decade. On this site, Amy aims to share her love of New England and help you to have the best possible adventures!
Amy has been a full time blogger since 2012, and is also the publisher of Two Drifters, where she writes about couples travel and relationships, as well as Let's Adventure Baby, a family travel site. When not traveling the world or creating epic blog content, Amy can be found cuddling with her husband, son, and cats, & drinking a maple latte.