Do you find yourself torn between visiting Nantucket vs Martha's Vineyard in Massachusetts? As two of the top destinations in all of New England, these stunning islands offer a variety of activities and experiences that will make your trip one to remember.
From whale watching excursions and hiking trails to high-end dining and tranquil beaches, both Nantucket and Martha's Vineyard have something unique to offer travelers.
In this post, we'll break down everything from general comparisons to features that each island has to offer so that you can decide which destination would be best for your upcoming vacation.
Nantucket vs Martha's Vineyard
At a glance
If you just have a short amount of time when planning your trip, here are our overall suggestions when it comes to both of these islands, depending on what you are looking for.
Best for families: Martha's Vineyard is better for families, as there are more kid-friendly activities here.
Best for a day trip: Nantucket serves as a better day trip than Martha's Vineyard.
Best for a couple's getaway: Couples may find there's more for them to do in Nantucket than Martha's Vineyard.
Best for a weekend trip: Because Nantucket makes more sense as a day trip, consider spending a weekend in Martha's Vineyard.
What Nantucket is like
Nantucket and Martha's Vineyard are two of New England's most beloved vacation spots, both offering a variety of activities to entertain travelers. Nantucket is known for its beautiful beaches and pristine waters, making it a great destination for beach-goers looking for some rest and relaxation. However, keep in mind that Nantucket has about 40 miles of coastline less than Martha's Vineyard.
In addition to the classic beach activities such as sunbathing and swimming, Nantucket offers plenty of other fun things to do from kayaking to fishing. For those looking for a more active vacation experience, there are also many hiking trails located on the island that can be explored. (The 'Sconset Bluff Walk is one of the most popular.)
Those who appreciate history will love exploring all of the charming colonial housing in downtown Nantucket or discovering more about the island's past at one of the many museums. If you're looking for something even more thrilling, there are also plenty of boat tours that offer whale watching trips out on the open sea.
Overall though, Nantucket is a bit more elegant compared to Martha's Vineyard – think classic New England beach vibe where everyone is wearing pastel sweaters and button ups. It's very country club chic! It's also a bit pricier than Martha's Vineyard because it's a smaller island.
Nantucket is generally less busy than Martha's Vineyard. Also, many of the beaches here are also public, in comparison to Martha's Vineyard, where they are mostly private. It's a lot more quiet overall.
What Martha's Vineyard is like
Now, let's go over what Martha's Vineyard is like. Overall, there's still a preppy atmosphere here, but it's more along the lines of Vineyard Vines, which is popular all throughout New England. This island is also a little more budget-friendly (though is still a bit expensive for a stay in comparison to other getaways) because the island is bigger than Nantucket.
With its stunning beaches, classic lighthouses, and quaint fishing towns, Martha's Vineyard offers a quintessential New England seaside escape. It's extremely family-friendly, and because it's a bigger island, there's generally more to do here than Nantucket.
Visitors can explore the island's many outdoor activities like whale watching, kayaking, biking, and sailing. Or they can spend their days admiring the island's stunning coastal scenery. There are plenty of opportunities to take in the island's culture, too.
From charming boutiques to art galleries and delicious restaurants serving up fresh seafood, you'll be sure to find something that suits your fancy. Younger travelers will love that Martha's Vineyard has a great nightlife, especially at The Wharf.
Keep in mind that Martha's Vineyard is generally busier because of the size and popularity of the island. Plus, many of the beaches here are actually private!
Tips for choosing which island is better for your trip
Want some tips for choosing which island is better for you? Here's our best advice when deciding which island to visit.
Think about the season of your visit
Both of these islands are incredibly popular to visit during the summer months, but can also be beautiful in the spring or fall. However, because Martha's Vineyard is so popular among families, it'll be even busier during the summer.
Considering the season will also allow you to think about the pricing of accommodation during your trip. Visiting in the off-season means lower pricing, but there may be a lot of places closed. While if you visit in the summer, it'll be more expensive but everything will be open.
Consider your budget
Nantucket tends to be more expensive than Martha's Vineyard, so really think about your budget when planning your trip. Just because you have a lower budget doesn't mean you can't visit Nantucket, but your trip might end up being shorter.
Remember to book things further in advance so that you can hopefully snag some lower priced accommodations, tours, and more.
Do research on things to do
As mentioned earlier, both islands offer stunning beaches, outdoor activities and culture, but each has its own unique attractions that may appeal to different people. Many of Martha's Vineyard's attractions are more family-friendly, while those on Nantucket aren't.
Nantucket is also much more of a relaxing place to visit, while Martha's Vineyard is bustling with a great arts and culture scene.
Look into travel options
Be sure to also consider how far away each island is and what mode of transportation is available for your visit (i.e., ferry or airplane). Maybe visiting one or the other is more budget-friendly or convenient for you, depending on when your trip is and where you are traveling from.
Generally, ferries tend to be the more affordable option. You can do more research about the ports that you can book through online.
Decide on the length of your trip
If you are limited on time, one island may have more to offer within the timeframe you have available compared to the other island. As mentioned earlier, Nantucket tends to serve as a better day trip because of its smaller size, while Martha's Vineyard is great for a weekend getaway.
Compare amenities
Each island offers different types of accommodation, dining, and shopping options for visitors; consider which ones that suit your needs best! No matter where you choose to visit, try to book a BnB for a more local experience than staying at a big, lively hotel.
Depending on your preference, either Nantucket or Martha's Vineyard can provide something special for your getaway. Nantucket is quaint and cozy while Martha's Vineyard offers a bustling blend of nature and arts.
Consider the atmosphere you want
Nantucket is overall more relaxing while Martha's Vineyard has a bit of nightlife and there's usually more going on at any given moment. Consider if you want more of a laidback trip or not. If you do, then Nantucket may be a better option for you.
The beaches are beautiful, the food exquisite, and the atmosphere relaxing. So whichever enchanting island you choose, you will be sure to have an unforgettable experience.
With so much fun to be had in little pockets of paradise like these – don't miss out! We hope this post has helped you to find out the main differences of Nantucket vs Martha's Vineyard. Enjoy your trip!
---
Read these next: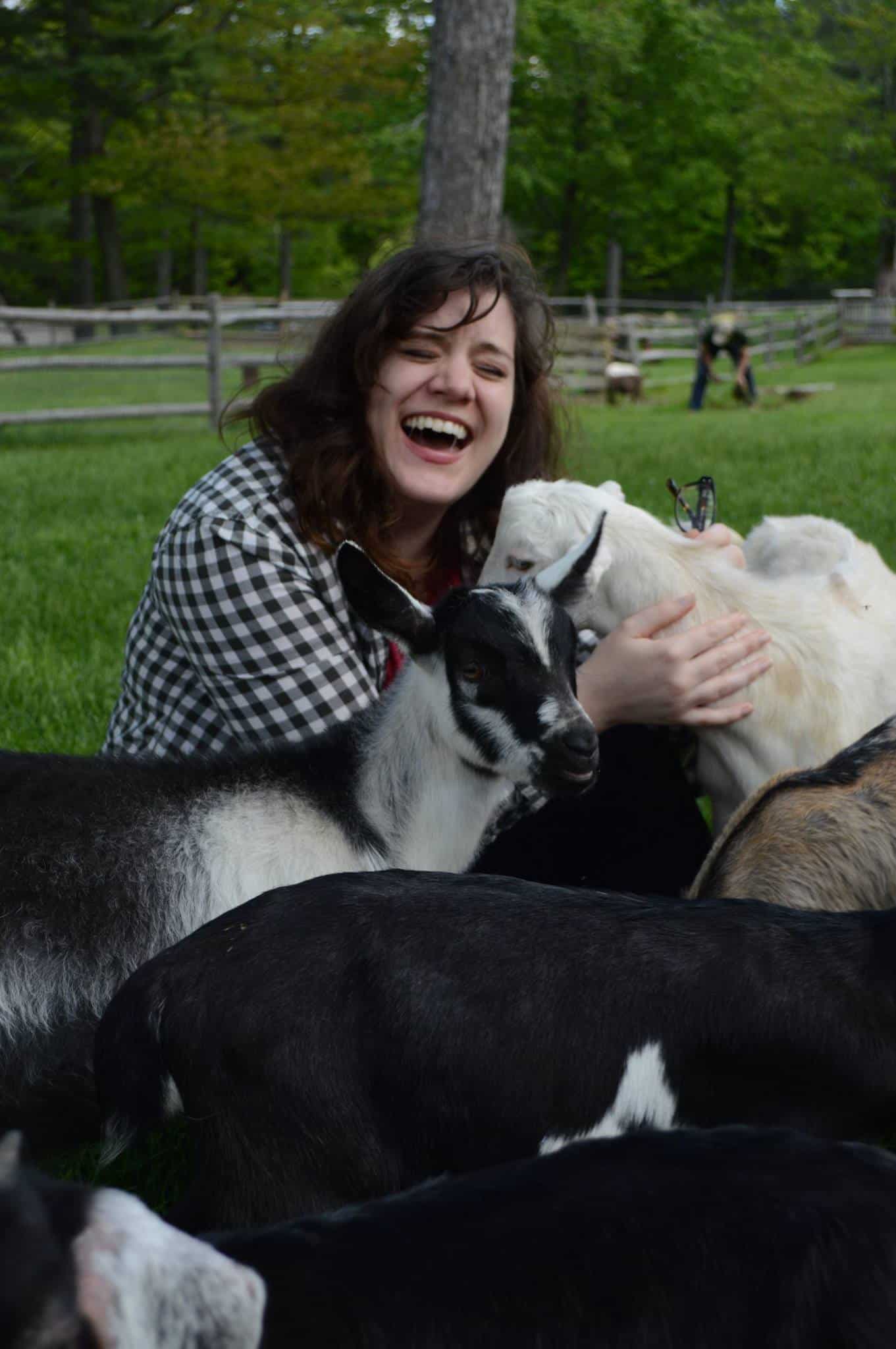 Amy Hartle is the founder and Editor-in-Chief of New England With Love, a comprehensive resource for travel in the New England region. Amy has been exploring New England since 2001. She lived in Vermont for many years and is a graduate of Plymouth State University in New Hampshire. Amy has been writing about travel for over a decade. On this site, Amy aims to share her love of New England and help you to have the best possible adventures!
Amy has been a full time blogger since 2012, and is also the publisher of Two Drifters, where she writes about couples travel and relationships, as well as Let's Adventure Baby, a family travel site. When not traveling the world or creating epic blog content, Amy can be found cuddling with her husband, son, and cats, & drinking a maple latte.