---
*Links in this article may be affiliate links, from which we may earn commission. See our
Privacy Policy
for full details.
---
If you're visiting western Massachusetts, then you absolutely can't miss out on Springfield! This city along the Connecticut River is known for its love of Dr. Seuss, its Basketball Hall of Fame, and more. With so many fun things to do, you'll have to eat at some of the best restaurants in Springfield MA, while you're there!
This article includes a curated list of Springfield's best restaurants, from small, local BBQ joints to luxury high-end fine dining, perfect for a romantic night out. Whether you want something on a budget or you're ready to splurge, this article has got you covered.
Here are all of the best restaurants in Springfield MA!
Theodore's Blues, Booze, and BBQ
Location: 201 Worthington St, Springfield, MA 01103
First is one of the top Springfield restaurants if you want something fun, Theodore's Blues, Booze, and BBQ! This restaurant has really unique decorations and is impossible to miss with its location on Worthington Street.
Theodore's is pretty popular among those in their 20s and 30s in the area who are looking for a casual night out. There's often live music playing, there are tons of significant paintings that cover the walls with music legends, and ample seating is both inside and outside.
Everything on the menu has mid-range pricing, and some of the dishes are very unique. You can order cajun poutine, spicy corn fritters, and even deep-fried pickles on the menu. Don't sleep on the fantastic wings, ribs, or house specialties either. There are also plates served with many sides, including hot links and Texas toast!
SouLao'd Kitchen
Location: 606 Page Blvd, Springfield, MA 01104
For some great Asian food, then you'll want to look no further than SouLao'd Kitchen. This restaurant looks like your average storefront from the outside, but once you're inside, you'll be amazed at how great the food is! It's somewhat of a hidden gem in the area that only locals know about.
The decor inside SouLao'd Kitchen is pretty minimal, with wood tiling and white paint on the walls, but that's because the food speaks for itself. There's booth-style seating and quite a lot of it, so you can easily order in and relax while you enjoy your food. Plus, the food is served pretty quickly, so you don't have to wait long!
The menu consists of many entrees that are around $10 or less. On the menu, you can find everything from wings and tofu to sticky rice and pad thai. You can also choose which meat you'd like for all the meat dishes, including options like tofu, beef, chicken, or even shrimp.
350 Grill
Location: 350 Worthington St, Springfield, MA 01103
Of course, this list of the best restaurants in Springfield MA would not be complete without including at least one fine dining restaurant! One of the top spots for a romantic night out in Springfield is none other than 350 Grill. The restaurant is known for its excellent service and impeccable food.
The inside of the restaurant is exactly what you'd expect. There's green and purple lighting (almost Vegas-style), large windows, and minimal decor. A lot of the focus inside the building goes to the giant chandeliers throughout the restaurant.
As mentioned earlier, because this is a fine dining establishment, this restaurant does have higher pricing. Start with one of the appetizers like the house-made risotto balls with parmesan and then have one of their excellent entrees like mac and cheese with buffalo chicken or something classy such as lobster bisque. Most of the entrees are around $20 to $40, depending on what you order.
Red Rose Pizzeria
Location: 1060 Main St, Springfield, MA 01103
One of the most popular Springfield restaurants (and one of the most reviewed online) is Red Rose Pizzeria. It's run by siblings and has some of the best Italian food that you can get in the entire city, and it has excellent pricing.
Red Rose Pizzeria has a stunning interior with a bright ambiance, huge chandeliers, lots of tables, and big windows. The restaurant is known for being able to easily serve large groups too, so if you're looking to have a big celebration in Springfield, then you'll want to eat at Red Rose Pizzeria.
They have a different menu for lunch and dinner, but almost every type of Italian food you can imagine is on the menu. There's arancini, chicken parmigiana, pizza, pasta… you name it, and it's probably on the menu. Don't forget to pair it with one of the house wines!
City Jake's Cafe
Location: 1573 Main St, Springfield, MA 01103
Who wouldn't want to have breakfast when visiting a city? City Jake's Cafe is one of the top breakfast restaurants in Springfield MA. It's one of the restaurants that mostly only locals know about. Plus, it's family-run, and the portions are significant for the price that you pay.
When you walk in, the restaurant looks like your traditional cafe. There's immediately a counter where you can see all of the fresh muffins and donuts, as well as a giant sign where you can check what's available for both breakfast and lunch. Keep in mind that due to the restaurant's size, it's best to grab some food to take with you to go as you explore Springfield!
You can order everything you could imagine for breakfast: omelets, breakfast sandwiches, and even pancakes or waffles. There are also some unique breakfast dishes, like batter-dipped Texas toast! The restaurant is also open for lunch when you can order sandwiches of pretty much all kinds.
Tokyo Asian Fusion Sushi Hibachi Steakhouse & Bar
Location: 415 Cooley St, Springfield, MA 01128
Tokyo Asian Fusion Sushi Hibachi Steakhouse & Bar is the best spot to get Asian fusion in all of Springfield! It's located in a reasonably popular plaza area in the city, and it's the perfect restaurant to eat at if you want a fun night out for the whole family.
The restaurant itself has minimalistic decor, with neutral walls. But, the real star of the show is the hibachi table, where you can ask to be seated! While sitting at the table, you'll be able to have a chef prepare your food right before your eyes, giving you a show and a great time all at once. Kids in particular love this experience!
The menu is relatively large. You can order tempura, fried rice, ramen noodles, bento boxes, sushi, and more. There's also a specific hibachi menu if you were to sit there, each of which includes mushroom soup, salad, and jumbo shrimp on the side!
Nosh Cafe and Restaurant
Location: 1341 Main St, Springfield, MA 01103
For excellent local food, look no further than Nosh Cafe and Restaurant. This restaurant is most well known for its amazing handmade bread, but they have many other dishes on their menu that are also worth trying.
It's a classic-looking cafe that almost feels Parisian with its black and white striped accents throughout. After entering, you'll be greeted by the kind workers at the counter. Order your food and be seated to enjoy it! There are also some great seatings spots outdoors where you can enjoy your food with a view, especially if the weather is nice.
You can find sandwiches, soups, and breakfast foods on the menu. They also have pastries, toasts, bowls, and more. If you are eating with a large party or want to try one of their unique dishes (like the spinach pesto rolls or the chocolate babka rolls), then be sure to call ahead.
Bueno Y Sano
Location: 415 Cooley St, Springfield, MA 01128
Bueno Y Sano is the best spot to go if you're looking for Mexican food in Springfield, Massachusetts. This is a shop run by a family, and they specialize in Mexican food but with a healthy twist! The restaurant itself is also very casual, and the food is made relatively quickly compared to traditional sit-down restaurants.
Inside, the restaurant features bright yellow walls and red booths. There are also some great paintings and photos on the walls. With ample indoor and outdoor seating, Bueno Y Sano is a great spot to eat while visiting Springfield. Keep in mind that the restaurant does get pretty busy during lunch and dinner, though, so prepare yourself if you want to get a seat easily.
The menu has burritos, bowls, sides, tacos, salads, quesadillas, and even taco plates. Everything on the menu is roughly around $10, so it's a reasonably affordable restaurant to eat at. The menu features some unique dishes as well, like the Thai burrito, chickpea, and red curry burrito, sauteed spinach and garlic taco, and even a chicken bacon ranch burrito! Be sure to order some tortilla chips and guac on the side. Plus, salsa is free!
This post covered some of the best restaurants in Springfield MA, in no particular order! Hopefully, this has helped you decide where to eat during your trip to the city. Truthfully, no matter which place you choose to eat at, you'll surely enjoy your meal, especially if you opt to eat local!
—
You might also like: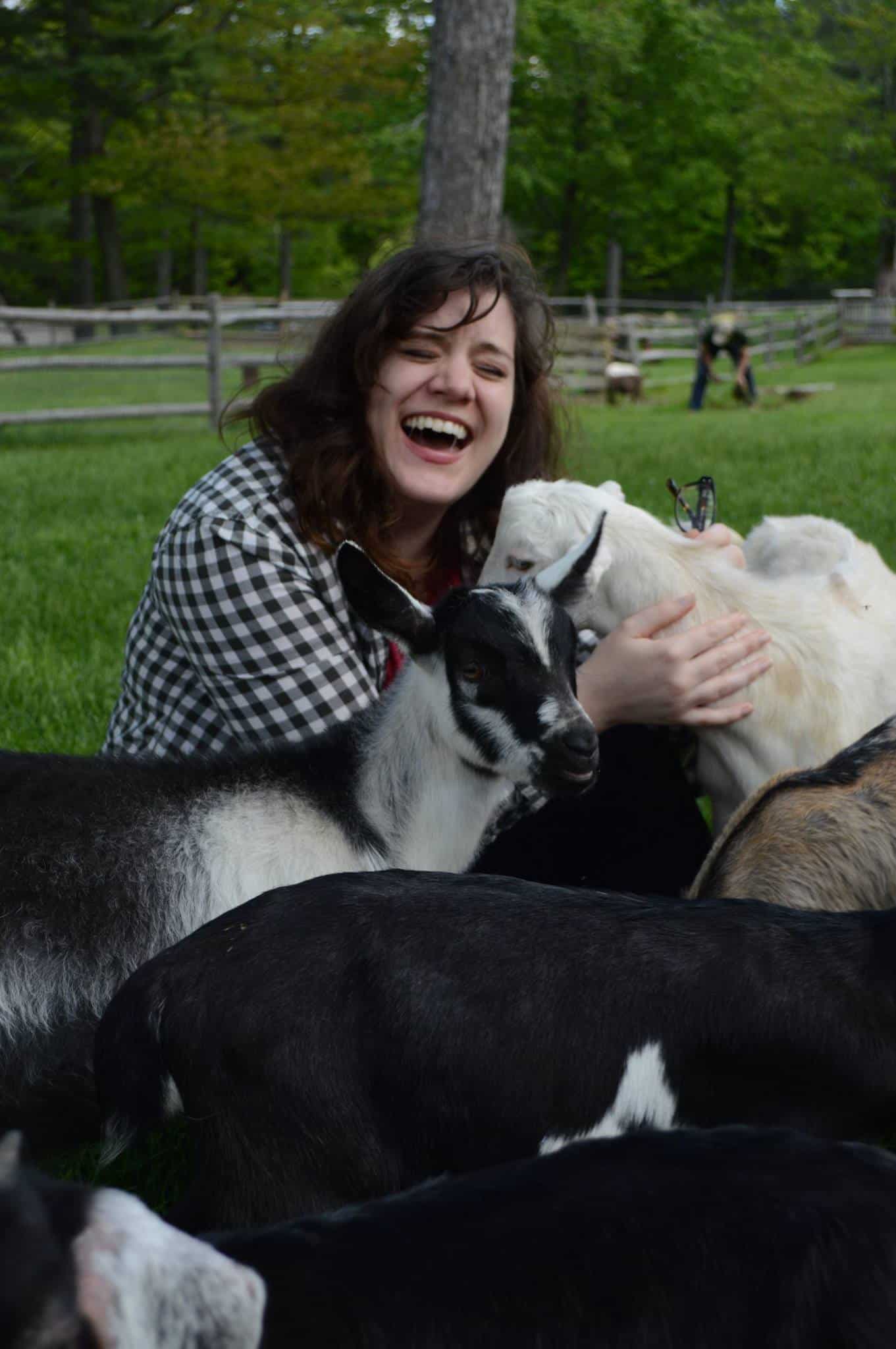 Amy is the founder of New England with love. A proud Vermonter, she hopes to share her love of New England and help you find the best adventures in the region. Amy is also blogger/founder at Two Drifters, where she writes alongside her husband about romantic and couples travel, relationships, honeymoons, and more. When not working on websites, Amy is probably reading, cuddling with her husband, son, and cats, & drinking a maple latte.