Litchfield is one of the more underrated places to visit in Connecticut, which is exactly why it should be at the top of your travel list! With great shopping, museums, nature, people, and restaurants in Litchfield CT, you really can't go wrong by paying the town a visit.
Even though it's a small town, Litchfield is filled with a pretty eclectic restaurant scene. There's everything from classic Japanese food to traditional New England drive-ins serving up greasy burgers and fries!
Read on to learn all about the best restaurants in Litchfield CT, in no particular order.
DiFranco's Restaurant
Location: 51 West St, Litchfield, CT 06759
First up is one of the best restaurants in Litchfield CT, DiFranco's Restaurant. They serve up tasty Italian food that will make your mouth water. With mid-range pricing and both indoor and outdoor seating, DiFranco's is a great place to eat, no matter the time of day.
DiFranco's Restaurant opened back in 2013 and has quickly become a favorite among locals in the area. They're known for their excellent pizza, Veal Francaise, and more. Because their quality is so high and their prices are low for the quality they serve, it's one place you won't want to miss if you love Italian food.
Their menu has every type of Italian food you could imagine; just don't forget to order a great wine to pair it with. If you're not in the mood for something Italian, don't worry, they also have sandwiches and wraps available on the menu with french fries.
Kawa Saki Japanese Restaurant
Location: 8 Village Green Dr, Litchfield, CT 06759
If you're looking for great Japanese food in Litchfield, then you'll want to check out Kawa Saki Japanese Restaurant. Located right on Village Green Drive, Kawa Saki is an excellent spot for a quick stop if you have a sushi craving.
The restaurant focuses on providing a welcome and memorable dining experience to all who come in the doors, so you'll easily feel like you're home while eating there. They use fresh ingredients, and the decor was carefully chosen to make you feel comfortable.
Everything on the menu is relatively affordable and is around $12 or less. There are lunch bento boxes (with your choice of chicken, pork, salmon, beef, or shrimp), sushi lunches, maki specials, and of course, hibachi meals too.
West Street Grill
Location: 43 West St, Litchfield, CT 06759
High-end dining is the name of the game at West Street Grill. This popular New American restaurant has ample outdoor seating and is open for both lunch and dinner. It quickly has become a great spot to go out to if you need a romantic evening out.
The two chefs behind West Street Grill, Charles Kafferman and James O'Shea have been collaborating on perfecting their cuisine together since the 1990s. Even before polished cuisine was "in" in Litchfield, that's been their sole focus.
Because this is more luxury dining, the prices are a bit higher compared to other restaurants in the Litchfield area. However, the menu is still quite long, so even if you are a picky eater, you'll be able to find something great to eat at West Street Grill. There are salads, burgers, sandwiches, pasta, seafood, poultry, and more. There is also a kids menu with prices maxing out at only $10 per entree!
Bohemian Pizza and Tacos
Location: 342 Bantam Rd, Litchfield, CT 06759
Sometimes, pizza and tacos are all you're in the mood for. Well, Bohemian Pizza and Tacos serves up both, so you don't have to choose! Plus, the restaurant is exceptionally casual, and it has a welcoming environment that will make you feel right at home.
The inside of the restaurant is extremely eclectic, which only adds to the charm of Bohemian Pizza and Tacos. There are boats on the ceiling, along with album art, posters, and more. The booths are lime green, but the seats at the other tables are silver… you catch the drift? It's maximalist design at its best!
Some of their popular dishes on their menu include the golden arches burger with tater tots, the amigo pizza, blackened chicken pasta, and even their buffalo chicken dip, which comes with veggies and two types of chips. They're open for both lunch and dinner!
Meraki
Location: 239 West St, Litchfield, CT 06759
This list of the best restaurants in Litchfield CT, would not be complete without at least one sandwich shop like Meraki. A sandwich is quintessentially American food, after all, especially when you just want a quick bite to eat!
Located on West Street, Meraki is known for serving foods made with locally-sourced ingredients. The menu does slightly change throughout the year depending on the season, as they like to use whatever ingredients are in season at the time.
Everything on the menu costs around $10 or less, depending on what you order. There are unique sandwiches like Meraki pulled pork quesadillas, cauliflower paninis, house grilled Havarti on white bread, coffee-rubbed burgers, and more. If you're picky and don't want a sandwich, they also have bowls, toasts, plates, and even parfaits.
Wood's Pit BBQ & Mexican Cafe
Location: 123 Bantam Lake Rd, Bantam, CT 06750
Yes, one of the best restaurants in Litchfield CT, is Wood's Pit BBQ & Mexican Cafe! Again, it's another combo restaurant, sort of like Bohemian Pizza and Tacos. It seems to be a bit of a theme in Litchfield, and we are here for it!
This restaurant has been blessing the locals with tasty food for more than 20 years. It was opened by "Woodie" who went on a culinary adventure to the south to learn how traditional BBQ was made. At the same time, he really wanted to open Litchfield's first-ever Mexican restaurant. So, Wood's Pit BBQ & Mexican Cafe was born!
Despite BBQ and Mexican food being the main star of the show at this restaurant, there are many other types of dishes on the menu too. You can order salads, sandwiches, seafood, and more. Plus, there's a kids menu if you're traveling to Connecticut with kids.
Sycamore Drive-In Restaurant
Location: 282 Greenwood Ave, Bethel, CT 06801
One of the most unique restaurants in Litchfield CT, is Sycamore Drive-In Restaurant! If you have never been to New England before, then you probably won't know this, but this area of the country loves its classic drive-in restaurants.
If you're looking for a retro restaurant with affordable pricing and tasty burgers with fries, then skip out on the fast food places in town and head to Sycamore Drive-In Restaurant instead. While it's technically located in Bethel, it's only a short drive from Litchfield and shouldn't be missed.
Don't forget to try their housemade root beer with whatever you order, and let the kids have a sip too. It's better than any root beer brand that you can buy at the store, which is part of what makes this restaurant so special.
DaCapo of Litchfield
Location: 625 Torrington Rd, Litchfield, CT 06759
Another great Litchfield Italian restaurant is DaCapo of Litchfield. This is one of the more popular places to eat in Litchfield, but the busyness shouldn't deter you! They've been serving the community for years, and they're known for being frequented by those visiting Litchfield from New York City.
This is another restaurant that has pricing that's a little bit higher, but it's well worth it. There's paninis, wraps, pizza, pasta, fish, and more. Plus, there are even classic calzones! The pizza portion of the menu is definitely the best because you can add as any toppings as you'd like onto any of their pizza options.
The restaurant is relatively large, and it features a gorgeous large patio with umbrellas. There's nothing more romantic than a nice dinner out on the patio in the evening in Litchfield.
@ The Corner
Location: 3 West St, Litchfield, CT 06759
Last but certainly not least is another of the best restaurants in Litchfield CT: @ The Corner! This New American restaurant has an exquisite interior and a welcoming exterior that just beckons you to come in and eat.
The menu is highly eclectic. You can order Spanish black garlic shrimp, Bavarian pretzel knots with raclette fondue, and black truffle pierogies all the same place! Most of the starters are around $15, while entrees start at about $25, but the price is well worth it for the unique dishes.
There arae also many different sides that you can add to your meal, like black garlic blooming onion, side salad, french fries, and even truffle asiago fries with garlic aioli. If you're picky, you can even just order their kr@ft mac and cheese, a fun spin on such a classic dish that will leave you begging for more!
There are tons of great restaurants in Litchfield CT. Hopefully, this post has helped you find the perfect place to eat during your visit to Litchfield! Don't forget to share this post for later, or leave a comment below about your favorite Litchfield restaurant for others who are planning their trip.
—
You might also like: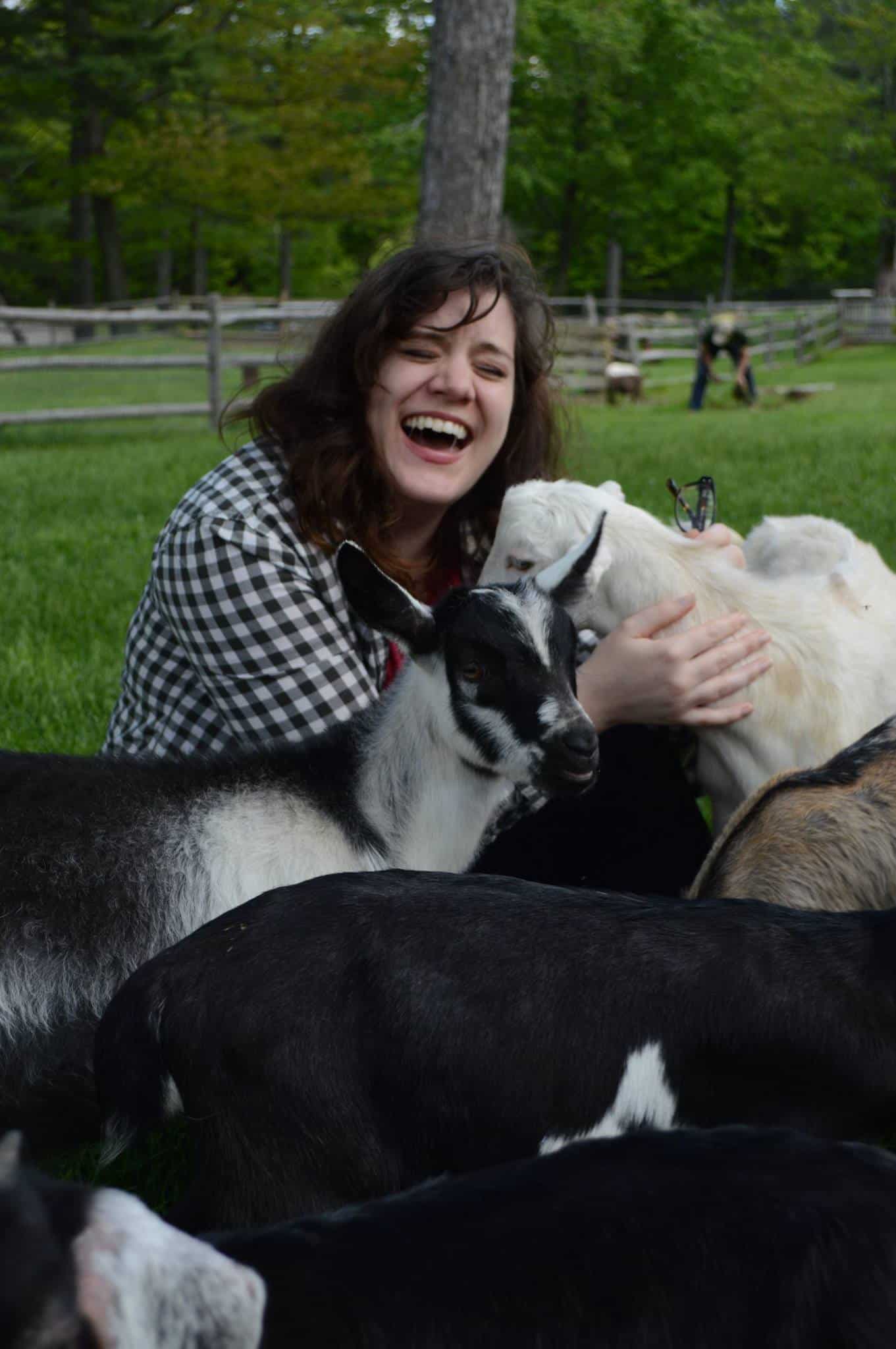 Amy Hartle is the founder and Editor-in-Chief of New England With Love, a comprehensive resource for travel in the New England region. Amy has been exploring New England since 2001. She lived in Vermont for many years and is a graduate of Plymouth State University in New Hampshire. On this site, Amy aims to share her love of New England and help you to have the best possible adventures!
Amy has been writing about travel for over a decade, and is a full time blogger, publishing both Two Drifters and Let's Adventure Baby. When not traveling the world or creating epic blog content, Amy can be found cuddling with her husband, son, and cats, & drinking a maple latte.