One of the most tightly packed regions in the continental United States, New England covers roughly 71,000 square miles…and I've driven through a lot of it!
I want to help you have the best New England road trip adventure possible.
That's why I've created this: the ultimate and essential New England road trip itinerary to help you find the best spots in all six New England states.
This New England road trip itinerary will allows you to spend time seeing the sites, enjoying local activities, and crossing items off of your New England bucket list.
While this New England road trip route would take you 2-3 weeks to complete in its entirety, you can absolutely adapt it as you need for shorter and more focused-trips.
It's a flexible itinerary that can adapt to your travel plans, so you can choose exactly where to go in Connecticut, Massachusetts, Maine, Vermont, New Hampshire, and Rhode Island.
Ready to dive in? Below you'll discover a  road trip itinerary that encompasses every New England state, as well as some ideas for separate road trips in Southern New England or Northern New England.
It also includes some of the most scenic drives in New England.
Ready to start planning your tour of New England?
Let's go!!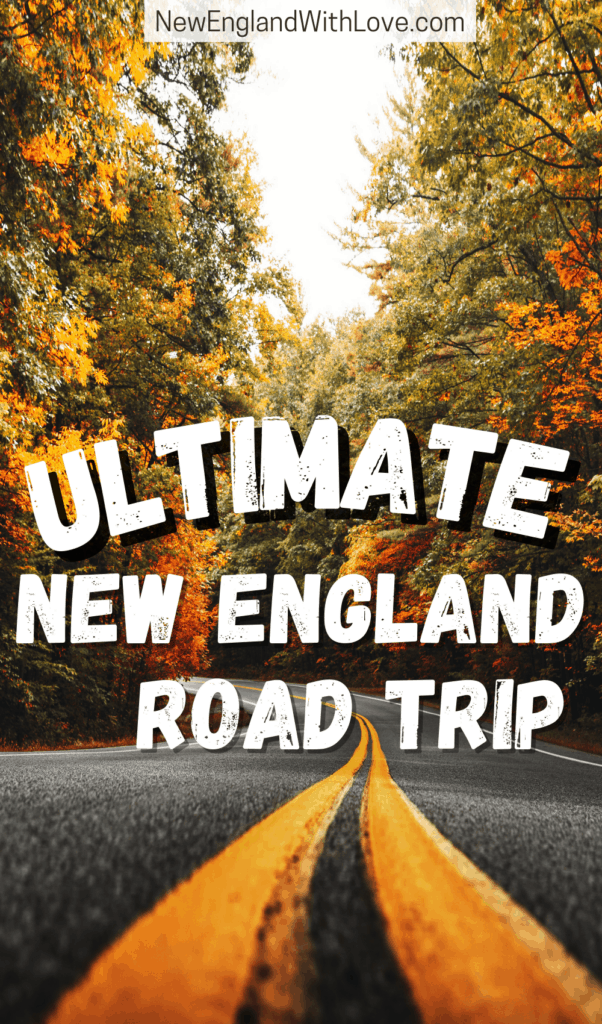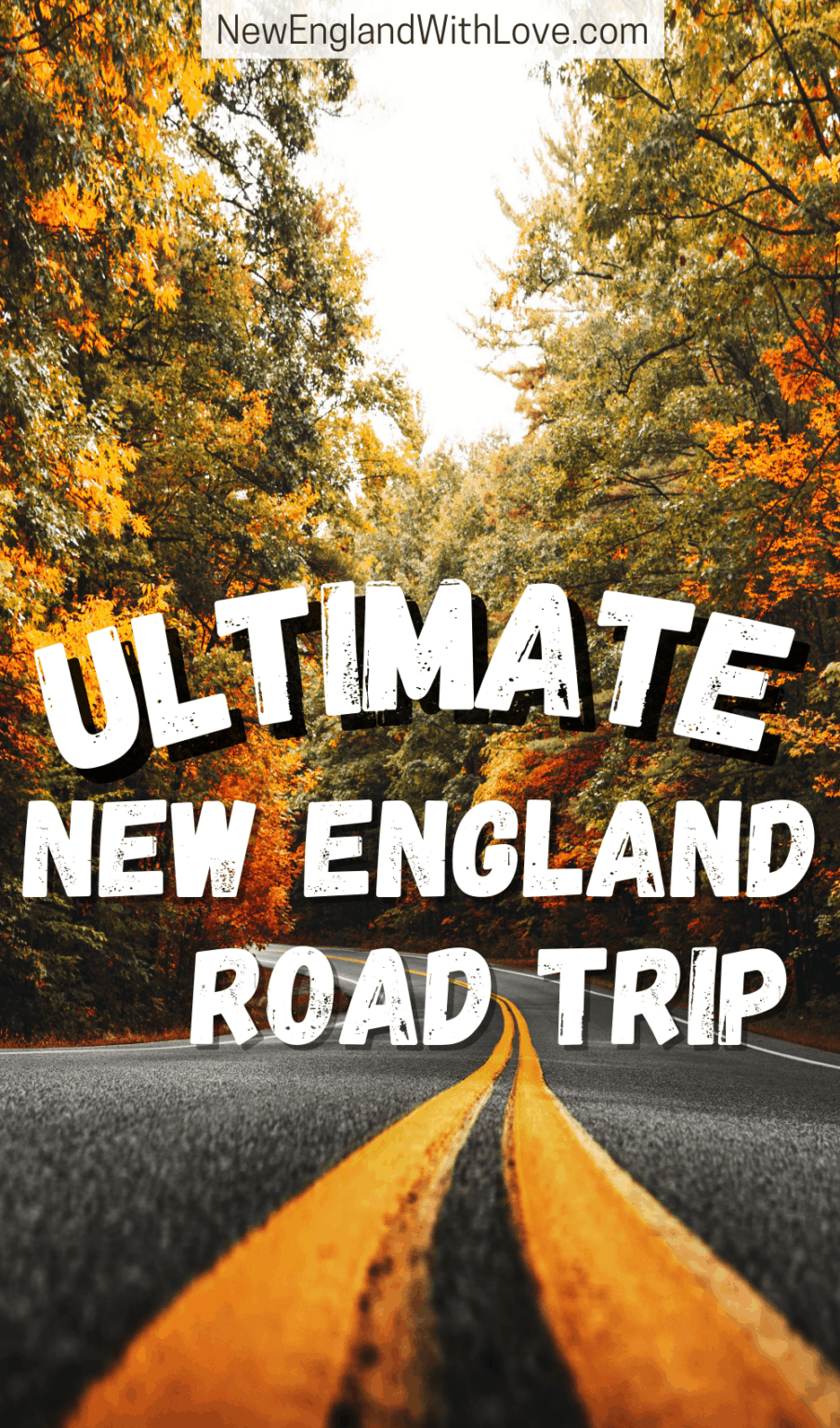 New England Road Trip – The Basics
I've created this New England road trip itinerary based on what I think are the highlights and must-see sites and towns in each state.
Obviously, each state has SO MUCH to see and do that it would be impossible to include everything here.
The maps I've included showcase the major stops on each itinerary, but I'll be sharing worthwhile stops between these as well as possible deviations from the itinerary.
Ultimately, the journey is yours and the route is up to you; use my itineraries as a template and create an amazing trip.
However you do it, road trips are awesome.
This massive New England road trip map below is also quite ambitious! While I have made suggestions on how much time to spend at each stop, I believe in being flexible when traveling.
Go at the pace you prefer, and travel for as much time as you have available.
Where possible, I've linked to more information on each city or location so you can delve a bit deeper and decide where to spend more of your time during your road trip through New England.
For a basic time frame, I would recommend allowing a minimum of three weeks if you plan to cover the entire ultimate New England road trip route.
Don't have that much time for your New England trip? Take a look at the southern and northern New England road trips at the end of this post.
Each of them can be done much more quickly due to the reduced driving time.
You can also stay fewer days in the destinations I have outlined below.
When's the best time of year to road trip New England?
New England is gorgeous in all seasons, but for the easiest driving (and best New England road trip experiences), summer and fall are ideal.
If you want the fall foliage experience, late September and early October are the key weeks to plan for.
Of course, these times of years are also peak tourist season, so expect more traffic and higher hotel prices.
(PS: If you want to do a shorter road trip or a route that's perfect for fall, check out our initinerary for a 7 day New England Fall Road Trip!
One of my favorite times of the year in New England is mid to late May. The weather is beautiful, and the region's roads and attractions are generally less busy.
The budding greenery is especially gorgeous and fresh, too.
Early September can also be lovely, just after kids have returned to school and summer has ended.
Expect crisp temperatures and leaves just beginning to change colors.
A winter road trip may be doable, but remember, New England can be quite snowy, so you'll want to have a reliable vehicle outfitted with snow tires, and you'll need to stay aware of changing weather conditions and road closures.
One example of a route that sometimes closes in inclement weather is the Kancamagus Highway between Lincoln, NH and Conway, NH.
Where should I start my road trip through New England?
I've started each of these New England road trip itineraries in Boston, as it's the biggest city in New England and home to a major airport, Boston Logan International.  This airport is easy to fly into and rent a vehicle.
You could also begin in Burlington, VT, Hartford, CT, Portland, ME, or Providence, RI, just to name a few possibilities.
Choose the starting point that makes sense for your journey!
Ps: Ready to rent a car for your New England road trip? Click here to find the best rates on rental cars.
---
Days 1 & 2: Boston, MA
You'll start your New England road trip from Boston, Massachusetts: an absolutely fantastic city.
Boston is a well-known place that's filled to the brim with history. From famous historical events like the Boston Tea Party to its reputation as a modern-day sports town, you'll never be bored here.
Highlights include the North End (home to incredible Italian food), quaint Beacon Hill, shopping on Newbury Street, and visiting the many museums.
Check out our post on The Top Things to Do in Boston for more suggestions and to create your own Boston road trip itinerary, and if you'd like a guide to how to spend the perfect day in Boston, we've got that, too!
We've also got some recommendations on where to grab coffee, breakfast, a beer, or a bite to eat in Boston, too!
PS: Also check out our New England road trip itinerary focusing on the journey from Boston to Acadia National Park.
Days 3 & 4: Newport, RI
Glitz and glamour. That's what you'll find in Newport, Rhode Island.
This town is perhaps best known for its iconic Gilded Age mansions. These opulent buildings were once the summer cottages of America's rich and famous families.
Today, many of them have been converted into museums that you can wander through and admire some of New England's glitzier past. Check out this nice Gilded Age Mansions Tour, which takes you around via trolley.
Click here to read more about the top things to do in Newport, including beaches, restaurants, hotels, and vacation rentals too!
Also check out the top things to do in Block Island, if you've got time!
Day 5: Mystic, CT
Mystic, Connecticut is a wonderful little seaside town that feels like a must-do on a New England road trip. We've only visited briefly, but we had a great time exploring the Mystic Seaport, which can keep you busy for hours.
And, like pretty much every other scenic New England town, there's a cute little downtown area with great shopping, dining, and activities.
Check out all the fun things to do, best restaurants to eat at, and the best places to stay in Mystic!
Day 6: Litchfield Hills, CT
Your next destination is the enchanting Litchfield Hills. To us, this area in the northwest corner of the state is a hidden gem.
Here you'll find all the classic New England pastimes you know and love. In particular, there is an abundance of outdoor activities (hiking, paddling, fishing) as well as exceptional antique shops.
The Litchfield Hills make up a large portion of this region, and include towns such as Torrington, Woodbury, Kent, Cornwall, and Washington (very English sounding names, aren't they?).
If you're looking for a lovely place to stay, consider the Mayflower Inn & Spa in Washington. Not only is this a perfectly classic New England hotel to stay in during a New England road trip, legend has it that it was the inspiration for Lorelei Gilmore's inn, the Dragonfly, in the popular TV show Gilmore Girls.
Check out rates and availability for the Mayflower here.
Day 7: Lenox, MA
Continue on your New England road trip into the Berkshires of Massachusetts. Here are art, nature, and culture combined. This region has been very popular among vacationers for many years.  And the town of Lenox is the center of it all.
If you go in the summertime, be sure to stop by the famous Tanglewood, where you can enjoy concerts from leading symphonies and folk artists like James Taylor. Theatre lovers will adore performances at Shakespeare & Company. They do excellent shows; I've been twice!
In addition to the natural beauty (and great hiking!) there is a great deal of beautiful architecture in the region, too.
In Lenox, visit the Ventfort Hall Mansion and Gilded Age Museum, a 1890s home that's open for tours.
If you are interested in literature, you may also wish to stop by the Mount, Edith Wharton's turn-of-the-century estate. Lenox has some great restaurants to try out, too.
Day 8: Manchester, VT
Finally, you've made it into Vermont (our personal favorite, if you couldn't tell). It's a fairly easy drive from the Berkshires in Massachusetts up to Manchester in the southwestern corner of Vermont.
We have an entire post dedicated to things to do in Manchester, Vermont, but a few standout ideas include hiking or driving to the top of Mt. Equinox, plus dinner at Ye Olde Tavern. Manchester is also well-known for its luxury outlet stores, so bring some extra cash if you want to splurge at this New England road trip stop.
PS: If you're very interested in exploring Vermont, a trip through Manchester, Burlington, and Stowe make the ideal Vermont road trip itinerary.
Day 9: Burlington, VT
Just around 2 hours north of Manchester (taking the beautiful and scenic Route 7) you'll find yourself in Burlington: Vermont's biggest city. It's also often mislabeled as Vermont's capital, but that honor goes to Montpelier. Still, you're likely to run into Bernie Sanders in either town.
Burlington is where my husband and I lived for several years. It's a fantastic town that is hip, artsy, and full of good, local food. Seriously, in Vermont, you need to eat. There's so much delicious cheese, coffee, beer, maple syrup, and much, much more.
To get you started on your culinary adventures, check out this post on our favorite Burlington breweries and bars, and this one on our beloved coffee shops.  Oh, and don't forget to enjoy brunch in BTV. We do breakfast here right.
The gem of Burlington is Lake Champlain, the sprawling, sparkling lake that the city overlooks. Here is the chance to go sailing, stand-up paddleboarding, or take a gentle ferry across to New York state.
If you'd prefer to stay on dry land, the Burlington Bike Path stretches for miles, hugging the lake's edge. This is ideal for running or cycling. You can even rent bikes right on the bike path.
Days 10 & 11: Stowe, VT
Head south on I89 to Exit 10. From there, you'll take the scenic Route 100 out to Stowe. When people think of Vermont, they're likely thinking of Stowe.
It's absolutely gorgeous: a charming town surrounded by mountains. The short Main Street and its side streets boast a white-steepled church, an old-timey general store, and a 50's style diner.
Simply put, Stowe is adorable.
We have an entire post dedicated to Things to Do in Stowe, Vermont, the best restaurants, the best breakfast, the best hikes, the best hotels, everything!
Be sure to check it out and don't skip out on this spot: it's definitely one of the premier New England road trip destinations!
Days 12 & 13: North Conway, NH
No adventure in New England could be complete without some mountain time. And this is especially true if you're planning a New England fall road trip.
New Hampshire's White Mountains are impressive and exciting. They're the tallest in New England (with Mt. Washington tallest of all) and offer spectacular hiking and more.
On your way to North Conway, make some stops in the area around Lincoln. Though Lincoln can be a crowded and busy area in summer and fall, it's for a good reason. This is a perfect gateway to the attractions of the White Mountain National Forest.
In this area you'll find some of the coolest natural wonders of the White Mountains. In Franconia Notch State Park, you'll find the Basin, a granite "pothole" that is found at the base of a waterfall.
Nearby, don't miss Flume Gorge. This is a natural ravine that formed over many years and now a hiking trail with a boardwalk passes through it. This is a wonderful hike with some amazing scenery.
Lincoln itself offers some attractions in-town as well, including Clark's Trading Post, an Americana museum and a steam railroad.
One of the best parts of this New England vacation itinerary is coming up next: The Kancamangus Highway. This stretch of road runs 26 miles between North Woodstock and Conway and is one of New Hampshire's most scenic roads.
Conway is a terrific NH Mountain Town. I've spent some time here and it's a great mix of shopping, restaurants, and outdoor activities.
The Saco River runs nearby, so Conway is a good jumping off point for tubing or paddling in the river. On a recent bachelorette party trip of my friend's, we used Saco River Tubing and had an absolute blast!
Pop up to the towns of Bartlett and Jackson if you want to head even more into the mountains. Both are very nice areas with lots to do and see.
Near Bartlett you can stop by Diana's Baths, a beautiful area of cascading waterfalls and gentle pools. On a hot summer's day, it's the perfect place to cool off.
Days 14 & 15: Portland, ME
Finally, our last state on the great New England road trip. This is Maine, "the way life should be."
Maine is massive so there's no way to do the state justice in this itinerary. We're essentially covering a few of the must-see areas. You could spend weeks on a road trip of Maine alone. (See these 8 autumn scenic drives in Maine).
If you're going to be taking your time in Maine, check out our list of 50+ Fun Things to Do in Maine.
Stop for a bit in Portland, a modern portside town that may surprise you. There's a hip city right on the water in Portland, Maine, and this is a hot spot for restaurants, coffee shops, breweries, bakeries, and entertainment.
Did we mention breweries? Beer lovers will be happy to know that Portland has 18 breweries all its own.
Portland definitely deserves a few days on your northeast road trip, especially to see the beautiful lighthouses nearby. (Also check out our weekend in Portland itinerary).
Days 16 & 17: Acadia and Bar Harbor, ME
Now we travel north to Bar Harbor. Admittedly, it looks like a far drive on the map. In reality, from Portland to Bar Harbor is just over a 3-hour drive. And trust us, visiting Mt. Desert Island is SO worth it.
Bar Harbor is the seaside town that will be your base for exploring Acadia National Park. You will be in awe over this beautiful part of Maine. Here is where rocky cliffs tumble into the sea, with iconic lighthouses at the top.
There's abundant wildlife on land and in the sea, and countless opportunities for terrific hiking.
But the region is not just about the outdoors. Bar Harbor has lovely shops, restaurants, and extremely cozy inns. Truly, the region is ideal for travelers of all kinds. You'll also find great campgrounds, cabins, and vacation rentals in and near Acadia, too.
Our top recommendations in Acadia are the Beehive Hike (exhilarating!) and eating popovers at the Jordan Pond House (delicious!). Check out our detailed post on Bar Harbor and Acadia for more.
Got more time in Maine? Possible side trips in Maine we recommend include checking out Kennebunkport, York, and other spots on the Southern Maine coast, complete with a stay at the York Harbor Inn.
Also consider a Schooner Cruise on the J&E Riggin. This windjammer experience is fabulous, and cruises depart from Rockland, ME.
Read Next: 10 Coastal Towns in Maine That are Hidden Gems
Day 18 – Portsmouth, NH
Our New England driving tour itinerary is nearing its end, but we've got a few more stops to make—-stops you won't want to miss.
Portsmouth is first. We're back in New Hampshire! Between Maine and Massachusetts, NH owns a very small strip of coastline. The hub of the Seacoast is Portsmouth, a small yet lively city with a great deal of history.
Visitors will want to stop at the Strawbery Banke Museum an outdoor living history museum. Simply strolling around the historic downtown is also suggested. This is one of those towns with many cute corners and alleys worth exploring.
Taking a New England winter road trip? Portsmouth should definitely be on your list, as they do a month of celebrations and events with Vintage Christmas, one of the most magical New England Christmas celebrations!
Day 19 – Salem, MA
Your final stop is the historically infamous Salem, Massachusetts. And though you'll definitely want to spend time exploring its history with the Salem Witch Trials, there's plenty to do in the area that isn't witchy, too.
You can hit the highlights of Salem in one day, or extend for another 2-3.
If possible, you don't necessarily want to plan your trip to Salem to coincide with Halloween. Although the town has a distinct, fun vibe this time of year, October is its busiest and most crowded month.
So while Salem in October is amazing in many ways, it also has its disadvantages. Truthfully, Salem is awesome at any time of the year.
Check out its great restaurants, scope out some of its haunted history, see the spots where Hocus Pocus filmed, and maybe even stay overnight in one of Salem's classic New England inns or airbnbs!
Nearby towns of Rockport, Gloucester, and Marblehead are worth visiting too if you'd like to explore more of this area of coastal New England.
Day 20 / End – Boston, MA
You did it! You've completed an epic New England road trip! Congratulations! You've seen a great deal of one of the prettiest parts of the country, and you did it all by car!
Days 21+: Optional Add Ons: Cape Cod/Nantucket/Martha's Vineyard
Want to extend your road trip a little more and see some famous spots on the New England coast? Don't miss popular options such as Cape Cod, Nantucket, or Martha's Vineyard. These Massachusetts coastal destinations are terrific and truly worthy of their own vacations.
More ideas here:
The Ultimate New England Road Trip Itinerary Map (3 weeks+)
---
In need of some extra New England road trip ideas? If you're limited on time, check out our Northern and Southern New England road trip itineraries. Your own personal New England road trip planner map is below!
Northern New England Road Trip Itinerary
Here's a great New England road trip route if you just don't have time to go everywhere, but you want to see the highlights of northern New England. In any trip you'll have to make some choices about what to see and what to miss, sadly, but with this road trip itinerary, you'll definitely have a broad experience of Northern New England.
This itinerary contains many of the same stops you'll find on the ultimate New England itinerary (that covers all six states). But this one also has the addition of Woodstock, Vermont, which is a classic New England spot, really a 'Currier and Ives town.'
Read more on Woodstock, VT:
Southern New England Road Trip Itinerary
The Southern New England road trip route is ideal for those who really seek a coastal trip, or who aren't quite as interested in exploring the mountains. This trip adds a whole bunch of extra stops so you can really dive into coastal New England.
It gives you a feel for the more outdoorsy areas of these southern New England states, too, as the itinerary brings you through the Berkshires, and through charming parts of Connecticut. Definitely an option for a lovely New England summer road trip itinerary.
Bonus Fall New England Road Trip Ideas
If you're looking for ultimate bang for your fall foliage buck in New England, these links may help:
---
Even more New England travel content:
---
Pin this post to save for later!