One of the most charming states in the nation, Vermont is filled with gorgeous scenery. There is so much to see and do in Vermont, in every season. But one of my absolute favorite suggestions for Vermont visitors is to take a road trip through the state. With its small size and quiet roads, Vermont is the ideal place to take a New England road trip. Whether you've got a few days, a week, or more, here are 5 of the essential Vermont scenic drives you might embark on.
When is the best time to take a Vermont road trip?
The ideal time to visit Vermont: late September-early October.
My recommendation is to plan your trip for late September or early October. This is the time you will be most likely to see great fall foliage, even if it hasn't yet reached its peak. Here's a great resource that will show you on a map how the foliage generally progresses in Vermont. However, summer is also a magnificent time in Vermont that lends itself perfectly to a scenic drive and plenty of outdoor activities.
Where should I stay when visiting Vermont?
We've got hotel recommendations for many of the destinations on this list, but we also highly recommend the cozy comfort of an AirBnb. Check out these great options: 8 Charming Airbnbs in Vermont for an Amazing Stay
Where should I go in Vermont?
Check out this post for some great destination ideas: 5 Must-See Places to Visit in Vermont
5 Great Vermont Road Trips and Scenic Drives
If you want to see fall in all its glory, here are the road trip routes I suggest, plus the top fall things to do along each drive (especially fall activities, for those planning a fall foliage road trip). Vermont is a small state, so each of these can be done in a few days (or even a few hours if you're not staying overnight), but feel free to linger and take in the experience along the way. You could spend weeks in Vermont and barely scratch the surface.
Route 7
Bennington to Burlington (122 miles)
Route 7 stretches along the state's western edge, from the northern border of Vermont to the southern border. In fact, Route 7 continues on through Massachusetts and Connecticut, so you can keep going if you want to create a longer New England road trip.
In Vermont, I would recommend the portion from Bennington to Burlington. I've driven this route so many times myself and it is always a lovely drive. From the close low mountains of Manchester and Danby to the high elevation lake views beginning around Ferrisburgh, this is a gorgeous VT road trip. Driving it straight through will take around 2 hours and 45 minutes, but you'll definitely want to make time to stop. There's a lot to see along the way. PS: Between Bennington and Manchester, consider taking the more scenic Route 7A.
Recommended Stops, Food & Drink:
Read More: 15 Terrific Things to Do in Manchester VT (and Nearby!) | The 25 Best Things to Do in Burlington VT
Route 100
Wilmington to Jay (184 miles)
This road trip through Vermont will take you from bottom to top (or top to bottom, should you go that way). In all honesty, if I had to recommend one ultimate fall road trip in Vermont, this might be it. The other routes on this list are great, too, but for peak foliage and gorgeous views, Route 100 really offers a lot.
Recommended Stops, Food & Drink:
Route 9 – The Molly Stark Byway
Brattleboro to Bennington (40.1 miles)
This is a short route, as road trips go, but it's a gorgeous, winding road that looks brilliant in the fall. Route 9 carries you over higher elevations east to west across the bottom part of the state. Spend time in Bennington and Brattleboro on either end, both cute Vermont towns with lots to offer. Along Route 9 itself, there are many opportunities for camping, hiking, and enjoying the outdoors.
Recommended Stops, Food & Drink:
Route 2
Burlington to St. Johnsbury (75.3 miles)
From the hip city of Burlington east to St. Johnsbury, on the border with New Hampshire, this road trip will carry you through what often feels like the back roads of Vermont. I have driven this route in the autumn and the colors were absolutely stunning; some of the best fall foliage I've ever seen in VT.
Recommended Stops, Food & Drink:
The Best of Vermont Road Trip
Bennington – Wilmington – Woodstock – Warren – Groton – Stowe – Manchester (383 miles)
This is a road trip itinerary I put together myself. It combines parts of the routes mentioned above, but it also covers a few of my favorite destinations. In essence, this is a road trip that will take you to what I consider the best of VT.
Read these next:
---
Pin this post to save for later!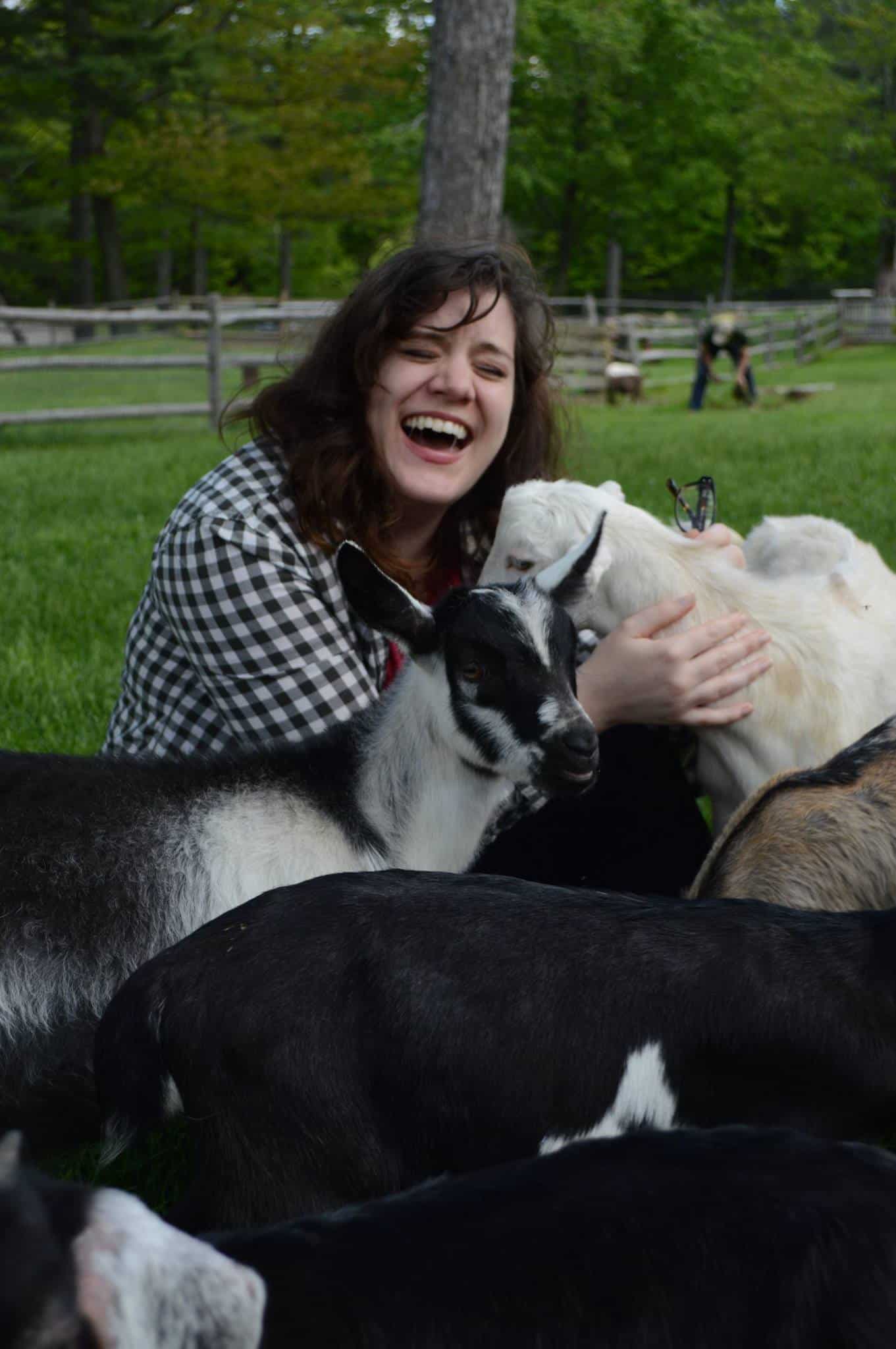 Amy Hartle is the founder and Editor-in-Chief of New England With Love, a comprehensive resource for travel in the New England region. Amy has been exploring New England since 2001. She lived in Vermont for many years and is a graduate of Plymouth State University in New Hampshire. Amy has been writing about travel for over a decade. On this site, Amy aims to share her love of New England and help you to have the best possible adventures!
Amy has been a full time blogger since 2012, and is also the publisher of Two Drifters, where she writes about couples travel and relationships, as well as Let's Adventure Baby, a family travel site. When not traveling the world or creating epic blog content, Amy can be found cuddling with her husband, son, and cats, & drinking a maple latte.