---
Traveling in 2022? Please check with each state/destination for its current COVID-19 guidelines, as these are constantly changing and the most accurate, up-to-date information may not be reflected here.

*Links in this article may be affiliate links, from which we may earn commission. See our Privacy Policy for full details.
---
Rhode Island may be the nation's smallest state, but don't set little expectations. The beaches, towns, history, and activities of Rhode Island bring big charm and make it a spectacular place to visit at any time of the year. Narragansett, a community on the southern coast of the state, offers amenities perfectly suited for a weekend or longer getaway.
If you're looking for a delightful beach-focused trip where you can eat indulgently, spend time in nature, and take in history, Narragansett is beckoning to you for a visit! There are so many things to do in Narragansett, RI.
Enjoy the sun and the sea at one of Narragansett's Beaches
Take in a classic beach day at Scarborough State Beach
Scarborough State Beach is simply a perfect beach day destination. Its expanse of sand means there's room to spread out your towel and umbrella, build sandcastles, and stay put, even when the tide comes in.
With mid-sized waves, the water offers some excitement for swimmers. In addition to the sand and shoreline, Scarborough State Beach has two pavilions, tons of picnic tables, indoor and outdoor showers, and a snack shack. If you need some movement, take a stroll on the boardwalk to the observation tower, where you'll take in amazing views of the area.
When you're ready for shade, the covered gazebos will give you a respite from the sun. Scarborough State Beach is just the place to go for travellers seeking a classic beach day.
Have a mellow day at Roger W. Wheeler State Beach
With powdery sand and a warm and gentle surf, Roger Wheeler State Beach is a great pick for anyone seeking a calm day in the water. A seawall that protects the beach from the cooler, more intense waves of Block Island Sound, means this shoreline is ideal for visitors who want to take a dip without getting tossed and turned.
The park also has all the basics that make a beach day more comfortable, including showers and clean restrooms, lifeguards on duty seasonally, and a picnic area. Plus, its occasional environmental education programs will make any amateur naturalist's day!
This site's proximity to Point Judith also means it can be a good spot for a quick beach visit after returning from a daytrip to Block Island.
Soak in the sun at Salty Brine State Beach
Just down the sand from Roger Wheeler State Beach sits teeny-tiny Salty Brine State Beach. This beach stretches for only 100 yards and can fill up quickly. If you're not an early riser, plan to come by in the afternoon, when the morning beach-goers have begun to pack up.
The gentle waves and warm water found here are enjoyable to all, and the sights of fishing boats and other ships make a picture-perfect backdrop that's just as cute as this spot's name. Near to stores and restaurants, Salty Brine is a superb pick if you want to dine out after your time in the sun and sand.
Indulge in an abundance of dining and dessert opportunities
Enjoy the aromas and appetizing eats at Aunt Carrie's
If you're in search of mouthwatering home-cooked seafood and more, look no further than Aunt Carrie's. What began as a lemonade business in the early twentieth century is now a family-run institution, patronized and loved by locals and visitors alike for both dine-in and take-out.
This seaside spot features locally harvested staples including steamed clams, fried scallops, lobster rolls, and clam chowder. Plus, there is an ice cream shoppe and baked goods galore, so be sure to balance out your savory eats with something sweet (open between April and September).
Aunt Carrie's even serves Del's frozen lemonade, a Rhode Island specialty that brings balance to a hot day. Don't leave too hastily once you're satiated though, because the fun doesn't stop with food; local goods are sold at the ice cream shoppe too, so scope it out for some souvenirs to remember your time in Narragansett.
Savor something sweet at Brickley's Ice Cream
For the freshest frozen treats around, head to Brickley's Ice Cream. Homemade right in town at this family-run joint since 1995, 45 classic and unique flavors can be found on the menu at any given time, with options that will suit a variety of different dietary needs and taste preferences.
Brinkley's is open daily during the summer months and has limited indoor seating as well as picnic tables so you can enjoy your cup or cone right on site before it has a chance to melt. Brickley's is a popular Rhode Island specialty; you can expect lines most evenings in the summertime, but it's definitely worth the wait!
Take a hike on the Black Point Trail
For a hike filled with varying surroundings including beach, forest, flowers, and rocks, take the 1.5-mile one-way Black Point Trail. More formally known as the Malcolm Grant Trail, this route is a photographer's dream, with its intriguing backdrops and wide open views. Those who love nature will also be enamored by its sights of wildflowers and birds and its sounds of the ocean crashing on the rocks. Your senses will be fully engaged as you stroll!
As you trek along this family-friendly trail, keep your eyes open for birds, boats, and even stone ruins, the picturesque remains of a former summer estate. Recent improvements mean this trail has some ADA-accessible areas so everyone can enjoy what it has to offer.
The trailhead is at 655 Ocean Road and the path terminates at Scarborough Beach, making it ideal for beachgoers trying to stay active and avoid traffic. Just be sure to give yourself plenty of daylight to get back to your starting point!
Paddle your way to fun and fresh views with Narrow River Kayaks
Open from May through October, Narrow River Kayaks offers visitors the opportunity to get close to the water in a variety of ways. Rentals are available for single and tandem kayaks, canoes, and stand-up paddleboards.
If you'd prefer the guidance of a tour lead by a trained professional, there are plenty of exciting options that will intrigue visitors with a range of interests and skill levels. Nature enthusiasts will devour the eco-tour, led by a master naturalist, which takes paddlers through the historic and present-day watershed and its inhabitants.
For paddlers wishing to take in the world as its awakening or calling it a night, a sunrise, sunset, or full moon tour will make you feel connected to this special place. For those more in the mood to learn a new skill, Narrow River Kayaks offers introductory classes too.
The Narrow River and other bodies of water in the Pettaquamscutt Watershed offer varied sights and challenges. A visit and paddle along the waterway will surely be a highlight of any trip!
Explore the landmarks of Point Judith
A village on the southern edge of Narragansett, Point Judith is filled with the wonders of coastal history. The Fishermen's Memorial is dedicated to those members of the community lost during commercial fishing expeditions.
Its location, overlooking Rhode Island Sound and Block Island Sound, is a serene tribute to their lives, which interacted closely with the ocean. The memorial is also a perfect vantage point for visitors to take in incredible views of the surrounding area.
The Point Judith Lighthouse, which is located nearby (but isn't accessible to visitors) can be witnessed from here. Careful hikers can even trek over rocks to get closer to the lighthouse from this point. The memorial is also an ideal golden hour destination, as the dazzling sunset can be viewed over the beaches to the west.
Of course, boats will be visible throughout the day as they head to and from the docks in Point Judith. And, if you decide to make a trip to Block Island part of your Narragansett vacation, Point Judith is where you'll catch a ferry.
Experience the outdoors to your heart's content at Fishermen's Memorial State Park and Campground
If your preferred accommodations include a glimpse of greenery and the smell of campfire in the air, then book a night or two at Fishermen's Memorial State Park and Campground. This area was originally a fort significant for naval purposes during World War II, but the park's predominant purpose now is for recreation – and there are plenty of opportunities to relax and have fun!
From trails and tennis courts to beach trips and basketball to horseshoes and shore views to catching fish and catching rays of sun, spending time at Fishermen's Memorial State Park will be a memorable experience. You can also learn about the naval significance of the park while you're visiting.
Sites are available for tents as well as for RVs. Campers will enjoy the well-maintained, grassy sites, and its clean bathrooms and showers. The park's proximity to the ferry docks and to several state beaches makes it a central place to stay for those who enjoy the outdoors. Camping is available from April through October, so be sure to book early, as this is a popular spot to stay!
---
You might also like:
---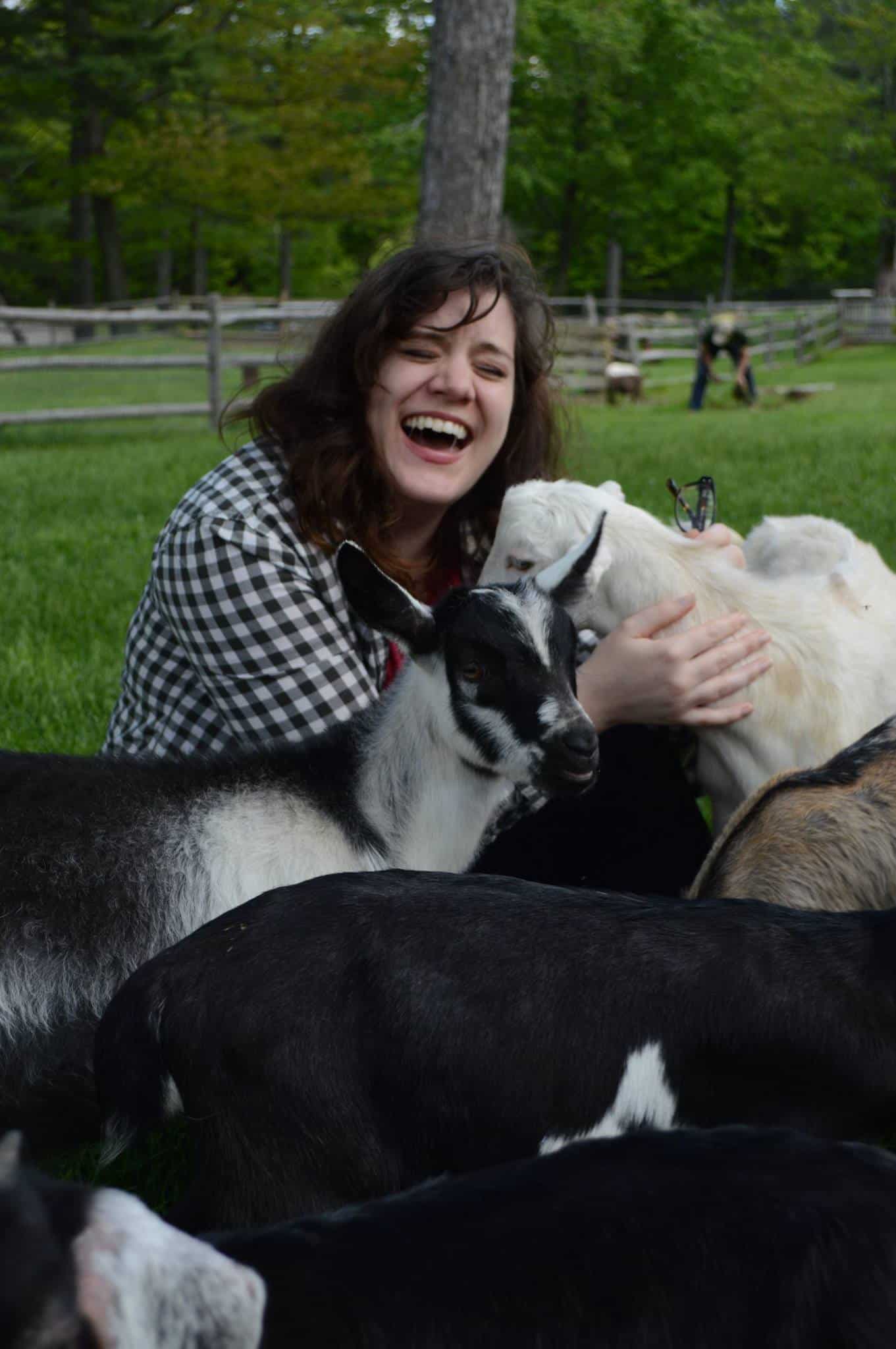 Amy is the founder of New England with love. A proud Vermonter, she hopes to share her love of New England and help you find the best adventures in the region. Amy is also blogger/founder at Two Drifters, where she writes alongside her husband about romantic and couples travel, relationships, honeymoons, and more. When not working on websites, Amy is probably reading, cuddling with her husband and cats, & drinking a maple latte.