Some places just lend themselves to spooky experiences better than others, and the Green Mountain State lands in that camp!
You've got misty autumn afternoons with fog rolling over back roads and historic inns and hotels that have seen it all through the years, creating the perfect blend of atmosphere and architecture to give just a little extra credence and credibility to these tales of Vermont paranormal activity!
There are many haunted places in New England, and VT has its share of abandoned places and ghost towns.
If you're looking for haunted places in Vermont, you've come to the right place. Come along as we take a closer look at reports of otherworldly encounters and connections from beyond the grave, and the Vermont haunted places that host them.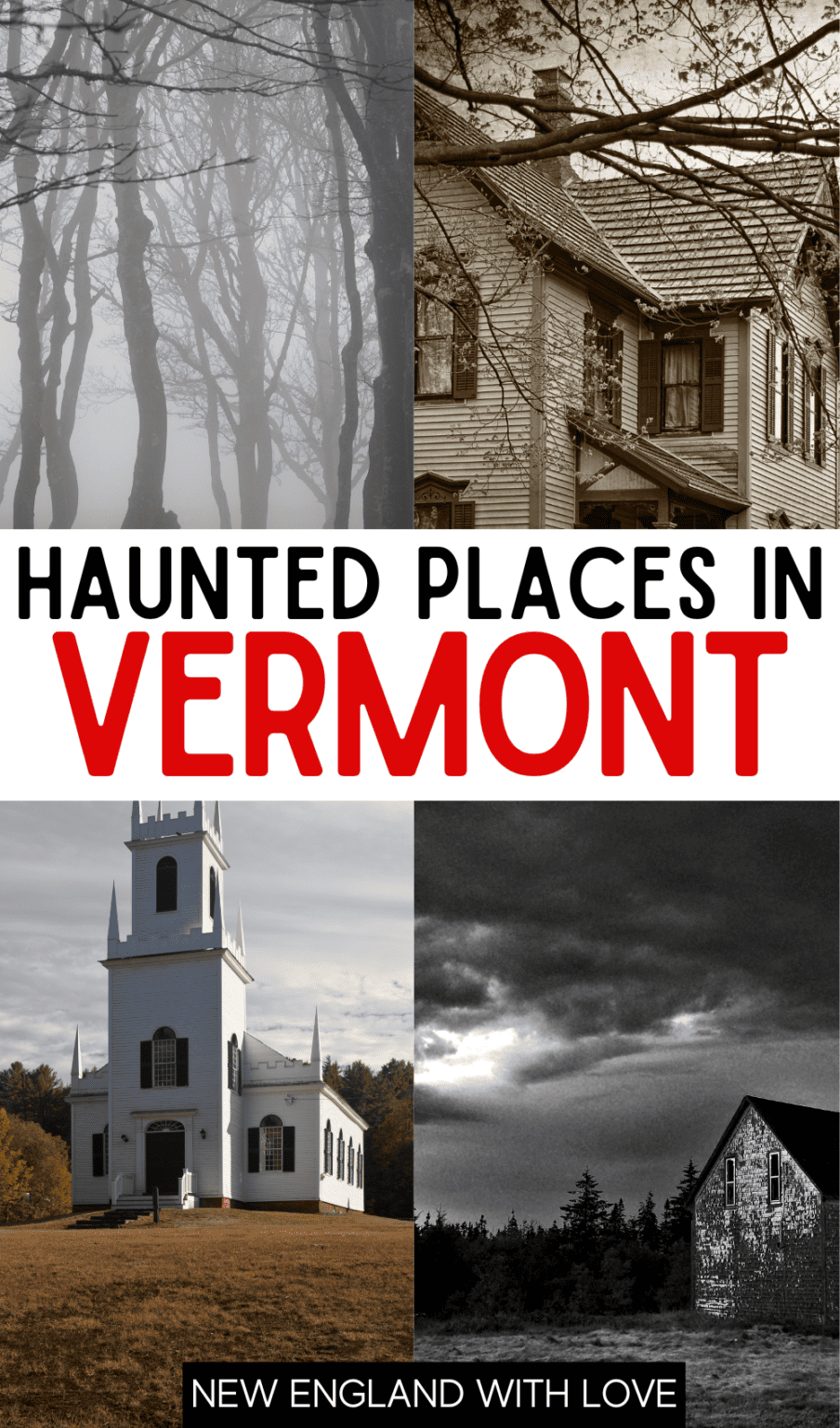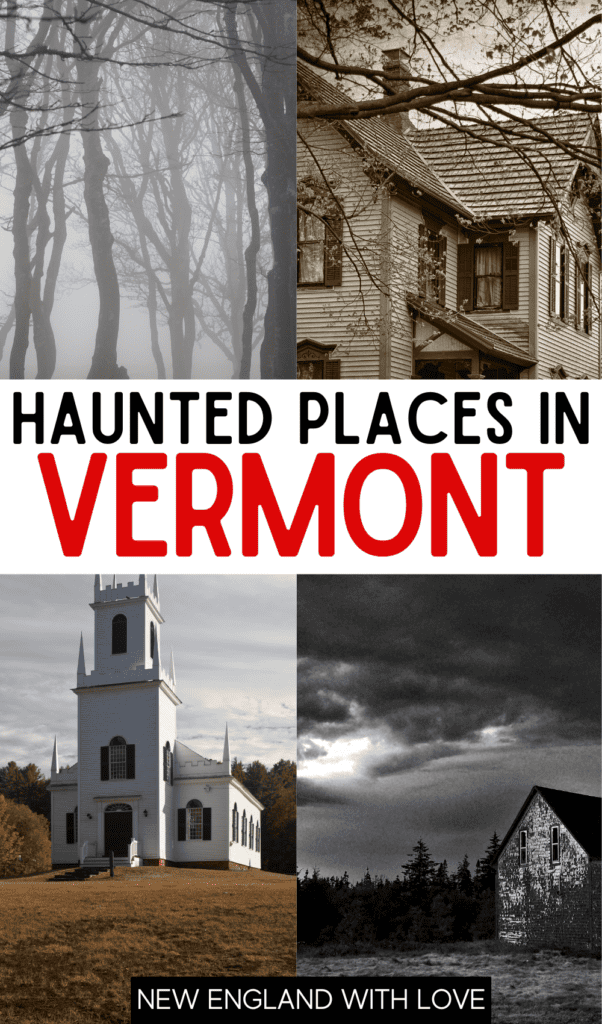 Haunted Places in Vermont
Retreat Tower, Brattleboro VT
Built by patients of the Vermont Asylum for the Insane under the belief that hard work has a curative effect on mental maladies, the Retreat Tower still stands tall at 65 feet. It took approximately seven years for this tower to be built overlooking the grounds of the asylum, but the ultimate goal was to provide a place for patients to go and take in the fresh air and the view.
Unfortunately, this spot proved to be a little less of a comfort and more of a nuisance as the youth of the time was attracted to this spot for their own rendezvous, and curious events and tragedies became too common, leading the asylum to brick up the tower just a few decades after completion.
Official recorded events include a suicide of a musician at the New York Metropolitan Opera House, mysterious sights reported by locals walking the area (one woman reported seeing a deer disappear and reappear!), and youthful carelessness with firearms that led to one of the asylum's doctor's dogs being shot, but that isn't all.
It is said that the real reason the tower was bricked up after such a short run was due to the asylum patients that would climb the tower to take in the air and the views, only to jump to their death below.
It isn't known how many of these tragedies may have occurred onsite, but visitors to the tower over the years have reported feeling unsettled, and a ghost has been spotted jumping from the tower, but never actually landing on the ground.
There is a cemetery nearby with gravestones dating back to the 1800s, with several being sadly only marked by numbers. It is said that there is an overall general feeling of heaviness in this area that many attribute to the asylum patients who were tormented by their own minds up until their end.
Emily's Bridge, Stowe VT
Built in 1844 and originally known as the Gold Brook Bridge, this covered bridge was to be the site of a meeting of two young lovers, set to run off together and elope.
However, only one of the young lovers showed, a local girl by the name of Emily. Emily waited on this wooden bridge for her love to arrive, growing more and more desperate until finally her desperation turned to rage at having been stood up.
She took her own life on the rafters of this Vermont covered bridge, unable to move on from the heartbreak and betrayal of her betrothed.
Today, it is said that Emily's spirit remains on Gold Brook Covered Bridge, still full of anger and rage. Reports have included physical damage to cars and people passing over this haunted bridge, and a disembodied female voice.
Emily's Bridge is one of the most popular haunted places in Vermont, and it just so happens to be in Stowe, a popular tourist destination.
If you're visiting this area, perhaps think twice before crossing on foot – haunted bridges are spooky enough, but ones where the spectre remains vengeful enough to cause physical damage? Better your car than your body!
The Jennings Music Building, Bennington VT
Located on the grounds of Bennington College, the Jennings Building is home to a wide variety of unexplained phenomena that has been reported over the years, and experienced by faculty and students alike.
In fact, it is suspected to be the inspiration for the Shirley Jackson novel, The Haunting of Hill House, with Jackson's husband being a professor at the college and quite aware of its reputation.
Sitting in solitude atop a hill, this large stone mansion has had a wide variety of paranormal activity reported within its walls over the years.
Reports include locked windows flying up and open – not down – and doors closing and floors creaking with no one around. The lights are said to go out on occasion, despite there being no power outages, and there are frequently cold patches felt throughout.
The basement is said to be particularly spooky, being a long, dark corridor that has a general atmosphere of heaviness and darkness, and it is not a place people linger!
One story in particular stands out of a professor who fell asleep in this haunted Vermont building, only to be woken up by loud, banging noises moving down the corridors, frightening him so badly that he immediately fled as quickly as he could.
I wouldn't want to stay overnight at this Bennington school!
Norwich Inn, Norwich CT
Are there haunted inns in Vermont? Yes, absolutely!
Norwich Inn dates back to the 1790s, but this charming inn's ghost is said to hail from an era much later: the Roaring Twenties!
Mary Walker and her husband took over the inn in 1920, and despite the Prohibition Era being ushered in, Mary (known as Ma Walker) continued selling bootleg booze from the basement, in keeping with this historic inn's tradition as a tavern.
Ma Walker passed away several years later, but her spirit is said to have never left her beloved inn. Not only have there been unexplained occurrences like faucets turning on and off and rocking chairs rocking by themselves, but the spectre of a woman in a long black skirt has been reported many times throughout the years!
Ma Walker can be seen walking around the inn, often finally disappearing into the library. She has also been seen in Room 20, so if you're hoping for a Ma Walker encounter, that would be the room to request!
Click Here to Check Prices & Book!
The University of Vermont, Burlington VT
Considered by many to be the most haunted college in Vermont, UVM in Burlington has had a LOT of paranormal activity reported throughout the years.
Resident ghosts apparently run quite rampant at this haunted campus, with a variety of buildings having their own apparitions that are sighted from time to time.
Converse Hall is said to be still inhabited by the spirit of a former student who unfortunately electrocuted himself in the late 1990s, and to this day continues to interact with the electricity onsite, turning radios on and off.
The resident spirit at Simpson Hall is said to have followed a female student to her dorm one night and never left, and today students report waking up to the feeling that they are either being watched or that someone is even in their bed, usually accompanied by a sudden drop in temperature.
Redstone Hall's resident ghost is said to harbor ill will towards women, and is occasionally sighted on the back staircase. This particular spirit has even chased women out of the hall!
The Coolidge Hall ghost is reported to be a playful spirit, pulling blankets off of beds and whistling. I suppose that would definitely be better than being chased out of your dorm room!
The Bittersweet House at the AG department is said to have a resident ghost that appears dressed in late 19th century period garb, and the Center for Counseling and Testing is believed to be haunted by the spirit of Captain Jacobs, responsible for poltergeist activity throughout the years.
What is it that has kept so many tied to this historic campus? Who knows, but it has some of the most oft reported paranormal activity in Vermont.
Haunted Railroad Bridge, Hartford VT
It was November 26, 1887, when disaster struck as a passenger train and a night express on had a head on collision at full speed. The results were catastrophic, with many dying in the immediate wreck, and even more in the fire that ensued after.
It is still one of the deadliest train wrecks in Vermont history, with estimates of up to 50 lives being lost that November day. To this day, it is said that there is an overarching feeling of sadness and loss at the Haunted Railroad Bridge.
Passersby over the years have reported a variety of unsettling experiences near this haunted Vermont bridge, including the smell of burning, wailing cries for help with no one around, and even the ghostly apparition of a child dressed in 19th century clothes who appears on the river, hovering above the surface.
Some say that this young ghost didn't actually die at the railroad that day, but his father did. Watching his father die such a horrific death tied his spirit to this space, so even after his death, he was drawn back to the place of his father's final moments.
Green Mountain Inn, Stowe VT
Have you ever heard of a tap dancing ghost before? Well, at Green Mountain Inn in Stowe, you might just be able to cross paths with one!
This haunted Vermont inn has been open since the early 1800s, and their resident tap dancing ghost was born to parents who worked in the inn, and he was known for his love of tap dancing.
Going by the name of Boots Berry, he became quite the hero as an adult. First by saving a runaway coach – how incredible! – and secondly, by rescuing a young girl stranded on the rooftop of the inn during a raging snowstorm. Sadly, he died himself while saving this young girl.
Today, it is said that if you stay at the Green Mountain Inn in or near room 302, you just might hear the sounds of his tap dancing on the roof to the very day.
Click Here to Check Prices & Book!
The Bennington Triangle, Southwest Vermont
Ready for a very mysterious, eerie tale? This area of Southwest Vermont, referred to as the Bennington Triangle (a la the Bermuda Triangle) has been the site of a wide variety of missing person cases and unexplained phenomena.
Home to an old ghost town named Glastenbury, many people have gone missing under very suspicious circumstances, never to be found again despite exhaustive search efforts.
One of the most inexplicable missing persons cases associated with the Bennington Triangle involves a man who seemingly vanished into thin air… while riding a bus down route 7 in Bennington! Multiple eyewitnesses claim he was on the bus, then as the bus pulled into Bennington, poof, gone!
All that remained was his luggage and an open bus timetable in his seat.
This area of Vermont has a long history of odd phenomena, and its said that the indigenous tribes that inhabited this land would not settle in the Bennington Triangle, only using it as a burial ground.
I don't know what the truth is about the Bennington Triangle, but I doubt I'll head out to hike Glastenbury Mountain anytime soon… certainly not alone, anyway!
The Cursed Statue of Black Agnus, Montpelier VT
Located in the Green Mount Cemetery in Montpelier, the statue of Black Agnus is a memorial for a man by the name of John E. Hubbard, who was not particularly popular. Known as a calculating and greedy man, his death in 1899 wouldn't have been mourned by many in town, but his memorial has become a bit of a legend.
The urban legends surrounding the ill fate that will await those who visit the cursed statue of Black Aggie actually originated in Maryland with a very similar statue, but teenagers and others willing to temp fate still visit the statue to this day.
The Old Stagecoach Inn, Waterbury VT
This gorgeous old Waterbury inn has seen a lot in its years, both its predominate purpose throughout its birth in 1826 has been as an inn.
Paranormal activity and unexplained occurrences like furniture being moved by itself, beds being mussed despite there being no guests, and other such physical situations, but the real doozy is something related by the current innkeeper!
One morning, three guests came down the stairs of the Old Stagecoach Inn that the innkeeper had not checked in. Confused, he asked where they came from. They told him they arrived in the middle of the night and the woman with gray hair had let them in and shown them to their room… except there was no woman with gray hair at the inn and the innkeeper himself was the only staff on site!
Was this a former innkeeper from centuries past who stepped up to help the new innkeeper out? That's more than just a friendly ghost, that's a very helpful ghost!
Click Here to Check Prices & Book!
American Flatbread, Burlington VT
How about a haunted restaurant? Now home to the American Flatbread, this was once Carburs Restaurant, and this space was witness to a terrible tragedy when one of its workers killed himself in the basement.
Allegedly, the bullethole remains in the wall for all to see, and reports of phantom voices, breaking glasses, plates being tossed through the air, and even waitresses' skirts being lifted up by bursts of cold wind, seemingly from nowhere.
It is said that waitresses are cautioned not to go down to the basement to this day, but it's definitely still one of the best places to eat in Burlington! Just don't go down into the basement, maybe?
Lake Bomoseen, West Castleton VT
Legend has it that Irish immigrant slate workers used to cross Lake Bomoseen to reach a tavern on the opposite shore, but one sad night years and years ago, their rowboat overturned and while the rowboat made its way back to shore eventually, the three men were never heard from again.
Today residents of the area claim that on nights of a full moon, there can occasionally be seen a rowboat that silently drifts across the water, with no passengers in sight.
Would you visit a haunted lake?
The Equinox Resort, Manchester VT
Once a favorite summer vacation spot for the former First Lady Mary Todd Lincoln and her children, The Equinox Resort in Manchester has had employees and guests alike report paranormal activity over the years.
Reports have included unexplained shadows passing over the third floor, and ghostly spectres that match the description of the First Lady and her children in various areas of the hotel. Could it be that their spirits return to their beloved summer vacation spots to this day?
Click Here to Check Prices & Book!

Vermont Police Academy, Pittsford VT
Before it was the Vermont Police Academy that it is today, it was once a state hospital for patients with tuberculosis. Today, it is said that one of the tuberculosis nurses remains on the premises, wreaking a bit of havoc here and there.
Her name was Mary and sadly, she contracted TB during her time nursing sick patients. The old call buttons are still in the recruits' rooms, and legend has it that if you push the call button, Nurse Mary will come to check in on you in the night!
Thanks, but no thanks!
Hartness House Inn

, Springfield VT
Named after James Hartness, its originally owner and former Vermont governor, the Hartness House Inn has long been reputed to have mysterious goings on.
James Hartness was an inventor, as well, and he was so devoted to his work that he built underground tunnels and a series of rooms where he could escape the distractions of his daily life and get to his real passion: inventing.
Guests of Hartness House Inn have reported electricity mysteriously flickering on and off, items going missing briefly only to then reappear, and occasional sounds of clanking and tinkering from below. Could it be that the inventive spirit of James Hartness continues on underground?
Click Here to Check Prices & Book!
There are spooky places galore throughout the Green Mountain State, but these are some of the most popular haunted Vermont places. If you'd like to delve a little deeper into Vermont's haunted history, check out The Vermont Ghost Guide by Joseph Citro.
Have fun and be safe out there! Keep an ear open for those strange noises in the night…
You might also like: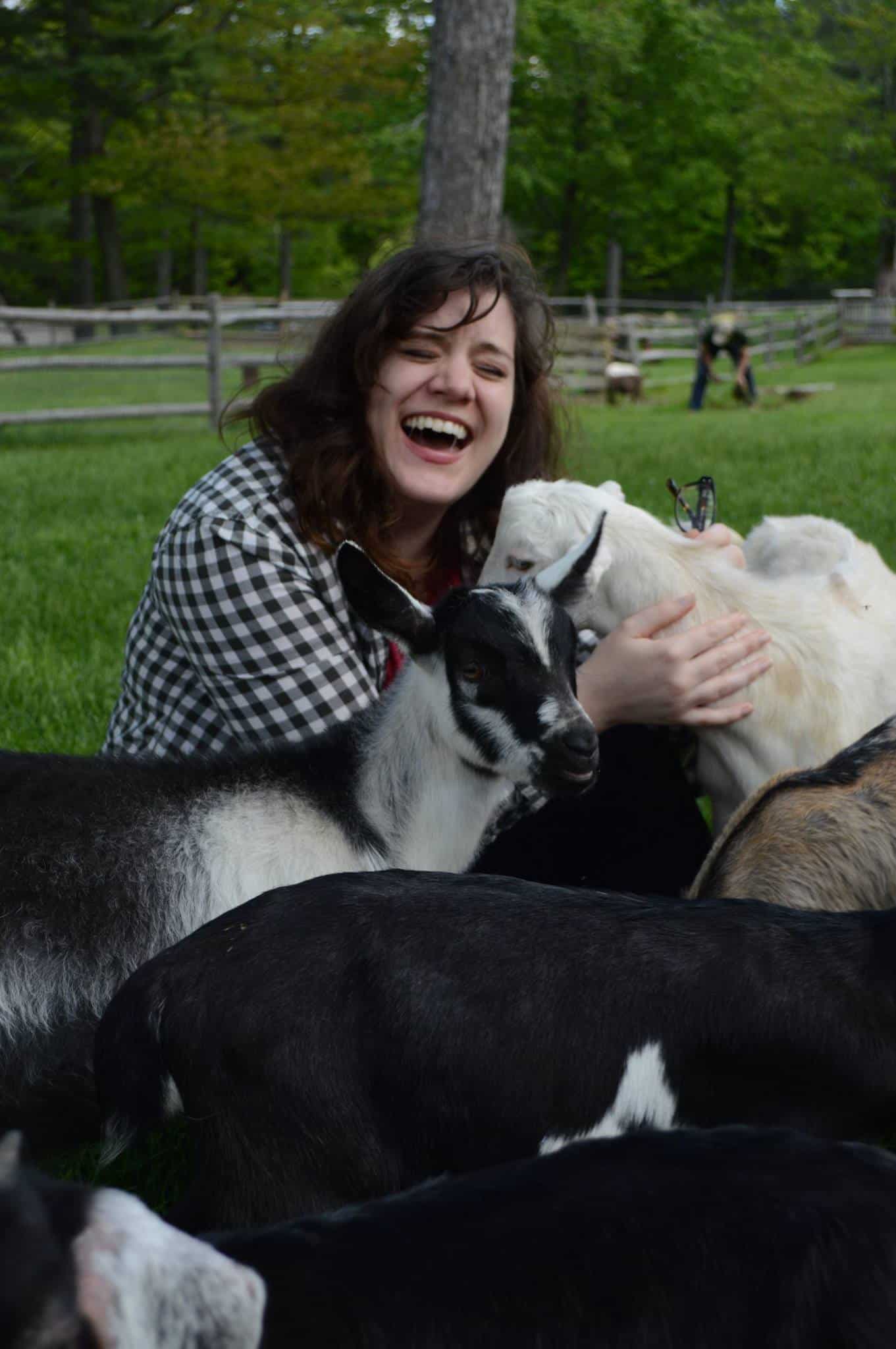 Amy Hartle is the founder and Editor-in-Chief of New England With Love, a comprehensive resource for travel in the New England region. Amy has been exploring New England since 2001. She lived in Vermont for many years and is a graduate of Plymouth State University in New Hampshire. Amy has been writing about travel for over a decade. On this site, Amy aims to share her love of New England and help you to have the best possible adventures!
Amy has been a full time blogger since 2012, and is also the publisher of Two Drifters, where she writes about couples travel and relationships, as well as Let's Adventure Baby, a family travel site. When not traveling the world or creating epic blog content, Amy can be found cuddling with her husband, son, and cats, & drinking a maple latte.