If you're looking for a place that's long on history – including the paranormal variety – you're going to love hearing what the Bay State has to offer!
There are so many spooky places in New England that have experienced paranormal activity, and many of those are haunted places in Massachusetts.
In fact, Massachusetts haunted places include many haunted hotels and inns, too, so if you're really feeling brave…
We've got tales of abandoned places, ghost towns, paranormal activity, and more. If you're ready to learn more about the spookier side of Massachusetts history, we've got it. Let's go!
Haunted Places in Massachusetts
Lizzie Borden Bed & Breakfast, Fall River MA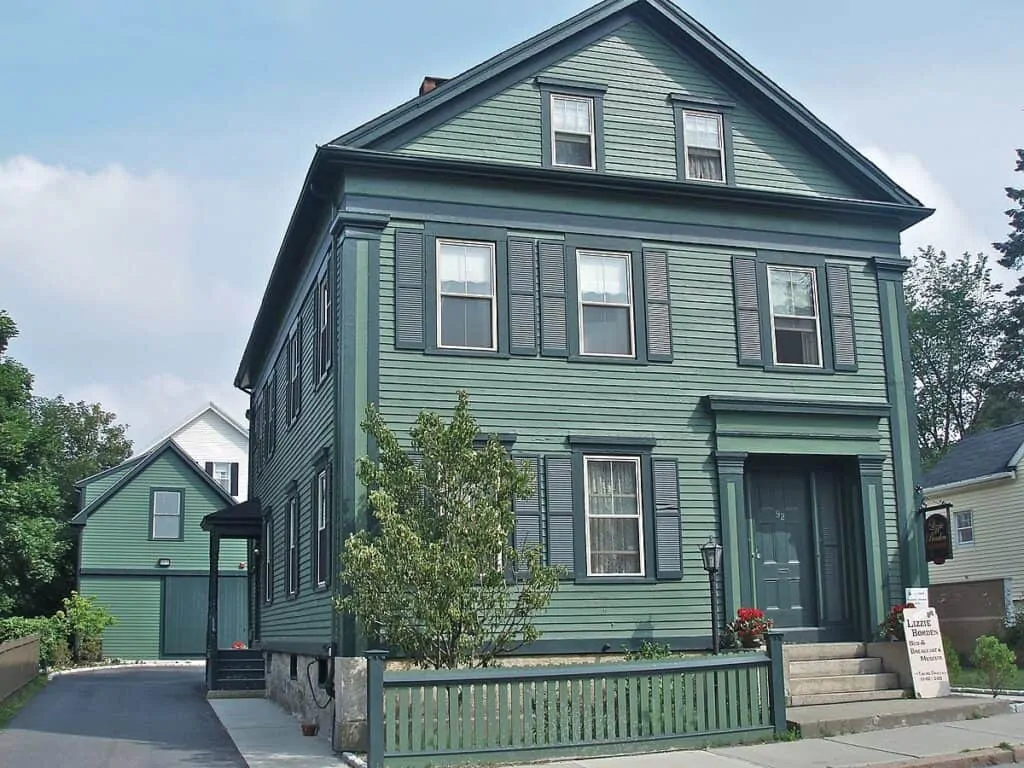 Most of us have heard of Lizzie Borden, beginning way back in childhood.
Lizzie Borden took an ax, Gave her mother 40 whacks. When she saw what she had done, She gave her father 41! Didn't we love jumping rope to this rhyme about grisly ax murders?
Lizzie Borden was never proved guilty of the crime, but it was highly suspected that Lizzie Borden was the one to kill her father and stepmother in 1892.
Today, the Lizzie Borden House isn't just open for tours, it's also an actual bed and breakfast you can book and stay the night, if you dare. You'll learn so much more from the full tour of the house during your stay, which has been beautifully preserved in its original 1892 state as much as possible!
Heads up that this is one of the most haunted hotels Massachusetts has, with some believing that the victims of the tragic 1892 and perhaps Lizzie herself never really left.
Visitors and guests of this haunted inn have reported seeing apparitions, hearing unusual noises, and some have even woken to find unexplained scratches on their bodies!
Click Here to Check Prices & Book!
Taunton State Hospital, Taunton MA
Originally called the State Lunatic Hospital at Taunton, it was built in the 1850s and the only the second state asylum of its kind built in Massachusetts.
In its capacity as a "lunatic hospital," it took in patients who were suffering from both real mental and physical handicaps as well as those that simply didn't fit in or were considered disruptive or unusual for their time.
One of the patient subsets you could find at this facility included "outspoken women" and others who simply did not meet the status quo of the day. Others were more deserving of incarceration, such as serial killer Jane Toppan, who was a nurse who admitted to killing between 30 and 100 people in her personal and professional life.
The main area of the Taunton State Hospital was closed in 1975 and added to the National Register of Historic Places in 1994. As time marched on, significant parts of the building began to fall into disrepair through collapse and fire damage.
Today, what remains of Taunton State Hospital serves the community as residential program centers for the Department of Youth Services and other at-risk community members, but it is said that there remains some residual energy from its many years as the State Lunatic Hospital.
In fact, there were rumors stretching back to the 1800s that this facility was being used to conduct dark rituals and human sacrifices of patients in the basement as a part of a Satanic cult. It is said that unexplained markings remain on the walls of the basement.
There were even issues with staff attempting to get into the basement but feeling as though something was physically was preventing them from reaching the bottom step.
One particularly disturbing staff report included seeing a shadow man on the premises that would lurk in the corners and watch patients! Haunted asylums just seem like they would be haunted by a bit of a darker energy.
Hawthorne Hotel, Salem MA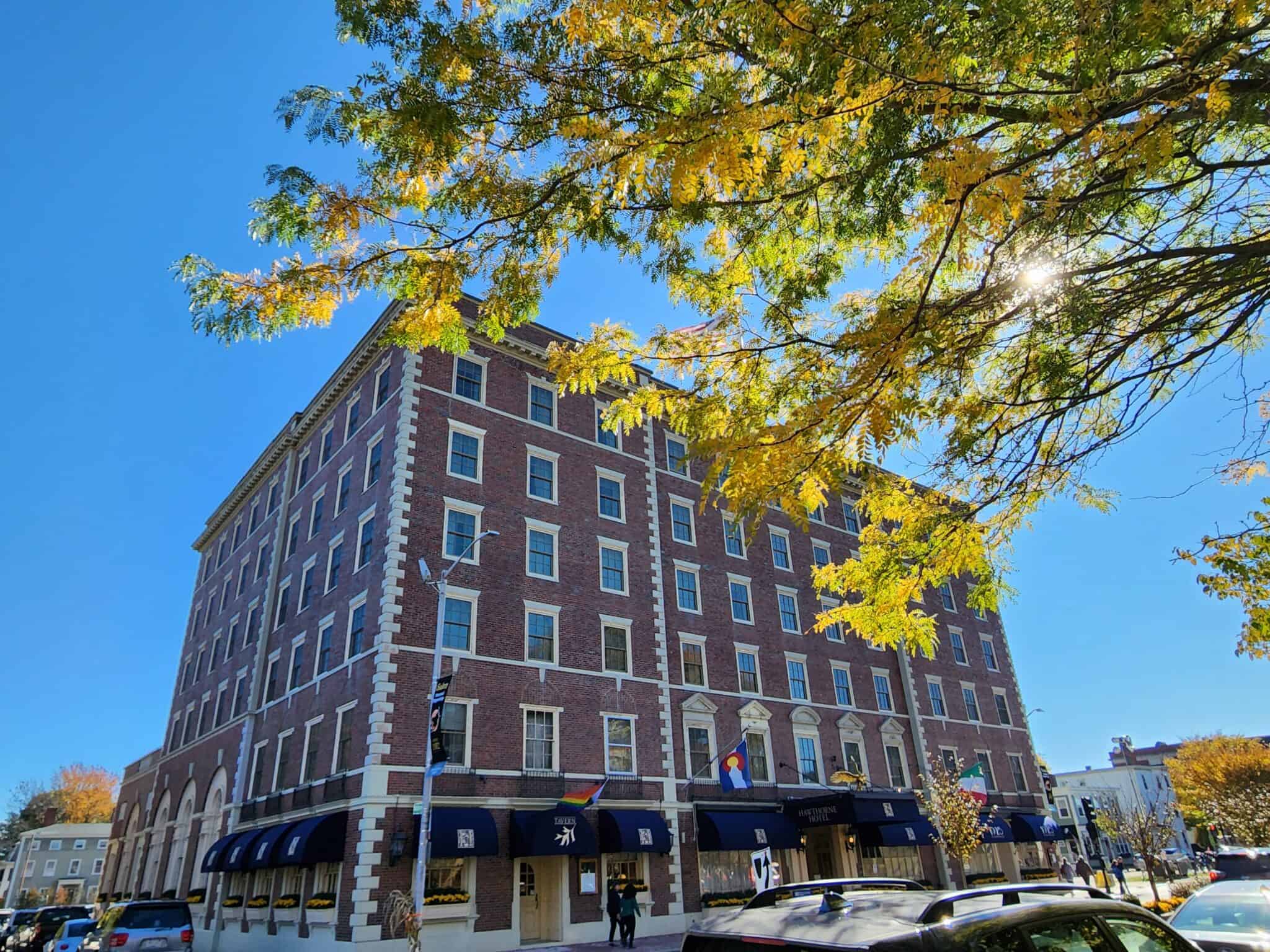 You've likely heard of a few Salem, Massachusetts haunted places, but the Hawthorne Hotel is one of the most visited sites by paranormal investigators in the Witch City. This historic hotel is considered to be one of the most haunted hotels in America!
Guests and staff have reported seeing the faint specter of a woman in a long white dress wandering the halls, but if you're looking to book a room that is haunted, there are two rooms that experience more paranormal activity than others.
Room 325 has been reported to have unexplained phenomena occurring like lights flickering and faucets that turn themselves on and off. Guests also report hearing the sound of an inconsolable baby crying, but when they open the door of their room, there is nothing to be heard from the hall.
Room 612 has seen multiple reports of a womanly apparition that appears directly outside the door. Who she is or what she wants hasn't been discovered to this day.
If you're looking for paranormal activity in a haunted hotel in Massachusetts, the Hawthorne Hotel is a good bet, particularly if you book room 612 or 325!
Click Here to Check Prices & Book!
The Bridgewater Triangle
What is the Bridgewater Triangle?
This area covers about 200 square miles and includes the communities of Taunton, Raynham, Berkley, Dighton, Brockton, Abington, Rehoboth, Freetown, Easton and Bridgewater, and it has been the site of a wide variety of paranormal activity and unexplained phenomena over the years.
Dubbed the Bridgewater Triangle in the 1980s, with the cryptozooligist who coined the term stating that there's "more weirdness here than the Bermuda Triangle could hold a candle to."
What weirdness, exactly?
UFO sightings, Bigfoot sightings, dark cult activity, unexplained visual phenomena like glowing balls of light, haunted forests, old state asylums, and much more. In fact, this area is home to the Hockomock Swamp, the site of a particularly bloody battle in King Phillip's War in the 1600s.
Perhaps the sheer amount of bloodshed that occurred on this land during those years have contributed to some of the less than savory energy that is said to be felt in this region?
There's also King Philip's Cave, where the Wampanoag leader of the same name laid low towards the end of the war. Phantom fires and phantom drums have both been reported in this area.
So what is it that causes the numerous reports of paranormal activity in this area of Massachusetts? Is it a vortex of some sort, or perhaps residual energies left over from the historical bloodshed and trauma?
Who's to say, but if you are visiting the Bridgewater Triangle, take care, particularly if you venture off into the woods.
Colonial Inn, Concord MA
The Colonial Inn is one of the oldest inns in the U.S, having been established in 1716. With such a long and lengthy history, it's probably not too surprising that there have been plenty of ghostly encounters in this historic inn!
Concord's Colonial Inn comes with a bit of a famous resident ghost: Ralph Waldo Emerson!
Guests sometimes see him wandering the upstairs hallway.
If you're feeling particularly brave, you might book room 424. This was used an operating room for a local doctor who once practiced in the inn. The spirit of a Native American woman, amongst others, has been reported by paranormal experts in and near this room.
Although not necessarily a haunted location in MA, no visit to Concord to explore the unexplainable would be complete without visiting the nearby Sleepy Hollow cemetery.
You'll You'll find the final resting sites of Emerson, Thoreau, Alcott, and more are located here. Maybe you'll even run into one of their spirits!
Click Here to Check Prices & Book!
Houghton Mansion, North Adams MA
Nestled in the Berkshires is the Houghton Mansion, originally built in 1890 by a man named A.C. Houghton. One day, he had his driver take himself, friends of the family, and his beloved daughter for a ride, only to have tragedy befall them when they hit a soft shoulder that sent the car down an embankment, throwing everyone from the vehicle except young Mary.
Mary died just a few hours later from injuries sustained during the fateful car accident, and her father followed her ten days later, with many saying he died of a broken heart. The driver of the car, a faithful servant of the family, committed suicide in the basement of the Houghton Mansion, completely distraught at his role in the tragedy.
Years later, the home was sold to a local order of Freemasons. In its new iteration as a Masonic Temple, whispers of paranormal activity have been passed down from person to person. Papers have rustled by themselves, doors have opened and shut, and there was even one evening when two masons heard the door open and shut, someone enter, but when they went out to look, no one was there and there were no footprints in the freshly fallen snow.
Does the Houghton Mansion remain home to the spirits of the family members and their faithful servant? There have been several Masons who believe so!
Read Next: 14 Best Things To Do in North Adams MA
The House of the Seven Gables, Salem MA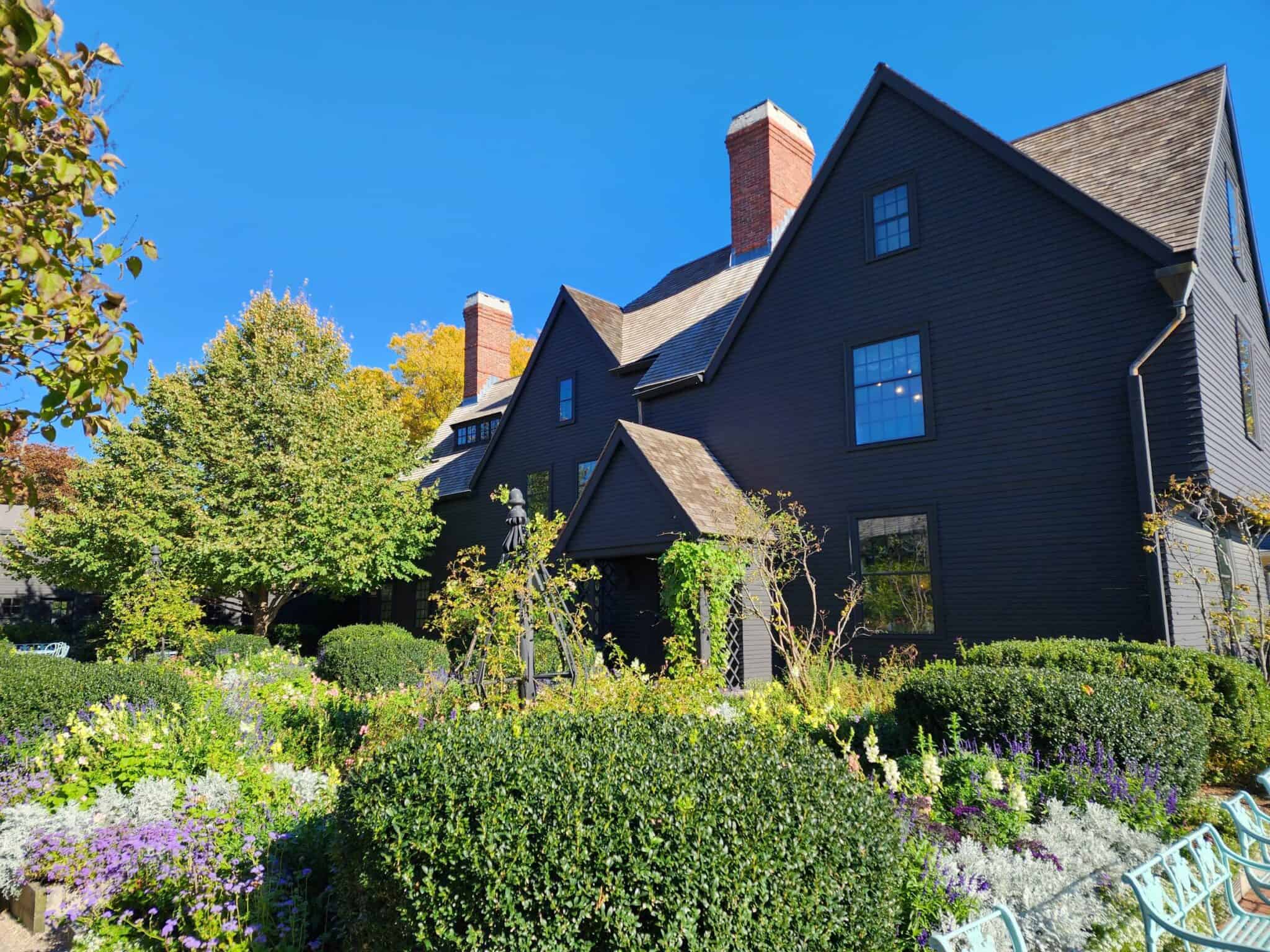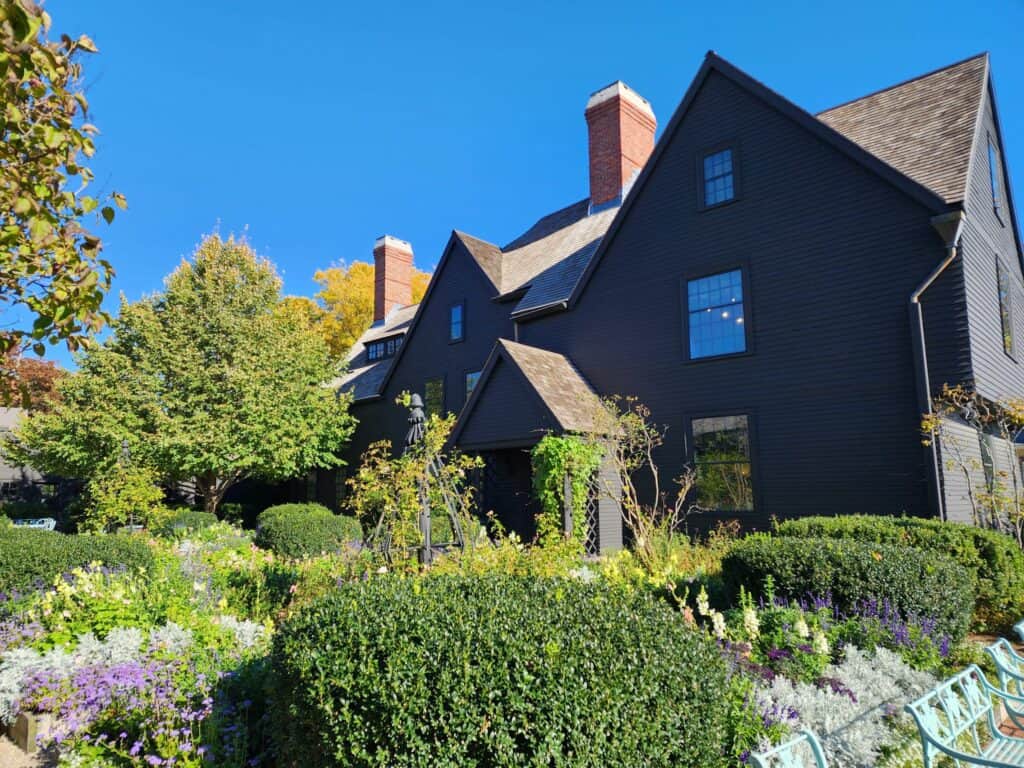 Also known as the Turner-Ingersoll Mansion, the House of the Seven Gables is one of the most popular haunted places in Salem to visit. This historic home was built in 1668 and popularized by Nathaniel Hawthorne's book by the same name, as it was owned by family and he spent many summers there as a child.
Being that this is a historic home, you can expect to find lots of nooks and crannies and unexpected features, including secret staircases!
In fact, it is the secret staircase leading to the attic where most of the paranormal activity has been reported at the Turner Ingersoll Mansion. Visitors have reported feelings of unease and disembodied voices that sound like they could be whispering in your ear.
Danvers State Hospital, Danvers MA
Sometimes referred to as the birthplace of the prefrontal lobotomy, is it any wonder that the Danvers State Hospital may have gained a bit of a reputation for harsh and inhumane practices?
This was just one of the many "therapies" employed at this mental health institution throughout its run from 1878 to the early 1990s. Others included electric shock, use of straitjackets, high levels of sedation drugs, and more to "treat" patients.
The grounds of Danvers State Hospital has underwent many changes over the years, including a horrific fire that destroyed the remaining remnants of this haunted institution. Today, you'll find a residential apartment building.
The Danvers State Hospital Cemetery remains for you to visit today, with graves stretching back to the 1870s. You'll find a boulder there that commemorates the lives lost with this particularly striking quote: "The echos they left behind."
For years and years, visitors, locals, and paranormal researchers have stated that this area remains a hotbed of paranormal activity, with audible moans and screams still being heard on the grounds. Even residents of the buildings built in the hospital's stead have reported hearing unusual and disturbing sounds in the night.
Are you brave enough to visit the cemetery at night and have a listen yourself?
The Salem Inn, Salem MA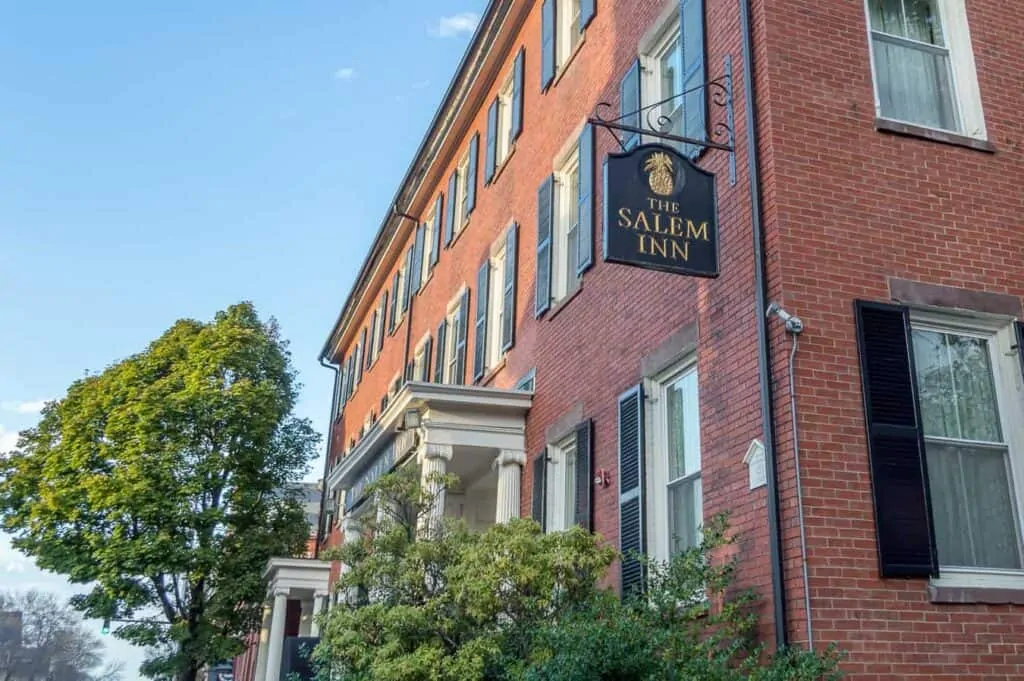 This is one of the most haunted inns in Massachusetts, and I've actually been able to stay here myself!
I do have to report that my particular stay at The Salem Inn did not include any paranormal activity (just the way we like it!) but there are three historic homes that comprise this gorgeous inn, and each have had guests and staff report ghost sightings and unexplained phenomena.
Reports of paranormal activity at this haunted inn include sounds of a child's laughter and a black cat that has been seen by guests, and employee reports of the feminine spirit they call "Katherine." This ghost has been around so often the staff named her!
If you want to maximize the chance you might experience some paranormal activity at The Salem Inn for yourself, request Room 17, if you dare!
Click Here to Check Prices & Book!
Read Next: Top 5 Most Haunted Hotels in Salem MA to Book if You Dare!
Hoosac Tunnel, North Adams MA
The Hoosac Tunnel's beginning was rocky, in all senses of the word. There were failed funding attempts, political gridlock, and utilization of some of the most dangerous technology of the day: nitroglycerin and electric blasting caps to blow through the rock.
The Hoosac Tunnel project never ran smoothly, but it took a hard turn for the worse on October 17, 1867 when an explosion from above flooded a tunnel 600 feet down with 13 men inside. It was later discovered that they had managed to fashion a raft and survive the initial flooding, only to perish slowly from asphyxiation.
The workers then took to calling this tunnel The Bloody Pit, and it lived up to its name, claiming over 196 lives before the construction of this tunnel was completed.
Today, trains still run day and night on an unpublished schedule, so this certainly isn't a place to wander into yourself. However, it has been reported that ghosts of the miners still remain, swinging lanterns, hard at work, with occasional screams being heard from deep within the tunnel as they relive the tragedies that took their lives.
Joshua Ward House, Salem MA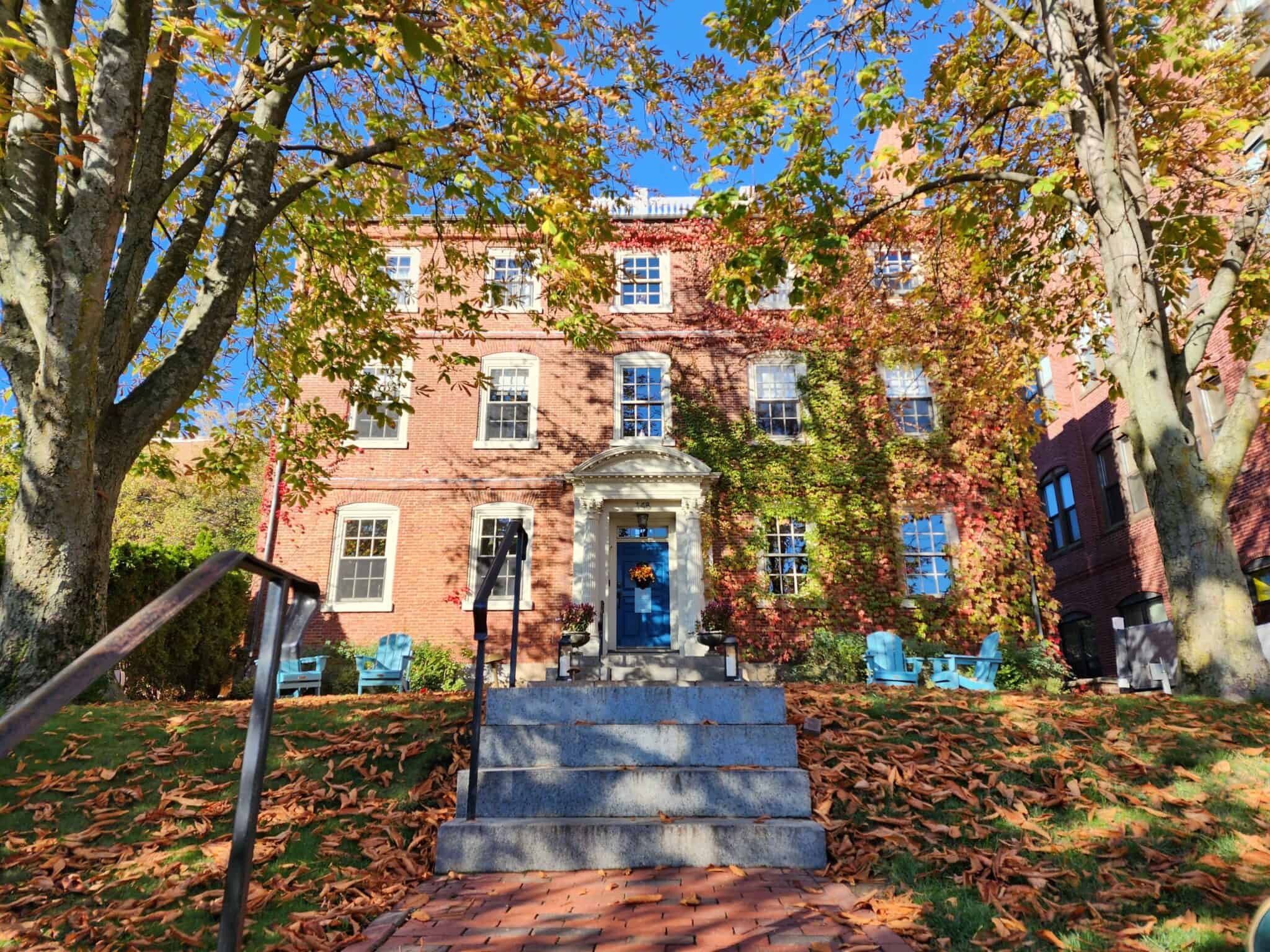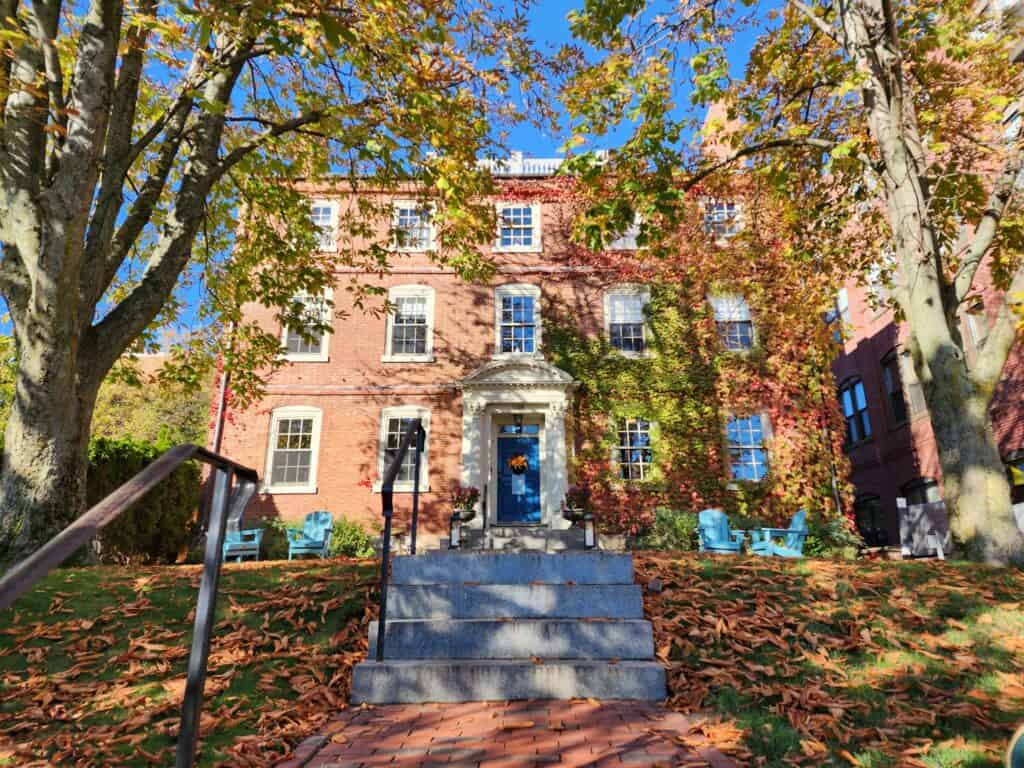 The Joshua Ward House is named after the wealthy sea merchant who took up residence in this historic home, but it was also once inhabited by none other than the dastardly George Corwin, the High Sheriff responsible for many of the atrocities inflicted on the accused in the Salem Witch Trials.
In fact, it was George Corwin who is said to have despicably used his walking stick to shove Giles Corey's tongue back in his mouth as he was being pressed to death.
There has been notable paranormal activity recorded at this Salem site, like cold pockets, candles mysteriously melted down despite never having been lit, books and pictures that fall from shelves randomly, feelings of being watched, and even unsettling physical sensations such as feelings of being strangled.
There was even an unexpected appearance of a woman ghost with pale skin and dark curly hair in a photograph that was taken at a Christmas party in 1981!
Today, this haunted place has been given quite the refresh as a boutique hotel called The Merchant. Certainly makes it easier to do some paranormal investigations when you can just book a room and stay overnight!
Click Here to Check Prices & Book!
Read Next: 15 Best Ghost Tours in Salem MA for Frightful Fun💀
S.K. Pierce Victorian Mansion, Gardner MA
Considered one of the most haunted places in Massachusetts, the S.K. Pierce Mansion is a Victorian mansion named after the owner of S.K. Pierce and Sons Furniture Company, and once frequented by popular American celebrities like P.T. Barnum, Norman Rockwell, and even President Calvin Coolidge.
Over the years since being built in the mid 1800s, this Victorian mansion has been the sight of several tragedies, including death by fire of a young tenant, and a violent murder of a prostitute in one of the bedrooms.
There has been so much paranormal activity reported in the S.K. Pierce Haunted Victorian Mansion, where even to begin? There are apparitions, shadow people, errant smells, doors being slammed shut, the house shaking on its frame, and even malevolent presences that seem intent on pushing visitors down the stairs.
According to paranormal experts that have visited the home, the spirits that inhabit this haunted place are very sophisticated and can manipulate physical energies in ways that can be quite dangerous, so a visit to this Massachusetts haunted house is not for the faint of heart, and there is a waiver that must be signed to enter.
The Old Burying Point Cemetery, Salem MA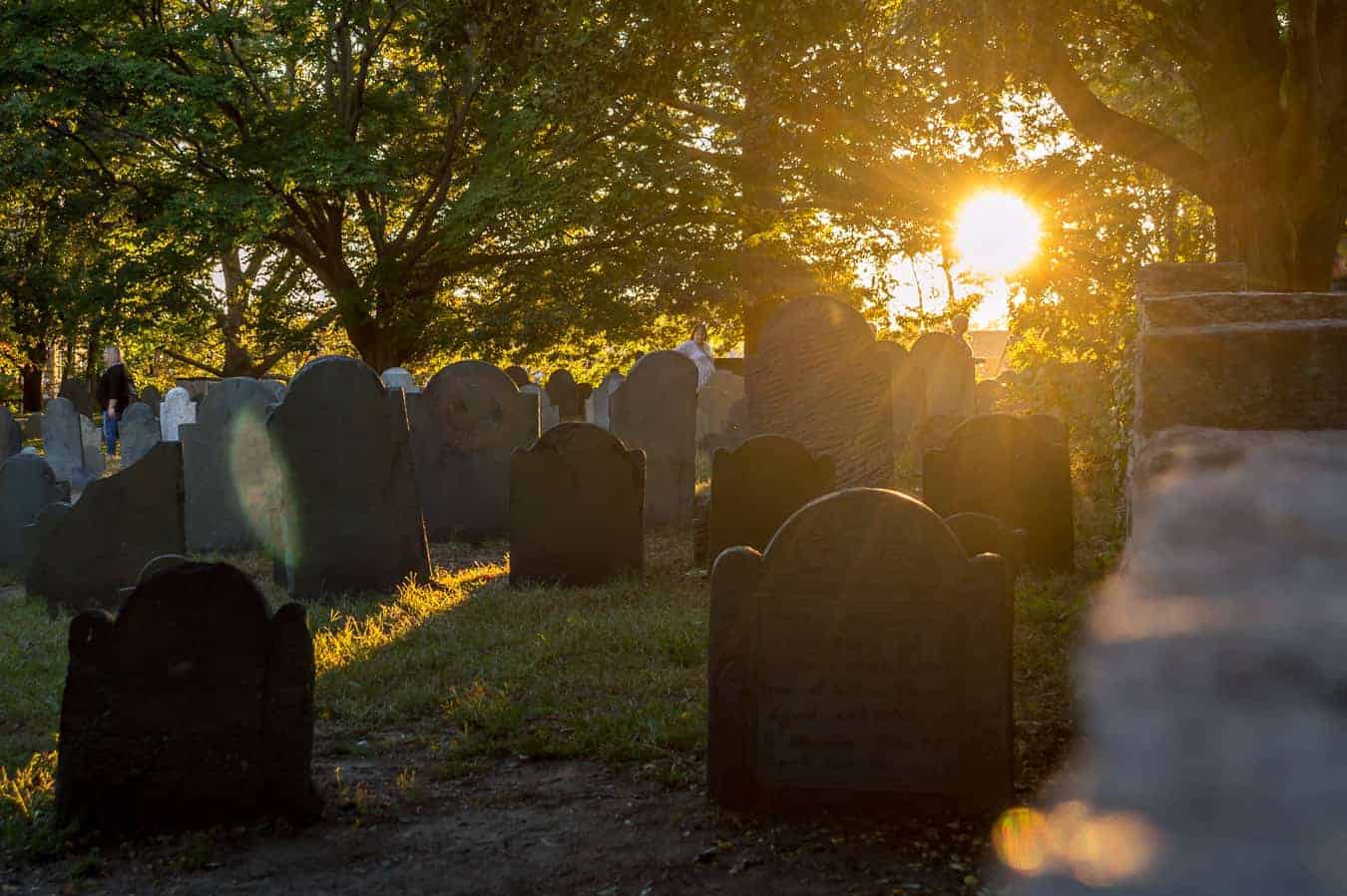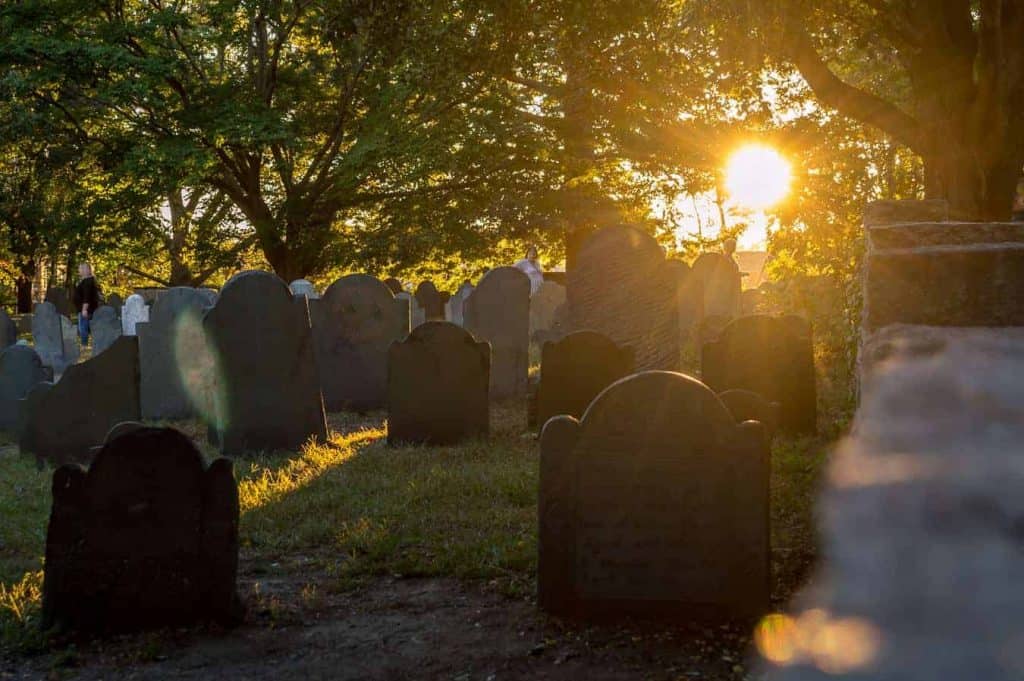 The Old Burying Point Cemetery is the second oldest cemetery in the United States, and you will find gravestones that are so weathered by the years that you will no longer be able to make out who lies below.
There are many people buried and entombed here who played a variety of roles in the Salem Witch Trials of 1692, including especially unsavory characters like Judges Bartholomew Gedney and John Hathorne.
Both of these men presided over the witch trials, with Hathorne being particularly zealous in his "work," having accused and interrogated a 4-year-old girl of witchcraft.
Several others who were laid to rest here made accusations during the Salem Witch Trials.
Did those who perpetrated this tragedy ever regret their role in these tragic deaths? Are their spirits unsettled?
Paranormal investigators have reported orbs of light, cold spots, disembodied voices, and other strange happenings in this Salem cemetery, so if you decide to visit, beware.
Whether you're the type of person who prefers haunted places you can visit by the light of day, or the type of person who wants to book the room with the most paranormal activity and see what transpires at 3am, hopefully you've enjoyed this list of the most haunted places in Massachusetts!
You might also like: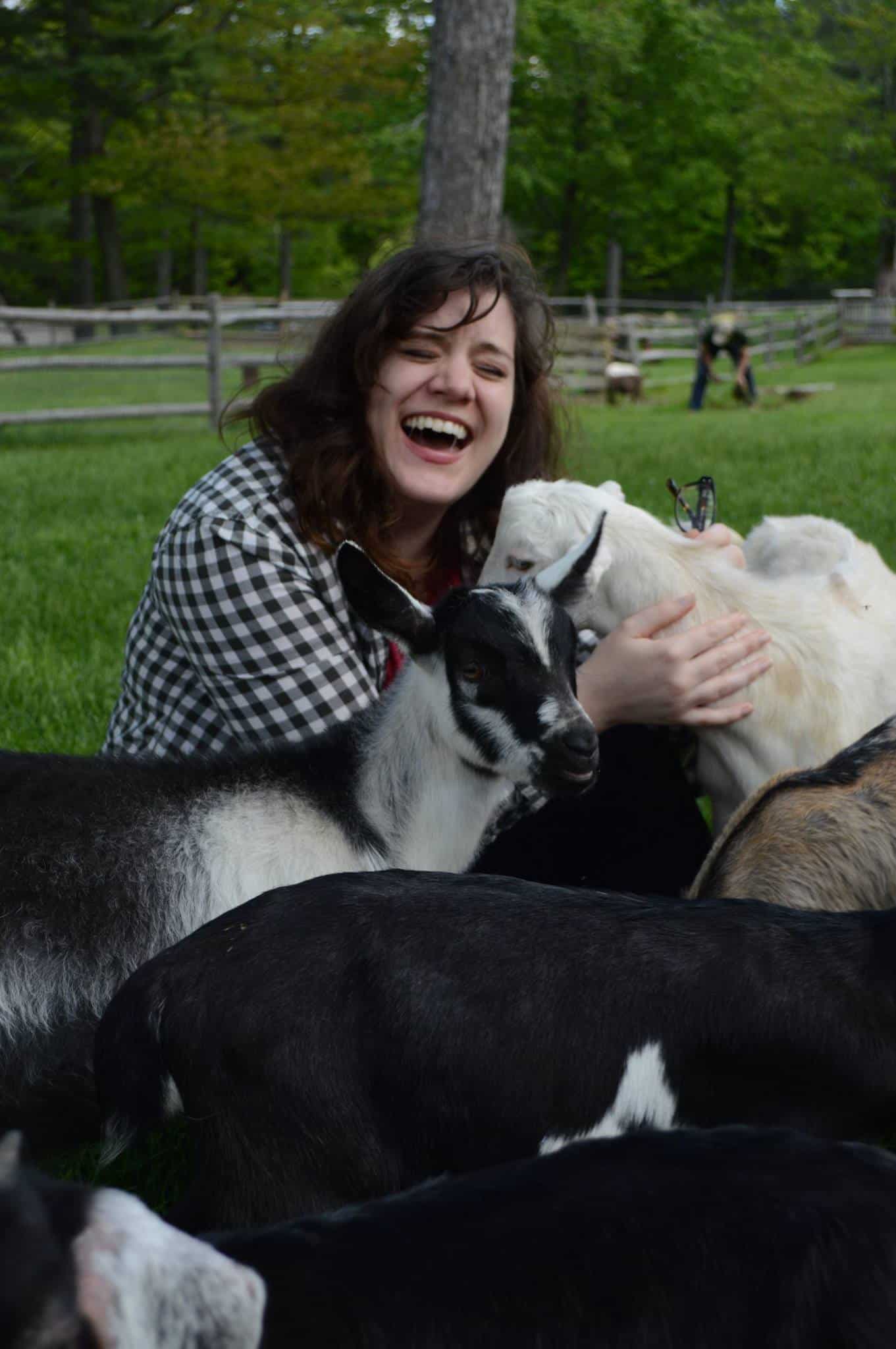 Amy Hartle is the founder and Editor-in-Chief of New England With Love, a comprehensive resource for travel in the New England region. Amy has been exploring New England since 2001. She lived in Vermont for many years and is a graduate of Plymouth State University in New Hampshire. Amy has been writing about travel for over a decade. On this site, Amy aims to share her love of New England and help you to have the best possible adventures!
Amy has been a full time blogger since 2012, and is also the publisher of Two Drifters, where she writes about couples travel and relationships, as well as Let's Adventure Baby, a family travel site. When not traveling the world or creating epic blog content, Amy can be found cuddling with her husband, son, and cats, & drinking a maple latte.