Are you looking for haunted places to visit in Connecticut? You're in luck, because many of New England's most haunted places are in the Nutmeg State!
There are haunted inns, abandoned villages, shuttered sanitoriums, eerie ghost towns, and more that have earned quite the reputation for paranormal activity over the years, and that's not even mentioning the lore and legends that accompany many of these haunted places in Connecticut.
Connecticut paranormal activity and hauntings range from the benign cold spots and friendly ghosts to the less welcoming push by unseen hands. If you're feeling up to it, we'll tell you about the most haunted places in Connecticut today.
Without further adieu, these are Connecticut's most haunted places…
Haunted Places in Connecticut
Stratford Shoal (Middle Ground) Lighthouse, Long Island Sound CT
Called Middle Ground Lighthouse or Middleground Light, this 60-foot granite structure is set on a Long Island Sound shoal.
There are at least two tragedies resulting in paranormal activity attached to this place.
The first involves a string of suicide attempts by an assistant lighthouse keeper. One of the most isolated jobs a person can have, the loneliness took its toll on Julius Koster in 1905.
He was taken to a sanitarium in nearby New York, where he finally succeeded in killing himself just a few days later.
Since then, reports of loud grinding and crashing noises, doors that slam shut by themselves, and even pots of hot water being tossed from the stove make some paranormal investigators believe that it is Koster's disgruntled spirit that remains at Middleground Light, unable to move on from the place that he simply couldn't survive in.
The 2nd ghostly tale connected with this haunted Connecticut lighthouse is about the wreck of the ship Trustful, which struck the shoal and sank, taking all onboard to an early, watery grave.
Interestingly, the Trustful was carrying a load of church bells as cargo. Today, it is said that if you listen closely in a storm, you can sometimes hear the sound of muffled church bells.
Haunted lighthouses always feel so tragic, perhaps in part due to the mostly solitary existence that most lightkeepers were forced to keep to do their jobs. To imagine that their spirits remain tethered to a place to continue their lonely existence even after death just sounds so harsh.
Read Next: 14 Gorgeous Lighthouses in Connecticut
The 1754 House, Woodbury CT
Once known as the Curtis House Inn, The 1754 House might just be the oldest haunted hotel Connecticut has. This historic property has undergone a makeover fairly recently after it was featured on the tv show "Hotel Hell".
Elegantly updated with both modern comforts and its original charm, they left the resident ghosts at this historic Woodbury inn!
There are two main male spirits that are said to haunt this inn, one appearing in early 18th-century clothing and the other in Confederate uniform who is said to enjoy the liquor room. Have you ever had drinks with a ghost? This could be your chance!
Even Gordon Ramsey, who was involved in the transformation on "Hotel Hell", had a run-in with a ghost known as Betty while staying at the inn. (Want your own encounter with Betty? She seems to appear often in room 16, if you're interested.)
Other paranormal occurrences and entities abound too, so keep your ears perked for disembodied footsteps, voices, and even music!
Union Cemetery, Easton CT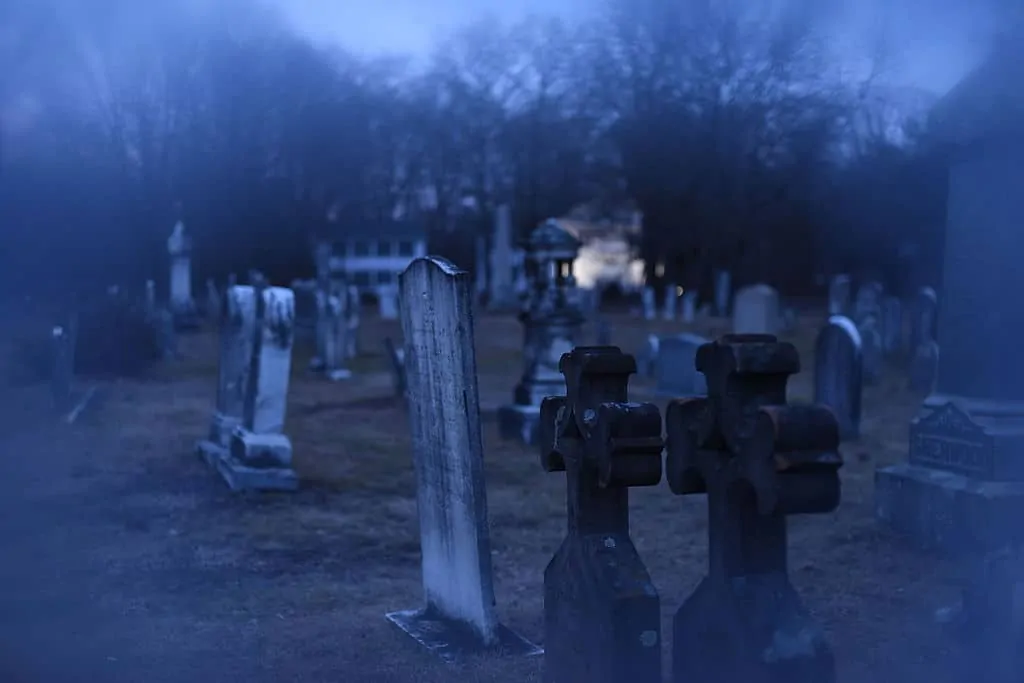 Are there haunted cemeteries in Connecticut? Absolutely.
This one is particularly creepy and is frequently named one of the most haunted graveyards in America.
A ghost known as the White Lady is the most often-reported resident spirit that shows herself. She is seen wearing a wedding dress or white nightgown as she wanders among the gravestones.
Other visitors have talked about a sensation of "being watched" with some even seeing a pair of glowing red eyes gazing at them from afar.
There are many other paranormal goings-on in this cemetery. Notable ghost hunters, demonologists, and paranormal investigators Ed and Lorraine Warren wrote the book Graveyard with Robert David Chase including the paranormal activity that has been witnessed at Union Cemetery.
Norwich State Hospital, Preston CT
One of the most dramatic abandoned and haunted places in Connecticut, Norwich State Hospital was first built in 1904 as the Norwich State Hospital for the Insane.
Similar to other such hospitals of its time, treatments were often experimental in nature, with features that we now recognize to be dehumanizing, violent, and just plainly ineffective.
Norwich State Hospital operated in the community until the 1990s, and sat in a state of great disrepair for years and years, but it has been visited by ghost hunters and paranormal research teams such as Ghost Hunters.
Ghost Hunters did deem the property to be haunted after experiencing strange clanging and banging sounds, doors closing by themselves, and some visual phenomena.
Visitors to this abandoned place often reported a feeling of being watched. Today, most of the original buildings have been torn down by the Mohegan Tribal Gaming Authority.
Bruce Museum, Greenwich CT
The Bruce Museum isn't just one of the coolest museums to visit, it's one of the most haunted museums to visit in Connecticut, too!
The tale behind the haunting of this Greenwich institution is quite sad and begins back in the 1800s with a pair of young lovers.
At that time, the Bruce Museum was a private residence, and the two young lovers would meet near this historic mansion, and the young man would play his flute for his beloved as she gazed adoringly on.
The two made plans to marry, but one day, the man suddenly disappeared. Heartbroken and alone, the young girl made plans to return to her native country of Ireland, but died of tuberculosis before she could make it home.
As early as the early 1900s, reports came in of two ghostly apparitions near the Bruce Museum, one playing a flute and the other listening intently.
In a much darker twist, on occasion it is said that a sinister voice can be heard beckoning the two specters inside, to which they respond that they will not because they know they'll never be allowed to leave before disappearing into thin air!
Dudleytown, Cornwall CT
If you're looking for creepy abandoned places in Connecticut, Dudleytown most certainly makes that list. Settled in the 1700s, it is said that the arrival of the Dudley family, whose father was beheaded by none other than Henry VIII, brought a curse to the land.
With infertile soil and undrinkable water, the numbers of this community declined quickly, but rumors persisted that it was the Dudley family curse that caused Dudleytown's issues.
What remains of Dudleytown is closed to public access, but its lore still looms large, with visitors over the years reporting unexplained phenomena such as cold spots, disembodied voices, and orbs.
Sterling Opera House, Derby CT
Opened in 1889, the stately Sterling Opera House saw many big name acts in its day, including Harry Houdini, Amelia Earhart, and Red Skelton among many others.
Unfortunately, its life as an entertainment venue ended in the 1940s, leaving the lower levels to be used as city hall and a police station, complete with holding cells!
It existed in this capacity until the 1960s, and has been sitting empty ever since, its walls devoid of the activity that had been such a mainstay of this space for so long.
Paranormal investigators have found significant evidence of ghostly activities in this haunted theater, including a ghost of a woman that appears on camera wearing a long white dress, children's handprints that appear out of nowhere, and orbs of light and shadow figures.
There isn't any one big tragedy that has been documented within its walls, but perhaps there were spirits who found themselves tied to this opera house for one reason or another who still call it home.
Fairfield Hills Hospital, Newtown CT
Fairfield Hills State Hospital was originally a psychiatric hospital that opened in the 1930s, but now many of the buildings that were once a part of the Fairfield Hills Hospital have been repurposed into municipal buildings. Others remain empty and abandoned as they were when the hospital facilities were closed in the mid-1990s.
Luckily for those who want to see one of Connecticut's most haunted places, there is a great trail called the Fairfield Hills Loop that gives you a great opportunity to see many of those abandoned buildings close up.
Paranormal occurrences on the grounds include unexplained noises and feelings of being watched.
You can even stop to have a beer at Newsylum Brewing on the Fairfield Hills campus to ponder what you've seen! The town of Newtown continues to grapple with how to move forward on either restoration or demolition of these abandoned hospital buildings.
Captain Grant's Inn, Preston CT
With over 300 years of history, Captain Grant's Inn, located near beautiful Mystic, has some interesting stories to tell…And possible spirits that remain onsite
One of the most haunted hotels in Connecticut, this inn has been home to many different kinds of guests, from continental soldiers to runaway slaves. Of course, it is on the National Register of Historic Places.
Documented paranormal activity includes televisions turning themselves on and off, phantom footsteps, and even EVP recordings of a young girl's voice!
Several spirits have been sighted throughout the inn, but a woman in Colonial wear, sometimes along with her children, has been seen most frequently in one particular room.
While there is a chance that you might come across ghostly apparitions anywhere on the ground, booking the Adelaide room is said to increase those chances!
Click Here to Check Prices & Book!
Seaside Tuberculosis Sanitorium, Waterford CT
Originally built for tuberculosis patients in the 1930s, the Seaside Sanitorium was once considered a cutting-edge facility for children suffering from tuberculosis, allowing them to receive what was then the standard of care for tuberculosis: time spent by the sunny seaside.
The building was designed by the same architect who designed the Woolworth Building in New York, and this beautiful old building morphed into other facilities over the years before the doors officially closed in the mid-1990s and has been sitting abandoned ever since.
Orbs, ghostly apparitions, and electronic voice phenomena have been noted at this abandoned sanatorium.
Today, it is a Connecticut State Park and visitors are free to roam by the seaside and admire these abandoned buildings, at a safe distance of course…
Abigail's Grille and Wine Bar aka Pettibone Tavern, Simsbury CT
Built in 1870, this roadside watering hole has had staff welcoming guests for generations… even some that stick around in spirit form!
An unfortunate victim of two significant fires throughout its history – the first being at the hands of local Native Americans in 1800 – it has rebuilt both times to continue its task of providing sustenance and comfort to those who come in off the road.
When this landmark tavern was rebuilt after the last fire, it was renamed Abigail's, after its resident spirit, someone who perhaps had been too generous in providing comfort to those who came in off the road!
The story goes that Mrs. Abigail Pettibone was the wife of a whaling captain who was away at sea for long stretches of time, leaving Abigail to extend her affections to someone else. When John Pettibone returned home earlier than expected to find his wife Abigail in the arms of another, he grabbed an ax and violently took both their lives.
Today, local lore states that Abigail remains in her former home, and visitors have witnessed full body apparitions of a woman in Colonial dress, and other paranormal activity like furniture moving by itself, candles re lighting themselves after being blown out, and voices coming from nowhere.
Mark Twain House, Hartford CT
While you might recognize the historical significance of the Mark Twain House, you might not already know that Samuel Clemens Hartford home is considered one of the most haunted places in Connecticut!
This gorgeous historic mansion is open for tours daily, including Graveyard Shift Tours. The Mark Twain House has also been visited and investigated by ghost hunters and paranormal investigators, only affirming what staff and visitors to this landmark home already knew.
It is believed that some of the paranormal activity, like the occasional feeling of a hand brushing your back, or loud clanging noises from the next room over – despite there being no one there – could be the Clemens' family long time butler, who faithfully served the family for years and years. Perhaps he just isn't done serving?
In addition to ghostly apparitions, one possibly paranormal situation that has happened multiple times has been the smoke alarm going off in the game room on the top floor, where Mr. Clemens used to sit and enjoy his cigars. The fire department will trudge their way up all the steps only to not be able to figure out why the smoke alarm has gone off!
Could ol' Mark Twain still be up there, enjoying a cigar from time to time, setting off the smoke alarm?
Old Remington Arms Munitions Factory, Bridgeport CT
When it comes to haunted places in Connecticut that have seen a lot in their day, Old Remington Arms Munitions Factory might just lead the pack.
Originally opened in 1867 as the Union Metallic Cartridge Company, it later went on to merge with Remington Arms Company in the years leading up to WWI, but its explosive (yeah, yeah) history began even earlier.
The nature of this kind of factory meant explosions were a part of life here. In addition to the other health hazards associated with the job, several workers were injured, with some even losing their lives prematurely to explosions, lead poisoning, chemical burns, or disfiguring accidents with equipment.
Finally, it closed its Bridgeport doors in the mid-80s, but this now abandoned factory had seen enough.
There have been many paranormal occurrences documented in this space over the years, including disembodied screams and voices. Even the local police force has reported seeing shadowy figures and other unexplainable paranormal events at this abandoned factory.
Could it be that the many lives who were destroyed both directly and incidentally by their work here might still be roaming the grounds?
If you're in search of paranormal activity and unexplained phenomena, these haunted places in Connecticut are a good start for where to look. Have fun and happy ghost hunting!
You might also like: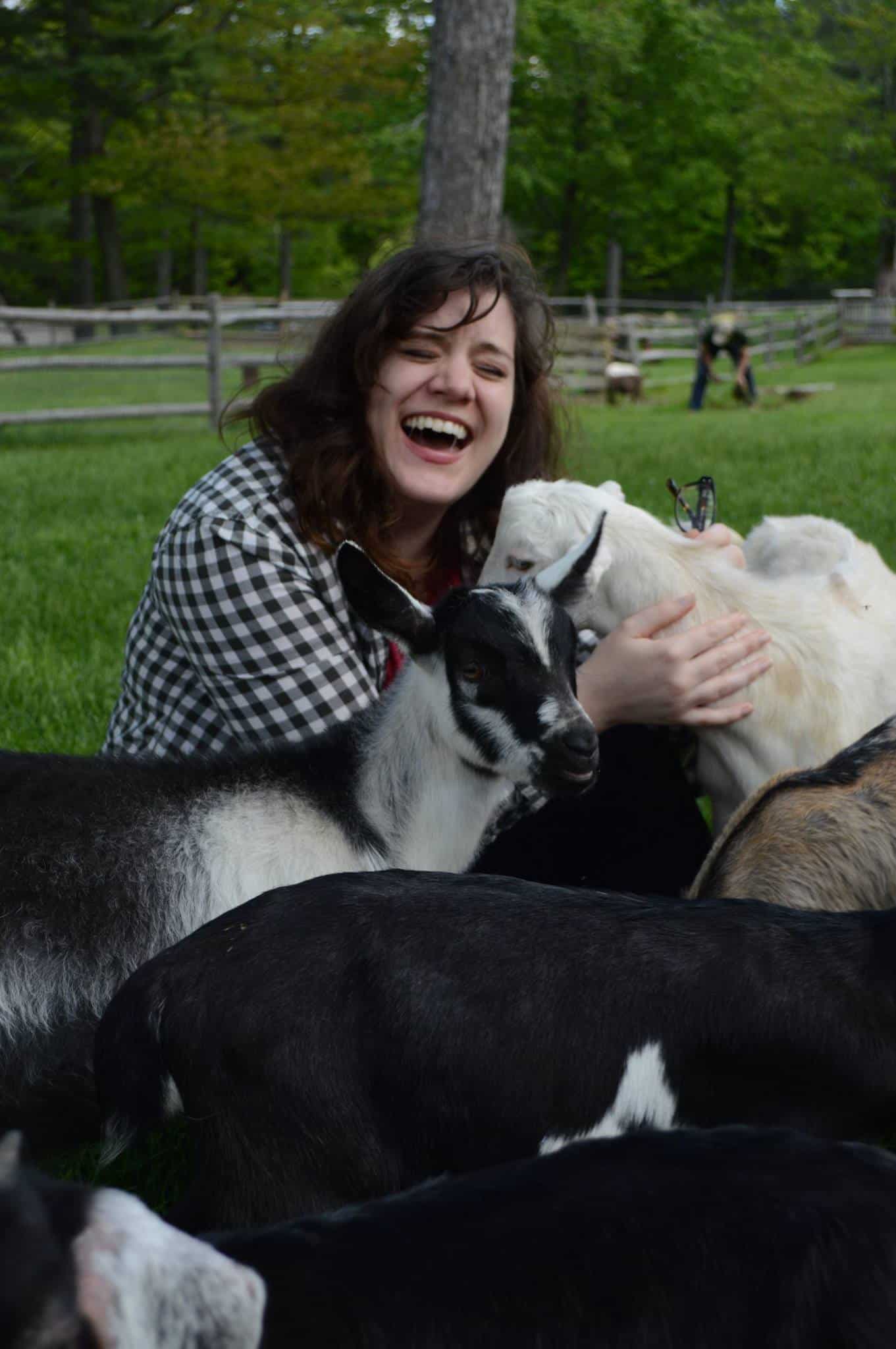 Amy Hartle is the founder and Editor-in-Chief of New England With Love, a comprehensive resource for travel in the New England region. Amy has been exploring New England since 2001. She lived in Vermont for many years and is a graduate of Plymouth State University in New Hampshire. Amy has been writing about travel for over a decade. On this site, Amy aims to share her love of New England and help you to have the best possible adventures!
Amy has been a full time blogger since 2012, and is also the publisher of Two Drifters, where she writes about couples travel and relationships, as well as Let's Adventure Baby, a family travel site. When not traveling the world or creating epic blog content, Amy can be found cuddling with her husband, son, and cats, & drinking a maple latte.