*This site uses affiliate links; if you make a purchase through these, I may receive a small commission at no cost to you.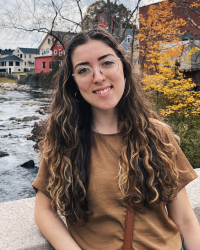 Latest posts by Jessica Vaillancourt
(see all)
Year-round, every kind of weekend getaway imaginable can be found right in the state of New Hampshire. From the majesty of the White Mountains, to the cultural, urban locales and cute small towns, to lakes and romantic seaside towns, the Granite State is an incredible place to spend the weekend.
We've gone ahead and hand-selected the most beautiful, historical, and luxurious resorts and inns in New Hampshire. It doesn't matter if you're a solo traveler, a family, or a couple looking for a romantic or adventurous getaway – there is something for everyone here! So get to planning your weekend getaway. You deserve some R&R! Here are 10 of the best weekend getaways in New Hampshire.
Weekend Getaways in New Hampshire
Omni Mount Washington Resort
Located in Bretton Woods, at the heart of the White Mountain National Forest, is NH's most iconic, grand and luxurious hotel: the Omni Mount Washington Resort.
This sweeping superstructure, with its extensive white wings and bold red roofs, is almost as impressive as its history. Opening its doors in 1902, it was the most luxurious hotel of its day. The wealthy and famous of Boston, New York, and Philly would frequent it, including big names like Thomas Edison and multiple U.S. presidents.
Today, you can stay at this historical hotel and feel totally pampered. There are so many amenities: An award-winning ski area, indoor and outdoor pools, a 25,000-square-foot destination spa, golf courses, horse stables, restaurants and a speakeasy, an arcade, a playground for kids…shall I go on? There's no way you can be bored or stressed at this resort. Not to mention, the backdrop to your stay is a majestic mountain range.

Mountain Edge Resort & Spa
Stay at the Mountain Edge Resort & Spa in Newbury, and you might just fall in love with Lake Sunapee. This region of New Hampshire, nestled at the midway point between Southern NH and Dartmouth College, has long been overshadowed by the likes of Lake Winnipesaukee.
But there's a reason Steven Tyler – yes, the main singer of Aerosmith – has chosen to make Sunapee his home. With that summer camp nostalgia, the peaceful mountains, and a clean lake in a serene setting, you'll understand when you visit.
The Mountain Edge Resort will put you front and center to what makes the Sunapee Region so special. You'll have easy access to Lake Sunapee (naturally) and great mountains like Mt. Sunapee and Mt. Kearsarge, where you can hike, kayak, ski, zipline, swim, or fish.
The resort itself – with its gorgeous Adirondack-style architecture – offers more than just easy access to Sunapee. Aside from being within walking distance of Mount Sunapee State Park Beach, you can enjoy an on-site rustic tavern, indoor and outdoor pools, a full-service spa, and a fitness center.
Wentworth By the Sea
At Wentworth By the Sea, you'll be on island time. This luxurious, beachy resort is located in a really unique spot: the small island of New Castle, one of New Hampshire's oldest settlements. I've said it before and I'll say it again – NH may have the shortest coastline in the U.S., but we sure know how to make the most of our humble gifts!
When you stay at Wentworth, you can enjoy a luxury hotel experience without the astronomical price point. This 10,000-square-foot hotel has plenty of space for functions, business conferences, and weddings. Many of the rooms and villas have amazing ocean views too. Aside from that, they have a fitness center, full-service spa, indoor and outdoor pools, and restaurants that highlight New England cuisine.
Wentworth will also place you right by the Atlantic Ocean, with easy access to other amazing coastal gems like Portsmouth and Odiorne Point State Park. It's insanely easy to pop over to downtown Portsmouth, where you can take advantage of their nightlife scene, biking or walking tours, boating, and quality shopping opportunities.
Mill Falls at the Lake
Located in lovely Meredith, Mill Falls at the Lake is an excellent weekend destination in New Hampshire. In addition to the variety of room options – including luxury lakeside lodging – Mill Falls at the Lake is a four season resort that offers year round fun onsite.
You'll find guided activities like hikes and yoga, rentals for aqua cycles, kayaks, canoes, and stand up paddle boards, and even charter opportunities for pontoon boats! There are even complimentary bicycle rentals at this lovely NH resort.
Mill Falls at the Lake is just the stepping off point, of course, because there's much fun to be had in darling Meredith, like catching a show at the Winnipesaukee Playhouse or exploring the boutique shops and art exhibits in town. This is just a lovely spot for any kind of NH weekend away!
Loon Mountain Resort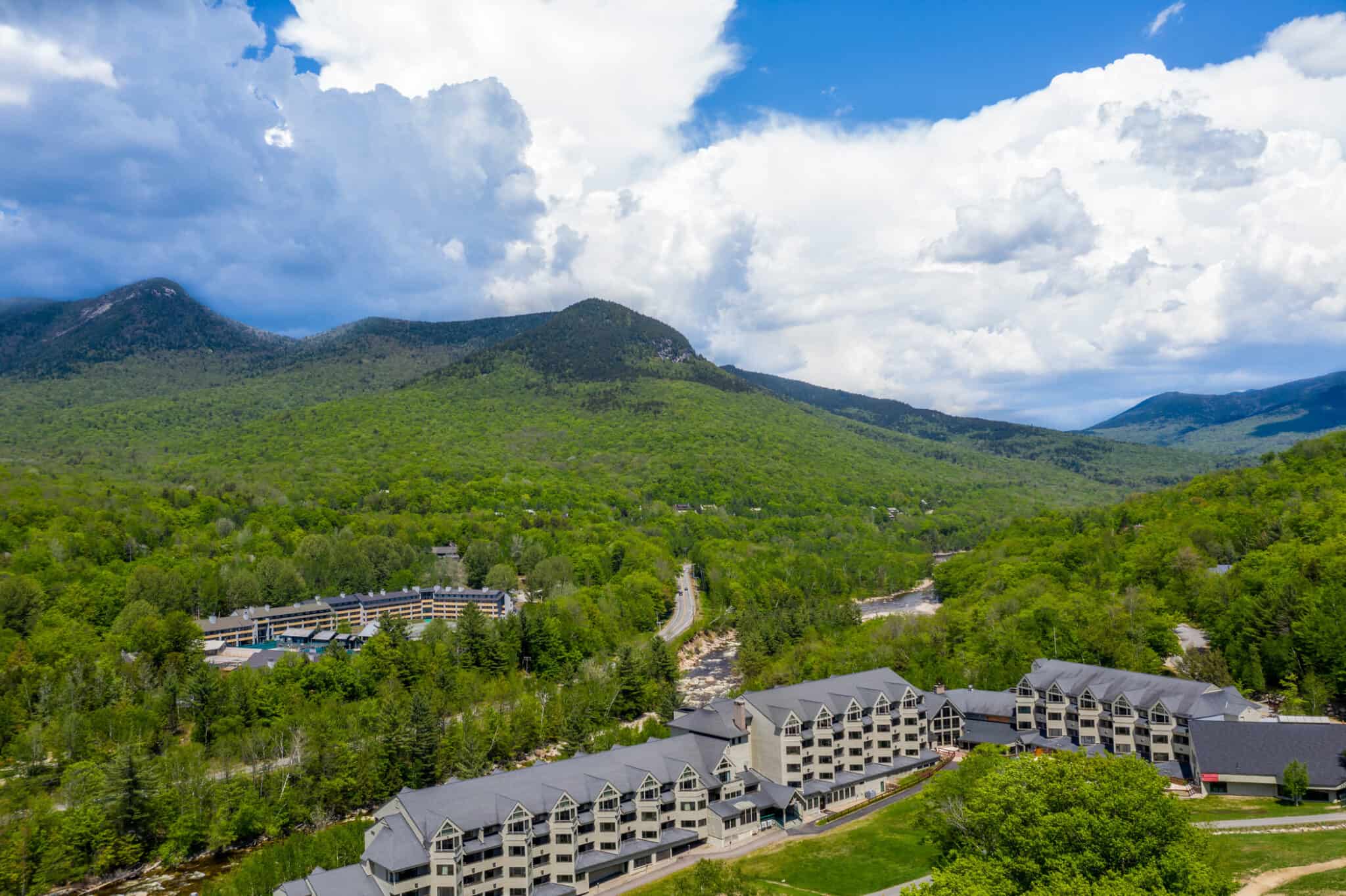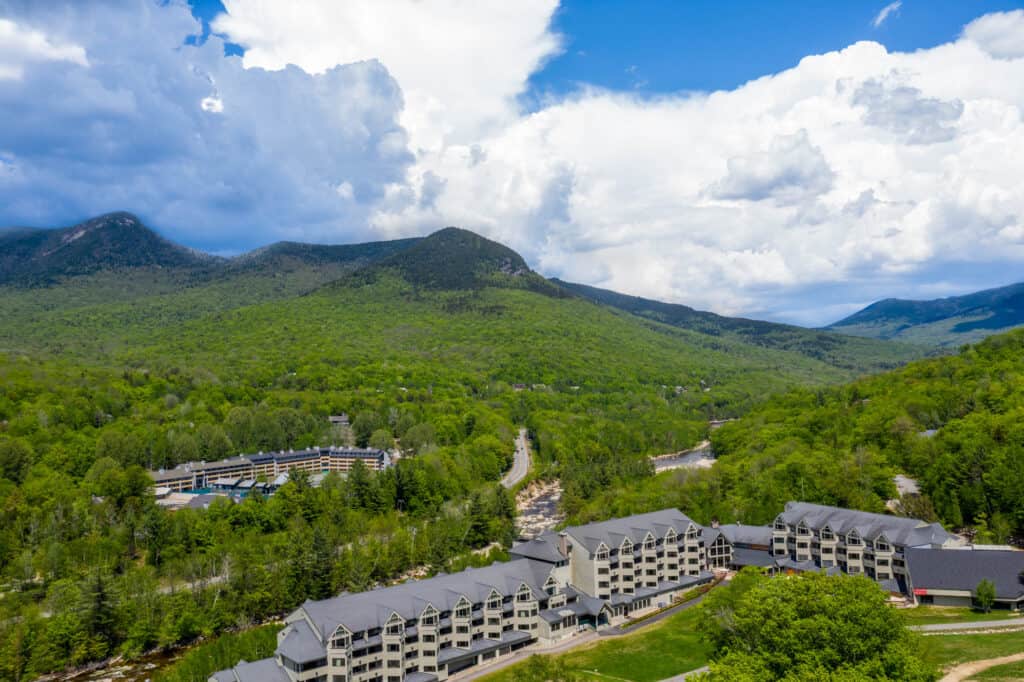 It's no mistake that we mention the White Mountains region over and over. This neck of the woods (no pun intended) is truly bursting with adventure and beauty! Loon Mountain Resort in Lincoln, smack dab in the middle of White Mountain National Forest, comes to life in wintertime.
Beginner and advanced skiers and snowboarders alike will have the time of their lives here. The ski area – located on 300 acres of land – consists of 4 peaks, 7 lifts, and 47 different trails. You can rent gear on-site, or take lessons if you're just starting out.
At Loon, you'll have a choice between various inns, lodges, and condos for your weekend getaway. B&B's, nordic-style chalets, modern condos, or affordable motels – the choice is yours. The resort offers shuttles to and from Loon Mountain, so you'll never have to worry about getting around either.
Saving the best for last, Loon Mountain is home to NH's longest gondola sky-ride! Take the 1.3-mile ascent to Loon Peak and be inspired by breathtaking White Mountains views.
Ashworth by the Sea
How about a weekend at Hampton Beach, NH? If you're interesting in a little New Hampshire beach vacation, check out Ashworth by the Sea to host it! Not only are there ocean view rooms (with balconies!) you can book, but the amenities and onsite offerings at this Hampton Beach hotel are fantastic for a weekend getaway.
With an indoor pool and multiple onsite restaurants – plus a rooftop bar and lounge – this is one of those New Hampshire hotels that you can truly make your home base. Not only is the beach right across the street, but there are so many other fantastic Hampton Beach things to do during your trip. There's Hampton Beach Casino and the Casino Ballroom for the adults, and the Palace Arcade and the Candy Corner for the kiddos, and the whole family will love the Blue Ocean Discovery Center!
Ashworth by the Sea is one of the best hotels in Hampton Beach, and it is a favorite for both couples and family trips in New Hampshire.
Eastern Slope Inn Resort
Mountaineers, outdoor adventurers, and seekers of quaint New England towns: rejoice! The Eastern Slope Inn Resort at the heart of North Conway Village is your dream come true. This four-season resort sits on 40 acres of land, and has that historical New England charm while also offering modern conveniences. Its architecture is reminiscent of an old presidential estate, but a closer look reveals a modern fitness center, inground swimming pools, room kitchenettes, a spa, outdoor grills, a playground, and even an ice rink with beautiful lights strung overhead.
Since this resort sits at the center of North Conway, you will be within walking distance of the most charming locally-owned shops, restaurants, cafes, and parks in the village. Not to mention, North Conway is the perfect basecamp for all the best outdoor adventures in the White Mountains. Go hiking along the Presidential Range, zipline with Alpine Adventures in Lincoln, or take a scenic drive down the Kancamagus Highway in the fall.
Hanover Inn Dartmouth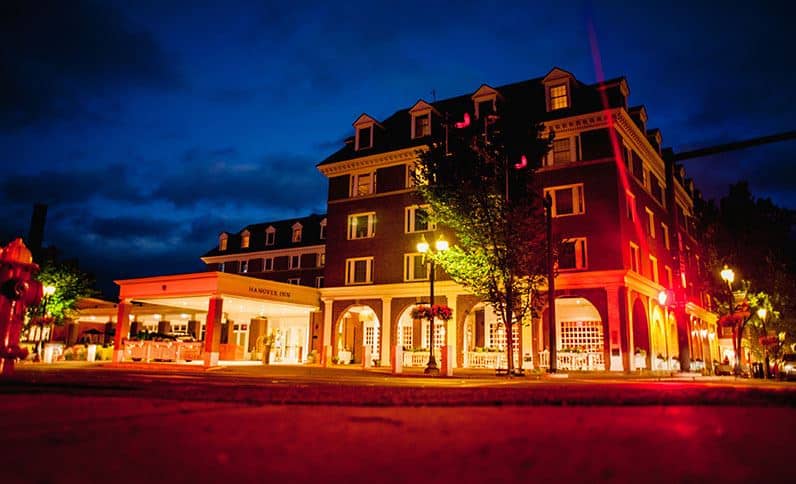 Let's talk about an underrated region of NH for a minute: the Upper Valley. This collection of small towns by the Connecticut River, along the border of NH and VT, is little-known, and very special. Perhaps the fact that it is so little-known is what creates its magic; regardless, it's got a lot going for it. The heart and soul of the Upper Valley is in the town of Hanover, the charming home of Dartmouth College.
For a weekend getaway in Hanover, and the surrounding goldmine of the Upper Valley, the Hanover Inn is second to none. Located downtown next to the Dartmouth campus, the Hanover Inn is a gorgeous, historical hotel that has been operating since 1813. It's designed to be a stylish, boutique hotel that still manages to provide a cozy, right-at-home feeling (get excited for their complimentary freshly baked cookies!).
When you stay at the Inn, you'll be next door to the Hood Museum of Art and right on South Main Street, which is lined with multiple restaurants, cafes, and name-brand clothing stores. You can walk to everything, explore the Dartmouth campus, and lounge on the large grassy quad right outside your front door. And a stay at the Hanover Inn isn't complete without a dinner at its attached fine dining restaurant, Pine. The food is so fresh and locally sourced, keeping in line with Hanover Inn's commitment to being an eco-friendly hotel.
Wolfeboro Inn
Looking for small town charm in your New Hampshire weekend trip? Look no further than Wolfeboro Inn, one of the cutest inns in the state! Situated on beautiful Lake Winnipesaukee, this is a lakefront inn experience that can put any vacation over the top, especially if you visit in the summer.
Choose between the comfy cozy rooms of the inn or splurge on one of the spacious suites, either way, Wolfeboro Inn knows how to host! Wolfe's Tavern, the onsite pub, is one of the top spots in Wolfeboro for dinner and drinks, but its Main Street location means you're also within easy walking distance to great local shops, restaurants, and fun Wolfeboro things to do!
Of course, splashing around in the lake or kicking back on one of the local beaches is an obvious during the warm weather months, but there's also museums and art galleries to be explored in town and hiking and horseback riding a little further out. Basically, a Wolfeboro NH weekend getaway has a little something for everyone!
Waterville Valley Resort
Can't get enough of skiing in the White Mountains? I don't blame you. We've got some great peaks to shred, not to mention the White Mountain National Forest is a serene escape from the daily grind of city living. Waterville Valley Resort in Waterville is a fantastic spot for boarding and skiing. You can choose from a wide variety of lodgings, such as the Silver Fox Inn, Black Bear Lodge, or the Valley Inn, each with their own unique benefits.
Waterville Valley is its own planet. Right in Town Square, there are a variety of restaurants, nightlife opportunities, and shopping for anything from toys and books, to art and outdoor gear. And let's not forget the skiing and snowboarding opportunities on Mount Tecumseh. This mountain is one of NH's 4,000-footers, and is also really fun to hike in the summer! The resort also offers gear rentals and lessons in the winter, so whether you're advanced or just starting out, Waterville Valley has what you need.
There are so many quick New Hampshire vacations you can take that will fit the bill for couples, families, and solo travelers alike. Whether you're looking for coastal views, mountain playtime, or city fun, there are New Hampshire weekend getaways on this list that will be perfect for you!
---
You might also like:
35 Things New Hampshire is Known For
---