*Links in this article may be affiliate links, from which we may earn commission. See our Privacy Policy for full details.
---
One of the most interesting places to visit in all of New England is Salem, Massachusetts.
Known primarily for its 1690s witch trials, the town has an infamous and fascinating history. But it's more than just a historic spot with a dark past. Today, Salem attracts hundreds of thousands of visitors each year. And there are lots of things to do in Salem, MA.
While you may visit Salem in the fall months (the Haunted Happenings of October are incredibly popular) the main attractions are available all year round. No matter when you travel to Salem, we recommend these as the top 10 Salem things to do.
Visit the Salem Witch Museum
One of the most well known of Salem's tourist attractions, the Salem Witch Museum is worth a visit. While some might find parts of the experience slightly corny, I personally feel that it is a great way to bring the story of Salem to life.
The first part of the museum tour is sort of a performance. You are shown into a large theatrical-type space and seated in the center with many other guests. Once everyone is seated, you are shown a presentation that lasts approximately 20 minutes. This is a masterful and even a bit frightening (young kids may not enjoy this) storytelling operation that shares a dramatization of the 1692 witch trials through a combination of tableaus, dramatic lighting, and spine-tingling narration.
Following the presentation, you enter the modern witch museum, which examines the way witches have been viewed throughout history. With knowledgeable and entertaining guides, it's a good way to cap off your visit.
Click here to buy your ticket to the Salem Witch Museum in advance and avoid the line!
Visit the Witch House
If you're not into the Witch Museum, you might be a huge fan of the Salem Witch House.  This place is authentic, historic, and feels a bit spooky.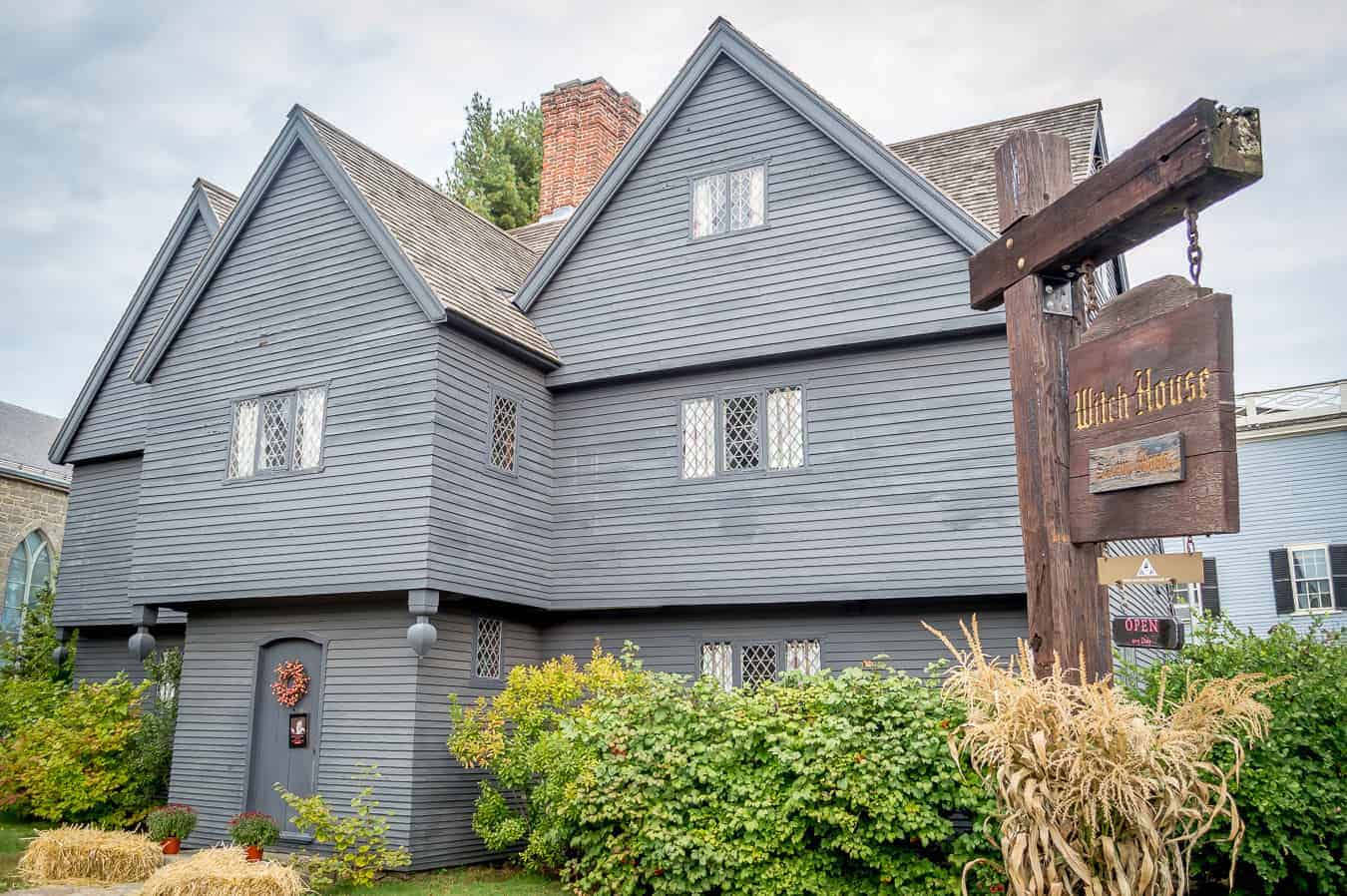 Once home to Judge Jonathan Corwin, the house is a great place to get a historic overview of the witch trials. You'll also feel that you've stepped back in time with the historic items and setting inside the old house.
Though Salem is full of history, this building is unique in that it is the only still-standing structure with direct ties to the witch trials.
Step Into the House of the Seven Gables
So you like historic houses, eh? Be sure to stop by the House of the Seven Gables, a structure intimately connected with author Nathaniel Hawthorne. The house is absolutely worth a visit, even if your interests are not literary.
Through a guided tour, you'll learn more about the history of the house (including how it architecturally evolved over the years). The best part of all? You get to climb up a secret passageway, a hidden staircase in the walls.
Take a Walking Tour of Salem (Historic or Ghostly!)
Salem has such a rich, dark history. To make the most of your experience, we highly suggest embarking on a walking tour of Salem, Massachusetts. There are lots to choose from, whether you're interested in straight history or the ghostly lore of the area.
One of the most highly-rated Salem tours is this 2-Hour Salem History Walking Tour. An experienced local guide takes you to all of Salem's most iconic sites , such as Hamilton Hall, the Salem Witch Trials Memorial, and the Burying Point.
Want to go deeper into the witch trials? The Salem: History & Witchcraft Day Tour is more focused on the trials. Not only will you visit important sites, but you will hear the stories of the accused witches from your local guide.
With its dark past,  it's no surprise that Salem has a ghostly history.
To learn more about the local haunts, join in on one of many Salem ghost tours.The city is bursting with them! Some to check out include the Salem Voodoo Vampires and Ghosts Tour, the adults only (16+) Mysteries and Murders Walking Tour, and the well-reviewed Haunted Footsteps Ghost Tour.
Wander through the Old Burying Point Cemetery
With some notable figures buried here (including accused witch Martha Corey), it is worth it to spend some time exploring the very, very old graves here in the Old Burying Point Cemetery.
Witchcraft judge John Hathorne is also buried here. Hathorne was known for being a harsh and perhaps not always impartial member of the justice system. Though Hathorne never expressed regret later in life for the outcome of the trials, his descendants seemed to have purposefully distanced themselves from the family name. This includes his famous literary great-grandson, Nathaniel, who added one letter to his surname to become Nathaniel Hawthorne.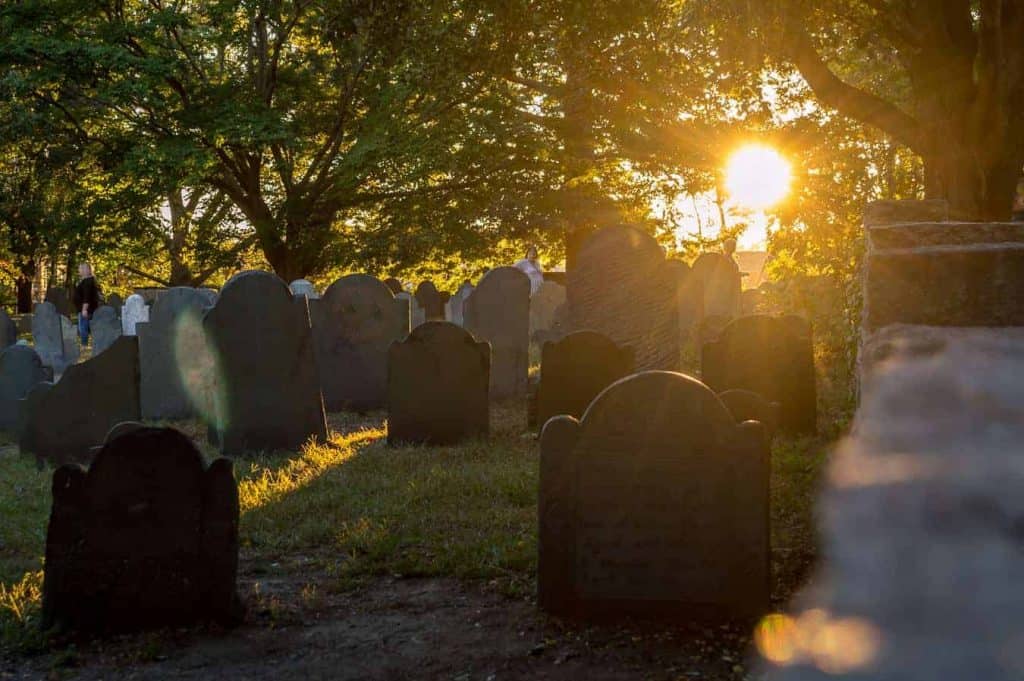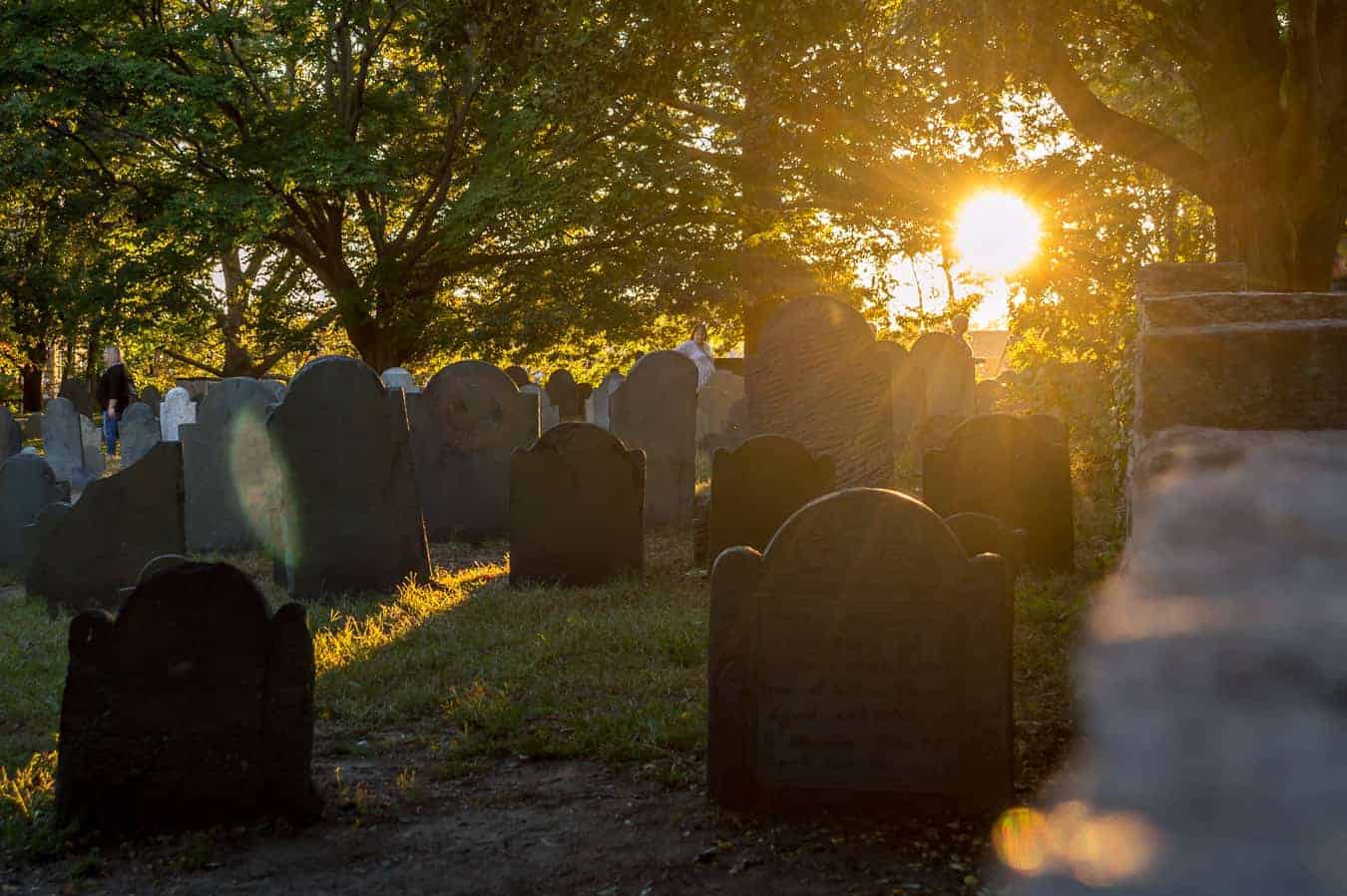 Go Shopping along Essex Street and Washington Street
Along these main thoroughfares in Salem, you will find the coolest shops to browse in. There is a large community of modern-day witches and spiritualists in Salem and there are stores filled with magical wares. Among these treasures, you'll also find other shopping of all kinds, including gourmet food stores, clothing boutiques, and more.
This is also an excellent place for people watching, or you also may end up in a live performance from one of the nearby historic attractions.
Explore the Schooner Friendship
With the heavy emphasis on the Witch Trials, it can be easy to forget other aspects of Salem's history. Spending time at the waterfront reminds us that Salem was once an important port city.
Often docked at historic Derby Wharf is the Friendship, a replica of a three-masted, square-rigged "East Indiaman" from 1797. This type of merchant ship was used frequently in the late 1700s. When the ship is docked, you can often go on board and explore this unique vessel.
Stop by the Salem Witch Trials Memorial
Just next to the Burial Point you will find the Salem Witch Trials Memorial. This is a simple stone memorial that was created in 1992 to memorialize the victims of the trials.
The witch hysteria saw 20 people executed. Here, they can be remembered, with stone benches carved with each victim's name. There are often flowers and other items set upon the stones. It's a somber and quiet spot.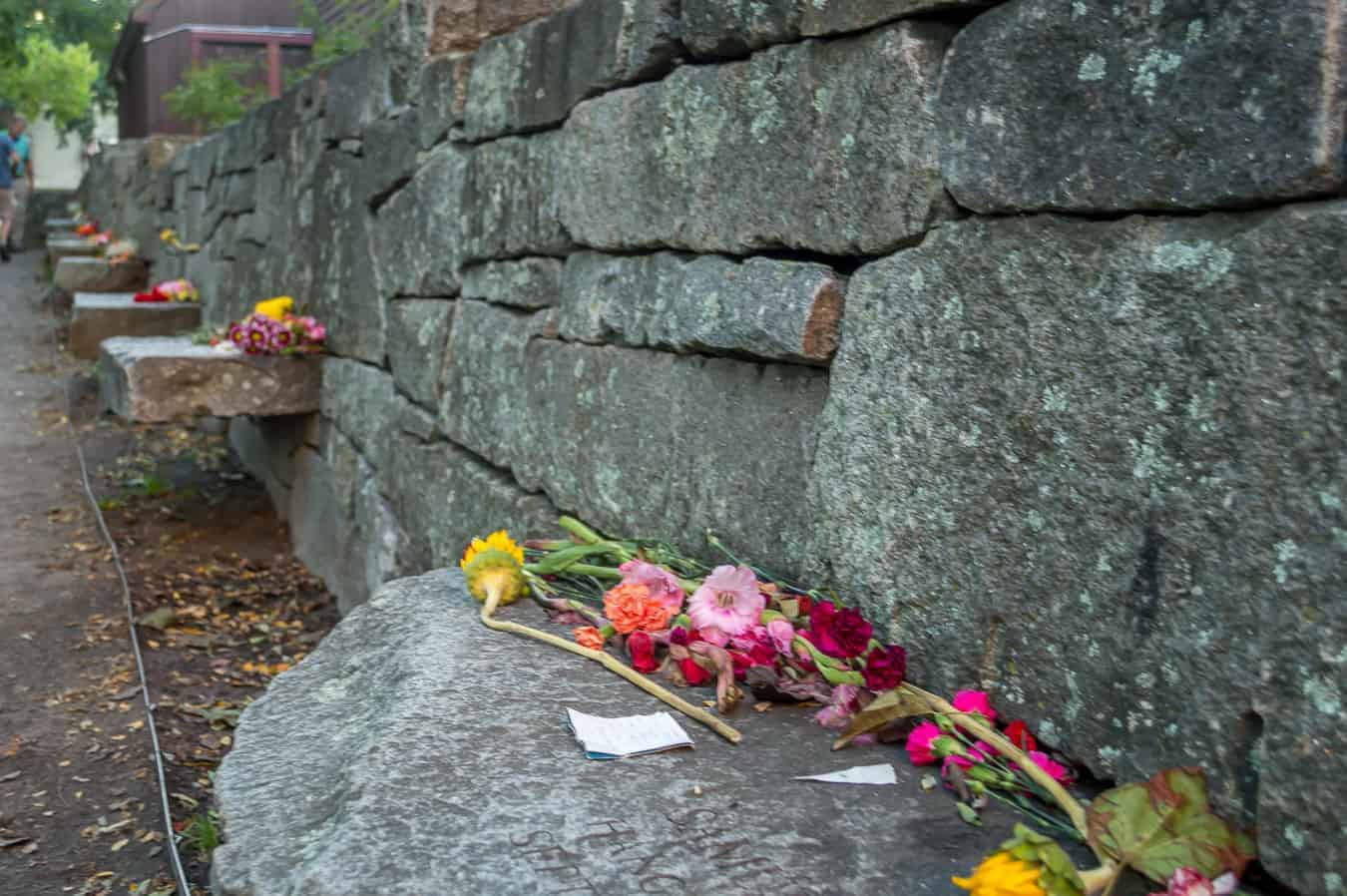 Stay the Night in a Haunted Inn
Do you want the true Salem experience? Many people believe this means that you need to stay in an inn or hotel with a history of paranormal activity. It's not my cup of tea, but the choice is yours!
Unsurprisingly, there are many hotels in Salem, MA that are said to be haunted. Want a list of some of the best options? Check out this post on Where to Stay in Salem MA, including a whole array of potentially haunted properties.
Check out sites from the film Hocus Pocus
Are you a child of the 90's? Chances are you grew up watching Hocus Pocus, a classic Halloween film set in Salem starring Bette Midler. There are several local spots that were part of the filming and they are easy to find. Note: these spots are scenic and historic even if you're not a big fan of the movie.
Here is an entire guide on the Hocus Pocus sites in Salem so you can find them all.
---
There are so many things to do in Salem, MA to discover its mystery and magic. If you want to be even better prepared for your visit, check out our suggested resources below.
Suggested Reading:
The Witches: Suspicion, Betrayal, and Hysteria in 1692 Salem
In the Devil's Snare: The Salem Witchcraft Crisis of 1692
The Crucible: A Play in Four Acts
---
Pin me to save for later!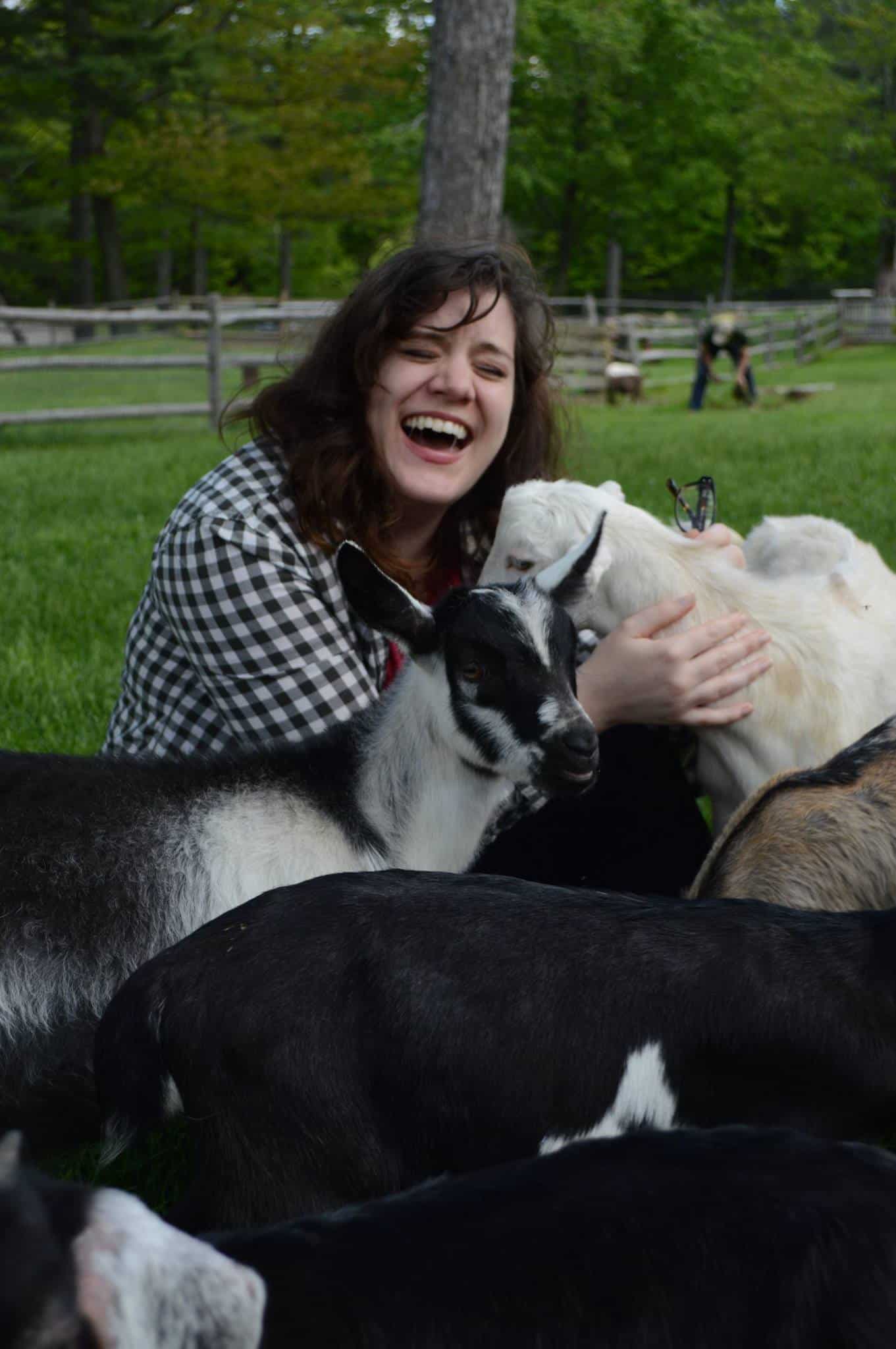 Amy is the founder of New England with love. A proud Vermonter, she hopes to share her love of New England and help you find the best adventures in the region. Amy is also blogger/founder at Two Drifters, where she blogs alongside her husband about romantic and couples travel, relationships, honeymoons, and more. When not working on websites, Amy is probably reading, cuddling her husband, & drinking a maple latte.