We all know Salem, Massachusetts is one of the top fall destinations in New England, but some of the most popular attractions and tours are not as kid friendly as others.
If you're planning a family trip with younger kiddos, we can help point you in the direction of the top things to do in Salem MA with kids. Salem has plenty of great family friendly fun!
These are some of our favorite Salem things to do that are kid friendly, for kids of all ages. Let the family vacation in Salem begin!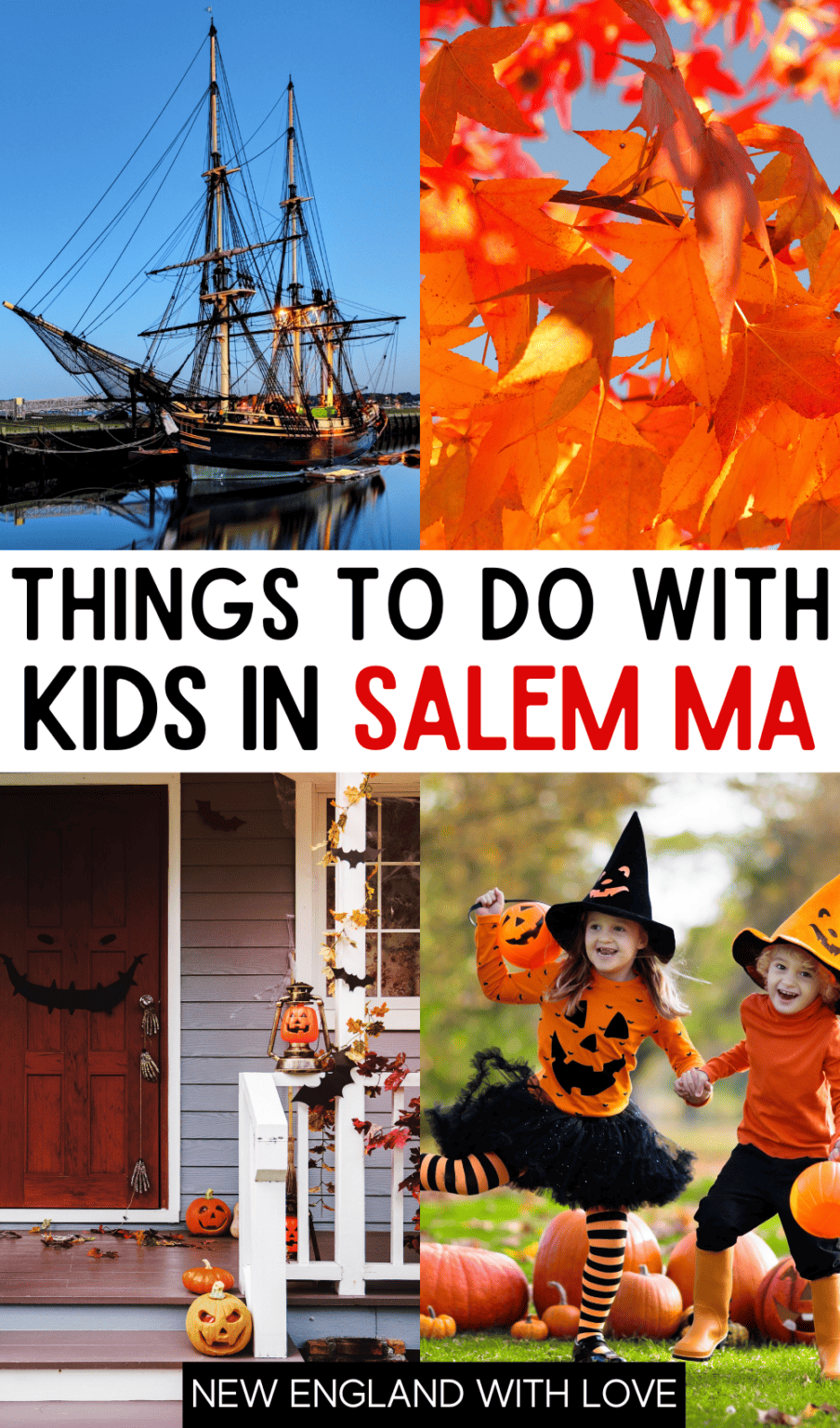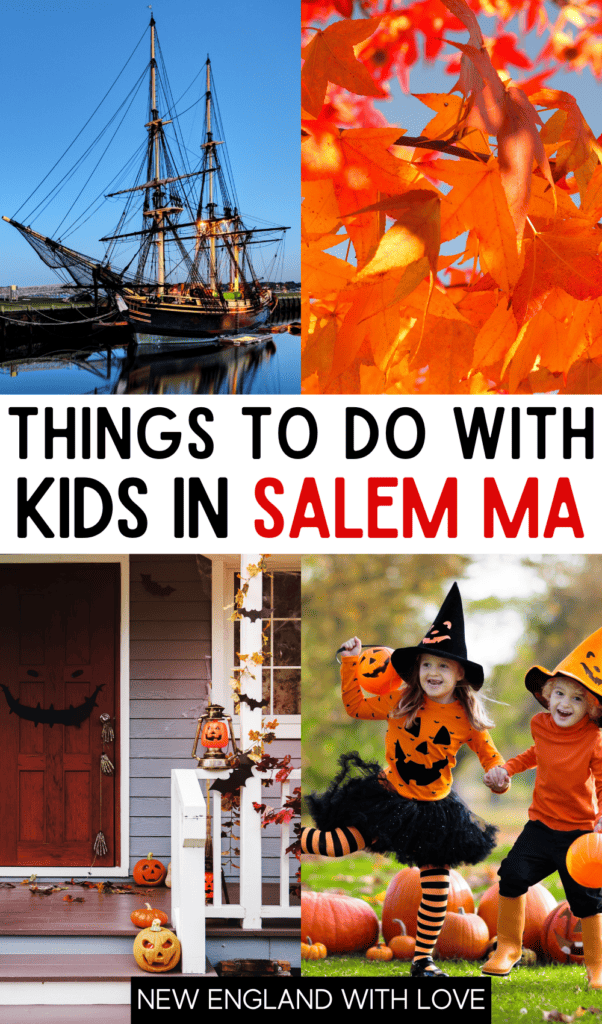 Things to Do in Salem MA with Kids
Salem Willows Park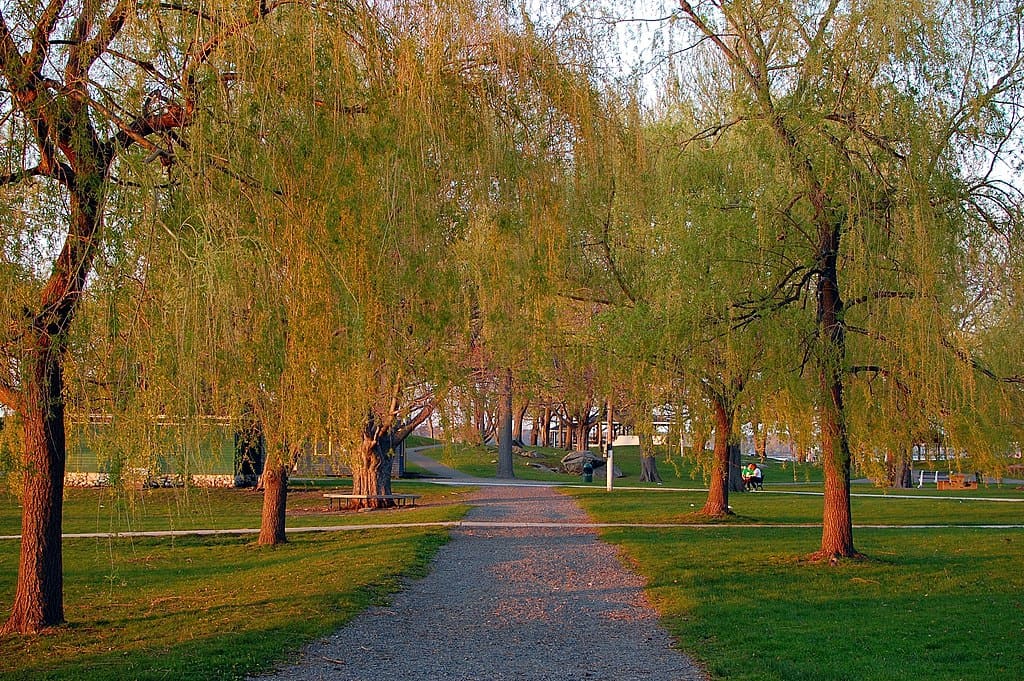 This 35-acre park in Salem is more than just a great greenspace by the water. It's also home to a dedicated kiddieland.
Kiddieland at Salem Willows Park is pretty cool, too, with bumper cars, water boats, even a working historic carousel that dates all the way back to 1905!
Rides at Kiddieland are mostly geared towards the toddler to elementary age group, but there's lots more family fun to be found at Salem Willow Park, including the Salem Willows arcades where you can enjoy classic arcade games like Pac Man and Galaga!
There are three beaches to splash around in (but wear water shoes, it's rocky) and there are no lifeguards, so be aware of that.
Most people like to enjoy the waterfront scenery at Salem Willows Park by walking the trails and grabbing a meal from one of the eateries onsite to enjoy while taking in that ocean view.
There's also a band shell and performance area that often hosts live music and other acts, so this is just a fun place to head with the family in Salem!
Take Witch Pix
Getting Witch Pix taken is such a cute and unique Salem thing to do with family! We always need more family pictures, right?
Well, might as well get some Salem themed pics where the whole family is dolled up in witch attire!
They have sizes from infant to 4X, so there's something for everyone in the wardrobe over at Witch Pix.
Salem Common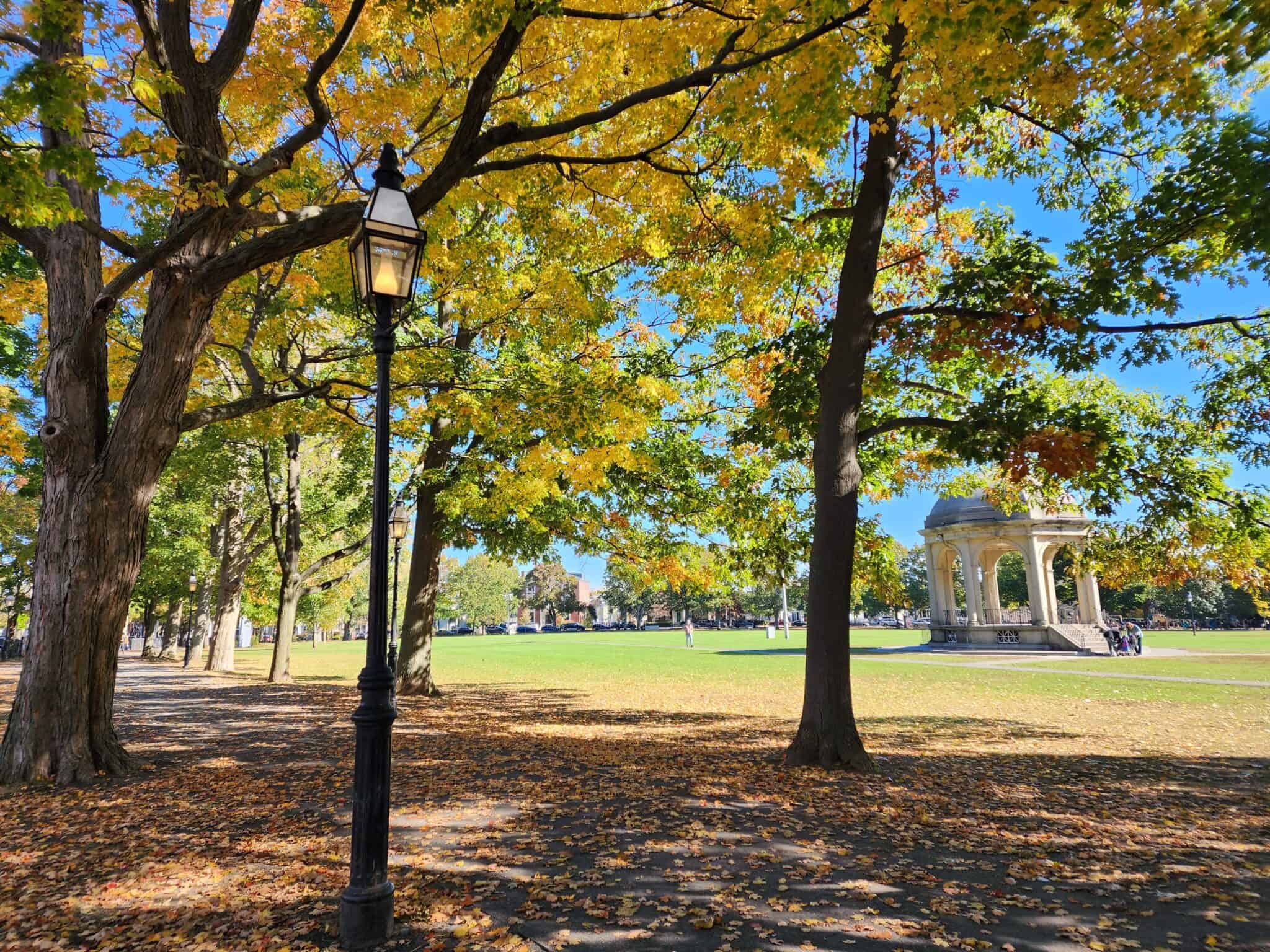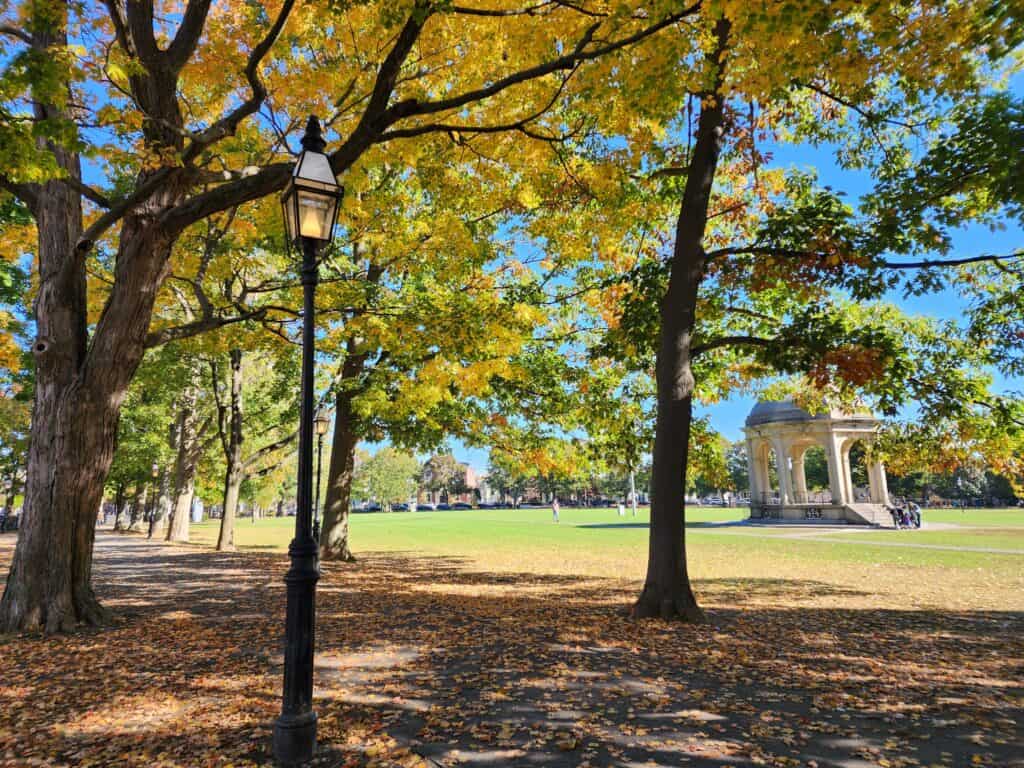 Looking for a nice space where the kids can run around and get some of their energy out before hitting the tightly packed Salem streets again?
Check out Salem Common, 8 acres of beautiful greenspace that's perfect for letting the kids be kids for a bit. There's even a nice playground near where Washington and Boardman meet.
Book Kid Friendly Salem Tours
Of course, there are many walking tours in Salem, including very scary ghost tours, and most are probably not appropriate for kids. Some even expressly forbid guests under a certain age.
However, there are Salem tours for kids that offer age-appropriate historical info and the chance for the kids to get in on the spooky fun of Salem, too!
Consider one of these highly rated kid-friendly Salem tours:
Salem Kids Slightly Spooky Tour
Open to kids age 6 and up, this spooky ghost tour for kids isn't really so much spooky as it is educational! Ghost stories are told in an age-appropriate fashion, and word on the street is that the tour guides are excellent at keeping things succinct and friendly for little ears and attention span.
With a total of six stops over one hour, it should be manageable for little legs, too! You'll see popular Salem attractions like Witch House, Salem Athenaeum, Ropes Mansion and Garden, and Broad Street Ceremony.
This is a great Salem ghost tour for kids because it lets them in on the spooky fun while not instilling nightmare fuel for years to come.
Salem Kids Walking History Tour
Looking for a Salem kids tour that doesn't get into the spooky stuff? This walking tour for kids might be just perfect for that!
You'll get to see some of Salem's most interesting spots like the Bewitched statue and Salem Old Town Hall, and learn all about how some notable features in media have transformed this tourist town over the years.
New England Pirate Museum
The whole family will love the historic adventure that awaits at New England Pirate Museum! Salem's long history as an important seaport lends itself well to the telling of pirate stories, and you'll even have a chance to see authentic pirate treasures.
Learn about infamous pirates like Captain Kidd and ol Blackbeard, himself! This is a fun Salem museum experience that is sure to keep the whole family engaged.
The Salem Witch Museum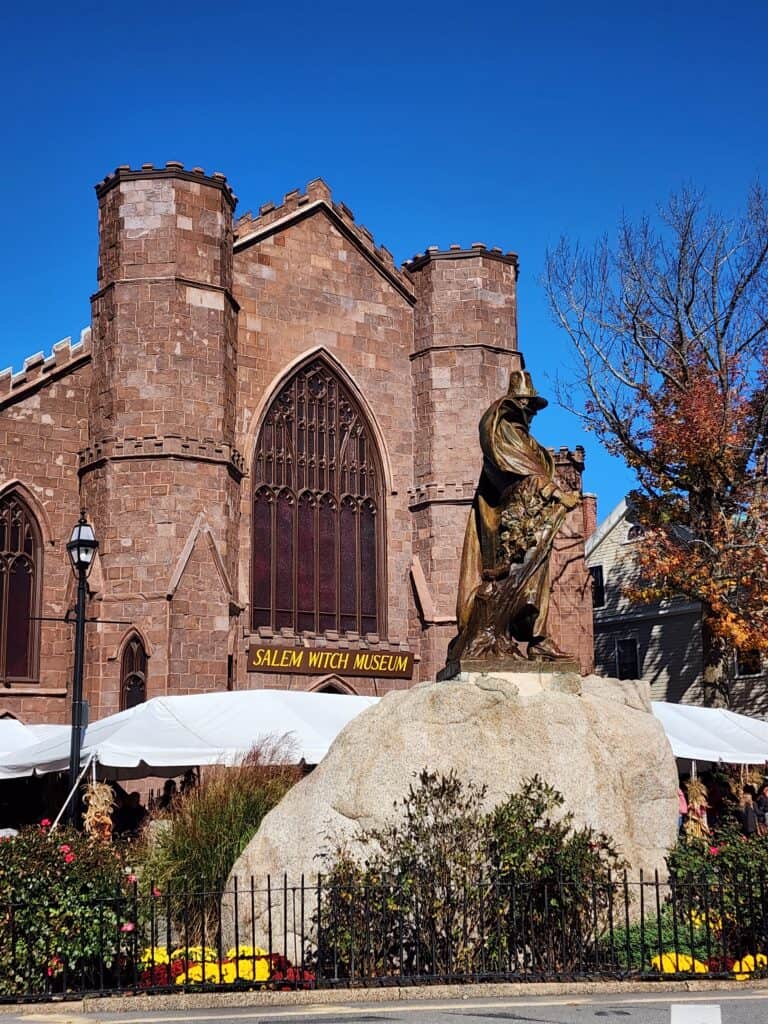 The Salem Witch Museum is one of the best and most popular things to do in Salem, but it's probably not appropriate for most little ones or those who are highly sensitive.
Obviously, you know your kids best and whether they can handle it or not, but it begins with a very dramatic presentation that lasts approximately 20 minutes right off the bat that younger kids would likely find a bit frightening.
For those that can handle it? Heck yeah, add this to your things to do in Salem MA with kids list ASAP!
The Good Witch of Salem
Have you heard of the Good Witch of Salem? This absolutely darling shop is perfect for families traveling with younger kids, especially those who may not be quite ready yet for the spookier side of Salem.
Sign your kiddo up for one of their hands on experiences, like earning a potion making certificate!
They've got Dragon Magic Potion Brewing, Dinosaur Slime Making, DIY Dancing Bubble Lava Lamp, Bubbling Wizard Cauldron, and more for your little ones to choose from.
This is such a cute shop, too! Be prepared for the onslaught of bright colors that greet you as you walk in, a fairly sharp contrast to most of the other witch-themed shops in Salem.
Bewitched Statue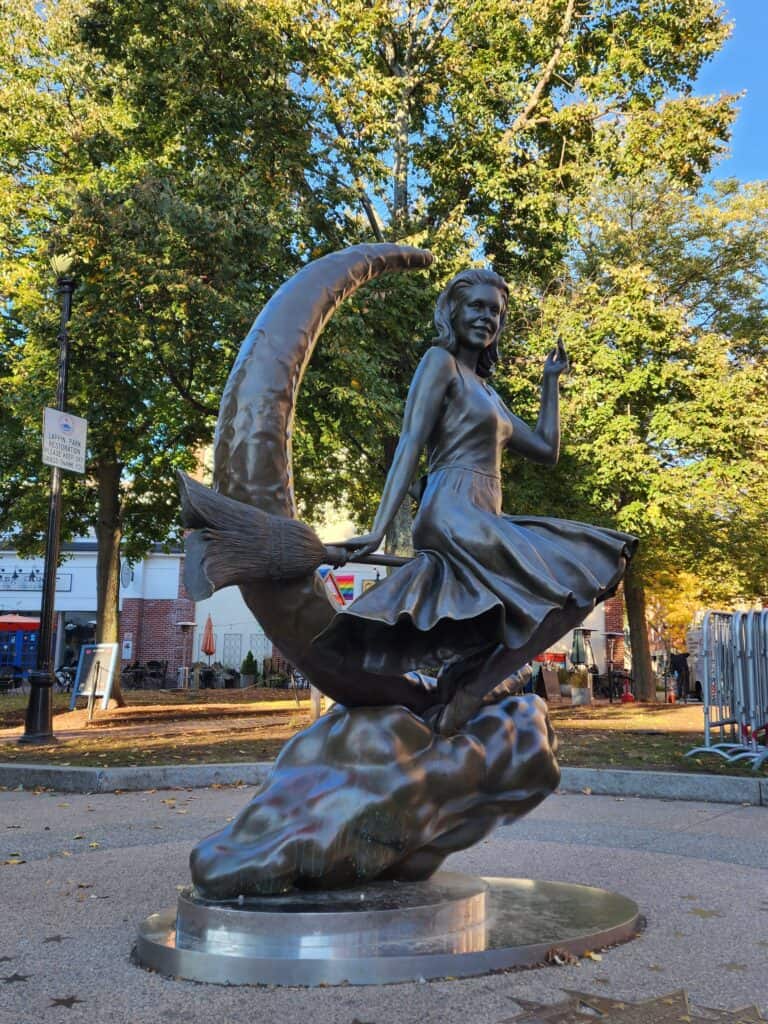 A visit to the Bewitched statue is sort of unavoidable due to its central Salem location, but shouldn't be glossed over!
In fact, I think a selfie or group photo next to this important Salem landmark might be mandatory, now? Otherwise, did you even see Salem, bro?
Salem Wax Museum & Frankenstein's Castle
The Salem Wax Museum offers a 3d peek at Salem history, and it's a fairly quick experience. Some people make it through in under 10 minutes!
For older kids, there is a "dungeon" below where Frankenstein's Castle can be found, with animatronics and live actors. Frankenstein's Castle is definitely not for the younger crowd!
PS this is also located in Salem Witch Village, and you can typically buy tours that combine the Salem Wax Museum with an audio guided tour of the Salem Witch Village!
Peabody Essex Museum
At the Peabody Essex Museum, kids 16 and under get in free! Not only is this a great cultural experience in Salem, but it's a cost-effective family activity, too.
There are strollers available on loan for the younger set, and the Dotty Brown Art & Nature Center on the ground floor is a lovely interactive, family-friendly space.
There's also an onsite cafe if you need to grab a quick bite while exploring this lovely Salem museum. That's always a bonus when traveling with younger kids who can get hangry on a dime!
Privateer Schooner Sailing Tour in Salem Sound
Ever wondered what it would be like to take to the high seas? Well, now you can!
This Privateer Schooner Sailing Tour in Salem Sound is one of those family activities that can keep pretty much all ages interested in engaged, and anyone who has a wide age range of kids knows how difficult that can be.
This is one that is likely to sell out, so plan ahead and book in advance as far as you can.
Salem Trolley Tours
Who doesn't love a ride on a trolley? Salem Trolley Tours run from April 1st to November 1st and are an excellent way to see some of the top attractions in Salem.
This one hour narrated tour is not hop on/hop off as of this writing, but you get to learn about and see spots like the Salem Witch Museum, House of the Seven Gables, the historic waterfront area, and more.
Pioneer Village
The Pioneer Village is a living history museum that is ideal for families, especially those looking to experience historical Salem without the heavy handed haunted history.
Pioneer Village is only open on the weekends June through October, so plan accordingly. You'll find thatched roof cottages, medicinal gardens, a blacksmith shop, and more as you make your way around this interesting living history museum!
The Witch Dungeon Museum
You can see a live action reenactment of the infamous Salem Witch Trials in the Witch Dungeon Museum, but it can be a bit heavy for the younger crowd. Consider the temperament of your kids before you sign up for this one, but if they're up for it, it's a very honest look at what the trials may have been like.
Salem Maritime National Historic Site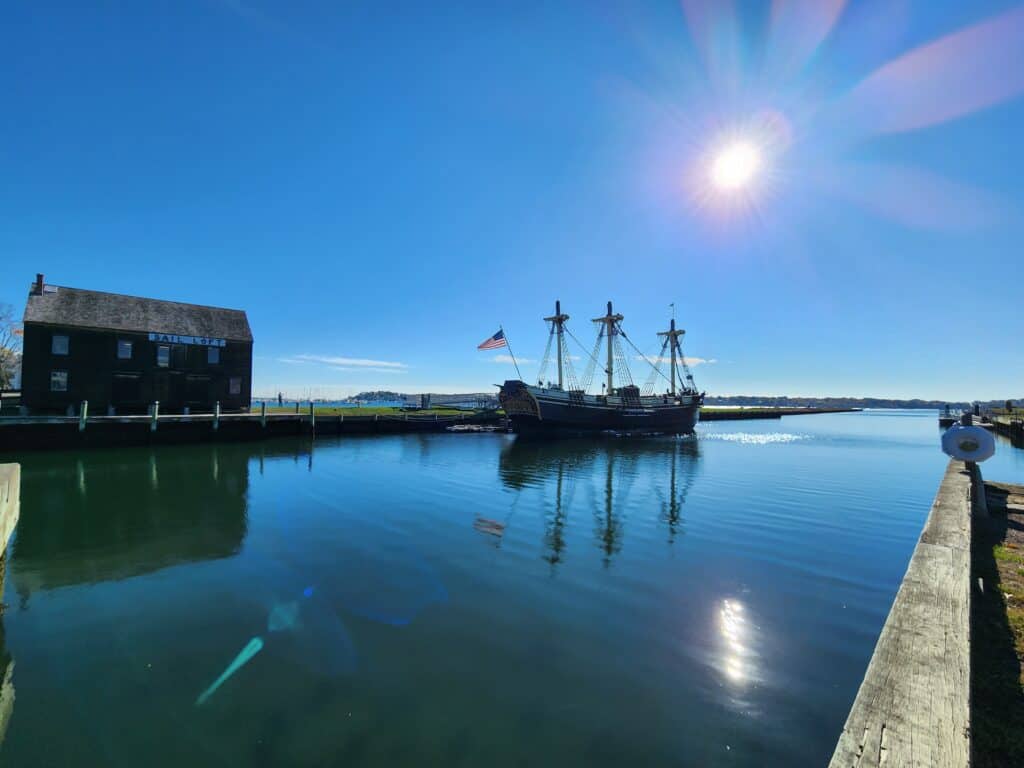 The Salem Maritime National Historic Site is a definite must visit for families in Salem, as one of America's most influential early ports.
You'll find historic attractions like the vessel Friendship, the perfect way to bring history to life for the kids!
Tales of Salem Candyland Tour
Salem has become one of the most popular Halloween destinations in the country. Halloween is a pretty candy centric holiday, so doesn't it seem like a Tales of Salem Candyland Tour could be pretty on brand in this witchy town?
You'll meet at Ye Olde Pepper Companie, the oldest candy company in the US, and you'll get to learn about the history of candy in Salem and beyond!
Jonathan Corwin House aka The Witch House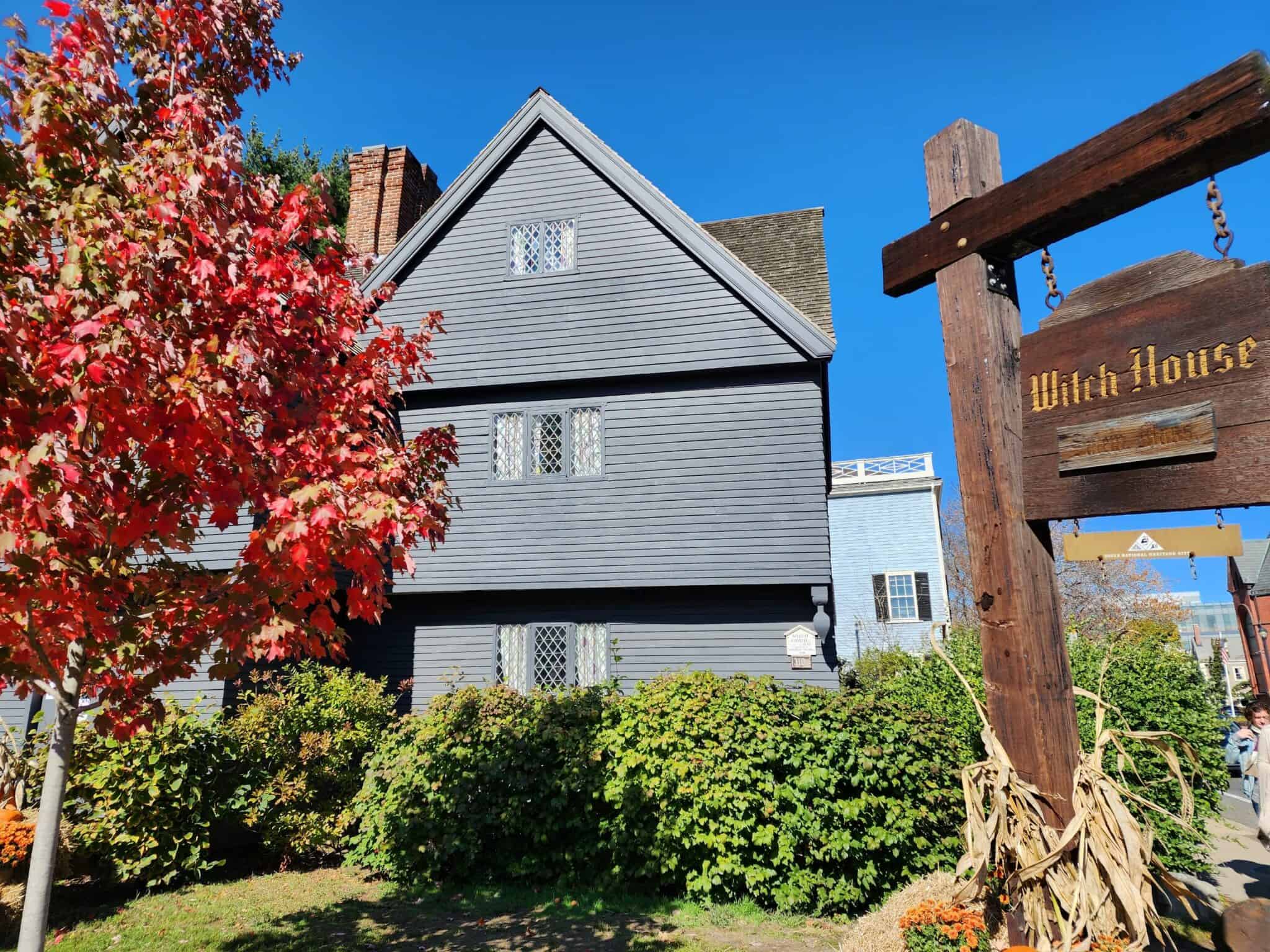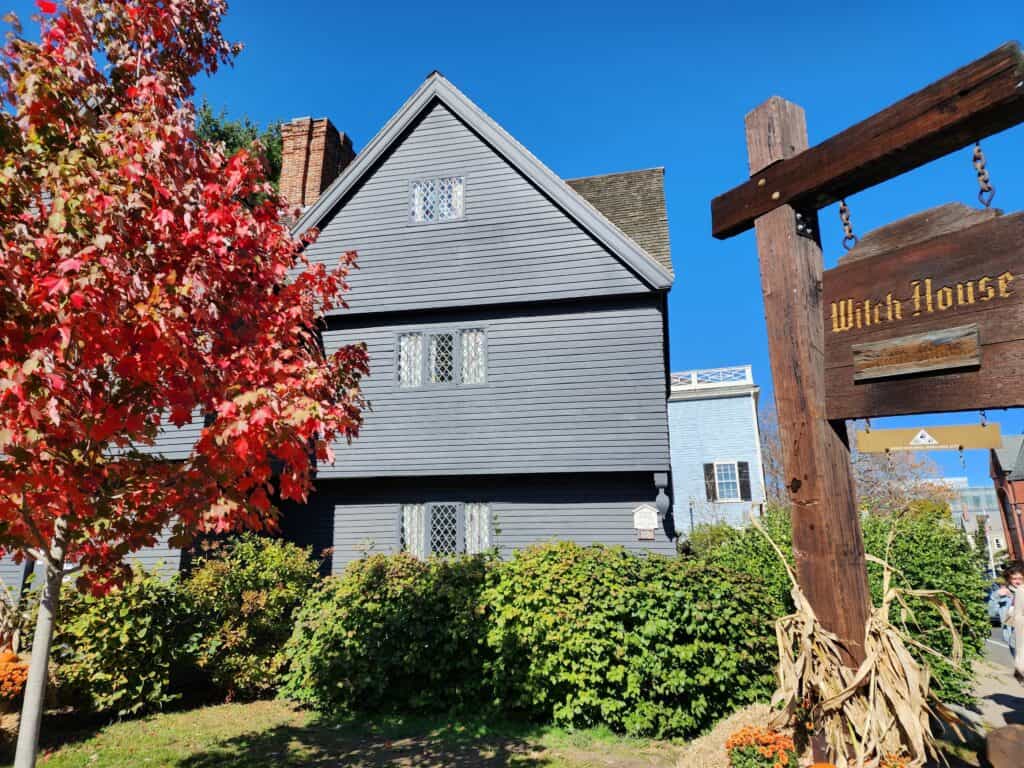 Judge Jonathan Corwin was one of the judges who signed the arrest warrants for the poor souls accused of witchcraft during the infamous Witch Trials, and this was his Salem home.
Today, it is The Witch House, a museum that is considered one of the most haunted places in Salem!
While you may or may not experience paranormal activity while making your way through the Jonathan Corwin House, you will certainly learn some interesting information about this period of Salem's history.
Punto Urban Art Museum
This is such a fun and unique outdoor activity in Salem! Take the family to the "El Punto" neighborhood, where you can view over 75 large and colorful murals spread out over a three block radius.
To call the Punto Urban Art Museum visually impressive is an understatement! If you're looking for free things to do with kids in Salem MA, this absolutely hits the mark.
Pirates and Privateers Walking Tour
Is your family interested in pirates? The Pirates and Privateers Walking Tour is designed for the older kids – and their adults! – who find maritime and pirate history fascinating.
You'll get to see some of the most popular spots in Salem, including Real Pirates Salem with authentic artifacts from the Whydah Shipwreck. They'll even let you touch the pirate treasure!
Click Here to Skip the Walking Tour and Go Straight to the Treasure!
House of the Seven Gables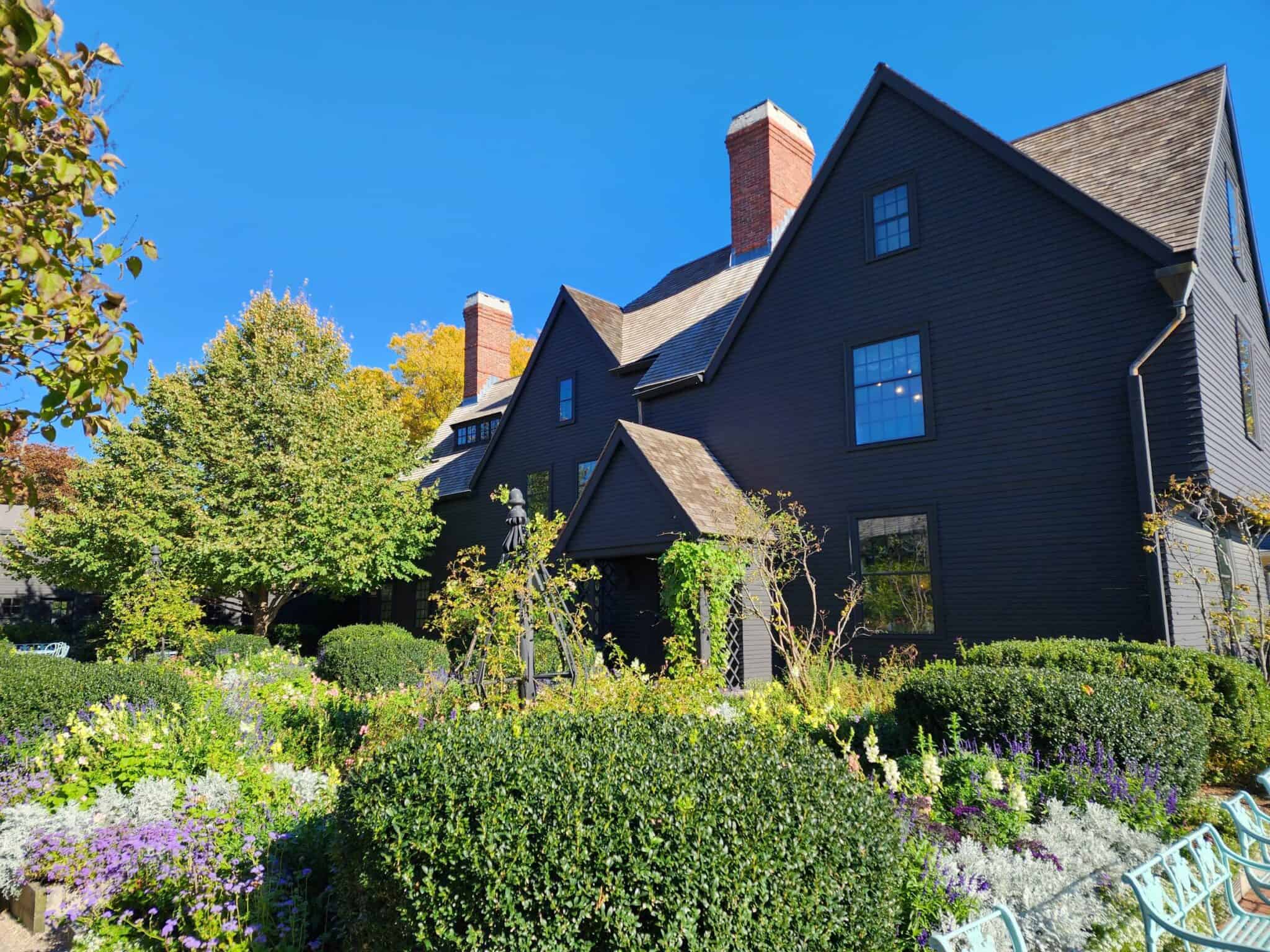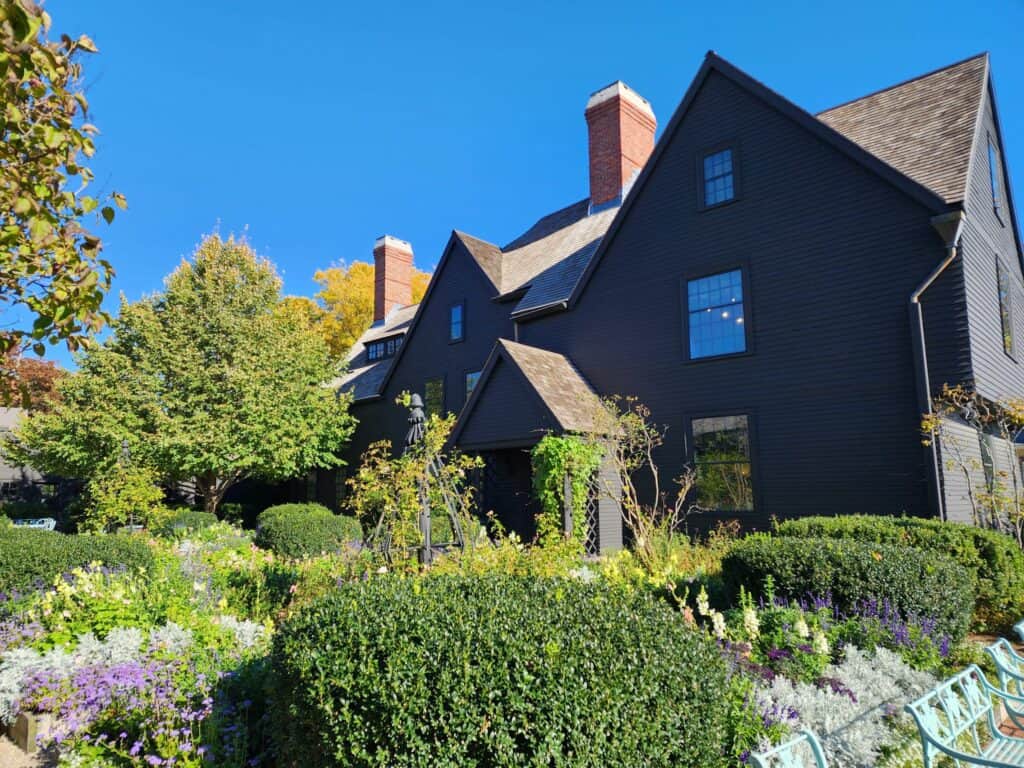 House of the Seven Gables, or the Turner-Ingersoll Mansion, is known for being the inspiration for Nathaniel Hawthorne's novel of the same name, and while toddlers and preschoolers probably won't find this one very interesting, the older kids will!
House of the Seven Gables events like Hands On History in the summer give the younger crowds a great opportunity to explore colonial life with hands on activities!
Castle Creek Adventure Land
Castle Creek Adventure Land is home to a fun putting course, go karts, and everyone's favorite local ice cream, Richardson's!
Play a round of mini golf, ride the golf carts, and of course, get a scoop or two of the creamy goodness that is Richardson's Ice Cream – yum!
Tour the Hocus Pocus Filming Locations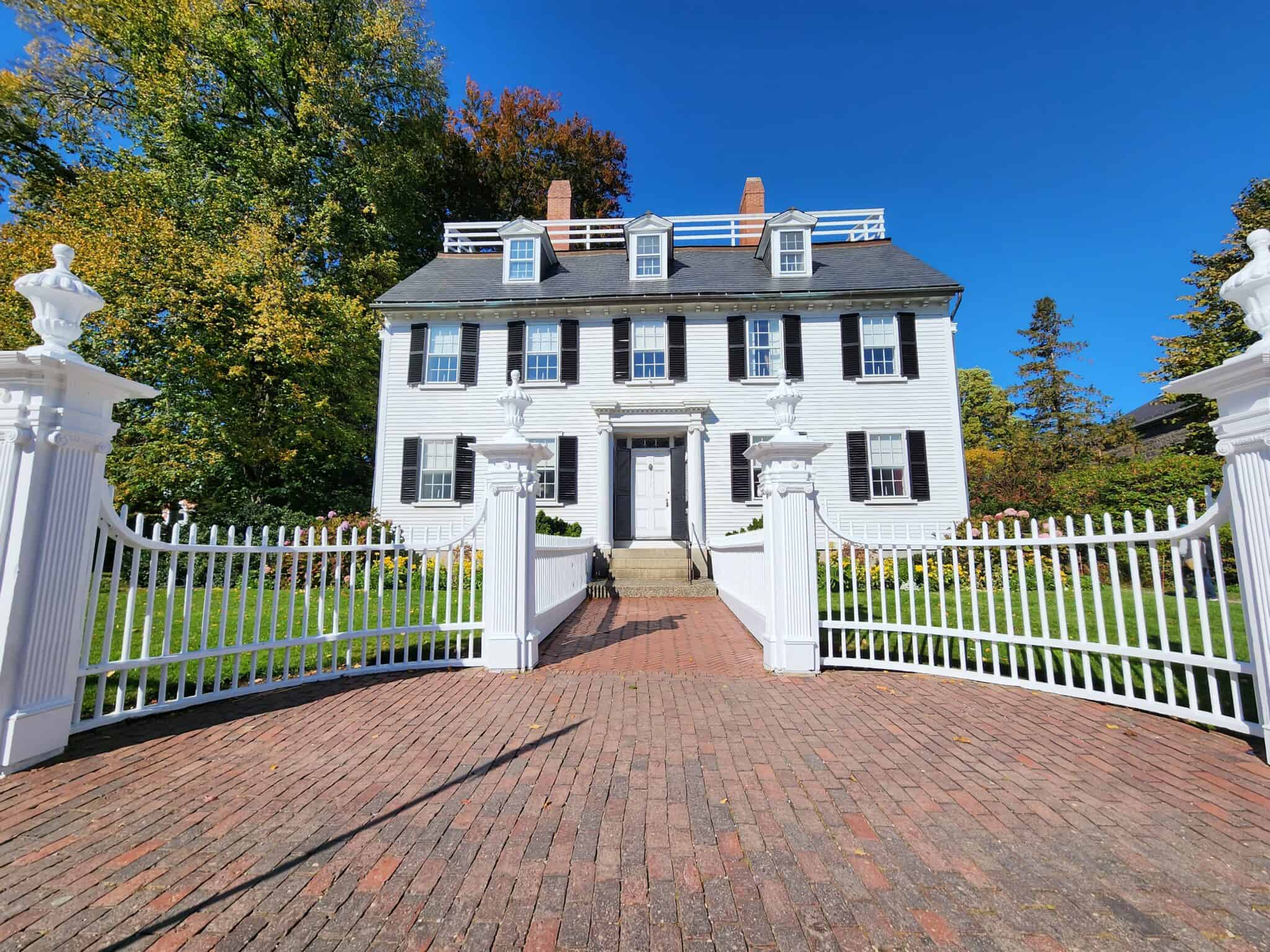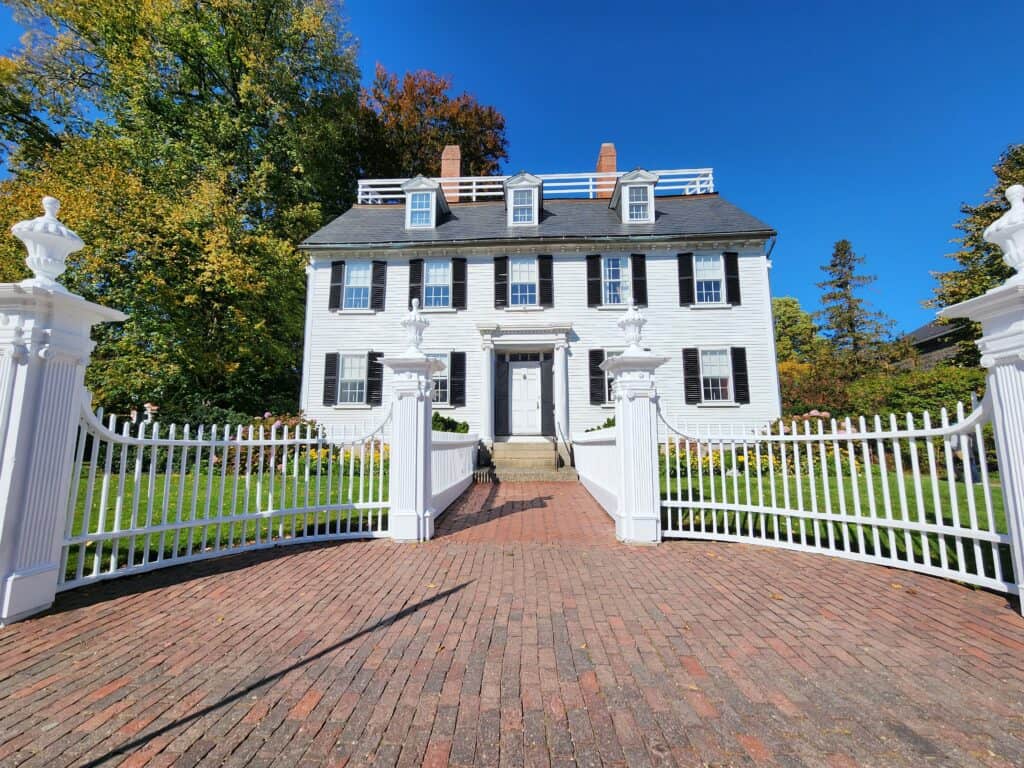 Are your kids Hocus Pocus fans? Then you're definitely going to want to check out the Hocus Pocus filming locations in Salem!
Count Orlok's Nightmare Gallery
Do your kids like a good scare? Then you're going to want to do this one!
Court Orlok's Nightmare Gallery is located in an old bank building on Essex Street, and it's got some seriously spooky elements like very well constructed sculptures and wax figures, and a lot of fantastic horror memorabilia.
If you and your kids geek out on horror and sci fi, this is a must visit!
Salem Witch Trials Memorial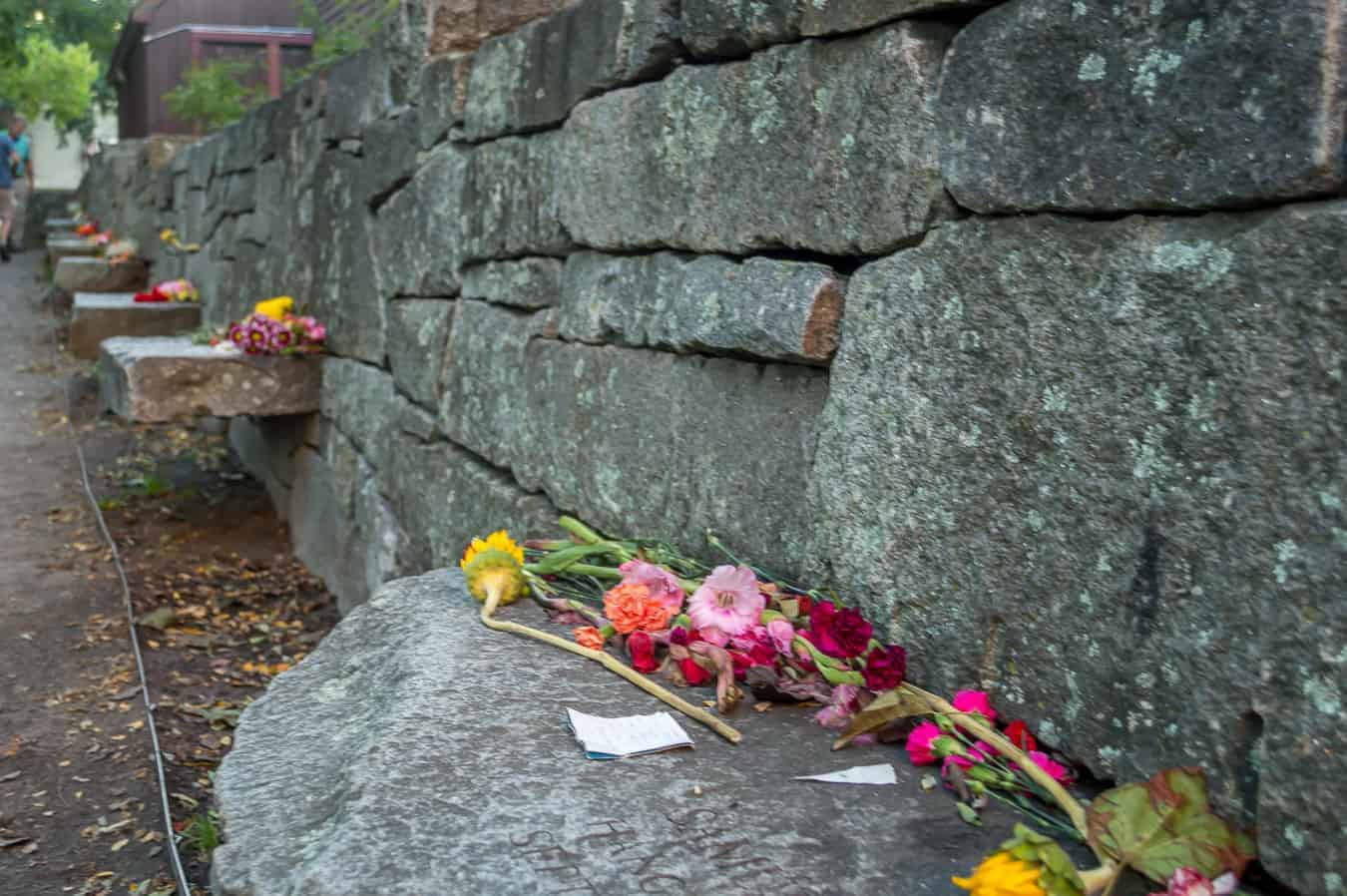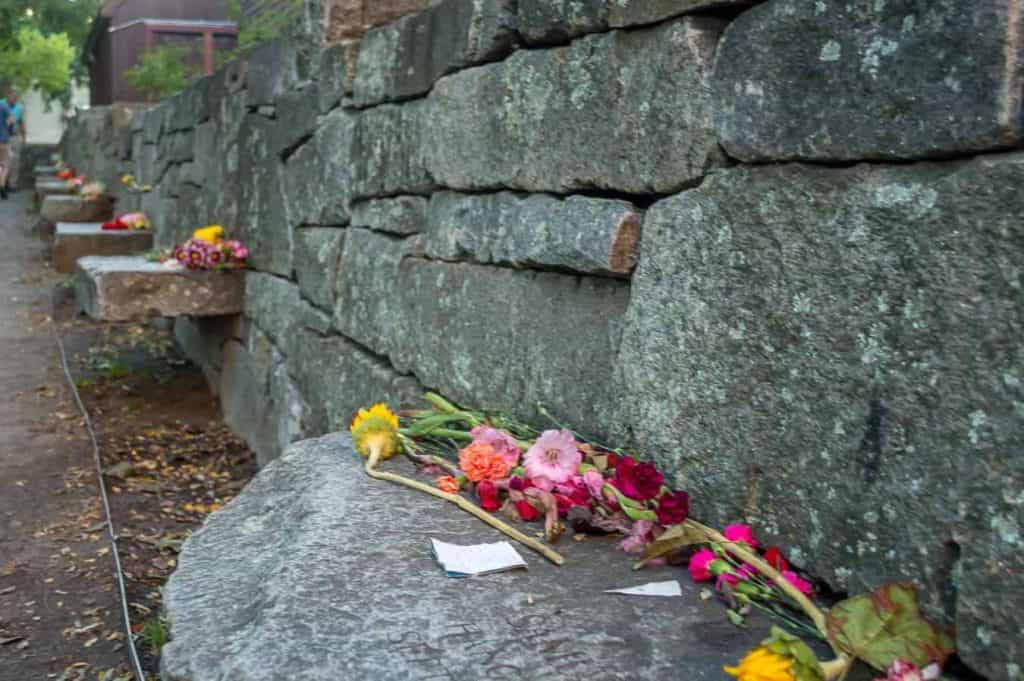 The town of Salem created the Salem Witch Trials Memorial to honor and remember those that lost their lives in this centuries-old tragedy.
Visiting the memorial and placing a flower on each stone in remembrance of the victims of the Salem Witch Trials might be the perfect way to bring things into perspective, especially for the older kids.
Eat at Flying Saucer Pizza
After a fun day out having fun in Salem with the fam, you're going to have worked up quite the appetite.
There are tons of great restaurants in Salem, but we've got a kid-friendly recommendation for you that will keep the whole family happy: Flying Saucer Pizza.
Not only is the atmosphere pretty neat with all the sci fi memorabilia, but its pizza is out of this world good! He he, I couldn't resist.
But seriously, pizza is always a great option!
Where to Stay in Salem with Kids
As for where to stay in Salem, there are several supposedly haunted inns and hotels you could book, but it's also a town with a lot of fantastic vacation rentals, too.
Sometimes it's just easier to stay in a VRBO where you don't have to worry about your kids being too loud for the folks on the other side of the hotel wall, right? This one is located in historic Salem within easy walking distance to several top attractions!
We hope these suggestions of family-friendly things to do in Salem help you plan your trip. Happy Travels!
Read Next: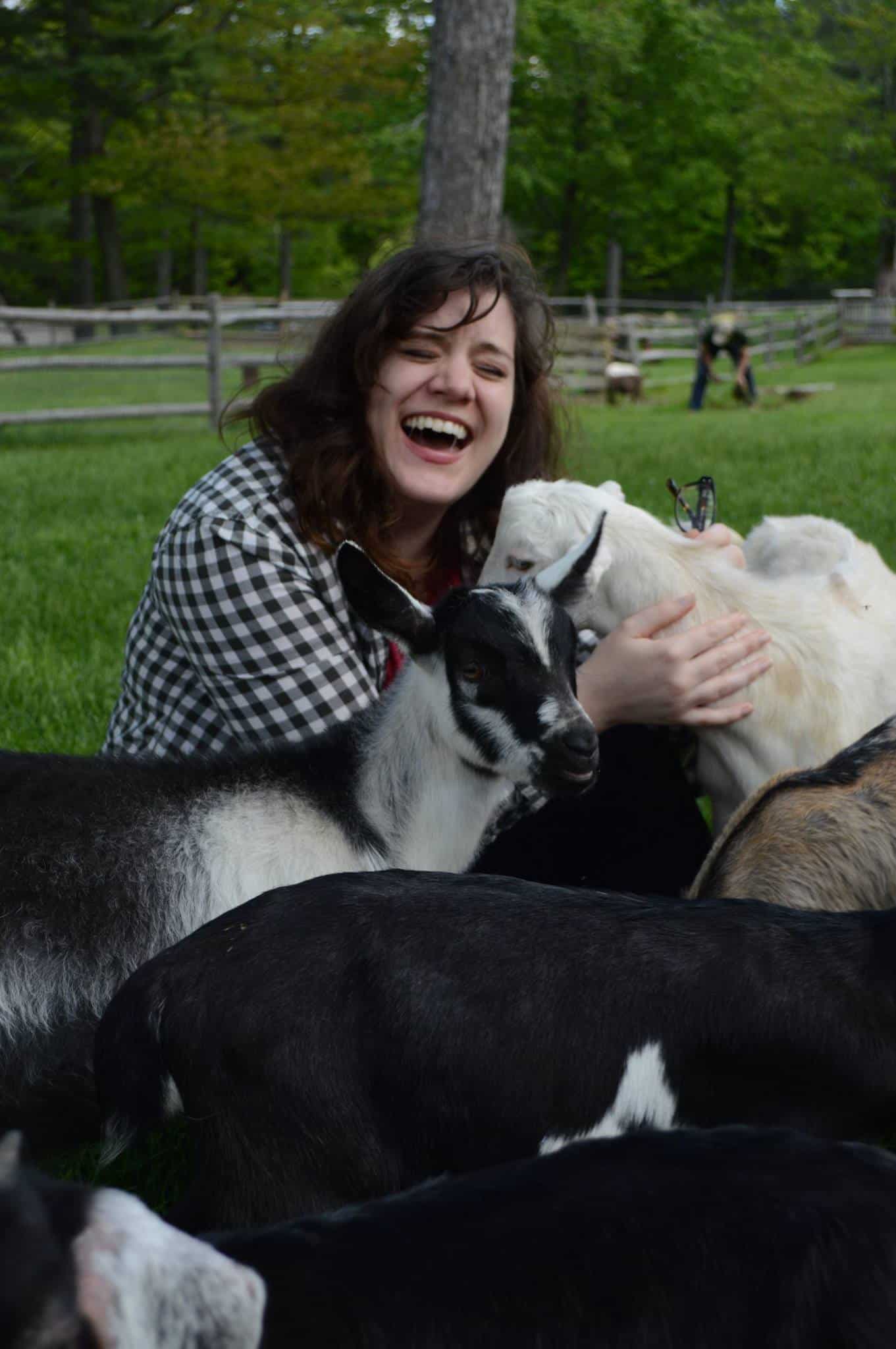 Amy Hartle is the founder and Editor-in-Chief of New England With Love, a comprehensive resource for travel in the New England region. Amy has been exploring New England since 2001. She lived in Vermont for many years and is a graduate of Plymouth State University in New Hampshire. Amy has been writing about travel for over a decade. On this site, Amy aims to share her love of New England and help you to have the best possible adventures!
Amy has been a full time blogger since 2012, and is also the publisher of Two Drifters, where she writes about couples travel and relationships, as well as Let's Adventure Baby, a family travel site. When not traveling the world or creating epic blog content, Amy can be found cuddling with her husband, son, and cats, & drinking a maple latte.