If you're an animal and/or nature lover, going to the zoo is a great activity. You get to see wild animals and the habitats they live in without having to book an exotic (and expensive) trip. You can see wild animals (like tigers and zebras) in beautiful New England by visiting one of the many zoos in the area.
If you aren't sure where to look, here are the best zoos in New England to visit—which one are you heading to first?
Zoos in New England
Maine Wildlife Park
Address: 56 Game Farm Rd, Gray, Maine
Hours: Sunday—Saturday, 9:30 a.m. to 4:30 p.m.
If you're traveling through The Pine Tree State, make sure you stop at the Maine Wildlife Park in Gray. Just 18 miles away from Portland, it's a great spot for animal and nature lovers of all ages to gather. You'll see more than 30 species of Maine wildlife during your visit, including black bears, bobcats, moose, and white-tailed deer.
There are plenty of other activities to do at this park as well. You can visit the Warden Museum and learn about the history of the Maine Warden Service, walk along trails to learn about Maine trees, and even stroll through the park's wildlife and flower gardens. It's truly a place where nature and fun combine!
Beardsley Zoo
Address: 1875 Noble Ave, Bridgeport, Connecticut
Hours: Sunday—Saturday, 9 a.m. to 4 p.m.
If you're in Connecticut, swing by Bridgeport and make a stop at Beardsley Zoo. It's the only official zoo in Connecticut and is home to a wide variety of animals, including a parrot, alligator, tiger, and several monkeys. It's a great place to see some exotic animals you wouldn't see otherwise in New England. You can also see animals like the red pandas and spider monkeys on camera.
One of the coolest things about Beardsley Zoo is that it also houses plants from the animals' natural habitats. You can see plants like crocus and voodoo lily in the zoo's habitats or in its greenhouse. Like many of the animals at this New England zoo, the plants are endangered and being well protected, too.
There's so much to see at this zoo, so you won't have a problem spending a full day at this Connecticut gem.
Franklin Park Zoo
Address: 1 Franklin Park Road, Boston, Massachusetts
Hours: Monday—Friday, 9 a.m. to 5 p.m, weekends 9 a.m. to 6 p.m.

Now you may not associate Boston with a massive zoo, but it's there! Beantown is home to Franklin Park Zoo, a 72-acre space run by Zoo New England. Head to this zoo to see animals like the African lion, mountain sheep, and the red kangaroo. It also hosts a number of exhibits, including the Bird's World Exhibit and the Giraffe Savannah.
The zoo also has a number of programs for the whole family to enjoy. You can do in-life or virtual meet and greets with animal ambassadors, and it even hosts educational programs and camps for children.
A trip to the Franklin Zoo is one you won't soon forget! Bring the whole family along to create some wild memories.
Roger Williams Park Zoo
Address: 1000 Elmwood Avenue, Providence, Rhode Island
Hours: Sunday—Saturday, 9 a.m. to 4 p.m.
If you find yourself in Providence, Rhode Island, make sure you stop at Roger Williams Park Zoo for a fun-filled day. This New England zoo is home to more than 150 animals from across the world. It's also one of the oldest zoos in the United States—it was built in 1872!
Some of the animals you'll see at this zoo include the bison, moon bear, and cheetah. You can also explore numerous exhibits in the zoo, like the Alex and Ani Farmyard and Marco Polo's Adventure Trek. They host different activities and allow your family to see different kinds of animals.
The zoo also has a number of programs for kids and adults alike. One event for adults includes Sip and Stroll, where you can sip on a beverage of your choice and stroll through the zoo after hours.
This Rhode Island zoo truly combines fun with adventure. Be prepared to spend a full day here—and, maybe, not want to leave.
Capron Park Zoo
Address: 201 County Street, Attleboro, Massachusetts
Hours: Sunday—Saturday, 9 a.m. to 4 p.m.
If you find yourself in the southern Massachusetts city of Attleboro, swing by the Capron Park Zoo for a day of wild fun. This zoo boasts eight acres that are home to around 100 different animals. Expect to see goats, foxes, red pandas, and even some sloths during your visit.
Like other New England zoos on this list, Capron Park Zoo has educational programs you can participate in. You can also book self-guided tours if you have a group. And, if you head to the zoo in October, you could attend events during the Howl-a-Weekends. There's plenty to do and see at this lovely Massachusetts zoo!
York's Wild Kingdom
Address: 1 Animal Park Road, York, Maine
Hours: Sunday—Saturday, 10 a.m. to 5 p.m.
This zoo in Maine literally combines fun with wildlife. York's Wild Kingdom is a zoo AND an amusement park. You can start the day with touring the zoo and seeing animals like the African lion, zebra, and even some camels.
Don't forget to make a pit stop at The Butterfly Kingdom and browse through 5,500 square feet of beautiful butterflies. You'll see numerous kinds of butterflies there, with many species being from South and Central America.
Once you're done seeing the animals at the zoo, head to the amusement park to keep the fun going. The park has rides for the whole family to enjoy, including classics like a merry-go-round and super slide.
There's also an 18-hole mini golf course for your family to enjoy. If you want to head to the beach afterwards, you're only a short walk to Short Sands Beach. Talk about getting a little bit of everything in one trip!
Mass Audubon's Ipswich River Wildlife Sanctuary
Address: 87 Perkins Row, Topsfield, Massachusetts
Hours: Tuesday—Sunday, 9 a.m. to 4:30 p.m.; Closed Monday

You'll find this lovely wildlife sanctuary just 10 miles north of Salem. Mass Audubon's Ipswich River Wildlife Sanctuary has 12 miles of trails where you can explore forests, meadows, and even some wetlands. Keep your eyes peeled for the wildlife around here, especially the birds.
The sanctuary also offers programs and classes for people of all ages. There's a nature preschool, a teen conservation club, and adult group programs that bring nature enthusiasts together. There's even a birding program where people can get together and admire the different birds within the sanctuary.
It may not be like your typical zoo in New England, but it's still a great spot to check out wildlife and admire natural settings.
Stone Zoo
Address: 149 Pond Street, Stoneham, Massachusetts
Hours: Monday—Friday, 9 a.m. to 5 p.m.; Saturday and Sunday, 9 a.m. to 6 p.m.
This is another Massachusetts zoo you don't want to miss. Stone Zoo is a smaller zoo (having around 26 acres of land), but don't worry—you'll still make big memories here.
Walk through the zoo and see hundreds of exotic animals, like cougars, bush dogs, and snow leopards. Visitors can also explore exhibits about different habitats, like the Caribbean coast and Yukon Creek.
One of the coolest things about Stone Zoo is that you can get a behind-the-scenes tour. During this zoo tour, you get to meet some of the animals and get your questions answered by zoo educators.
Stone Zoo also has a Nature Play space where kids can have fun while reconnecting with nature. These are always such popular zoo activities for kids! Make an online reservation, get your tickets, and experience some great zoo fun!
Southwick's Zoo
Address: 2 Southwick St, Mendon, Massachusetts
Hours: Saturday—Sunday, 10 a.m. to 5 p.m.
Wondering where the largest zoo in New England is? Well, it's in Mendon, Massachusetts, and it's open year round, rain or shine! Located on over 200 acres, Southwick's Zoo is home to over 850 animals, including giraffes, sloths, white rinos, and more.
You can walk through the 35 acre deer forest and feed fallow deer, then take a ride on the Woodland Express Train, the Skyfari Sky Ride, and the Soaring Eagle Zip Line. Then it's on to the walk-through aviary, the Rainforest Adventure Maze, the Earth Discovery Center, or one of the many presentations that are happening on the grounds.
Afterwards, you're bound to be hungry, and you're in luck because Galliford's Restaurant onsite is a full-service restaurant where you can refuel after all that New England zoo fun!
DEW Haven
Address: 918 Pond Road, Mt. Vernon, Maine
Hours: Vary throughout the year, check the website before you go!

Head to Maine to make a stop at this seasonal wildlife sanctuary and farm. DEW Haven is a non-profile rescue and zoo that's home to domestic and exotic animals. You'll see wild cats like lions and tigers there, but you'll also see deer and bears.
Walking through this rustic Maine zoo will be an experience unlike any other. Not only will you see animals you typically wouldn't see in New England, but you can even feed some of them. Feed is sold at the gift shop and there are clear signs that tell visitors which animals can be fed. Once you're done looking at the animals, head to the gift shop to get a souvenir—because you'll want to remember this day.
If you decide to go to one (or more) of these zoos, remember to abide by their rules and check their websites for any important announcements. That way, everyone gets to enjoy a safe and fun day walking on the wild side.
Bonus Aquariums in New England!
Okay, we couldn't resist! If you're interested in seeing more marine wildlife, too, we suggest checking out Mystic Aquarium in Mystic, Connecticut, and the New England Aquarium in Boston, Massachusetts.
Have fun out there!
---
You might also like:
---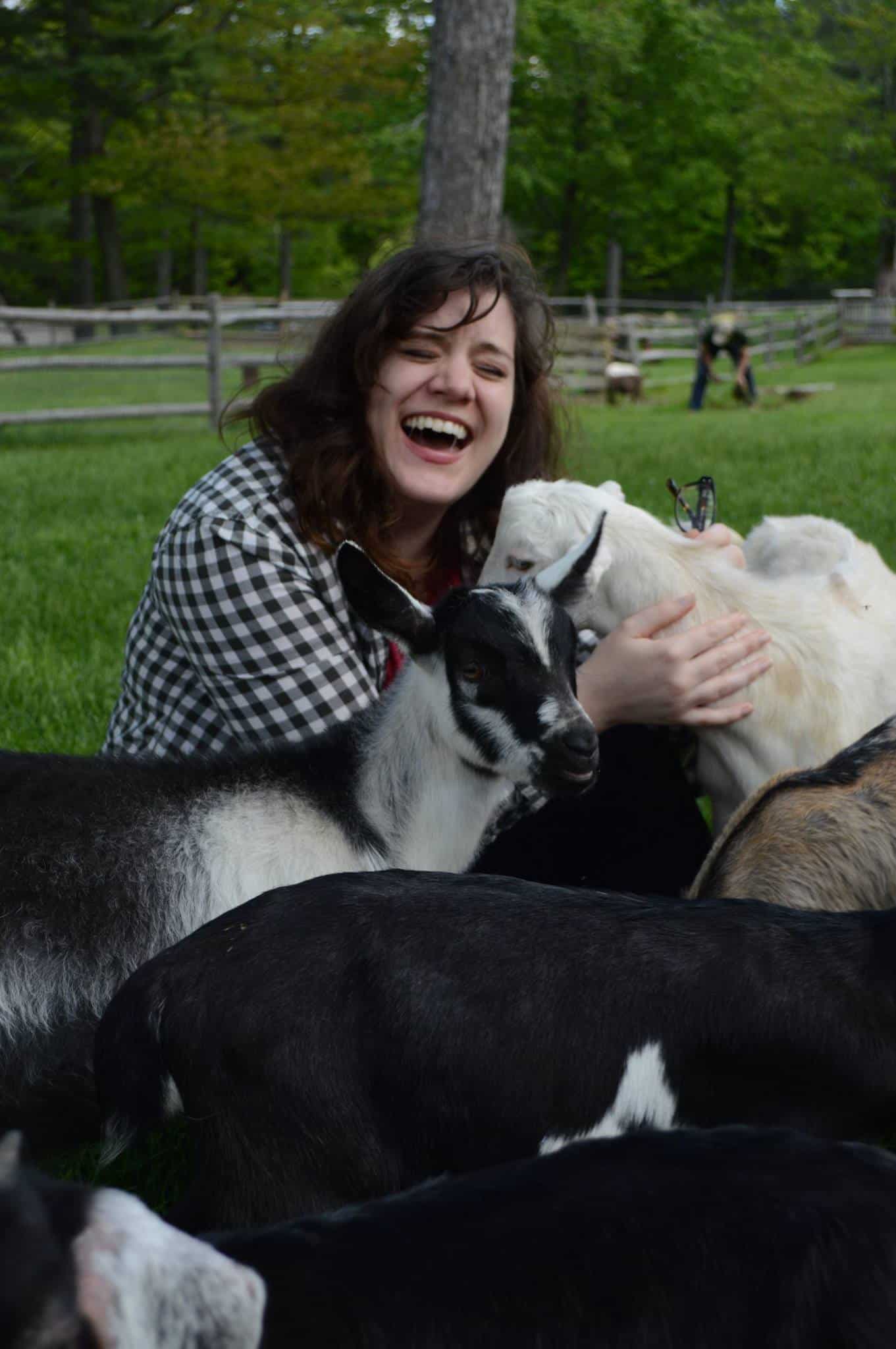 Amy Hartle is the founder and Editor-in-Chief of New England With Love, a comprehensive resource for travel in the New England region. Amy has been exploring New England since 2001. She lived in Vermont for many years and is a graduate of Plymouth State University in New Hampshire. Amy has been writing about travel for over a decade. On this site, Amy aims to share her love of New England and help you to have the best possible adventures!
Amy has been a full time blogger since 2012, and is also the publisher of Two Drifters, where she writes about couples travel and relationships, as well as Let's Adventure Baby, a family travel site. When not traveling the world or creating epic blog content, Amy can be found cuddling with her husband, son, and cats, & drinking a maple latte.