With so many neighborhoods in the historic city, it can be difficult choosing where to stay in Boston, Massachusetts! That's why we've taken the time to put together this Boston neighborhood guide, so you can quickly choose where to stay and find the neighborhood that's best for you.
From historic neighborhoods with ballparks to downtown neighborhoods surrounded by all the best shopping and restaurants, Boston does truly have it all. Whether you're a first-time visitor to the city or Boston is one of your favorite destinations, and you're looking to explore a new neighborhood, we've got you covered.
Here are the best neighborhoods in Boston, along with recommendations of accommodations in each!
PS: Needing quick Boston hotel recommendations? Check out our specialized Boston hotel guides:
Where to Stay in Boston
Back Bay
Great for: Luxury, shopping, being centrally-located
Landmarks in this neighborhood: Trinity Church, Copley Square, Boston Public Library
Arguably the best place to stay in Boston is Back Bay. That's because this historic neighborhood is safe and upscale while also being centrally located. There are also so many great hotels directly in Back Bay, so you really have your pick of the lot when it comes to accommodation here, and there's transportation so you can explore the rest of the city without a car.
Back Bay is home to landmarks like the historic Trinity Church, Boston Public Library (a must-visit if you're looking for free things to do in Boston), and Copley Square, which is where the Boston Marathon ends every April. Newbury Street is also here, one of the best places to go for luxury shopping in Boston.
Best Places to Stay in Back Bay
Want a romantic getaway? Stay at the Fairmont Copley Plaza. Fairmonts are always gorgeous with exceptional service. The Fairmont Copley Plaza has been serving Boston's guests since 1912, and it is a city landmark.
The hotel has a resplendent lobby, immaculate guest rooms, and an on-site restaurant that is divine. With its luxe interior, cozy, intimate restaurant, and amenities, this is an ideal hotel for a romantic Boston getaway.
Some travelers simply want a more B&B-style experience when traveling. If that's you, you just might love The College Club of Boston. This historic 11-room Victorian brownstone is located in the heart of beautiful Back Bay. Not only is it a bed & breakfast, but it is also the first women's college club in the United States. And the guest rooms are stunning.
Fenway
Great for: Sports, museum hopping, restaurants and bars
Landmarks in this neighborhood: Fenway Park, Museum of Fine Arts, Boston Symphony Orchestra, Isabella Stewart Gardner Museum
All sports lovers should book their stay right in the historic Fenway neighborhood. Many overlook staying in this area because it does take a little longer to get downtown, but it's filled with its own great landmarks like Fenway Park (where you can sing "Sweet Caroline" at the top of your lungs), the Boston Symphony Orchestra, and the Isabella Stewart Gardner Museum, which has quite the history.
The neighborhood is also filled with many colleges, so you can only imagine the types of amazing food you'll find in the area. There are many pubs and bars, most of them with a heavy Irish influence. This neighborhood is also rather safe, too, and both the Kenmore and Fenway T stops are here to make it easy to explore the rest of the city.
Best Places to Stay in Fenway
Right from the start you'll see you've encountered a unique, retro hotel. This rock-n-roll inspired hotel is in the heart of Fenway, conveniently just 650 feet from Fenway Park itself.
Not only is The Verb Hotel the perfect place to base yourself when visiting Fenway, you have easy access to all the rest that Boston has to offer. The friendly staff of the hotel and the fun decor add to the charm of the place. And the price is right!
Situated right by the still-somewhat-new Time Out marketplace in Fenway, the Residence Inn is a great place to stay right on Brookline. It's within walking distance from Fenway Park and offers free wifi, daily breakfast, and even an on-site fitness center and rooftop pool.
The rooms are comfortable with all necessities and include fully equipped kitchens, a work desk, and a sofa bed. What more could you ask for?
Beacon Hill
Great for: History, architecture, photography, romance
Landmarks in this neighborhood: Boston Common, Boston Public Garden
Traveling to Boston with your significant other? Consider booking a stay right in Beacon Hill, situated near downtown but featuring historic rowhouses and quaint sidewalks that will make you feel like you're over in Europe or at least taken back in time.
It's one of the oldest neighborhoods in all of Boston and is right by the Boston Public Garden and the Boston Common, both of which are incredibly romantic. Plus, did we mention that Acorn Street is here? It's one of the most photographed Boston streets, and by staying right in Beacon Hill, you'll be able to snap a photo without many people.
Best Places to Stay in Beacon Hill
The Liberty Hotel is a really intriguing property, and clearly others think so—this is one of the most popular places to stay in Boston, MA! Gorgeous architecture might be the hallmark of this hotel, combined with its terrific on-site dining and fab location.
The Liberty is at the bottom of Beacon Hill, just a short walk to the Museum of Science, Kendall Square, and Faneuil Hall.
What makes this hotel so awesome is its history. The Liberty is housed in what was once the Charles Street Jail of 1851. The Liberty has not shrunk from it's "criminal" past, and so elements of the jail-theme are incorporated everywhere, including the aptly named bar "Clink."
Located right in Beacon Hill by the Theatre District, Beacon Hill Hotel is a historic accommodation with rooms that have recently been refurbished and renovated. From the outside, it looks like a quaint brick hotel, but the inside boasts lovely rooms with bright colors.
Amenities here include an open-air terrace (with great views of Charles Street), flat-screen televisions in each room, and an on-site restaurant that serves three different meals a day.
Seaport
Great for: Conventions, views of the water, bars
Landmarks in this neighborhood: Institute of Contemporary Art, Harpoon Brewery, Lawn on D
Seaport District is one of the newest neighborhoods in Boston, so if you've not been there in the last few years, book a stay here for a completely new experience. Even just ten years ago, Seaport looked completely different and run-down and has since become a popular spot to go for bar-hopping and incredibly tasty food.
Just know that overall, Seaport does tend to be a little more upscale as far as hotel options go, but it can very much be worth the splurge.
Best Places to Stay in Seaport
You can choose between city and sea-views in this chic and modern hotel. Though slightly farther from the heart of things, the Hotel Aloft Boston Seaport District offers a convenient location to exhibition and convention centers, which can make it ideal for business travelers. It's also just a 30-minute walk to Boston city center.
The hotel is also pet-friendly, if you're looking for that.
A more mid-range accommodation in Seaport is YOTEL Boston, which has a sort of trendy and stylish vibe to it. The entire interior of the hotel is mostly purple with pops of green, which is incredibly Instagram-worthy.
The rooms feature a comfortable smart bed and boast mood lighting, a flat-screen television, and rain showers. The hotel also has a restaurant, fitness center, and family-style rooms available.
Downtown
Great for: History, visiting popular landmarks
Landmarks in this neighborhood: Freedom Trail, Quincy Market, New England Aquarium, Faneuil Hall
If you want to be in the middle of it all, you absolutely have to just stay right in Downtown Boston! This is where all of the top landmarks are that are probably on your Boston bucket list anyway, including the Freedom Trail, Quincy Market, Faneuil Hall, and the New England Aquarium. Plus, Boston Common also goes right through here.
Because this is such a popular place to stay among tourists, you will find that the scene here is a lot more busy than other spots in Boston, like Back Bay or Fenway (unless there's a Sox game!). However, there's a really fun old-versus-new vibe and atmosphere here.
Just try to be wary of where you choose to stay downtown, as Downtown Crossing (a shopping area with top stores like Primark) is one place that is a lot safer during the day than at night.
Best Places to Stay in Downtown
Situated right downtown is The Godfrey Hotel Boston, which is a truly elegant accommodation to stay at. The rooms here are upscale and feature air conditioning and bath robes, and some even have a comfortable seating area.
This hotel also has a trendy restaurant (though Downtown also has tons of other restaurants if needed) as well as a fitness center and private parking.
For an extremely affordable place to stay, you could opt to book a few nights at HI Boston. It's located downtown and is right near public transportation, but it is a hostel. Choose between male, female, or mixed dormitories when booking. They also have private queen rooms available.
Note that no matter where you stay here, you will have access to shared bathrooms. The hostel boasts laundry facilities and free wifi.
North End
Great for: Food (so many Italian restaurants and bakeries), history, families
Landmarks in this neighborhood: Boston Harbor, Boston Tea Party Ships, Old North Church
A lovely family-friendly place to stay in Boston that's not directly downtown is the North End. This is a favorite among locals because most tourists opt to visit downtown instead. The North End is known as the Italian neighborhood in Boston, as it's home to quaint cobblestone streets and historic buildings that are filled with Italian restaurants and bakeries.
This area is a lot quieter than Downtown but is still next to many of the top spots to visit in the city, like the Boston Harbor, Old North Church, and Boston Tea Party Ships. Pro tip: skip out on Mike's Pastry and hit up local favorite Bova's Bakery instead to skip the lines.
Best Places to Stay in North End
If you're looking for a hotel in the heart of Boston, this one certainly fits the bill. The Hotel citizenM Boston North Station is right on top of North Station, and right next to TD Garden. You're an easy walk to nearly all of Boston's top sites, or just hop on the T to get where to want to go.
The North End is also right around the corner, with its bevy of delicious Italian restaurants.
The Boxer is a historic hotel from the 1800s in the Bulfinch Triangle. It has upscale guest rooms with a very modern vibe to them. Plus, rooms come with a work desk, flat-screen television, and a Keurig machine so you can get your coffee in the morning.
The hotel also has many amenities like its on-site Finch Restaurant which serves tasty American dishes.
South End
Great for: Quietness, exploring Boston off the beaten path
Landmarks in this neighborhood: SoWa
Many tourists overlook staying in the South End even though it's a truly underrated place to stay. This is an area you'll often find locals in and exploring, especially in SoWa, an artsy neighborhood that is where First Fridays are held.
Because there aren't a whole lot of top landmarks here, you'll find that it's a bit more local-oriented with shops and restaurants as well as some apartments throughout. Just know that there's only one T stop here so you will have to walk a bit more than if you were to stay in a place like downtown, but it's well worth it.
Best Places to Stay in South End
First up is Renu at Concord Square, which is an aparthotel. Rooms here are air-conditioned and there are amenities at this sustainable hotel including free wifi, private parking, and even an equipped kitchenette.
Choose between a variety of apartment-style rooms, like a deluxe double studio, studio apartment, or even a superior apartment. Each room here only hosts two guests which is something to keep in mind when booking.
The Revolution Hotel is also another good option if you're looking to stay in South End, but it is right on the border of Back Bay, so you kind of get both neighborhoods right at your disposal. Rooms here are very modern but also trendy.
On-site, there's a business center, free wifi, shared lounge, fitness center, and a restaurant. Plus, you can rent bikes here to explore the rest of the city in a different way.
Hopefully, this post has helped you find out exactly where to stay in Boston. There are many neighborhoods to choose from, but truly, you can't go wrong with any of them. It just depends on the time of experience you are hoping to have during your vacation.
---
More help for planning your stay in Boston:
---
Pin this post on the best places to stay in Boston to save for later!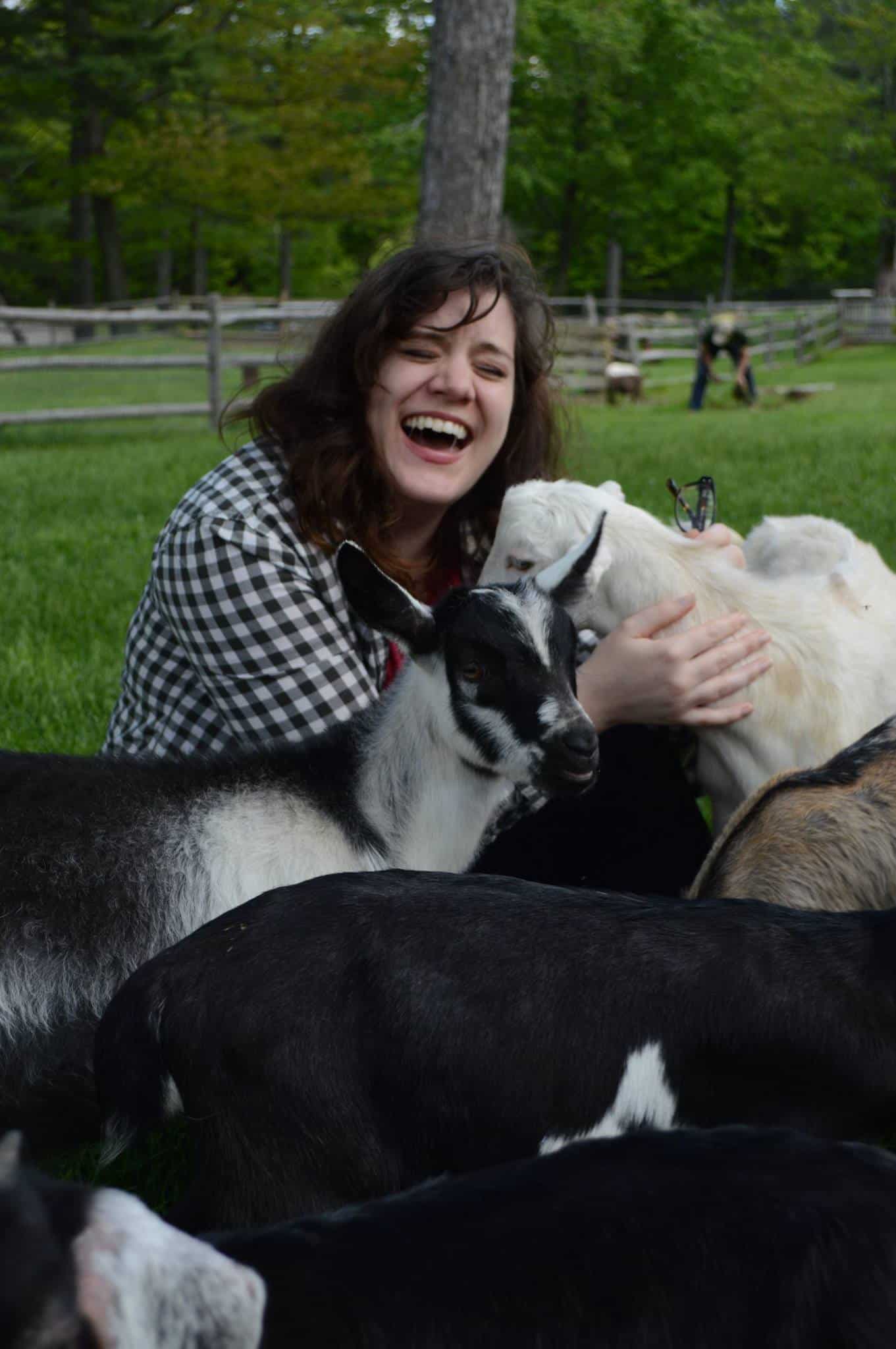 Amy Hartle is the founder and Editor-in-Chief of New England With Love, a comprehensive resource for travel in the New England region. Amy has been exploring New England since 2001. She lived in Vermont for many years and is a graduate of Plymouth State University in New Hampshire. Amy has been writing about travel for over a decade. On this site, Amy aims to share her love of New England and help you to have the best possible adventures!
Amy has been a full time blogger since 2012, and is also the publisher of Two Drifters, where she writes about couples travel and relationships, as well as Let's Adventure Baby, a family travel site. When not traveling the world or creating epic blog content, Amy can be found cuddling with her husband, son, and cats, & drinking a maple latte.