Waterbury, Vermont, is a quaint and picturesque town situated in the heart of the Green Mountain state. From outdoor recreation to local restaurants, Waterbury has something for everyone.
In this blog post, we'll be looking at some of the best things to do in Waterbury VT. We'll discuss everything from exploring nearby trails to enjoying delicious food at some of their local eateries.
So come along as we explore all that Waterbury has to offer! (p.s. It's a lot more than just touring the Ben & Jerry's Factory that Waterbury is well-known for!)
Things to do in Waterbury VT
Tour the Ben & Jerry's Factory
Obviously, this list of things to do would not be complete without including the Ben & Jerry's Factory. In Waterbury, you can take a free tour of the very first B&J factory that has been open since 1985.
This tiny factory makes 350,000 pints a day, despite being fairly small. At the end of the tour, you're able to grab a free sampling of whatever flavor is being made that day. Be sure to stop by the souvenir shop and the flavor graveyard while you're there!
Try cheese at the Cabot Farmers' Store
Vermont is known for a few things: maple syrup, ice cream, and cheese. Luckily, the Cabot Farmers' Store is right nearby Waterbury, so you can hop in and try some of the cheese that the state is well-known for.
The best thing about the farmers' store is that there are samples for almost every cheese that they sell. For a real treat, consider buying (or at least sampling) the everything bagel cheese. You'll thank me later!
Dine at Prohibition Pig
Easily one of the best restaurants in Waterbury is Prohibition Pig. There's both a restaurant and a brewery here. The restaurant has alcohol, smoked meats, and more, though it is closed on Tuesdays.
The menu varies greatly, and there's surely something you'll enjoy on there. Starters include smoked wings, pickle plates, hush puppies, onion dip, and more. Then, there are meals like poutine, macaroni and cheese, fish fries, sandwiches, salads, burgers, and smoked meat plates.
Hike in Camel's Hump State Park
Vermont has many state parks, but Camel's Hump State Park is one of the best in the Waterbury area. The park itself is pretty well known for its incredible trails that it has, so you'll want to stop by and hike one of them. The most popular trail is the Camel's Hump Trail, a hard trail that's about 6 miles long. The views are worth it, though!
For getting outdoors in Waterbury, visiting this park is a must. It's also a great place for birdwatching and camping in the warmer months.
Visit Cold Hollow Cider Mill
One of the best spots to grab cider donuts in all of VT is in Waterbury: Cold Hollow Cider Mill. This cidery is an absolute must-visit, even if you're visiting the state outside of fall. Don't forget to pair a donut with some fresh-pressed cider to wash it all down.
If you're visiting during the daytime, then be sure to check out the on-site Luncheonette, where you can try some homemade breakfast or lunch. They serve up a variety of dishes with local Vermont additions like maple syrup and apples. What more could you possibly ask for?
Peruse the public art
Believe it or not, but Waterbury has a lot of public art, especially after the last few years. The Waterbury locals have a Public Art Project where murals get added to blank canvases throughout the town. The best way to see this for yourself is just to wander around and see what you might find.
Public art is encouraged here, and these murals help to add a fun splash of color to this town. Plus, don't forget your camera, because many of the public art murals are very Insta-worthy.
Satisfy your sweet tooth at Lake Champlain Chocolates
Though based in Burlington, Lake Champlain Chocolates has a location in Waterbury. If you have a sweet tooth (which, let's be honest, we all do), then you'll want to stop by the shop and get some tasty chocolates.
With everything from truffles to hot chocolate and everything in between, there's truly something at Lake Champlain Chocolates for everyone. Plus, it's all made right in Vermont, so you're getting it fresh by purchasing it in-state without having to ship it. If you're not sure what to try, grab one of the gift baskets for a wide array of treats.
Attend Waterbury Arts Fest
We mentioned how important arts are to Waterbury earlier, but if you really want to get in on the fun, attend Waterbury Arts Fest. This festival usually takes place over the summer and is a fun way to celebrate the arts in Waterbury.
During the festival, there are food trucks, live music, art exhibits and artists selling their pieces, and more. If you're an artist yourself, you can even apply with their Artist Application to be featured during the festival. How fun is that?
Explore Little River State Park
Another of the great state parks in Waterbury is Little River State Park. This one is around 850 acres and is right along the Waterbury Reservoir in Mount Mansfield State Forest.
It's most popular for its camping, so if you want to go camping in Vermont, this is a great option to enjoy the outdoors! In addition, there are other fun activities here, too, like watching wildlife, boating, hiking, swimming, and more.
Shop at the Waterbury Flea Market
Open from May to October, the Waterbury Flea Market is a great place to visit if you want to shop local. There are many booths at the flea market selling everything from vintage clothing to technology and everything in between.
Plus, if you get hungry while shopping, there's no need to worry. This seasonal flea market has a full snack bar where you can order burgers, ice cream, fries, and more to tide you over while you shop.
Enjoy a coffee from Vermont Artisan Coffee & Tea
One of the best parts about visiting small towns is checking out the local cafe culture. Luckily, Waterbury is home to its own quaint cafe, the Vermont Artisan Coffee & Tea. The coffee roast is a must-visit for those who love a morning pick-me-up.
The coffee bar serves a variety of specialty drinks. Choose between cortados, espressos, pour-overs, and more. For a real Vermont treat, try a maple latte. You won't regret it!
Kayak in Waterbury Center State Park
What better way to enjoy the great outdoors in Waterbury than by kayaking in a state park? You can do this right at Waterbury Center State Park. It's one of the larger lakes in the state, so it's a great place to do some smaller-size boating.
In addition to being a great spot to kayak, there's also a swimming beach here, concession area, picnic spots, and even a nature trail. Plus, the new trail from 2010 even has fishing platforms along the way.
Wander around downtown to shop
When visiting Waterbury, don't miss out on visiting the quaint downtown area. Vermont's small towns are best experienced sometimes without much of a plan so that you can stumble upon local shops that you wouldn't have otherwise, and Waterbury is no exception.
Downtown, there are many charming shops, and it's the perfect opportunity to shop local. Who knows what you may find!
Get a souvenir at Green Mountain Dry Goods
Another great place to shop local is Green Mountain Dry Goods. This gift shop in Waterbury's historic district (right next to Ben & Jerry's) is the perfect place to pick up a souvenir gift to remember your trip to Vermont.
Inside the shop, peruse everything from hats to earrings to pins and even snow globes. Don't forget to check out the selection of maple syrup-inspired gifts – those are a real winner.
Shop at the Waterbury Farmer's Market
Last but certainly not least, consider stopping by the Waterbury Farmer's Market, which is open from June through September. This staple event has been going on in this small town since 1991 and is open just a few hours on Thursdays.
At the market, you can shop local produce and even chat with business owners to learn more about the area. Sometimes you can even find some tasty baked goods, too. Crafts are also sometimes sold at the booths at the Waterbury Farmer's Market.
From outdoor activities to sampling local Vermont delicacies, Waterbury is an ideal destination for travelers looking to explore and experience the best of Vermont's culture.
With a wide variety of activities that appeal to all tastes, Waterbury is sure to offer something for everyone. Whether you're visiting for the day or staying for a while, this charming Vermont town has plenty of opportunities for fun and relaxation. We hope you enjoyed this post on the best things to do in Waterbury VT!
---
You might also like: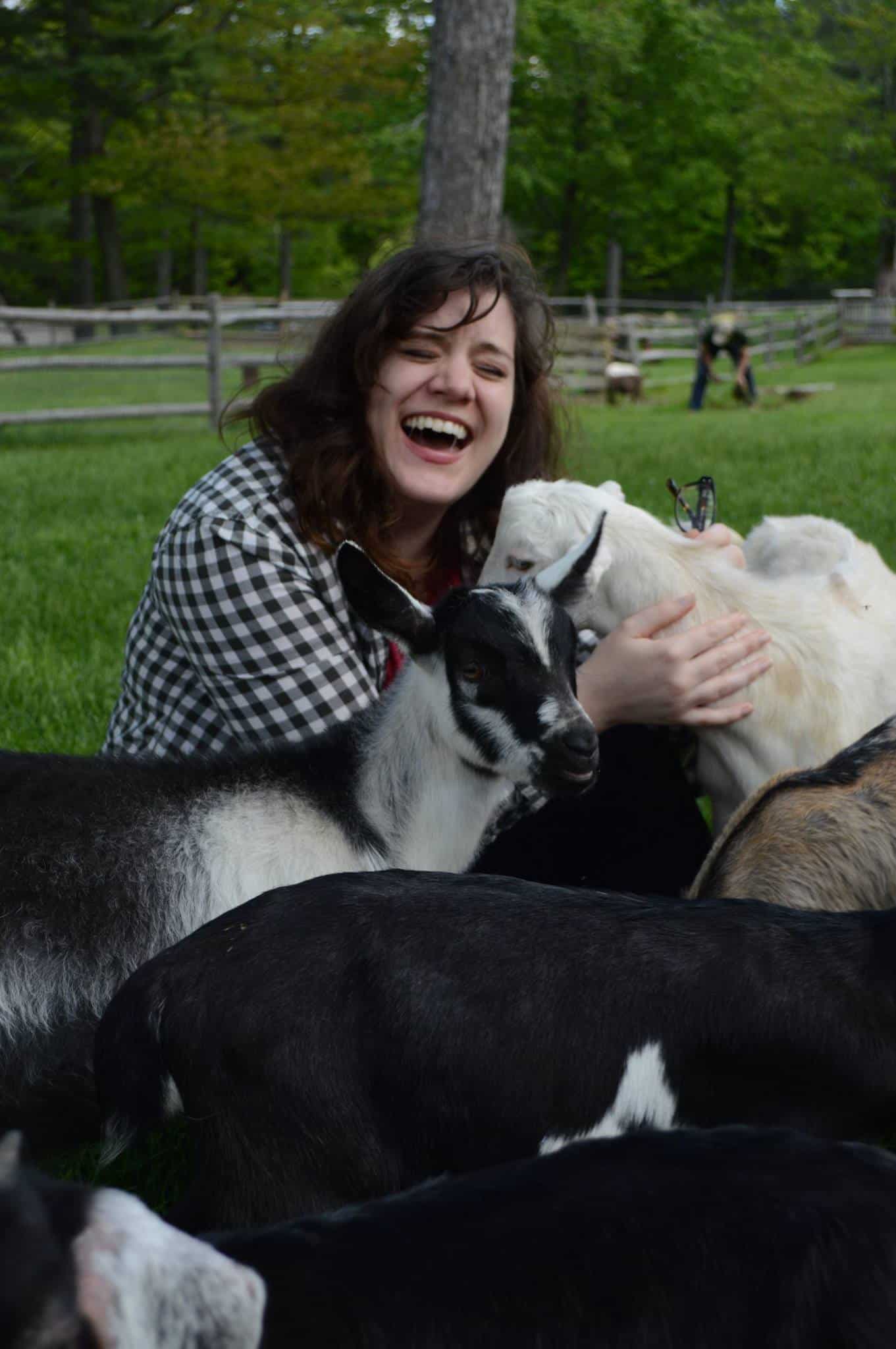 Amy Hartle is the founder and Editor-in-Chief of New England With Love, a comprehensive resource for travel in the New England region. Amy has been exploring New England since 2001. She lived in Vermont for many years and is a graduate of Plymouth State University in New Hampshire. Amy has been writing about travel for over a decade. On this site, Amy aims to share her love of New England and help you to have the best possible adventures!
Amy has been a full time blogger since 2012, and is also the publisher of Two Drifters, where she writes about couples travel and relationships, as well as Let's Adventure Baby, a family travel site. When not traveling the world or creating epic blog content, Amy can be found cuddling with her husband, son, and cats, & drinking a maple latte.