Middlebury is a quaint college town located in central Vermont, and is one of the best places to live in the state. It's popularly known for being home to Middlebury College, but many people don't know that there are many fun things to do in Middlebury VT!
The history of Middlebury dates back to the 1700s when it was settled after the Revolutionary War came to an end. Ever since, this charming town has truly grown into an outdoor lover's paradise, with fun activities like hiking, kayaking, cross-country skiing, fishing, and more.
Here are all of the best things to do in Middlebury VT.
Explore the Trail Around Middlebury
For those who love to get outside, one of the top things to do in Middlebury VT is to explore the Trail Around Middlebury. You may even hear locals refer to it as TAM; that's how popular of a place it is to explore.
As the name suggests, this trail literally goes all around Middlebury, including a ski area, parks, and more. It's about 16.1 miles in total and is a loop trail; it's completely possible just to hike a small part of it and turn around after getting some exercise.
Most people will either hike or bike on this trail. Because of its length, it's technically varying in difficulty. A short hike, not doing the entire trail, would be easy, but it definitely gets difficult the more you walk, just because of the length.
The trail goes through New Haven, Waybridge, Cornwall, and Middlebury, so it's the perfect way to explore more of the area.
Shop at Vermont Soap
Get some shopping in and shop local with Vermont Soap. This business started back in 1922 and is one of the best places to visit in Middlebury. They specifically manufacture natural soap products and have an entire workforce they call the Soap Crew!
They have a retail shop right in Middlebury, but on the off chance that they happen to be closed during your visit, don't worry. Their items are also carried at the nearby Middlebury Co-Op, too. Shopping here is a great way to get some nice handcrafted soaps and support local businesses in Vermont.
Bike Part of the Lake Champlain Bikeway
So, technically the Lake Champlain Bikeway is super long, but part of it does go through Middlebury and nearby Vergennes. Even just doing a small part of this bikeway is fun, especially because of how beautiful it is. If you really want to, you can connect it all the way up to Burlington!
There are places to rent bikes in town, including Frog Hollow Bikes. They have bike sales and rentals, which is perfect if you're just traveling through Middlebury and didn't bring a bike during your trip.
Dine at Fire and Ice
Fire and Ice is a locally owned restaurant in Middlebury. The interior is truly what makes it so unique to visit! It has a super eclectic style, with skis, lights, paintings, and more hanging from every inch of the walls.
This steak house serves mostly American dishes and is perfect for a family dinner or even a date night. The menu ranges from wasabi panko tuna to twice-baked potato du jour. A lot of their dishes are mid-range pricing, though their meat prices do go up a bit higher.
This restaurant can get fairly busy during peak times of the year, so be sure to make a reservation on their website to ensure that you're able to eat there during your trip.
Hike the Abbey Pond Trail
Of course one of the best things to do in Middlebury VT is to go on a hike! The Abbey Pond Trail is a great moderate trail. It takes around 2.5 hours total to complete and is 4 miles in total length. This out and back trail does have quite a bit of elevation gain though, around 1200 feet.
The hike includes a lake, wildlife, and wildflowers. Parts of it are rocky, but it is dog-friendly if they're on a leash. This is a more popular trail in the area, but it's completely doable, especially if you get there earlier in the morning to avoid the crowds.
Have a Drink at The Otter Creek Brewery
Obviously, this list of things to do in Middlebury VT would not be complete without including at least one brewery! The best one to visit in town is called Otter Creek Brewing Co. In Middlebury, their location also includes a pub for quick bites.
The brewery is open daily and has small treats that change throughout the year. The space is super rustic and elevated compared to other brewpubs, with dark navy accents and warm wood throughout. There are tables as well as a high-top bar area where guests can sit if they're visiting alone.
When visiting, be sure to also stop by the Visitor Center! It's a great place to learn more about the brewery and its history.
Walk Through Otter View Park
Otter View Park is a quaint green space in Middlebury. It has a little lake area as well as a walking path that leads visitors through the park. It's a wonderful place to visit to experience a little tranquilness during a trip to Middlebury!
The trail that the park has is fairly short and is mostly flat the entire time, making it very kid friendly. Dogs are also allowed if they walk with leashes on. It's 0.6 miles total, and it's a loop path so you can enjoy different views the entire time!
Along the way, take in the beauty and look out for birds; lots of people go bird-watching here. This is a really fun activity any time of year. Seriously, even in the fall, it's a beautiful spot to walk through and experience Vermont's fall foliage.
Camp at Lake Dunmore in Branbury State Park
People love camping in Vermont! Luckily, there's a place right in Branbury State Park at Lake Dunmore (in one of Vermont's great state parks) that is perfect for camping. It's technically located in Salisbury but is not far from Middlebury at all.
For camping, there are 36 tent spots, 7 lean-to spots, as well as a cottage that's available for guests to rent if they don't want to be right outdoors.
In addition to camping, there are tons more to explore at Branbury State Park. There's a playground, picnic tables, and of course, the lake, where visitors can fish, paddleboard, kayak, boat, or swim.
Have a Blast at the Middlebury Snow Bowl
If you're visiting Middlebury in winter, you can't miss out on the Middlebury Snow Bowl. This is one of the best spots for skiing or snowboarding in Vermont, and it's completely family-friendly.
It's more than 100 acres big and usually has fairly short lift lines, so you can truly enjoy your day out on the trails. Plus, there are spots to rent skis and snowboards right on-site, so you don't even have to worry about traveling with all of your equipment.
Nearby, there are also places to stay, as well as the Rikert Nordic Center, where guests can go skating or even snowshoeing. This is also a great place to try cross-country skiing, a really popular sport here in Vermont.
Go Wine Tasting at Lincoln Peak Vineyard
Near Middlebury in New Haven is the Lincoln Peak Vineyard. This is a romantic place to visit for the day! The vineyard has roots dating back to the 1980s with the founders, though they didn't actually make their first batch of wine until 2006!
During the year, the vineyard offers some fun music and wine series that are super fun to attend. It doesn't cost much to get a ticket, and children under the age of 12 are free to attend.
Any other time, this is still a great place to visit, and they offer different types of wines and cheeses that visitors can try when they come. There are even wine flights for those who want to try more than one before taking a bottle home!
See a Show at Town Hall Theater
This small, local theater is perfect for those who want to see a show when visiting Middlebury. The Town Hall Theater has different events throughout the year, and some shows even have multiple show times so you can try to attend one!
Some of the events are free, while others do require tickets, so be sure to check their calendar online. They do post their upcoming shows at least a few months in advance, which helps to plan.
Of course, during shows, they have a bar and concession for anyone who wants a small bite to eat or a drink during their visit. They tend to have lighter snacks but also have alcohol and soft drinks. They do suggest that you bring your own water bottle because they no longer sell water and are going completely plastic-free!
Now you know all about the best things to do in Middlebury VT. It's truly a lovely place to visit in New England. Enjoy your trip!
---
You might also like: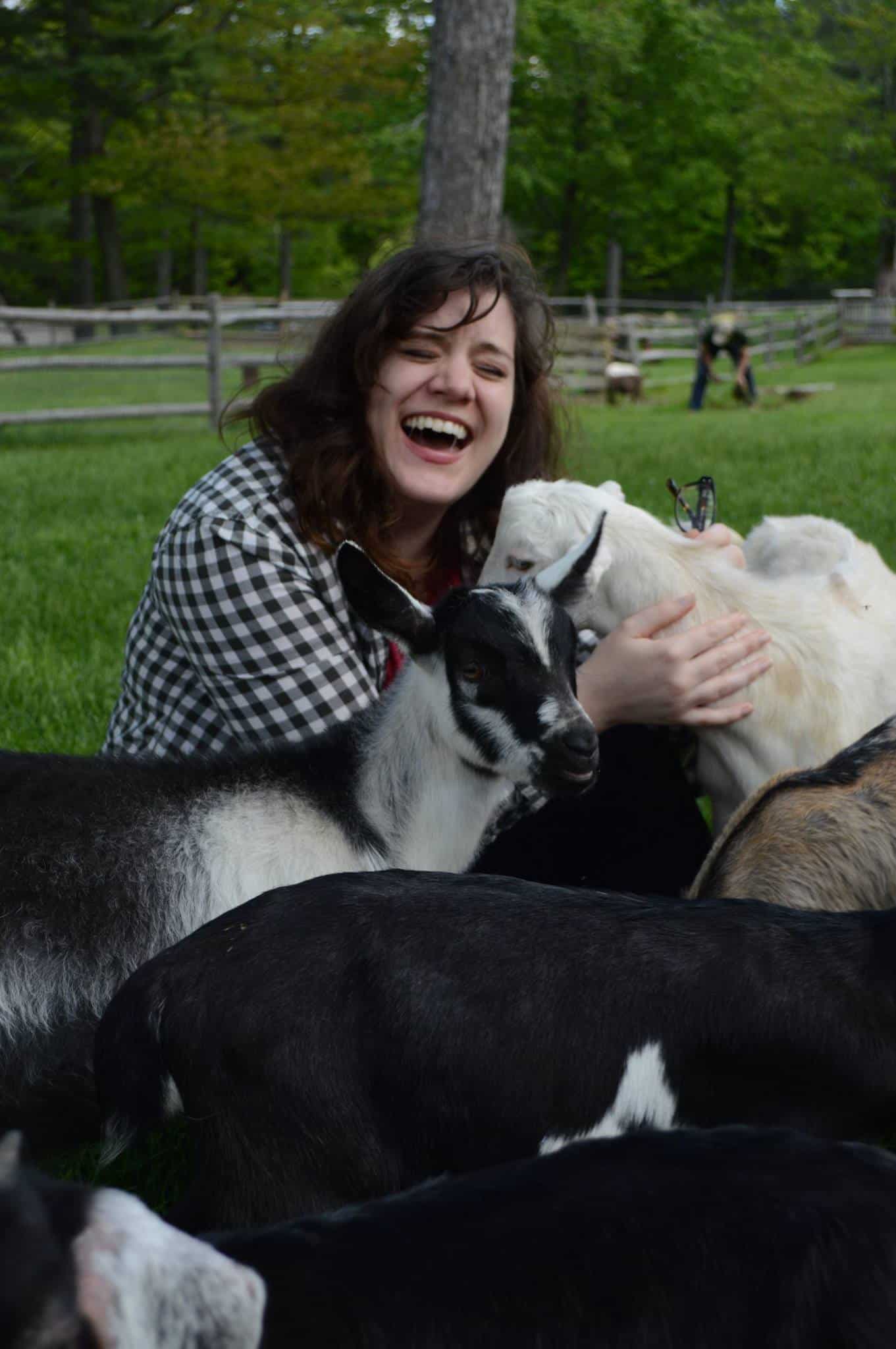 Amy Hartle is the founder and Editor-in-Chief of New England With Love, a comprehensive resource for travel in the New England region. Amy has been exploring New England since 2001. She lived in Vermont for many years and is a graduate of Plymouth State University in New Hampshire. Amy has been writing about travel for over a decade. On this site, Amy aims to share her love of New England and help you to have the best possible adventures!
Amy has been a full time blogger since 2012, and is also the publisher of Two Drifters, where she writes about couples travel and relationships, as well as Let's Adventure Baby, a family travel site. When not traveling the world or creating epic blog content, Amy can be found cuddling with her husband, son, and cats, & drinking a maple latte.