---
*Links in this article may be affiliate links, from which we may earn commission. See our
Privacy Policy
for full details.
---
Are you planning a trip to Hampton Beach? This is one of the best things to do in New Hampshire, and there are many things to do in Hampton Beach itself!
This post covers all of the top attractions and destinations in Hampton Beach, some of which are hidden gems. By the end, you'll know exactly how to spend your time there, no matter what budget you are on.
Keep reading to learn all about the top things to do in Hampton Beach, New Hampshire!
Play Games at Playland Arcade
Easily one of the best things to do in Hampton Beach New Hampshire, even if you're visiting without children, is to head to Playland Arcade to play some games. There's just something about playing games when you're near the water on vacation.
This arcade is filled with fun video games, including classics that you won't be able to help but have fun playing. Visiting Playland Arcade is a super fun way to spend an afternoon as well if it happens to be raining during your trip to Hampton Beach.
Relax at Hampton Beach State Park
When visiting Hampton Beach, you'll have to visit one of New Hampshire's state parks! The one that's local and very popular is Hampton Beach State Park. In fact, this is one of the top-rated places to visit in the entire state, so you won't want to miss it.
At the park, you can relax by the water, dip your toes in, and catch some sun. There's a fee to park at the beach, but it's not that high. To avoid crowds that come as the day goes on, consider getting to Hampton Beach State Park as early in the day as possible.
Pick Apples at Applecrest Farm Orchards
One of the best things to do when visiting New Hampshire in the fall is to go apple picking. Local to Hampton Beach is Applecrest Farm Orchards. Not only is it one of the oldest orchards that's still in use today in the USA, but it's also the largest one in New Hampshire.
Even if you visit during a different time of year, there arae still activities to enjoy at Applecrest Farm Orchards, as it's an apple orchard that's in use year-round. Don't forget to try their amazing apple cider donuts that they're pretty well known for.
Golf at Buc's Lagoon
Catch some sun and have some fun while golfing at Buc's Lagoon! This is a mini-golf attraction that's truly fun for the entire family. It's also a great place to visit if you happen to be in the area and are looking for a fun, romantic thing to do.
As you may guess, Buc's Lagoon is open seasonally and opens in May each year. It then closes for the season again in the fall, so this is an attraction you can only visit in the summer. If you get hungry while golfing, there's also a concession stand on-site where you can buy small bites like hot dogs!
Enjoy a Drink in the Beer Garden at Smuttynose Brewing Company
One of the best things to do in Hampton Beach New Hampshire is to grab a drink at Smuttynose Brewing Company! This local brewery opened in 1994 and is located on an old Victorian farm. Guests can visit to learn more about the brewing process by going on a tour.
After the tour, consider having a bite to eat at their restaurant. You can try their drinks and pair them with a tasty meal. Everything on the menu is mid-range pricing, and the best way to ensure that you can get a seat during your visit is to reserve a spot ahead of time or at least call ahead and join the waiting line. This is genuinely a popular place to eat!
Try to Win Big at Hampton Beach Casino
If you're willing to try your luck, head to the Hampton Beach Casino. The casino first opened back in 1899… yes, you read that right; it's a truly historic spot worth visiting. It's mostly only open in the summer.
In addition to trying your luck, there's also a lot more to do at the Hampton Beach Casino. There are also restaurants and some shops that you can explore while there. In addition, there are some super fun arcade games, and the parking here is some of the closest that you can get near the beach!
Have Fun at a Concert at Casino Ballroom
The Casino Ballroom is the most famous concert venue in Hampton Beach. Seeing a concert here is basically a rite of passage in the area! So, consider seeing a concert there or seeing what's going on there to attend something with the locals during your trip.
In addition to shows, the Casino Ballroom also hosts comedians if you're up for a laugh. Though it's only open seasonally (as with most of the things on this list), it's still worth visiting if you happen to be visiting between April and November.
Learn at Seacoast Fire Museum
One of the more unique things to do in Hampton Beach New Hampshire is visiting the Seacoast Fire Museum. This quaint but great museum is filled with antique firefighter objects, including alarms, flashing lights, equipment, and more.
The museum hosts a few different exhibits where you can learn more about fireman history. There are also many historical photos that you can check out to learn more. Children in particular absolutely love visiting this museum.
Satisfy Your Sweet Tooth at The Candy Corner
If you have a sweet tooth, then you won't want to miss out on The Candy Corner. It's a family-owned local candy shop in Hampton Beach that has every type of candy that your heart desires. Plus, adults will love the shop just as much as kids!
While the inside of the shop isn't that large, the walls genuinely are lines with candy. There are lollipops, taffy, and more. Plus, the shop is pretty well known for its great fudge, which it makes right in-house. It's been a local favorite shop since 1999! Shopping here is a great way to support the local businesses in the area.
Be Spooked by Haunted Island Path Road
One of the more unique things to do in Hampton Beach New Hampshire is to explore (or even just drive) Haunted Island Paath Road. There was a witch hunt in Hampton back in the 17th century, and one of the women was accused of being a witch. Many say that she cursed some of the sailors in the area.
The rest of the story gets a bit dark, but essentially, people say that after her death, she remained in the area to haunt it… especially this one road. Many people claim that they see spooky things happening on the road to this day, including animals that disappear right in front of their eyes, lights flickering on and off, and sometimes even hearing voices. Only visit this spot if you're okay with being spooked!
Get Close to Marine Life at Blue Ocean Discovery Center
To learn more about ocean life, consider stopping by the Blue Ocean Discovery Center. Throughout the building, there are many different exhibits and opportunities for you to get educated on marine life, and kids will love it.
While the Blue Ocean Discovery Center is relatively small, there is still quite a bit to do in there. It's open every day in the summer, though sometimes hours vary throughout the year. There are educators right on-site who love sharing what they know with visitors.
Eat Seafood at Sea Ketch Restaurant
Because New England is so well known for its excellent seafood, this list of the best things to do in Hampton Beach New Hampshire had to include at least one seafood restaurant. Sea Ketch Restaurant is the top seafood restaurant in this area of New Hampshire!
The restaurant is open for both lunch and dinner and has tons of indoor seating. There's clam chowder, seafood spring rolls, fried calamari, lobster Rangoon, and more. Everything on the menu costs around $15 or less.
Take in the View at the Hampton Beach Jetty Walk
For a peaceful yet beautiful easy walk/hike in Hampton Beach, consider doing the Hampton Beach Jetty Walk. It's only about half a mile long and is right near the water, so the views are impeccable almost the entire time.
It's an out and back trail that's rated as moderate. There's no elevation gain, and it's pretty rocky, so make sure you wear the right type of shoes for the walk. Sometimes, depending on the length of the water, you may not be able to get all the way out on the rocks.
Hopefully, this post has introduced you to all of the best things to do in Hampton Beach New Hampshire. With so many options, it can be hard to choose, but no matter what you decide to fill your vacation with, you'll genuinely have a blast!
—
You might also like: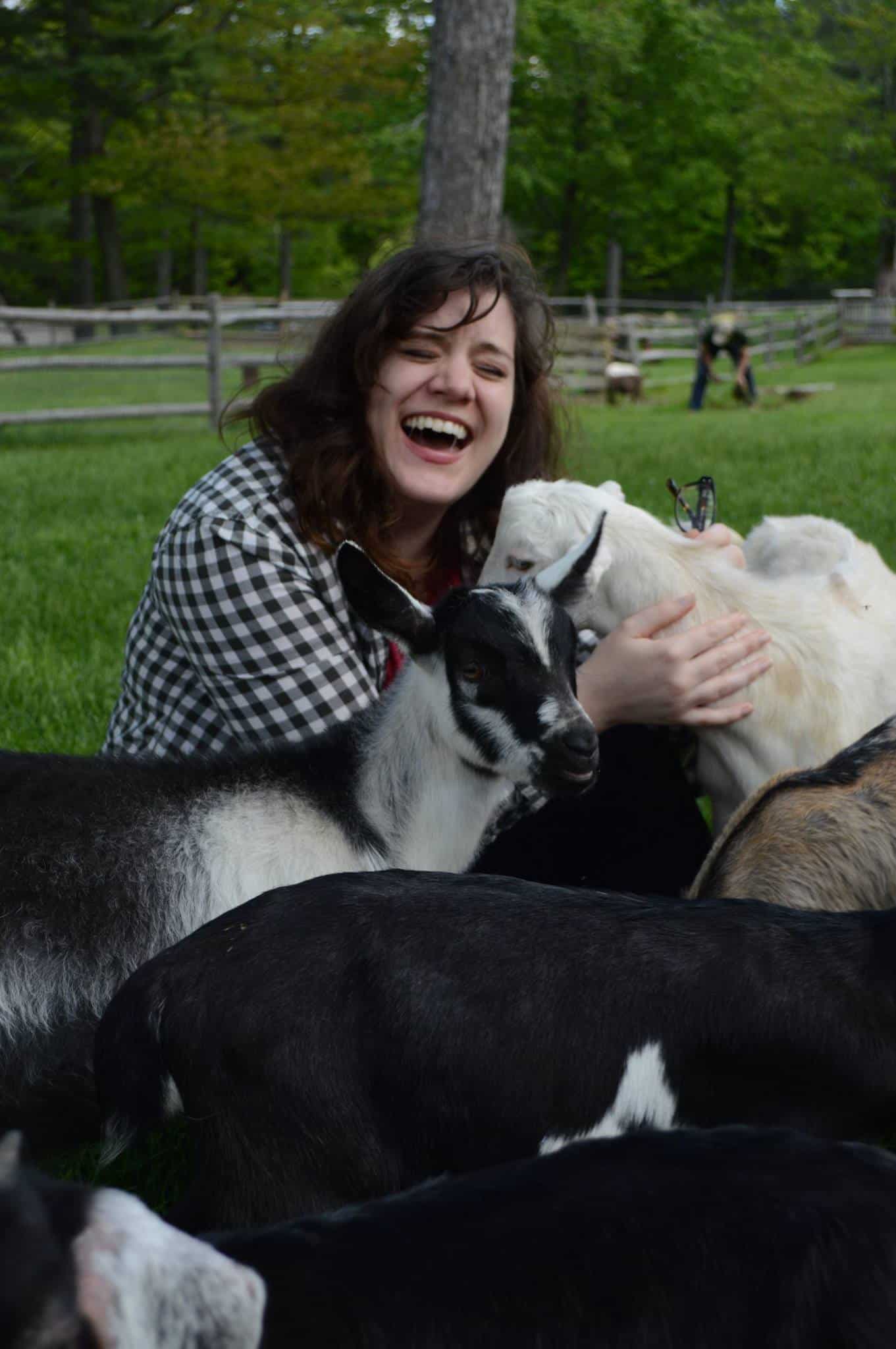 Amy is the founder of New England with love. A proud Vermonter, she hopes to share her love of New England and help you find the best adventures in the region. Amy is also blogger/founder at Two Drifters, where she writes alongside her husband about romantic and couples travel, relationships, honeymoons, and more. When not working on websites, Amy is probably reading, cuddling with her husband, son, and cats, & drinking a maple latte.