Dip your toes into these swimming holes in New Hampshire! We've taken the time to round up the best of the best when it comes to places to swim in NH, including swimming holes: lakes, rivers, and more.
No matter where you choose to go in New Hampshire on this list, we know that you'll have the best time possible. Some of the places on this list are pretty well-known, while others are a bit more under the radar. However, they are all great places to go to cool off in the warmer months of New England.
Keep reading to learn all about the best NH swimming holes.
Please keep in mind that many of these swimming holes are rocky and can be very slippery. Some also don't have any lifeguards. Please do your own due diligence and swim at your own risk.
Sawyer Brook Paradise, Bartlett
First up is the beautiful Sawyer Brook Paradise in Bartlett, New Hampshire! This is easily one of the best swimming spots on this list, since it's located in a breathtaking area with scenic mountains and a forest. In the summer months, you'll often find people over here dipping their toes in, as well as children swimming.
The walk to get to the water is fairly short, and the water itself is about 8 feet deep at its deepest. The water is also fairly clear, allowing you to see all the way to the bottom. There's a beautiful little area with cascades that you won't want to miss.
Packer's Falls, Durham
Packer's Falls is a great place to go to cool off in the warm months. There are some parking lots in the area, and the area where you go and dip your toes in is just under a bridge! Usually, if the weather is good, you'll find people relaxing on the rocks that surround the water with beach towels.
Keep in mind that because of the type of swimming area this is, there are no lifeguards on duty, and you should only swim at your own risk.
Lonesome Lake, Lincoln
Located near Lincoln in Franconia Notch, you absolutely won't want to miss out on Lonesome Lake. It takes a scenic 3-mile hike to get to, and once you're there, you'll realize it was well worth it. The trail is moderate but does have about 1,000 feet of elevation gain, and it's a loop trail.
Once you get to the water, you'll be amazed at the view. It's surrounded by breathtaking mountains, and in the summer, the beautiful blue sky with clouds reflects off the water. In the summer months, though, the trail leading up to the lake can get fairly busy.
Saco River
The Saco River in New Hampshire is a great place to cool off in the water! There are many spots along the Saco River that have sandy beach areas so that you can hop in and enjoy either swimming or tubing, or even other water activities.
One of the best (more hidden) spots to go swimming along the Saco River is Humphrey's Ledge, which is in North Conway. You'll often find children at this swimming spot enjoying the water in the summer months, and often their parents will even jump into the water too!
Old Wilton Reservoir, Wilton
Old Wilton Reservoir in Wilton, NH, was recently opened in the last few years for swimming. Since being opened to the public and the no swimming signs being removed, it's quickly become a popular swimming hole in the area.
The reservoir is truly scenic, surrounded by a forested area, so you can find some shade in addition to cooling off in the water. This is a lovely place to go swimming, especially in the summer months.
Sculptured Rocks, Groton
Make your way to Groton, New Hampshire, to pop into the water at the Sculptured Rocks Natural Area! It's a scenic spot surrounded by rocks (like the name suggests), but you are allowed to go and swim when the water conditions are lower. Often, you'll also find people jumping off the rocks there, but again, this is something that should only be done at your own risk.
Keep in mind that you do have to walk on rocks to get to the water where you can swim, and it can get a bit slippery or can hurt your feet. It's recommended to grab some swim shoes to protect your feet, just like at most swimming holes.
The Deep Hole, Gilsum
Another great swimming hole is in Gilsum, and it's called The Deep Hole. The area got its name because there's a really deep section of it. There are also rocks around the watering hole where you'll often find people jumping off into the water.
While you're at this spot, you could also go to the nearby Stone Arch Bridge, which is in Keene. This is another great spot to swim, and you could easily go to both within the same day if you really wanted to. Plus, because it's under a bridge, you'll be able to stay in the shade if you want to.
Lakes of the Clouds, Jackson
Located near Jackson, New Hampshire, the Lakes of the Clouds are a great place to dip your toes in. The water here is lovely, and the view is absolutely incredible – you won't want to forget your camera.
You do have to go on a bit of a trek to get up to the lake, and it isn't easy. In fact, the trail itself is ranked difficult, and it has 2,000 feet of elevation gain on this out and back trail. For a fun time, do the trail all the way up to the Washington Summit, which is an extra 1.5 miles past Lakes of the Clouds. The summit is rewarding, and you can hop into the water on your way down!
Diana's Baths, Bartlett
Diana's Baths is an incredible spot to go swimming, but keep in mind it's a bit better to dip your toes into than swimming because it's a bit shallow. There is a small fee of around $3 to park near the baths as well because it's in a National Forest.
Once you get to Diana's Baths, you'll love the beautiful waterfall that accompanies the area. Visitors will be standing around on the rocks, dipping their toes into the water to cool off, especially on a hot summer's day.
Swiftwater Falls, Bath
Swiftwater Falls is the perfect place to enjoy swimming, and the entire area is very scenic! As the name suggests, there's a great waterfall here, plus a swimming hole where you can go swimming.
One great thing about Swiftwater Falls is that the temperature of the water is almost always perfect, especially in the summer months between May and September. The best time of day to visit is in the late afternoon; mid-day is when you'll find the most amount of people there enjoying the water.
Franconia Falls, Franconia Notch State Park
Located within Franconia Notch State Park, Franconia Falls is a beautiful waterfall that's amazing for swimming! It's easily one of the top swimming holes in this area of New Hampshire, and visitors love using the on-site waterfall as a sort of slide to hop into the water.
The pool is surrounded by big rocks where you can lay out in the sun and just enjoy the view. The best time to go is when there are lower water levels because that is when it's a bit safer. So be sure to pay attention to the water levels on your visit.
Emerald Pool
Last but certainly not least is Emerald Pool, which is partly in Maine and New Hampshire, but it still deserves to be included on this list. There's a short trail called Baldface Trail that you follow to get up to the pool, and you just follow the yellow-marked trail, which aren't hard to miss.
The trail is a bit rocky at parts, but once you get to the water, you'll be super happy that you made it. The Emerald Pool is surrounded by rocky areas that will take your breath away. Keep in mind that the actual water spot isn't that large, and the pool can get pretty busy in the summer months.
We hope that you enjoyed this post about the best swimming holes in New Hampshire! Summer in New England is truly beautiful, but the sun and warm weather can definitely get to you. Cooling off at one of these places is the best way to go. Don't forget to share this post with others!
---
Read these next: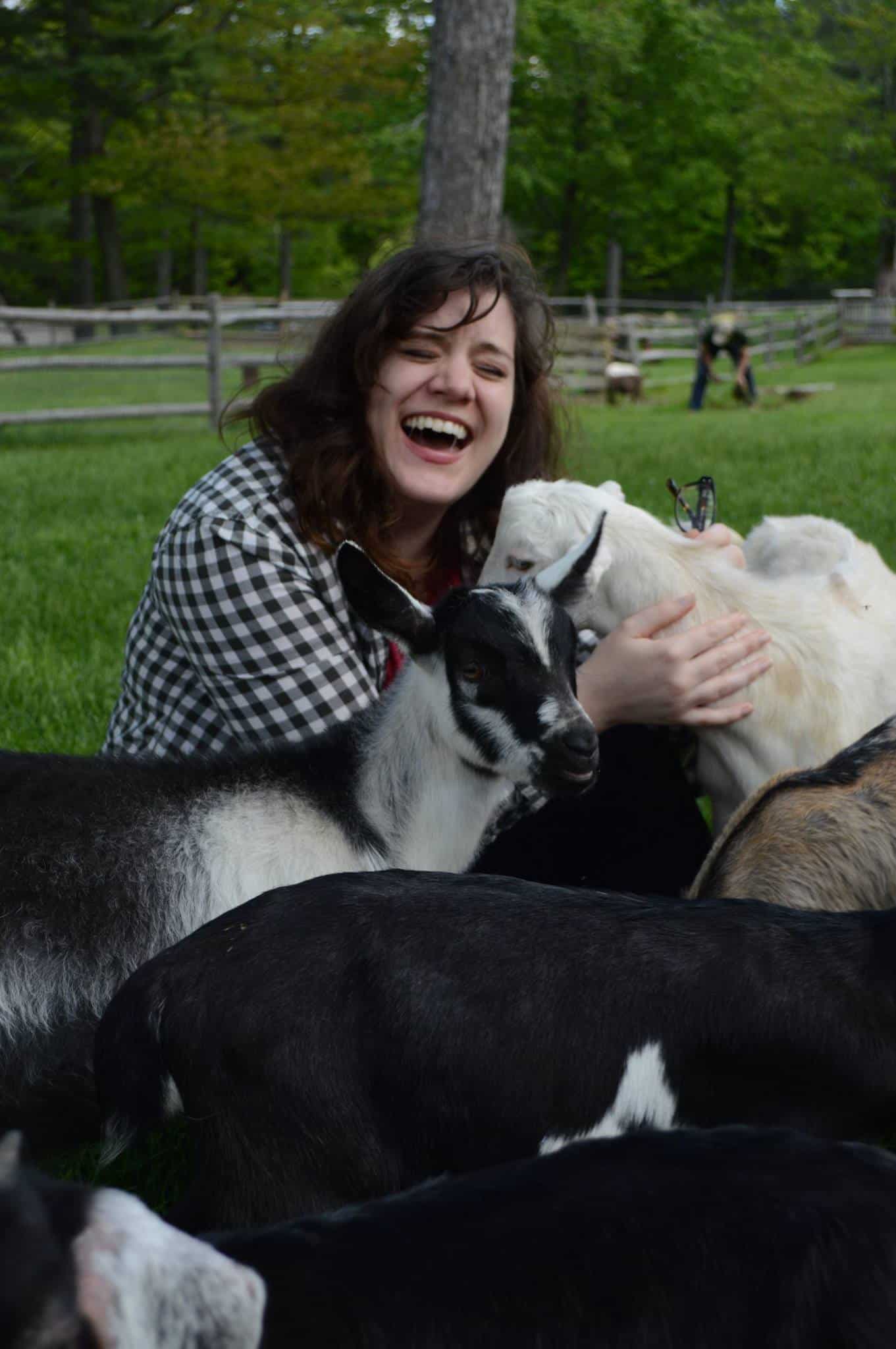 Amy Hartle is the founder and Editor-in-Chief of New England With Love, a comprehensive resource for travel in the New England region. Amy has been exploring New England since 2001. She lived in Vermont for many years and is a graduate of Plymouth State University in New Hampshire. Amy has been writing about travel for over a decade. On this site, Amy aims to share her love of New England and help you to have the best possible adventures!
Amy has been a full time blogger since 2012, and is also the publisher of Two Drifters, where she writes about couples travel and relationships, as well as Let's Adventure Baby, a family travel site. When not traveling the world or creating epic blog content, Amy can be found cuddling with her husband, son, and cats, & drinking a maple latte.