Lincoln is a beautiful small town in New Hampshire surrounded by the White Mountains. It's a popular spot to stay when visiting Franconia Notch State Park, one of the places that should be on everyone's New England bucket list. Many people don't know this, but there are also many great restaurants in Lincoln NH too!
Whether you've been to Lincoln before or not, you'll definitely want to visit this town after reading this article. Throughout this post, you'll find some of the best places to eat in Lincoln, including ones for a variety of budgets and types of food.
Here are all of the top restaurants in Lincoln NH!
Thai 9 Lincoln
Location: 151 Main St, Lincoln, NH 03251
First up is Thai 9 Lincoln, a small Thai restaurant that serves the best Thai food in Lincoln. This restaurant is also known for catering towards all types of dietary restrictions and has a wide selection of gluten-free and veg=gan options on their menu.
Thai 9 Lincoln first opened to bring a bit of Thailand to this small town. With their top-trained chefs, they did just that! It's now a bit of a hidden gem for those looking for some tasty food while visiting Lincoln NH.
The menu is jam-packed with affordable options. There are appetizers ranging from edamame to potstickers and even shrimp Suh mai. In addition, there is a wide range of salads, soups, seafood dishes, noodle dishes, curry, and more—most items on the menu cost under $15.
Seven Birches Winery
Location: 22 S Mountain Dr, Lincoln, NH 03251
For a unique place to eat with some of the best wine in all of Lincoln, look no further than Seven Birches Winery. Even though it's a bit pricier than some other places to eat in town, Seven Birches Winery is consistently ranked high among couples visiting the area.
The winery itself is at River Walk Resort at Loom Mountain, one of the best hotels in New Hampshire. It's a beautiful winery with an exquisite atmosphere, including an attached rustic shop where you can purchase some wine to take home.
You can purchase finger foods at the wine bar and tasting area to go with their handcrafted local wines. There is quite a bit of outdoor seating as well, perfect for enjoying the beautiful weather that you'll witness in New Hampshire in summer.
Gordi's Fish & Steak House
Location: 260 Main St, Lincoln, NH 03251
Another of the top restaurants in Lincoln NH is Gordi's Fish & Steak House. This mid-range restaurant is the best spot to get a steak in all of Lincoln and is known for its super friendly service and tasty food.
Inside, the restaurant has a bit of a pub feel to it. There's memorabilia and decor hanging from every inch of the place, from the wall to the ceilings! The main attraction is the giant bar in the middle of the restaurant that's impossible to miss.
There's pretty much every type of classic steakhouse meal on the menu that you can think of. There are dishes like fried calamari, boneless buffalo wings, scallops wrapped in bacon, and even bacon and cheddar potato skins for appetizers. There's also steak, soups, salads, fish, pasta, and more.
Jimmy Seas Pan Pasta
Location: 25 S Mountain Dr 2nd Floor, Lincoln, NH 03251
Who wouldn't want to eat at a delicious Italian restaurant? Jimmy Seas Pan Pasta is one of the top restaurants in Lincoln NH. It has a very old-school feel to it and is considered one of the more underrated places to eat in the area.
The inside of the restaurant is so laidback, with classic red walls and exposed wooden beams. Walking inside will make you feel like you're eating at a family home because of how welcoming the interior is.
The best thing to order at Jimmy Seas Pan Pasta is obviously pan pasta! Most of these are between $30 to $40, so it is a bit more of an expensive restaurant, but it's so worth it. Choose between pan pasta flavors like shrimp garlic cream, lobster ravioli, and even linguini carbonara.
El Greco's Pizza
Location: 123 Main St, Lincoln, NH 03251
Everyone is in the mood for pizza every once in a while! Lincoln's best spot for pizza is none other than El Greco's Pizza. It looks like a classic pizza restaurant with a giant red sign from the outside. The parking lot is almost always packed, especially on the weekends!
The inside of the restaurant is very laid back, just what you'd want from a small town pizza place. There are bright yellow walls, warm lighting, and ample seating, including booths. All you have to do is walk up to the register and order your pizza for there or to go!
The restaurant has every type of pizza that you can think of. No matter what topping you want, you'll be able to put it on your pizza. Plus, if you're not in the mood for pizza, you can even swap it out for a calzone instead!
Gypsy Cafe
Location: 117 Main St, Lincoln, NH 03251
You may be shocked to realize that the Gypsy Cafe is one of the best restaurants in Lincoln NH! This cafe has a great menu and ample seating and is the perfect place to eat if you want something quick and homecooked.
One thing that makes Gypsy Cafe so remarkable is its fun and eclectic interior. There are bright green walls, hardwood tables, and miscolored chairs that just add to the overall vibe. There's also a lovely patio outside with outdoor seating overlooking the mountain range.
Gypsy Cafe is open for both lunch and dinner. The menu is pretty international, featuring dishes like stir fry, sandwiches, rolls, quesadillas, and even burgers! Everything costs around $15 or less depending on what you order, and service is usually relatively quick.
One Love Brewery
Location: 25 S Mountain Dr, Lincoln, NH 03251
If laidback is what you like when you go out to eat, then don't look any further than One Love Brewery. This rustic brewery serves up great casual food in a traditional German beer house style. It's almost like a little taste of Germany in New England!
The brewery has an open floor plan with super high ceilings and fun candles hanging from the top. There are classic wooden seats, and due to the size of the restaurant, they can accommodate larger groups of people.
From burgers and sandwiches to fish and chips, the menu covers pretty much all the bases. There's also chicken and waffles, pretzels with gouda cheese sauce, poutine, and even duck tacos! Most appetizers are around $10, while entrees are closer to $20.
El Charro
Location: Paper Mill Dr, Lincoln, NH 03251
El Charro is the Mexican restaurant in Lincoln! With outdoor seating and pool tables, you really can't go wrong by eating here, which is why it's one of the best restaurants in Lincoln NH. Plus, the service is impeccable.
The atmosphere at El Charro is extremely lively. There are fun lights, decorations hanging from the ceiling, and bright walls. Plus, all the food is served up on super bright festive entrees. There's also a bar where you can order any type of margarita you can think of.
The dishes on the menu are a bit more expensive at around $20 to $30, depending on your order. There are tostadas, quesadillas, fajitas, tacos, and more on the menu. There are also a few salad options for those who want something a bit lighter.
Chieng Garden
Location: ​​165 Main St, Lincoln, NH 03251
Even though you could easily miss this place by driving by it, Chieng Garden is an excellent Chinese restaurant that you won't want to miss. It's the perfect place to go if you want a quick takeout while visiting Lincoln.
Inside, the restaurant is shockingly pretty large. There's banquet-style seating with some large tables, and the entire restaurant is mint green. In addition, there's fun lighting that hangs from the ceiling, completely wrapped in plants.
The menu at Chieng Garden is absolutely huge. A lot of the dishes cost under $10. There's fried wontons, noodles with sesame sauce, chow mein, fried rice, and even chef's specialties like crispy sesame chicken and lemon crispy delight.
The Common Man
Location: 10 Pollard Rd, Lincoln, NH 03251
Last but not least is The Common Man, a local bar and grill that serves classic American food. The restaurant is exceptionally comfortable and rustic and is easily one of the most popular places to eat in town, which is why it's one of the best restaurants in Lincoln NH.
One of the things that makes this restaurant so great is its beautiful interior. There are stone walls, exposed wooden beams across the ceiling, and fun twinkle lights that help to set the atmosphere. There's also outdoor seating.
Even though the menu is short, they have some of the best food in Lincoln. Choose between bacon caramelized onion dips, bacon-wrapped shrimp, lobster corn chowder, and even classics like grilled chicken sandwiches. No matter what you pick from the menu, you'll truly enjoy it!
Hopefully, this post has helped you find some of the best restaurants in Lincoln NH. Lincoln truly has it all, from local Mexican restaurants to traditional American joints.
—
You might also like: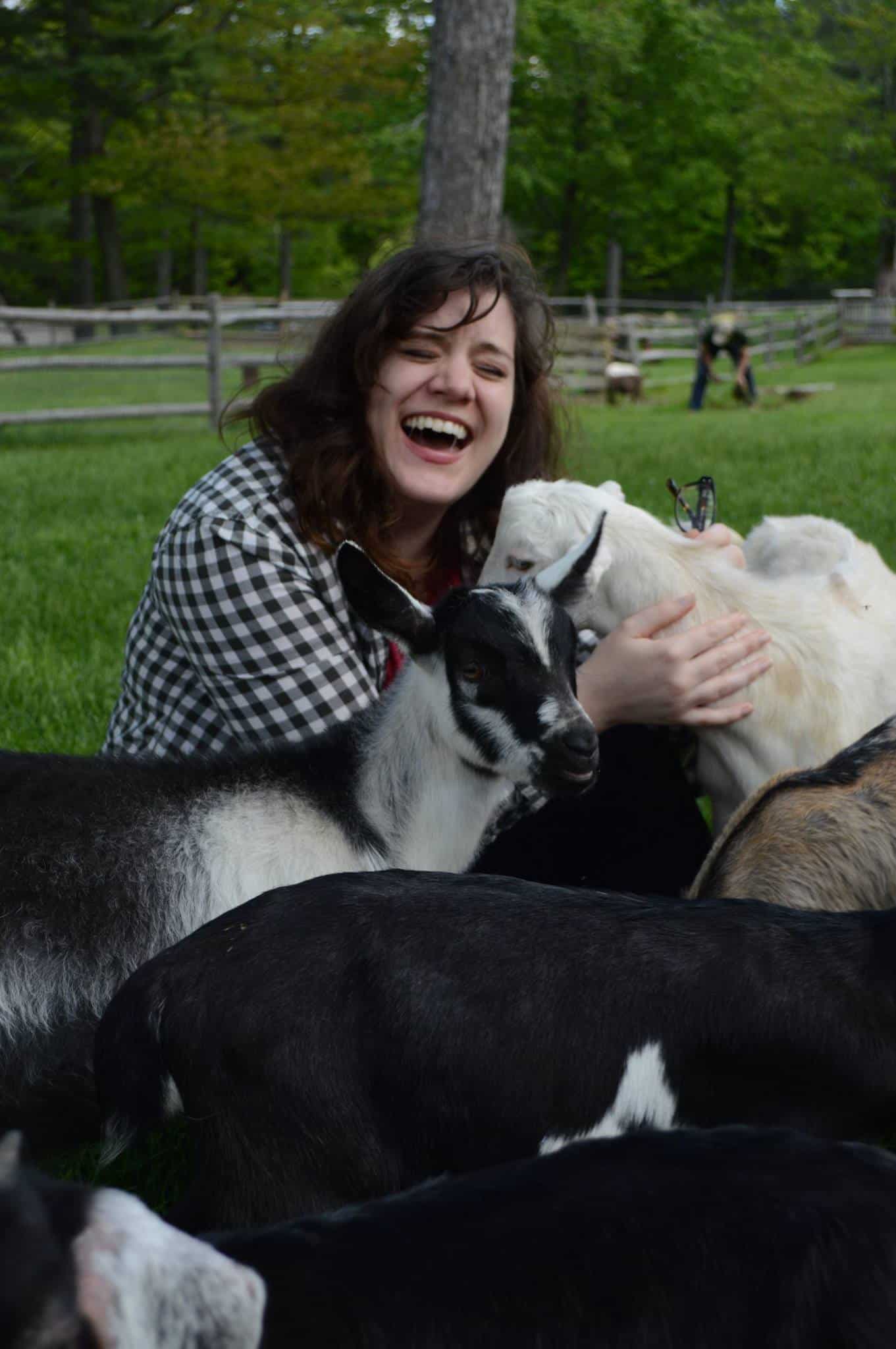 Amy Hartle is the founder and Editor-in-Chief of New England With Love, a comprehensive resource for travel in the New England region. Amy has been exploring New England since 2001. She lived in Vermont for many years and is a graduate of Plymouth State University in New Hampshire. Amy has been writing about travel for over a decade. On this site, Amy aims to share her love of New England and help you to have the best possible adventures!
Amy has been a full time blogger since 2012, and is also the publisher of Two Drifters, where she writes about couples travel and relationships, as well as Let's Adventure Baby, a family travel site. When not traveling the world or creating epic blog content, Amy can be found cuddling with her husband, son, and cats, & drinking a maple latte.