*This site uses affiliate links; if you make a purchase through these, I may receive a small commission at no cost to you.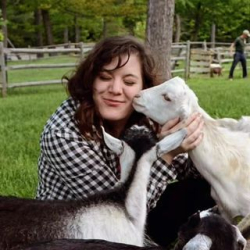 Latest posts by Amy Hartle
(see all)
"Island life" can mean so many different things depending on where you are! In New England, islands can mean a charming scenic community with amenities galore or an island in New England might simply be a picturesque nature reserve surrounded by pristine waters and accentuated by a lovely lighthouse or two. New England islands are just about as varied and versatile as most things in this romantically resilient region are!
Stunning scenery, intriguing history, and opportunities to get out outdoors and enjoy everything New England islands have to offer in the summer are just a few of the highlights you can look forward to during a visit to these interesting islands in New England.
If you're looking for a beach vacation, there's a New England island for you. If you'd prefer a quiet, remote spot to gather your thoughts as you take in spectacular scenery, there are New England islands perfect for that. If it's a peek into the past on an island that seems to have almost frozen in time, you can bet there's a New England island where you can experience that, too!
Island getaways in New England might be a little different than island getaways in the tropics, but New England islands offer their own fantastic flavor of island fun! Get ready to book your ferry ticket, because it's time to see which of these New England islands will make their way on to your must-visit list for this summer!
New England Islands to Visit
Mount Desert Island ME
The home of Acadia National Park, it's no surprise that Mount Desert Island is one of the best New England islands to visit! In addition to all the fantastic hiking, camping, and other fun things to do in Acadia National Park, Mount Desert Island is also home to Bar Harbor, an adorable coastal community with great restaurants, places to stay, and an absolutely darling downtown full of quaint shops and galleries just waiting to be explored!
Mount Desert Island is an excellent summer New England island destination for anyone looking for the best of both worlds: great opportunities for outdoor fun and no shortage of convenient amenities to enjoy!
Star Island NH
Straddling the New Hampshire/Maine border, Star Island is a part of the Isle of Shoals, and this New England island has a rich history as a summer retreat for writers, artists and other intellectuals who were looking for a place to commune with like-minded individuals, and that story continues to this day as Star Island offers a full itinerary of educational programs and conferences for anyone interested in learning more about topics like natural history, ecology, arts, and more.
Visit for a day, attend a conference, or book a personal retreat and stay a few days on island and enjoy a very rustic, low-tech, minimalist stay at the historic Oceanic Hotel. If you're looking for an unplugged New England island getaway, Star Island might be just the spot for you! Ferry services to the island run out of Portsmouth and Rye every summer!
Grape Island MA
One of the beautiful Boston Harbor Islands, Grape Island is a naturalists paradise! Easily accessible by a quick ferry ride from Boston, Grape Island is a great summer camping destination for anyone who doesn't mind roughing it a bit! Bring your own food and water (and plenty of bug spray!), but then spend a day exploring the seaside tidal pools, the beautiful wildflower fields, and marveling at how this 54-acre nature park nearly doubles in size at low tide!
If you're not interested in camping overnight and utilizing the composting toilets on Grape Island, the close proximity to Boston and all of its incredible hotels, vacation rentals, and restaurants makes a visit to Grape Island an easy way to enjoy the "rugged outdoors" for just a bit before heading back to all the fun of the city! Just be sure to check the ferry schedule, most summer days offer a morning and an afternoon ferry between Boston and Grape Island.
Block Island RI
If you're looking for a beautiful beach vacation, Block Island needs to be at the top of your list of New England islands to visit this summer! Full of gorgeous beaches, great places to stay, wonderful restaurants to eat in, lovely lighthouses to visit, and just so much eye candy everywhere you look, Block Island is a fantastic New England island summer destination.
It's one of the most beautiful places in Rhode Island, and is a must-visit spot for summer fun in the Ocean State! There are so many great things to do on Block Island, it is a wonderful choice for a New England island vacation!
Grand Isle VT
Many don't think of Vermont when they think of New England islands, but you should! A part of Vermont's Champlain Islands, Grand Isle is sometimes referred to as South Hero for the cute New England island town that attracts so many. Spend a little time hiking in quaint Grand Isle State Park or horseback riding at Breakaway Farm, then finish up the day by enjoying the summer concert series at Snow Farm Vineyard, one of the best vineyards to visit in New England!
Conveniently, Snow Farm Vineyard is just up the road from Crescent Bay Farmhouse B&B, an adorable working farm ran by the same folks as the vineyard. Of course, Burlington is less than a half an hour drive via the causeway, and there are a ton of great options there for places to stay and eat, too!
Aquidneck Island RI
The home of Newport, Middletown, and Portsmouth, Aquidneck Island is a definite must-visit out of all the New England islands! Beautiful beaches, the historic Gilded Age mansions, fantastic restaurants, and incredible places to stay await visitors to Aquidneck Island. Everyone knows Newport is full of fun things to do, but the rest of the island doesn't disappoint, either.
Slow down at Sweet Berry Farm in Middletown with wholesome Pick Your Own fun picking strawberries, blueberries, raspberries and more, and then head up to Portsmouth to check out Green Animals Topiary Garden, where you can stroll among some incredible topiary creations and beautiful blooming flowers. When it comes to summer fun, Aquidneck Island offers plenty of it!
Chebeague Island ME
The largest island in Casco Bay, Chebeague Island is home to a few hundred residents year-round, but every summer this number triples with those who come to stay for a day, a week, or perhaps even the entire summer! This laid-back New England island hosts anyone looking for a down-to-earth Maine summer experience, with activities like fishing, lounging on the beach, sailing, golfing, biking around the island, and just taking in that fresh sea air.
The historic Chebeague Island Inn is the place to stay on island, resting on 2.5 acres of oceanfront. Enjoy meals prepared either by the award-winning chef at the inn or venture into town to eat at one of the local cafes, but either way, you won't have to look far for expertly-prepared fresh seafood right off the boat! Chebeague Island is a great spot for a Maine summer island vacation.
Click Here to Check Prices & Book!
Thimble Islands CT
An archipelago comprised of hundreds of islands, the Thimble Islands of CT has been the home of notable names such as author Ayn Rand and former President William Taft, and today, many are still grand estates to those who are able to claim they really "bought an island!"
Cruise tours of the Thimble Islands include tales of the history of these lovely islands, like the pirate treasure that may remain buried on a certain island to this very day! If you'd prefer to tour the Thimbles at your own pace, you can rent a kayak in Branford and make a day out of it, too. Tour the Thimble Islands then head to nearby coastal communities like Madison, Old Saybrook, Mystic, and New Haven to continue your summer vacation fun!
Cabbage Island ME
Cabbage Island is a private island that is known for hosting phenomenal clambakes that have become the thing to do during Midcoast Maine summers! The ferry departs from Boothbay Harbor and in just a quick ten-minute ride, you are transported to the idyllic Cabbage Island for a uniquely Maine summer experience: the Cabbage Island Clambake!
On offer are some of the must-haves of a traditional Downeast clambake, including fish chowder, lobster, corn, clams, and blueberry cake made with freshly picked Maine blueberries! Peaceful island fun includes activities like badminton and horseshoes and just relaxing back under the shade of an old Oak while you take in the spectacular scenic views. A visit to Cabbage Island is a way to experience the charm of New England's islands in an immersive yet laidback way!
Martha's Vineyard MA
A beautiful New England island for summer vacation, there's no doubt that a visit to Martha's Vineyard will be a fun one! Full of rich history and the very real possibility that you may bump into some of America's political hotshots, Martha's Vineyard has plenty to see and do!
Of course, there are plenty of beautiful beaches to choose from on the Vineyard, but sailing and hiking are also popular ways to spend a day on this lovely New England island. Another great advantage of choosing Martha's Vineyard as your summer vacation spot is that when it comes to amenities, there's no shortage of amazing restaurants, cool places to stay, and great boutique shopping for all those fun summer souvenirs!
Peaks Island ME
Another one of the New England islands in Casco Bay, Peaks Island is a great summer spot to visit, especially if you're going to be in the Portland area anyway! Just a quick ferry ride from Portland, Peaks Island offers a lovely island retreat with beautiful ocean views.
Go horseback riding, hang on the beach, kayak in the ocean, stroll through the quaint downtown area, take a bike ride, and enjoy some of the charming on-island restaurants. If you're looking to stay on the island, consider booking a room at The Inn on Peaks Island. With rooms that are the very image of understated Maine elegance, it will be hard to find a more comfortably indulgent place to lay your head each night!
Click Here to Check Prices & Book!
Plum Island MA
A barrier island protecting Newbury and Newburyport from the sea, Plum Island is an excellent New England island to visit during the summer months! Not only are there gorgeous beaches that are perfect for swimming, sunbathing, and taking in the ocean views, there are also walking trails around the island that allow visitors to explore more of this coastal oasis, like the Parker River National Wildlife Refuge.
There are several great choices for where to stay and eat while on Plum Island, but a favorite among summer tourists is Blue Inn on the Beach. This boutique hotel offers rooms with ocean views, fireplaces, and clean, crisp coastal decor that is absolutely perfect for a New England island summer vacation! If you're looking for a beachfront stay, Blue Inn on the Beach is it!
Click Here to Check Prices & Book!
Monhegan Island ME
Catch a ferry out to Monhegan Island from Boothbay Harbor, Port Clyde, or New Harbor and see what has made this little laid-back 1.7-mile long island such a favorite summer spot for visitors looking to unplug for so many years. Explore the 9+ miles of hiking trails that meander around the island and through meadows, forests, and along the shore, taking in the fresh sea air of this New England island.
In addition to its beautiful scenery, you'll also find cute little island shops and restaurants to check out, including island brewed craft beer, small-batch chocolate, and fresh-roasted coffee! The island is also home to the Monhegan Museum of Art & History, and if you decide to stay overnight, there are plenty of choices there, too, but The Island Inn is a historic hotel that offers quiet comfort on a scenic bluff with harbor views. Sounds about perfect for a New England island inn, right?
Nantucket MA
When it comes to New England islands, Nantucket is about as picturesque as a New England island can get! Arrive by ferry or air, but with beautiful beaches, lovely lighthouses, wonderful walking trails, boutique shopping, cobblestone streets, excellent restaurants, and so many fantastic places to stay, Nantucket is a phenomenal summer in New England option!
There are so many fun things to do on this immaculate island, anyone looking for summer vacation ideas in New England should consider Nantucket. Nantucket is also home to luxurious Relais & Chateaux hotel The Wauwinet, one of the best hotels in New England, so if you're planning a romantic New England island getaway, The Wauwinet might be the perfect landing pad for you and yours!
Click Here to Check Prices & Book!
Notable Mention: Cape Cod
Okay, while it is technically not an island in New England, Cape Cod is a dreamy summer vacation destination, and a cape is pretty close to an island, right? With beautiful beach towns, stunning beaches, scenic hikes, incredible restaurants, and fantastic places to stay, it will always be a strong contender when planning a summer getaway off the coast of New England!
There's more to do on Cape Cod than just hang on the beach, too! Go whale-watching, explore popular Cape towns like Provincetown, Chatham, and Wellfleet, grab an ice cream cone, and enjoy the magical summer breeze in this spectacular summer destination. Cape Cod is also a great New England vacation destination with kids, too!
If you're looking for New England islands to visit this summer, you certainly have plenty to choose from! Whether you're planning a multi-week luxurious summer getaway or a quick day trip to an island in New England, there's just about every kind of experience you could want in the list above. Have fun on your New England island getaway!
Read these next:
Where to Find the Best Lobster Roll in Cape Cod