---
*Links in this article may be affiliate links, from which we may earn commission. See our
Privacy Policy
for full details.
---
Are you looking for an exciting way to explore the majestic lake of Winnipesaukee in New Hampshire? Look no further – renting a boat is one of the best ways to enjoy this beautiful lake, so we've rounded up the best Lake Winnipesaukee boat rentals.
With so many options available, it can be challenging to decide which rental company is right for you. Plus, there are all kinds of boats, from speedboats and paddle boats to kayaks and canoes.
Here, we will give you all the information you need so that you can make an informed decision when choosing your rental. Read on and learn how easy it is to rent a boat at Lake Winnipesaukee!
Lake Winnipesaukee Boat Rentals
Ekal Activity Center
First up is Ekal Activity Center, a great place to rent boats. Located in Meredith, New Hampshire, there are a variety of boats available to rent from here. Choose between kayaks, canoes, and even aqua cycles (kind of like a bike… but on water). Each has its own hourly rate, ranging from $35 to $55 per hour, but there are also half and full day options for kayaks and canoes.
For something a little more fun but still on the water, consider renting a stand-up paddle board. Paddle boarding takes a bit of time to get used to, but within an hour or so, you'll totally be a pro.
Another option, if you'd rather not rent, is to go on one of their pontoon boat charters. These can hold up to ten people, perfect for a family night out on the water with an experienced captain who will bring you around the lake.
Melvin Village Marina Inc
Another great option is Melvin Village Marina, Inc. in Melvin Village. Rental season through this company is between June and September, and they offer a variety of vessels that are well-maintained and taken care of. Note that they only allow rentals for full or multiple days at a time, and they do require you to book ahead of time.
Each boat rental at Melvin Village Marina Inc. includes an anchor and line, paddle, throw cushion, navigation chart for Winnipesaukee, life jackets, and more. A valid driver's license and NH boater's license is required, but they do have 2-week temporary licenses available if you pass a marina test online.
Irwin Marine
Irwin Marine is a perfect place to rent equipment to explore Lake Winnipesaukee. Rentals at Irwin Maine include 24' pontoons, 21' sea ray bowriders, and 20' Berkshire pontoons. Currently, the Berkshire pontoon does not require a boat license.
Similar to Melvin Village, you do have to book by the day from Irwin Marine. They have a special rate for rentals from 1 to 4 days, and then a lower rate if you book for 5+ days. If you're planning a big family vacay, that's definitely a better option!
If you're renting from Irwin Marine, be sure to add on a Water Fun Pack for $50 per day, which can be set for wakeboarding, water skiing, tubing, or knee boarding.
East Coast Flightcraft
With multiple locations in Laconia (including on the Winnipesaukee Pier), East Coast Flightcraft is the perfect place to rent a boat from. Their main boat that they rent out is a pontoon, which has 10 people maximum per boat. They have half day and full day pricing, with half day only available on weekdays due to weekend popularity.
Other fun rentals at East Coast Flightcraft include standup paddle boards or kayaks. These are available to rent for either the full day, half day, or a 2-hour period. No boater licenses are required for a pontoon rental here.
Lakeside Boat Rentals
To explore Lake Winnipesaukee, you could also consider renting from Lakeside Boat Rentals. There are two different types of boats available for rent here, a deckboat and a pontoon.
The deckboat has a full day rental price but also a 6-day rental discount. It can hold 8 people at a time and has incredible stereo speakers with Bluetooth capabilities. It's truly been built for comfort and luxury!
The pontoon also had full day rental prices and 6-day rental discounts. It has a 10-person capacity and is also outfitted with Bluetooth stereo speakers and safety equipment. No matter what you decide to book, you can also add on tubes for a daily price.
Y Landing Marina
In addition to selling boats, Y Landing Marina has a lot of boats available for rent for a great day out on Lake Winnipesaukee. You do have to have a boaters license for New Hampshire and be 21 years of age or older with a driver's license to rent.
There are a few different boats available, all of which are pontoons. Most of them also have a deal where you can rent 6 days and get a 7th day free, so you can make an entire week out of your trip! Pricing per day ranges from $275 to $375, depending on the boat that you choose to rent.
Trexler's Marina
Situated in Moultonborough, Trexler's Marina is a lovely place to rent from to get out on Lake Winnipesaukee. There are a variety of boats available to rent here, making it perfect if you don't need a massive boat for your day on the water.
There are smaller 5-person boats all the way up to bowriders and pontoons. Some of the boats have a daily rate, while others have a rate per week. No matter which one you book, you'll surely enjoy your time because the boats are well taken care of.
Of course, there are other boats available too, if you're not looking for a big boat. Canoes are available to be rented out for a half day to a full day, and even overnight or weekly. Stand-up paddle boards are available for an hour to a half day, as well as a full day. Single kayaks and tandem kayaks are also available.
Goodhue Boat Company
Goodhue Boat Company has various boats available for rental, including bowriders, tritoons, and pontoons. Each one is a great option and is well taken care of by Goodhue. For Lake Winnipesaukee, you can choose to rent from either Meredith or Wolfeboro.
There are rentals available for weekly, multi-day, or just daily pricing, whatever works best for your vacation on the water. In addition to big boats, Goodhue has tubes, wakeboards, and water skis, so it's a great place to rent from for the entire family!
One thing that makes Goodhue stand out amongst the rest is that they also have brand new 2022 boats in their rental fleet, including ones from MasterCraft, Cobalt, Sylvan Pontoons, and Chaparral.
Winnisquam Marine
Open since 1977, Winnisquam Marine has great boat rentals, with more than 30 available to be rented out. They also have one of the biggest rental fleets in the entire state, and do their best to get some brand-new boats available for rent as well.
There are many different boats available here for rent, including bowriders, tritoons, Bennington luxury pontoons, and more. Some of the boats even have a high capacity all the way up to 14, making it perfect for families or a group of friends who want to get out on the water.
Weirs Beach Jet Ski Rentals
Weirs Beach Jet Ski Rentals is the greatest place to rent jet skis from on Lake Winnipesaukee if you want a jet ski experience instead of a boating one! They have locations at Weirs Beach Pier but also in Wolfeboro.
Luckily, there are a variety of rental options available, depending on how long you'd like to get a jet ski from. Choose between anywhere from 1 hour to a half day to even a full week. Of course the longer you rent for, the lower the hourly/daily cost.
Keep in mind that a boaters license s required in order to rent a jet ski. However, they do have 14-day temporary licenses available. You can study for the test online before taking to make sure you pass, because there are no refunds if you fail.
North Water Marine
Last but certainly not least is North Water Marine. They have an entire Coach pontoon fleet, and each boat has GPS and depth gauge making it easy for you to get around the lake easily. You can rent a boat for as long as you'd like, but you can receive a discount by booking for more than 5 days at your time of booking.
In addition to boat rentals, North Water Marine has a variety of boats available for sale, too, if you're in the market to purchase rather than rent! This is easily one of the best places to go and get a boat to explore Lake Winnipesaukee.
Whether you're an experienced boater or just getting started, with so many great lake rentals available, it won't be hard to find something that fits your needs. So get out there and rent that boat – happy sailing!
---
You might also like: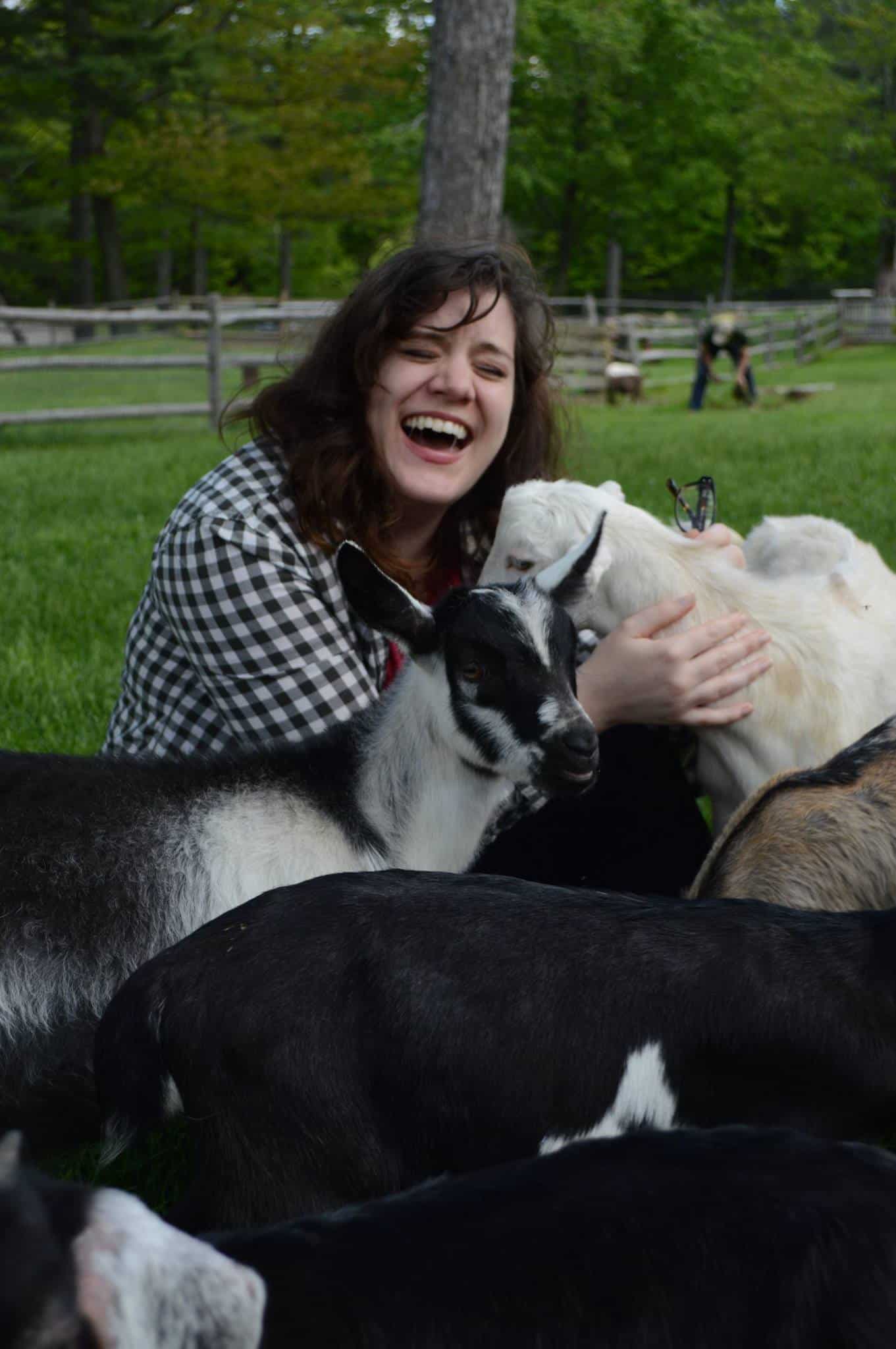 Amy Hartle is the owner and editor of New England With Love, a comprehensive resource for travel in the New England region. Amy lived in Vermont for 15 years, attended Plymouth State University in New Hampshire, and continues to travel regularly around the entire New England region. On this site, Amy aims to share her love of New England and help you to have the best possible adventures!
Amy has been a full time blogger since 2012, and is also the publisher of Two Drifters, where she writes about couples travel and relationships, as well as Let's Adventure Baby, a family travel site. When not traveling the world or creating epic blog content, Amy can be found cuddling with her husband, son, and cats, & drinking a maple latte.