Are you craving a small beach vacation on a piece of New England paradise? If so, hop on a ferry and get ready for the perfect day trip to Martha's Vineyard.
This beautiful island off the coast of Massachusetts is teeming with plenty of beautiful beaches, breathtaking coastal views, lighthouses, and plenty of delicious seafood. Just a short ferry ride from the mainland, a day trip to Martha's Vineyard is the perfect way to disconnect and enjoy a day out on the water.
Is a day trip to Martha's Vineyard worth it?
A day trip to Martha's Vineyard is absolutely worth it! You will have to hop on a ferry to get out to the island, but there is plenty for you to do, whether you have a car/rent one there, or use the public transportation on the island.
If you are looking for a more laid-back and relaxed day, there are countless beaches where you can plant your chair and enjoy the amazing views. Looking to explore a little more? Bounce between the towns below to get a glimpse of all that Martha's Vineyard has to offer!
How to get to Martha's Vineyard
The only way to get to Martha's Vineyard is by ferry. There are a few different ferry services that run back and forth between the island, but only one of them allows you to bring your car along (thankfully this is also the only one that operates year-round!).
To get to Martha's Vineyard, you can catch a ferry from Hyannis, Woods Hole, Falmouth, or New Bedford on the mainland. You can also take a ferry between Nantucket and Martha's Vineyard seasonally as well!
Most of the trips only take about an hour so it is quick and easy to get onto the island. We do suggest catching the earliest ferry you can so you have the maximum amount of time possible to hand out on the beach or explore the island.
Once you are on the island, there are a couple of ways to get around. Some of the towns are a little further away than others so if you want to limit your travel time, bringing your car or renting one on the island can make your day a little easier. There is also public transportation on the island that will bring you to some of the most popular spots. Finally, there is also Uber on the island, just know that you may be waiting a bit longer for a ride than you would in the city.
If you are staying in Boston, you can drive out to one of the ports to catch the ferry or take public transport to the ports!
A breakdown of the six different towns in Martha's Vineyard
Martha's Vineyard actually consists of six different towns on the island. While you may not be able to spend time in every single one of them during your day trip, you can definitely see some of the top spots at a few of them while you are there.
Aquinnah
Aquinnah is a beautiful town located in the western end of the island. While it can take a bit more time to get over to this side of the island from the ferry drop-offs, there are some amazing spots around the town you won't want to miss.
From stunning cliffs, beautiful beaches, and a historic lighthouse to museums and cultural centers where you can learn about the Wampanoag Tribe, there is no shortage of things to do in this town!
It is a bit faster to get there if you are able to bring or rent a car, but there is also a bus that will bring you to the town. Just make sure you plan a little extra time as the ride will be a bit longer.
Chilmark
Chilmark is one of the smaller towns, and while it may not have as much to see as the other towns, is still a beautiful place to stop by during your day trip to Martha's Vineyard. There are miles of beautiful coastline and a quintessential small-town New England vibe with the local seafood restaurants and shops.
You can also find the small fishing village of Menemsha. While the village and beach at Menemsha are small, you may recognize the view from the beach. Menemsha Beach was actually used as one of the filming locations for the movie "Jaws"!
Edgartown
Edgartown is probably one of the more popular towns to visit on Martha's Vineyard. The town features beautiful architecture as a lot of the homes and buildings are old whaling captains' houses. It is a great place to see a different type of architecture compared to the other towns on the island.
There is also a great downtown area here with tons of shops and restaurants for you to visit. Once you make your way to the water, there is a lighthouse you can visit as well as a harbor that offers great views. There is even a bike path if you'd rather explore the surrounding area on wheels!
Oak Bluffs
Oak Bluffs is most famously known for its gingerbread-like houses throughout the town. If you have a bit of time, this is definitely a stop you want to add to your trip. There is also the Flying Horse Carousel, which was originally on Coney Island before it was moved to Oak Bluffs.
While in Oak Bluffs, you can also visit the East Chop Lighthouse and take some time walking around the local shops and restaurants that you can find throughout the town.
Vineyard Haven
If you are looking for the perfect charming town to spend some time in during your day trip to Martha's Vineyard, Vineyard Haven is a great option. The town boasts stunning views of the harbor, perfect for anyone looking for a stunning picture of the water.
You can also learn more about the rich maritime history of the island at the Martha's Vineyard Museum. If you are feeling a little hungry, the Black Dog Tavern is a favorite and is sure to have something that everyone will love!
West Tisbury
If you are looking for a more relaxed and nature-filled day, West Tisbury is the perfect place to spend some time. With miles of beach to walk along and nature trails to explore, it is a great stop for anyone who would rather ditch the shops and enjoy the sunshine.
There are also some great farmer's markets and local stores that have been around for years and years if you want to pick up a couple of things to commemorate your trip or grab some food to have a picnic on the beach!
A few of the most popular places to go on a day trip to Martha's Vineyard
Aquinnah Cliffs
The Aquinnah Cliffs are probably one of the most popular spots to visit on the island. The stunning red clay cliffs tower high above the ocean and the results are a breathtaking landscape. There are hiking trails around the cliffs that allow you to get the perfect view (and the perfect picture).
Gay Head Light
Gay Head Light or Gay Head Lighthouse is the lighthouse right next to the Aquinnah Cliffs. If you make it out this way to see the cliffs, you definitely want to stop by and see the lighthouse.
If you visit during the off-season, there are plaques and information you can read about the lighthouse.
If you are lucky enough to visit during their normal season (usually about Memorial Day to Columbus Day) you can pay to go inside and see an up close and personal view of the lighthouse!
Visit the gingerbread cottages in Oak Bluffs
What's better than a gingerbread house? Now I'm not talking about real gingerbread houses here, but they look just as amazing.
Oak Bluffs is home to a couple hundred Victorian cottages that are totally decked out as gingerbread houses, each as extravagant as the next. You should definitely take some time during your day trip to Martha's Vineyard to see all of these one-of-a-kind homes!
East and West Chop Lighthouses
The East and West Chop Lighthouses are the two lighthouses on either side of the Vineyard Haven Harbor. If you take the ferry into that harbor, you'll most likely see both of them as you dock on the island.
The West Chop Lighthouse is pretty close to the harbor. While you can get a pretty good view of the lighthouse after docking on the island, the structure itself is owned by the Coast Guard so you cannot go into it.
The East Chop Lighthouse is on the opposite side of the port and gives just as good of a view. While this lighthouse is owned by the Coast Guard as well, it is managed by Martha's Vineyard Museum and is open to visitors seasonally!
We hope this helps you plan out the perfect day trip to Martha's Vineyard. While you can get to the island year-round, there are certain things that are only open seasonally so be sure to keep that in mind before you plan your trip!
---
Read these next: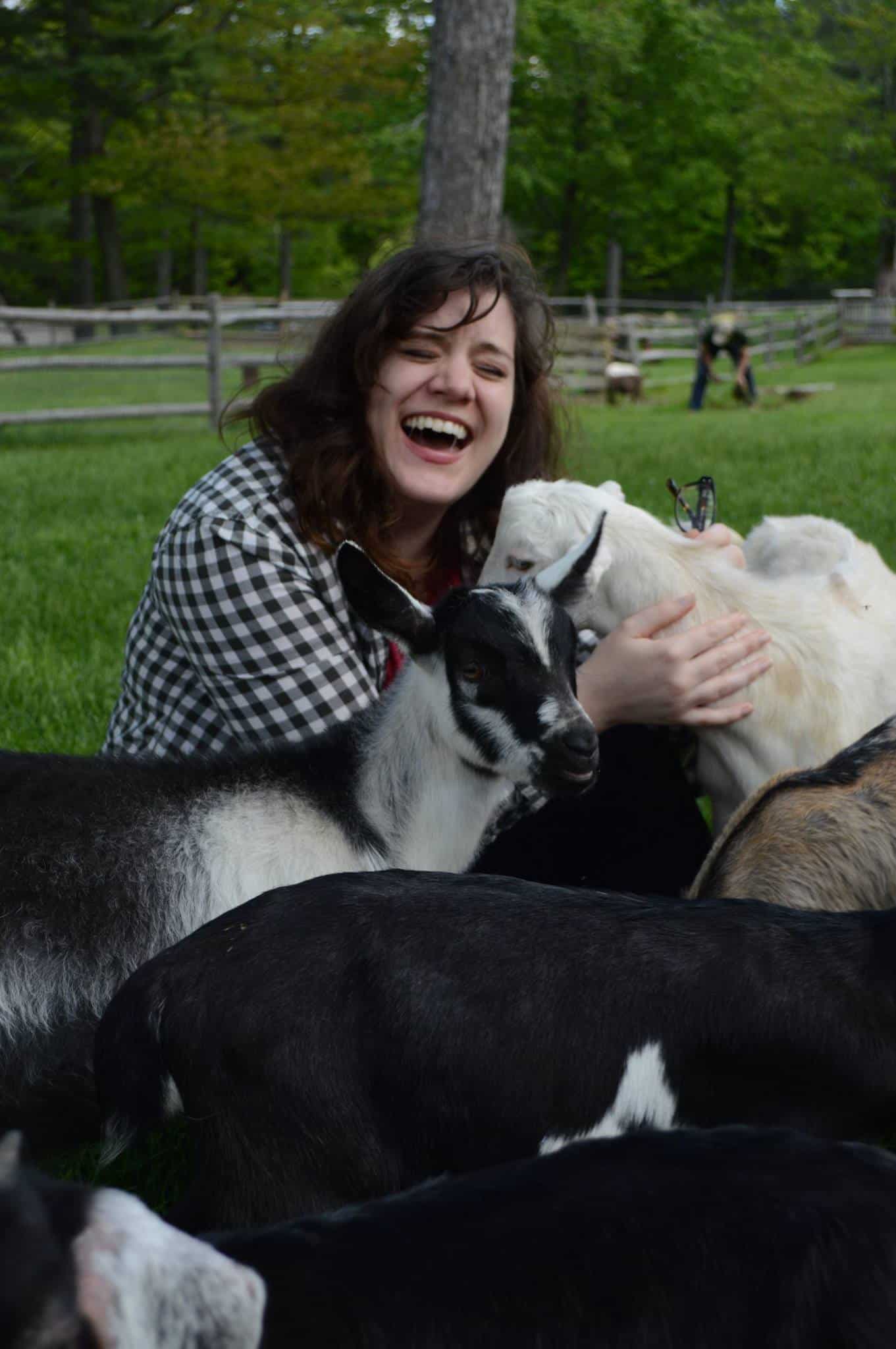 Amy Hartle is the founder and Editor-in-Chief of New England With Love, a comprehensive resource for travel in the New England region. Amy has been exploring New England since 2001. She lived in Vermont for many years and is a graduate of Plymouth State University in New Hampshire. Amy has been writing about travel for over a decade. On this site, Amy aims to share her love of New England and help you to have the best possible adventures!
Amy has been a full time blogger since 2012, and is also the publisher of Two Drifters, where she writes about couples travel and relationships, as well as Let's Adventure Baby, a family travel site. When not traveling the world or creating epic blog content, Amy can be found cuddling with her husband, son, and cats, & drinking a maple latte.