---
*Links in this article may be affiliate links, from which we may earn commission. See our
Privacy Policy
for full details.
---
One of the most beautiful spots to go camping in New England is right in Rhode Island! Luckily, there are many spots to go camping in Rhode Island, and this post will introduce you to all of those places to save you the headache of researching yourself.
Whether you'd rather be camping near the coast or you'd rather be further from the water in spots where you can go hiking, this post has got it all. Plus, each campground is so different from the next, so you'll be able to truly find the perfect type of place to stay for you.
Here are all the best campsites for camping in Rhode Island!
Bowdish Lake Camping Area
First up is the Bowdish Lake Camping Area in Chepachet, Rhode Island. It's definitely one of the lesser-known spots for camping in Rhode Island, so it deserves a spot on this list. It's perfect if you want to get away and enjoy tranquility during your trip.
There are a lot of great amenities at this spot for camping in Rhode Island. There's free wifi available at the beach rec hall and water and electricity at all sites. There are bathhouses with coin showers, snack bars, picnic tables, and even dumping stations.
Each of the campsites at Bowdish Lake Camping Area is secluded but is still near all of the best things to do in the camp. There are spots for both campers/RVs and tents. Most people will opt to bring an RV because it can get warm in Rhode Island during the summer.
Whispering Pines Campground
Next is Whispering Pines Campground in Hope Valley, Rhode Island! This campground is magnificent and is surrounded by tons of pine trees, which is why it got the name that it has.
For a fun experience, consider booking one of the campground's great cabins. Each cabin has a full bed, bunk bed, futon, microwave, sink, air conditioner, microwave, fridge, picnic table, and more. Prices fluctuate throughout the year and do cost more on weekends when there's a holiday, so keep that in mind while planning your trip.
Whispering Pines Campground hosts many different types of events to keep families busy throughout the year. There are bands, Disney magic weekends, and even a mardi gras weekend. Certain weekends of the year also provide a discount, like Mother's Day weekend.
Burlingame State Park
Believe it or not, the state parks are one of the best places for camping in Rhode Island! Burlingame State Park is located in Charlestown and covers just over 3000 acres of land where there are tons of fun activities.
There are around 700 different spots for pitching a tent throughout the campground! That's right; this campground is massive. There are also 20 different cabins that can be booked if you don't want to rough it as much during your camping trip.
Within the area, there are many amenities, many of which have to do with the state park. There are playgrounds, picnic tables, lakes, bathrooms, and even a convenience store. Activities in the park include hiking, canoeing, bird watching, swimming, and attending nature programs.
Second Beach Family Campground
Located in Middletown is none other than Second Beach Family Campground, one of the best spots to go camping in Rhode Island. The area that it's located in is lovely, as it's right next to the water! It's a close walk to Second Beach, also known as Sachuest Beach.
Amenities at the campground are great, including restrooms with toilets and showers (with hot water!), ice lockers, electricity, and water hookups. The management of the campground is also on-site in case anything were to arise during your stay.
There are 44 different spots for tents or RVs throughout the area. Most people will stay at the campground and then spend the whole day exploring the area or even just relaxing at the beach, which is less than a five-minute walk away.
Worden Pond Family Campground
Worden Pond Family Campground in Wakefield is an excellent spot for Rhode Island camping! It's a super remote area that allows you to get that authentic rustic camping experience. The staff is also known to be extremely friendly and helpful there.
There are more than eighty different campground spots throughout the park. Each section of the campground feels different because it's so large. Depending on the year, sometimes tenting is available, and sometimes it's not. Usually, guests are expected to bring an RV.
Fun activities can be found throughout the campground like basketball courts, horseshoe pits, and volleyball courts. There are also many different facilities like phones, dump stations, restrooms, playgrounds, and water. You'll truly have a fun time no matter where you stay at Worden Pond Family Campground.
George Washington State Campground and Management Area
George Washington State Campground and Management Area is another campground located in Chepachet! It's right near Gloucester along the Putnam Pike. Guests love this campground because of how scenic and peaceful it is, and the facilities are known for being very clean.
Throughout the campground, there are forty-five different camp spots. Guests can stay in RVs, tents, or trailers, depending on their preference. Group camping is also allowed here at the giant Adirondack shelters, which can host up to twenty people at a time.
It's a seasonal campground open between April and October. There are great amenities like a lake for swimming, trails for hiking, and more. Guests can also go fishing, boating, and even ice skating on the lake, depending on the time of the year.
Charlestown Breachway
Next up is Charlestown Breachway State Beach's campground in Charlestown, Rhode Island. This is a super fun place to stay because it's right on the water. In fact, most people who stay here will spend most of the day relaxing on the beach because of its proximity!
There are around seventy-five different campsites throughout the campground, all for RVs. Prices for a spot change depending on the time of year and can be cheapest during the non-peak shoulder seasons like April to May or September to October.
Throughout the campground, there are many different amenities and facilities available. Activities like bird watching, fishing, sunbathing, swimming, and boating are available. Facilities at the campground include a dump station and lifeguards, depending on the time of year.
Oakleaf Family Campground
Oakleaf Family Campground is a fantastic spot for Rhode Island camping, no matter the occasion! It's located in Chepachet, right by Gloucester, and is known for having great prices. Plus, everyone at the campground here always makes you feel welcome, even if you've never camped there before.
This campground has actually been around since the 1970s and has always been a family-owned campground. It changed ownership in 2013 but is still family-run, making it a great place to stay and support local business owners.
If you don't have an RV of your own, you can actually rent one at this campground. They have one that sleeps about five people and another that sleeps around two to four. You can also bring your own RV if you want to.
Amenities around the campground are superb, with a ball field, horseshoe pits, playground, rec hall, and a swimming pool. Honestly, you could stay busy here for a while, especially if you're traveling with younger children.
Holiday Acres Campgrounds
Located in North Scituate, Holiday Acres Campgrounds is a beautiful place to go camping if you're in the area. It's exceptionally well kept and has tons of amenities. Plus, this campground is known for being reasonably quiet. If you want a tranquil getaway, this is it!
Some of the amenities at the park include a giant grass field, places for boating, a pool table, and a horseshoe pit. There's also a fun game room where people can stay busy for hours, including young children. A special adult game area with darks and a jukebox is open for those over the age of 21.
Cabins are available to rent at Holiday Acres Campgrounds, and they can sleep up to six people, some of them even up to eight. Each one is entirely different and features a deck or seating area nearby.
Fort Getty Park
Last but not least is the Fort Getty Park campground in Jamestown! It's right in Narragansett Bay, so it's one of the most beautiful places to go camping in Rhode Island. Honestly, there are so many fun things to do at the campground!
There are two different park sections for camping: upper tent sites and lower tent sites. Each is great, but the lower tent sites are closer to Fort Getty Road. No matter where you stay in the park for tents, it is the same price. There are also RV spots available, but a two-night stay is required.
The park hosts many different fun festivals throughout the year, though note that camping prices do get higher during these events. Some notable ones that are pretty popular include Jazz Fest and even Folk Fest!
This post was all about the best places to go camping in Rhode Island. Hopefully, you've been able to find the perfect place to stay during your next trip to Rhode Island for your camping getaway! Don't forget to save this post and share it for later with other travelers who are planning camping trips.
---
You might also like: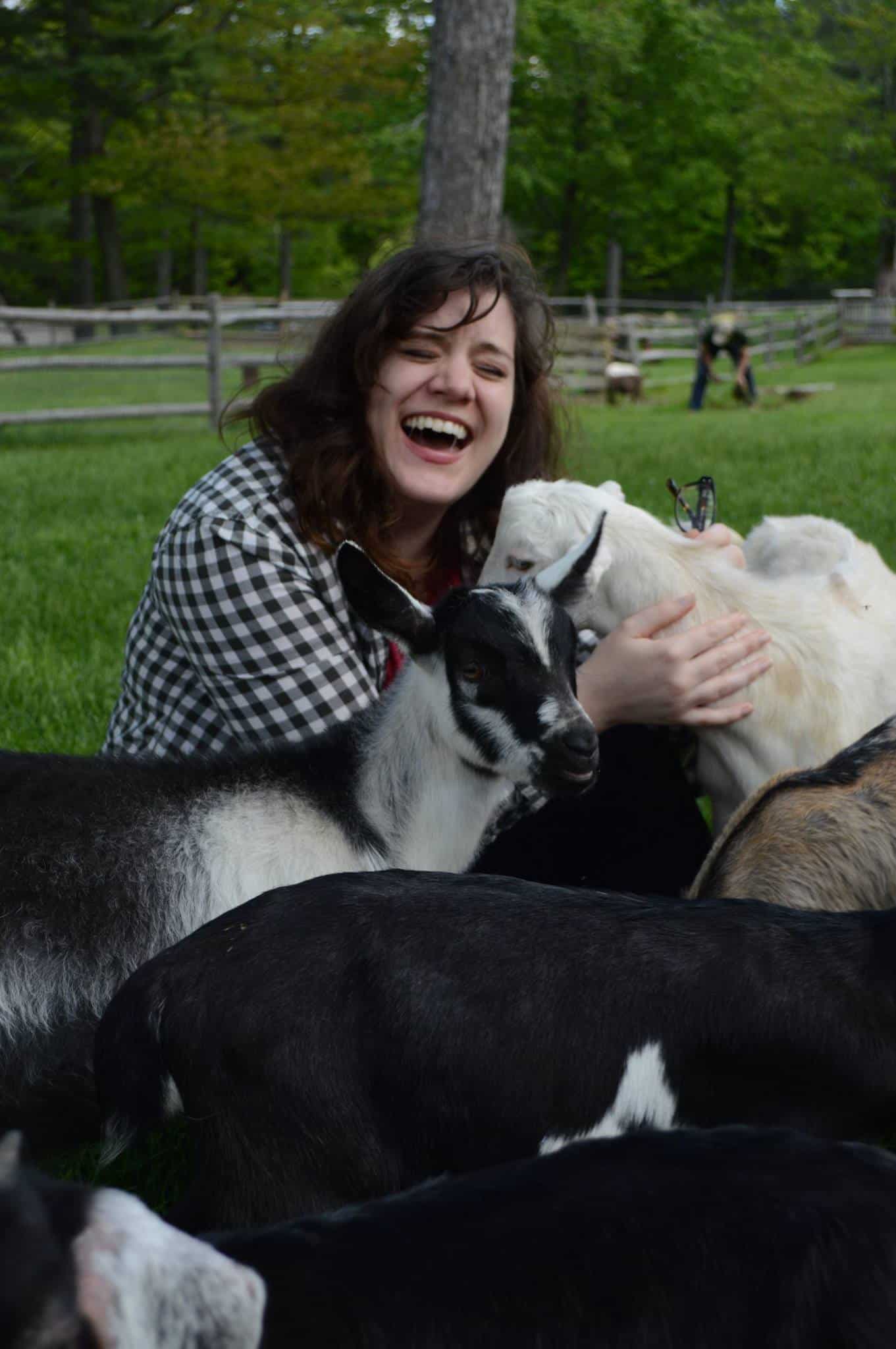 Amy Hartle is the owner and editor of New England With Love, a comprehensive resource for travel in the New England region. Amy lived in Vermont for 15 years, attended Plymouth State University in New Hampshire, and continues to travel regularly around the entire New England region. On this site, Amy aims to share her love of New England and help you to have the best possible adventures!
Amy has been a full time blogger since 2012, and is also the publisher of Two Drifters, where she writes about couples travel and relationships, as well as Let's Adventure Baby, a family travel site. When not traveling the world or creating epic blog content, Amy can be found cuddling with her husband, son, and cats, & drinking a maple latte.