Are you planning on going camping in Connecticut? You're in luck! There are so many great Connecticut campgrounds throughout the state that are perfect for a getaway in nature, especially in the spring or summer.
Throughout this post, you'll learn all about the top campgrounds in no particular order. No matter where you choose to go camping from this list, you'll truly have an incredible time, and you'll be itching to go back and camp again.
Here are all the top spots to go camping in Connecticut!
Water's Edge Family Campground
First up is Water's Edge Family Campground in Lebanon, Connecticut. It's a lesser-known campground, but it's super family-friendly and provides that rustic accommodation that you'd expect if you were to go camping.
There are quite a few different types of camp spots throughout the park, including camping cabins and two different modern campers. It is more affordable to stay in one of the cabins instead of the model RVs, but the RV can definitely be more comfortable to stay in.
Amenities are abundant at the campground, including two playgrounds, modern restrooms, basketball courts, a rec hall with billiards tables and video games, a sandy beach, bike rentals, and more. Plus, there's a lot to explore in the area, like Mystic Aquarium, Rocky Neck State Park, and even Gillette Castle (one of the best New England castles).
Cozy Hills Campground
Cozy Hills Campground is an incredible spot for camping in Connecticut! This family-friendly campground is located in Bantam for its excellent facilities, welcoming staff, and incredible camping opportunities.
While you can bring your own RV to hook up at this campground, you can also just rent a cabin if you'd prefer more of a rustic and natural stay! These cabins are fully stocked with everything you'd need, including a desk for work, a kitchen with an oven, and even a living room area. You could also rent an RV instead if you'd prefer.
As mentioned before, the amenities at this park are incredible. There's a restaurant (open only on weekends), gift shop, pond for fishing, arcade, laser tag, climbing wall, swimming pool, and even a spot for archery. What more could you ask for?
Hidden Acres Family Campground
Located in Preston, Hidden Acres Family Campground is a fantastic place to go camping in Connecticut. This campground, in particular, is known for being extremely well taken care of, and the staff is very friendly, making everyone feel quite welcomed to the campground.
There are great amenities at this campground, with probably the most popular one is Peggy's Gathering Place, a snack bar open for those at the campground. It's a fun spot to get together and enjoy a meal. Plus, there's a pavilion spot where you can sit on a picnic table underneath there.
One of the most popular ways to enjoy a night's stay at Hidden Acres Family Campground is by booking a cabin rental. They can be a bit pricy but are cheaper per night the longer that you stay there. Each of the cabins also has its own porch where you can enjoy the outdoors.
White Pines Campsites
Another excellent spot for camping while in Connecticut is at White Pines Campsites. This campground is located in Barkhamsted in the northwestern part of the state within Litchfield County.
There are many fun events hosted at White Pines Campsites throughout the season, which is why it's such a popular place to stay. There are arts and crafts, wagon rides, campfires, bingo, live DJs and other music, and even bingo nights for prizes.
Prices of campsites change depending on what type of place you want to stay at. The Premier Cabin is a nicely sized cabin for six with a picnic table and fire pit. For a Connecticut glamping experience, consider staying in the yurt, which also has many of its own amenities!
Odetah Camping Resort
One of the most popular camping in Connecticut spots is none other than Odetah Camping Resort. It's in Bozrah, Connecticut, and is perfect for those who love partaking in outdoor recreation during their camping trips.
No matter what type of camping you prefer, there's definitely something for you at Odetah. There's the Safari, which is a grass field where people bring their RVs. Each spot comes with free wifi and a picnic table.
There are also cabin options, including premier and deluxe cabins. These each fit up to six people at a time and have different inclusions, so be sure to choose the one that's best for you. Overall, the premier one is perfect if you want to stay cool because it comes with AC.
At Odetah Camping Resort, there are so many things to do. There's a lake, a pool, jacuzzi, splash pad, and more. Fun activities at the park include boating, watching movies, swimming, and of course, playing sports.
Lake Compounce Campground
One of the most unique Connecticut campgrounds is none other than Lake Compounce Campground in Bristol! Not only is it in a prime location, but the accommodations at this campground are unlike any other that you'll come across.
By staying there, you have your choice of many different unique accommodations. There are cabins, cub huts, tipis, tent sites, and of course, RV spots as well. This campground also has discounts if you stay longer, so consider staying for a longer time to save a good percentage of the price.
Amenities at the campground are great. There's security, showers, restrooms, sports courts, a horseshoe pit, and even a laundry room. One of the added bonuses is also that there is a tram service between Lake Compounce and the campground except in October.
Mystic KOA Holiday
Located in North Stonington, the Mystic KOA Holiday is an excellent spot to stay if you want to go camping in Connecticut. It's super close to Mystic and isn't that far from many of the great beaches that can be found in Rhode Island.
Choose between a few different cabin options during your stay. Each one has different amenities, so the pricing varies depending on which one you book. The Deluxe Cabin is one of the most popular to book as it also comes with a shower and full bathroom. Plus, there's a patio with a swing chair.
If you don't want to stay in a cabin, don't worry. You can also bring your RV to stay here too if you want. There are also many amenities at the park, including a pool, store, and more. There are also banana bikes available for rent.
Salt Rock State Campground
Located within a state forest, Salt Rock State Campground is the perfect place to stay. The campground is located in Sprague and opened up back in 2001. It's super family-friendly, and it's known for being fairly clean.
For those who love being outdoors, this campground is an incredible choice. There are trails, spots to go fishing, and even a pool that guests can use. This campground is also not always super busy, so you can enjoy it with a bit of peace, especially during the weekdays.
Throughout the park, there are seventy different tent or RV spots, so there is ample room to stay. Because it's located in eastern Connecticut, there's a lot to explore nearby. Popular places to visit include New London and Mystic.
Nickerson Park Family Campground
Nickerson Park Family Campground in Chaplin is a beautiful campsite if you're looking for more of a natural and rustic stay! It's family-friendly, safe, and pet-friendly, so you can bring your furry friend along with you.
Just like any other park, there are many different types of accommodations here. There are pop-up tent spots, hookup spots, regular tents, and more. Of course, prices vary depending on which accommodation spot you choose.
Throughout the park, there are quite a few different amenities. There are playgrounds, bike trails, and even fun events. On special holiday weekends, the camp hosts bingo and even frog-jumping contests. Sometimes there are even scavenger hunts.
Rocky Neck State Park
Last but not least is Rocky Neck State Park in Niantic, Connecticut! There is an abundance of campsites throughout this park. Plus, since the campground is located within a state park, there are so many fun activities to be had, especially for those who love being outdoors.
There are around one hundred and sixty different campsites throughout the park, which is an ample number. In addition, if you don't want to regularly camp in a tent, there are also cabins available for rent for a fee.
While there, be sure to explore the rest of the park. There are incredible hikes, but you can also go mountain biking, picnicking, and more. No matter what outdoor activity you love doing, you can more than likely do it at Rocky Neck State Park.
This post was all about the best places to go camping in Connecticut! We hope that you have the absolute best time during your camping trip. Don't forget to save this post and share it for later!
---
You might also like: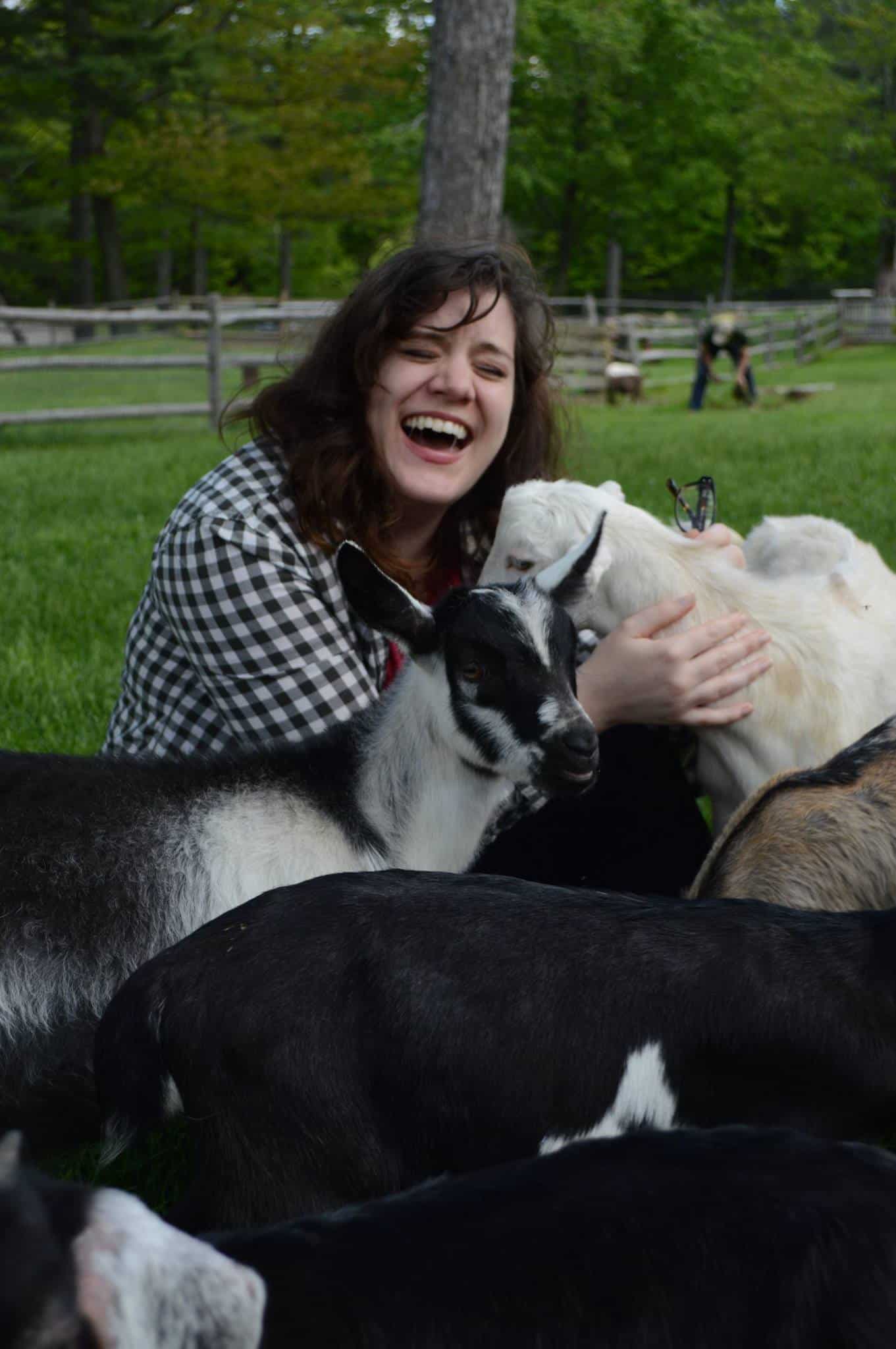 Amy Hartle is the founder and Editor-in-Chief of New England With Love, a comprehensive resource for travel in the New England region. Amy has been exploring New England since 2001. She lived in Vermont for many years and is a graduate of Plymouth State University in New Hampshire. Amy has been writing about travel for over a decade. On this site, Amy aims to share her love of New England and help you to have the best possible adventures!
Amy has been a full time blogger since 2012, and is also the publisher of Two Drifters, where she writes about couples travel and relationships, as well as Let's Adventure Baby, a family travel site. When not traveling the world or creating epic blog content, Amy can be found cuddling with her husband, son, and cats, & drinking a maple latte.