*This site uses affiliate links; if you make a purchase through these, I may receive a small commission at no cost to you.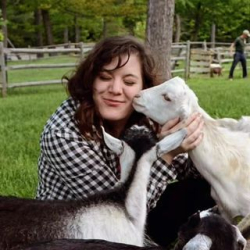 Latest posts by Amy Hartle
(see all)
Looking for a great cup of coffee in Providence RI? Whether you are looking for a place to sit and enjoy or just want to grab a quick cup on the way to work, this list of the best coffee shops in Providence has got you covered.
Providence is home to an awesome selection of coffee shops, each with its own quirks and atmosphere.
Dive in for the best coffee shops in Providence RI!
Bolt Coffee Co.
Bolt Coffee Co. is one of the popular local chains that you can find throughout Providence. Even though they have many locations throughout the city all in the downtown area, don't let that deter you! They've grown in size for a good reason: their coffee is fantastic.
This coffee shop offers artisanal, fair-trade coffee and tea. Plus, they have tons of sweets on offer, including pastries, croissants, and other baked goods, that you can pair with your drink of choice.
What makes Bolt Coffee Co. so great is that everything they do is rooted in their belief that coffee is a means of connecting people!
Small Point Cafe
Next up is Small Point Cafe, one of the best Providence coffee shops. This cafe may only have one comparison, but it's such a great place to stop by with its quaint outdoor seating area and comfortable atmosphere.
The cafe focuses on being eco-friendly and serves everything from cold brew coffee to great sandwiches and even pastries. They open bright and early in the morning and stay open some nights right up until dinner time.
Small Point Cafe opened back in 2010 and has since become a staple for sustainable cafe lovers everywhere. Plus, a lot of the foods that the cafe serves are from local businesses, like Narragansett Creamery.
Madrid European Bakery and Patisserie
For a breath of fresh air, head to Madrid European Bakery and Patisserie! This coffee shop in Providence aims to bring Madrid to Rhode Island in an authentic way through pastries, coffee, and other cafe staples.
The Madrid European Bakery and Patisserie is located right in Wayland Square and is the perfect way to feel like you're in another country! Many say that the cafe feels pretty European, especially with the size of the pastries. Try one of their eclairs to have your life changed!
If you're not sure what to order, be sure to have a chat with the people who work there. They love recommending different delicacies depending on your taste!
New Harvest Coffee & Spirits
This coffee shop doubles as a bar and also serves amazing wines and cocktails. New Harvest Coffee & Spirits also has extended hours, opening in the early morning and closing in the late evening!
The cafe was founded back in 2000. What once was situated inside of an old shed by a factory has since become a lot more. With a focus on sustainability and giving back to the community, New Harvest Coffee & Spirits has made waves in Providence.
While you can go and get any type of coffee or other drink that you'd like here, you can also attend one of the many events that they host throughout the year. At these events, you can usually learn exactly how to brew the perfect cup by making the perfect espresso shot at home!
The Coffee Exchange
The Coffee Exchange is known for its amazing organic and fair trade coffee. They opened back in 1984, making them one of the more historic best coffee shops in Providence. What makes their coffee so great? They roast in small batches every day, putting love in every cup.
They have both indoor and outdoor seating, but for the time being (as of December 2021), you have to order at the window and wait outside. They do have outdoor seating though, but the easy walk-up service makes it perfect for a stop while exploring this area of Providence.
White Electric Coffee
White Electric Coffee is the perfect cafe in Providence for you if you love fun decor and cozy atmospheres in your coffee shops. Inside, there are bright neon lights on the white brick walls, paired with fun lightning bolt decor everywhere.
In addition to coffee drinks, they have tons of great food that you can pair with your drink. White Electric Coffee also recently became a co-op, so they have lots of changes they're going through, but in a good way. The cafe is usually super busy, so get there early if you want to beat the crowds!
Dave's Coffee
Dave's Coffee is easily one of the best coffee shops in Providence! The interior is super colorful and bright and is pretty big compared to other Providence cafes. This is a great spot to work remotely from your laptop if need be while drinking a delicious cup of coffee.
The cafe is known for its excellent service and fun drinks. Plus, when you order, you can even ask for a free sticker to remember your delicious coffee and promote your love of Dave's.
With affordable prices (it's less than $3 for a drip coffee) and a playful ambiance, you can't go wrong with stopping in for a drink and pastry at Dave's Coffee.
Poindexter Coffee
One of the lesser-known best coffee shops in Providence is Poindexter Coffee! It's located at The Graduate Hotel and has a minimal yet colorful interior, with unique textures which only add to its beauty.
They serve traditional cafe drinks like coffee and tea and have tons of grab-and-go meals like salad. The cafe also opens pretty early in the morning (usually around 6 a.m.) compared to the later times the rest of the coffees on this list open.
The Graduate Hotel often serves as a common meeting place when there are conventions are in town, so you could even consider booking a stay there.
The Nitro Bar
The Nitro Bar is an excellent choice for coffee in Providence! They use all locally sourced ingredients, which is what they are known for. The Nitro Bar also goes by the name The Nitro Cart because they have a cart outside where you can also grab a coffee if you're in more of a hurry.
While you can easily go to one of the carts to get coffee, you can also find their Nitro coffee on tap throughout Rhode Island. In fact, you can find them at other Providence establishments like PVDonuts, Easy Entertaining, Stock Culinary Goods, and even Rebelle Artisan Bagels.
Blue State Coffee
Blue State Coffee is a trendy regional coffee chain that can be found all throughout Rhode Island and Connecticut. The company's mission is to create positive change one small ripple at a time, which they do through their drinks to start.
Their menu is one of the more extensive ones out of different cafes in Providence. You can find everything from bagel sandwiches like turkey sriracha to fun housemade pastries that are made from scratch. They have an abundance of indoor seating and also some spots outside if the weather is nice.
The Shop
Head to The Shop for a hipster yet chic cafe experience in Providence! Not only do they serve delicious single-origin coffees, but they also have one of the most unique interiors for a coffee shop.
With everything from warm oatmeal to scrumptious coffees and teas, any vacation to Providence should be accompanied by a trip to The Shop. For a real treat, be sure to try their chocolate tart.
The Shop is also pretty well known for their bread dishes, so consider trying one of those as well!
Cafe La France
Last but not least of the best coffee shops in Providence is Cafe La France! With a classic French touch, this cute Providence cafe is an excellent place to stop by for a cup of coffee or tea.
The menu is filled with everything from sweet to savory! You can get paninis, breakfast sandwiches, bagels, and even a grilled cheese if you'd like.
Cafe La France's primary location is right in Providence Station, so if you're traveling in the area, it's impossible to miss this place. They have a decent amount of indoor seating, so you can wait for your transport or stop by for a quick drink before exploring the rest of Providence.
With so many cafes all around the city, it can be hard to know where to find the best coffee shops in Providence. Rhode Island's capital city has so many cool things to do, and now you know where to go to score that perfect cup of Providence RI coffee!

Read these next:
9 Best Restaurants in Providence RI