Vermont is filled with incredible natural landscapes, and a lot of these beautiful landscapes can be easily found at Vermont state parks!
While Vermont is home to quite a few state parks, there are also some great hidden gems that only locals know about… and now you will, too!
Vermont State Parks
Half Moon Pond State Park
First up is Half Moon Pond State Park in Hubbardton, Vermont. Many locals like to shorten the name to "Half Moon State Park." It's pretty significant in size, and its main attraction is none other than Half Moon Pond, a glistening blue body of water that's perfect for relaxing during a warm Vermont day.
There are tons of fun things to do in Half Moon Pond State Park, including hiking one of the many trails. The High Pond Trail is the most popular trail, which is only about 1.5 miles long and has barely any elevation gain. This easy hike is more of a walk but is incredibly peaceful and offers excellent views.
Other great activities in Half Moon Pond State Park include swimming, fishing, playing horseshoes, and attending a nature program. There are also tons of spots for camping at the park, including cabins, a cottage, lean-tos, and tent and RV campsites.
Mount Ascutney State Park
Next is another of the best Vermont state parks, Mount Ascutney State Park in Windsor. This park allows pets and is best visited between May and October when the weather is best. There is a small fee to enter during the day.
Mount Ascutney State Park is filled with great camping spots, including cabins, cottages, and 38 different tent spots. Plus, there are also 10 lean-tos in the park, which is a super fun way to spend the night, mainly if you've never stayed in one before!
The main things to do in Mount Ascutney State Park include picnicking in the pavilion or other picnic areas throughout the park, as well as having fun at the horseshoe pit.
As you might expect, there are also five different trails in the park. One of the most unique trails is the Crystal Cascades Falls which is just over 2 miles and is moderate in difficulty.
Kingsland Bay State Park
The Kingsland Bay State Park is one of the more popular state parks in Vermont because it's near Lake Champlain, one of the most famous natural landmarks in the state. It's located in Ferrisburgh and covers over 250 acres of land.
Kingsland is home to tons of great activities, especially in the summer if you're visiting with family. You can swim in Lake Champlain, rent a boat, go fishing, or even picnic right by the water.
Unlike other Vermont state parks, Kingsland Bay State Park has spots that you can rent for the day, which is perfect if you're planning a family event. Choose between the popular Hawley House, banquet hall, or even the theater building.
Unfortunately, there are no places to stay right in this state park, but there is an excellent short hiking trail called the Kingsland Bay Trail. It's easy in difficult and is only about a mile long with around fifty feet of elevation gain.
Camp Plymouth State Park
Camp Plymouth State Park is in Ludlow, Vermont. It's a reasonably large state park and is just shy of 300 acres! Because it's rather large, this state park has tons of great activities. One of the main attractions is Echo Lake, where you can go fishing, picnicking, boating, and swimming.
This is also a great place to spend the night in nature. There are a few lean-tos and cottages that you can rent if you'd like, but there aren't tent spots like in other Vermont state parks.
If you're looking to go hiking, the best hike in Camp Plymouth State Park is the Walker Trail. It's about three miles long and is rated as easy. The trail is excellent for families and is an out and back trail where you'll witness wildlife and nature at its finest.
Jamaica State Park
Jamaica State Park in Jamaica, Vermont, has tons of outdoor activities. The state park is perfect for fishing, mountain biking, swimming, boating, picnicking, and more. Plus, there's a big nature center where different programs are hosted for visitors.
Luckily, Jamaica State Park also has excellent camping sites, including 41 different spots for RVs or tens and just shy of 20 different lean-tos. Historically, the park was home to sawmills and has since turned into a great state park.
Another of the historic sites in the park is the West River Railroad which has since been turned into a trail that brings visitors throughout the park, most notably to the Ball Mountain Dam. The railroad officially ceased being used in the early 1900s.
Button Bay State Park
Another of the great state parks near Lake Champlain is Button Bay State Park. It's located in Ferrisburgh and, in addition to being home to a lake, also has a swimming pool that's open to the public with lifeguards.
The park has over 50 different spots for tents or RVs if you're looking to spend the night, as well as cabins and lean-tos that are available for rent if you reserve them ahead of time.
When visiting Button Bay State Park, mountain biking is the best thing to do. The park is home to part of the Lake Champlain Bikeway, which is around 350 miles total and goes all the way around Lake Champlain up to Quebec. Even though it's super long, the section right in the state park is super family-friendly.
Check out the Button Bay Trail if you're looking to get some epic hiking done while visiting. It's about 1.5 miles long and is reasonably flat, which is why it's kid-friendly. The out and back trail has tons of shade, and there are spots to sit down and take in the views along the way.
Emerald Lake State Park
Emerald Lake State Park is one of the popular parks that many people in southern Vermont like to visit, especially in the summer. It's located in East Dorset and is open from May to the beginning of October.
The park's main feature is Emerald Lake, and there is a lot to do at the water. You can go fishing, rent a canoe or kayak, or even go swimming. The surrounding area is also filled with great picnic spots, and there are also 66 RV and tent spots in addition to 37 different lean-to sites.
There are also quite a few great hikes throughout the park, but the most popular one is the Emerald Lake Trail. It's only about 1.5 miles and is kid-friendly. It offers excellent views of the lake around the way and is incredibly scenic.
Smugglers Notch State Park
Smugglers Notch State Park is located in Lamoille County near Stowe in the Green Mountains. This park is a great option if you're looking for adventure or historical sites.
The park is named for the famous Smugglers Notch narrow pass used for early American trading and later as part of the underground railroad and as a prohibition escape route.
There is a limited space campground, however, the park has plenty to offer for outdoor recreation and beautiful scenic vistas.
Activities include bouldering, ice climbing, cave exploring, biking, hiking, amphibian explorations, and a park interpreter program with many more activities to help learn more about the cultural and natural history of the park.
Brighton State Park
Next up is Brighton State Park, located in Island Pond, Vermont. The central place to explore when visiting this state park is Spectacle Pond, which is located right next to the backdrop of the mountains. It will genuinely take your breath away!
The water is super clear, and the best way to experience it for yourself is to go canoeing out on the water. You can also go swimming or fishing, as well as paddle boarding if you want to try something a bit more challenging.
Brighton State Park features access to mountain biking trails at the Kingdom Trails. Plus, there are excellent camping opportunities with the 50 different tent and RV sites, five cabins, and 20 lean-to spots.
For a great hike here, enjoy the Penosha Trail! This is a moderate-level hike that's about 5 miles long in length. It's a loop trail, so you'll witness different views the entire time. There is also about 400 feet in elevation. Dogs are allowed on this trail if they are on a leash.
Coolidge State Park
Last but not least is Coolidge State Park! This park is located in Plymouth and is named after none other than Calvin Coolidge, who was from Plymouth and became the 30th President of the United States.
You can go mountain biking, hiking, picnicking, and more in the park. Like all the other state parks in Vermont, there are also many spots to go camping, with lean-tos, tent sites, and RV spots.
For an excellent hike in the area, consider doing the Bear Mountain Loop that's just shy of 5 miles long. Because of its length and elevation gain of 1200 feet, it's a moderate level hike, but dogs are still allowed on the trail as long as they are on a leash.
There are also many other trails in the area, so if a long hike isn't what you have time for, there are other options for you!
With so many great Vermont state parks, choosing which one is worth visiting can be challenging. The Green Mountain state has a lot to offer when it comes to the great outdoors, have fun exploring it for yourself!

Read these next: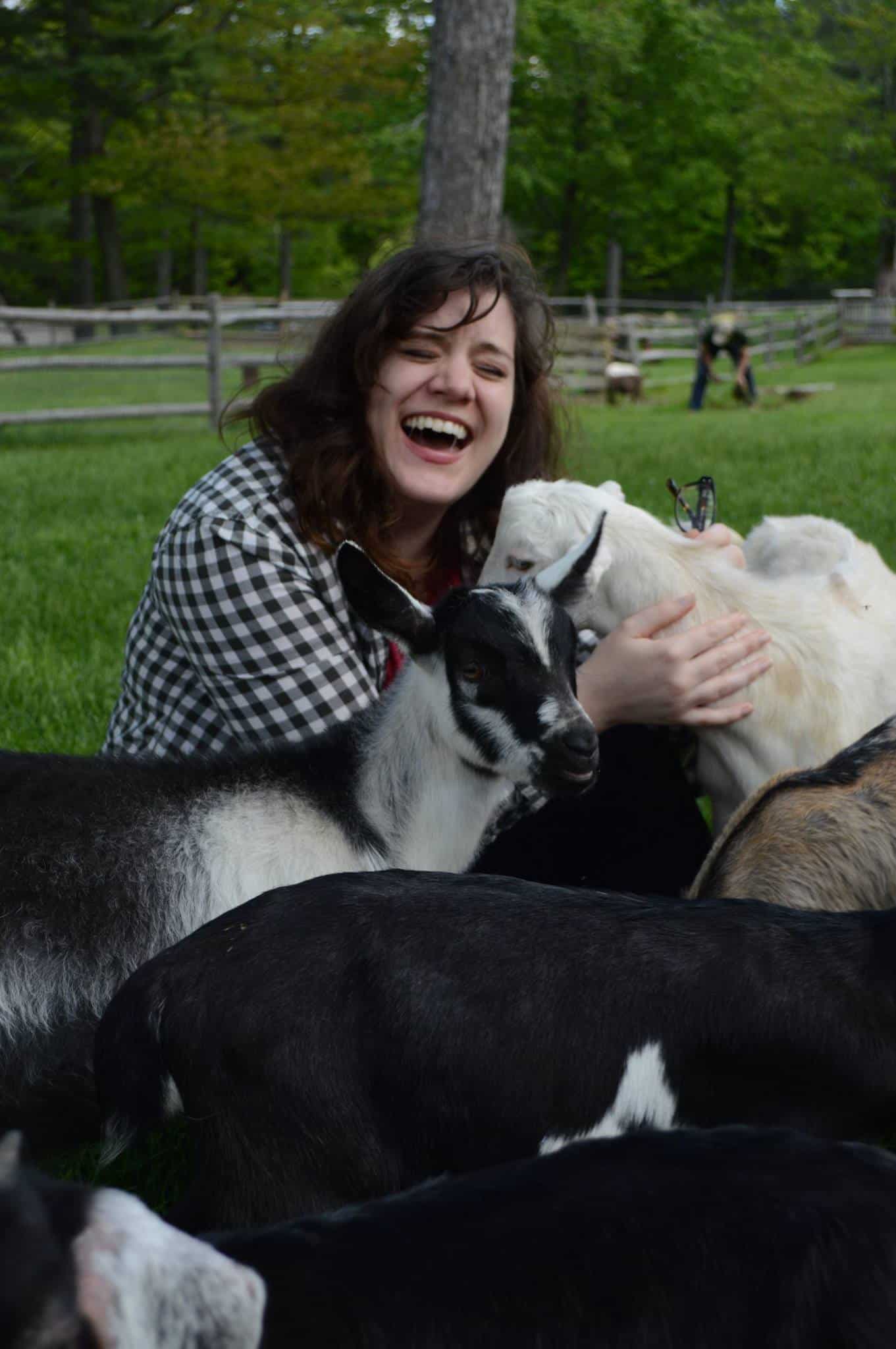 Amy Hartle is the founder and Editor-in-Chief of New England With Love, a comprehensive resource for travel in the New England region. Amy has been exploring New England since 2001. She lived in Vermont for many years and is a graduate of Plymouth State University in New Hampshire. Amy has been writing about travel for over a decade. On this site, Amy aims to share her love of New England and help you to have the best possible adventures!
Amy has been a full time blogger since 2012, and is also the publisher of Two Drifters, where she writes about couples travel and relationships, as well as Let's Adventure Baby, a family travel site. When not traveling the world or creating epic blog content, Amy can be found cuddling with her husband, son, and cats, & drinking a maple latte.