Are you planning a visit to Warwick, Rhode Island? You're in for a treat, because this city by the bay has plenty to offer!
Not only are there lots of fun things to do in Warwick RI, but its convenient coastal location puts you in easy proximity to a lot of other great Ocean State destinations!
With history, scenery, and a whole lot of coastal fun, there are lots of great Warwick RI things to do on this list that you're going to want to add to your can't miss list!
Top Things to Do in Warwick RI
Warwick Center for the Arts
Housed in a historic building originally built in 1797 at George Washington's behest, today this building houses the Warwick Center for the Arts, Warwick's go-to spot for all things art-related.
Not only will you find local art installations to peruse, but it also hosts workshops, demonstrations, and a weekly award-winning comedy show titled "Bring Your Own Improv," which has been called the best comedy show in Rhode Island!
Rocky Point State Park
Rocky Point State Park is 120 acres of quiet respite by the Narragansett Bay. Once home to a busy amusement park, this space now serves as an outdoor community meeting space, favorite local fishing location, and a pleasant place to get your steps in!
The fishing pier was rebuilt in 2020 and serves as both a great place to drop your line and a perfect lookout point for the bay. There are no facilities in this park, but sometimes you will find food trucks and community events happening in this quiet bayside space.
Buttonwoods Beach Park
Editorial credit: Carol Ann Mossa / Shutterstock.com
Buttonwoods Beach Park (often called Warwick City Park) is a 126-acre beach park that offers both great views and great access to the water, so if you're looking for a place to enjoy either of those things, check out Buttonwoods.
There are paved walking and bicycle paths, baseball fields, picnic areas, facilities, and in season, a lifeguard. Beach passes must be purchased between June and September, but access to the park itself is free!
Apponaug Village
Apponaug Village has great historical significance to Warwick's very early history, with artifacts having been found in this area dating as far back as a mind-blowing 100 B.C.
You can take a guided walking tour to see some of Apponaug Village's most famous historical sites, but do be aware that in its current incarnation, it presents as a fairly standard section of town with notable buildings such as Warwick City Hall.
Rocky Point Farm
Rocky Point Farm is a beautiful Pick Your Own farm, offering PYO blueberries July through August.
Rocky Point Farm also grows paw paws, a tropical-like fruit that has a flavor that can be described as a cross between banana, mango, and pineapple. Paw paws are available September through October at the Rocky Point Farm stand if you'd like to sample one for yourself!
Goddard Memorial State Park
Goddard Memorial State Park is almost 500 acres of outdoor bliss! With beaches for swimming, walking trails, a 9-hole golf course, an equestrian show area, game fields, and plenty of facilities, there is something at this beautiful park for everyone!
PS, if you're going to swim, bring your water shoes, the ocean floor is very rocky here!
There is also a performing arts center that used to contain a beautiful Victorian carousel; the carousel is gone, but the space is still a magnificent spot for events and parties.
Clouds Hill Museum
This historical home was built in the 1870s, and today is known as Clouds Hill Museum, Warwick's most famous historical home.
In addition to being a well-kept stunning architectural masterpiece, part of what makes Clouds Hill Museum such a tourist destination is that it still remains in the original family, having passed hands through four generations! Many of the furnishings and artifacts are original to the house at this incredible historical site.
Read Next: Top 12 Historic Sites in Rhode Island
Oakland Beach
Oakland Beach is a fantastic spot for any and all who want to enjoy the lovely sights of the Bay. It is a fantastic beach to walk along and wade in, but there is a parking fee and a fee to enter June through September.
On the boardwalk, you'll find a few of Warwick's favorite spots to eat: Iggy's Boardwalk, Iggy's Doughboys and Chowderhouse, and Iggy's Creamery – yum!
Read Next: 15 Best Beaches in Rhode Island for Coastal Bliss
Conimicut Point Park
Conimicut Point Park is a lovely waterfront park that many like to launch their canoes and kayaks from, and an excellent vantage point for seeing the Conimicut Point Lighthouse!
The Conimicut Light has some tragic history associated with it. The isolated and lonely wife of a lightkeeper in the early 20th century poisoned herself and her two children in an attempt to escape this difficult life.
The wife and 2-year-old died, and the 5-year-old survived and was found by his lightkeeper father. The tragedy has imprinted on the community as some have reported hearing a woman's sobs and a child's laughter coming from the light.
Warwick Mall
In the mood for some shopping? Check out Warwick Mall and its many offerings. You'll find shopping mall staples like Aeropostale, Express, JC Penney, and more, but the thing that really makes Warwick Mall special is its gorgeous indoor carousel.
Located in the food court, you can grab a nice lunch and watch as those beauties spin around, or maybe even take a quick spin yourself!
Gamm Theatre
Award-winning Gamm Theatre is the go-to destination for Warwick theatre and has been entertaining the people of Warwick since 1984.
In addition to their fantastic performances of some of the most popular plays of yesterday and today, Gamm Theatre also offers classes and camps.
Gamm Theatre is a Warwick gem.
Warwick Historical Society
The city of Warwick is rich in history, and Warwick Historical Society is the group to teach you more about it!
Guided tours can be arranged to see notable locations around Warwick where history has been made, including seeing the ballroom and attic where militiamen had to train in secret to avoid being tried for treason.
Warwick Historical Society sponsors community events throughout the year, so check out their events calendar, too.
Warwick Lighthouse
The Warwick Lighthouse is also sometimes referred to as Warwick Point Lighthouse or Warwick Neck, and it is Warwick's first lighthouse and was completed in 1826.
Unfortunately, views are partially obscured from land but can be seen in the distance from the other side of the Coast Guard lightkeeper's locked gate.
Read Next: 12 Loveliest Lighthouses in Rhode Island
Pawtuxet Village
Pawtuxet Village is technically located in both Warwick and Cranston, and this idyllic walking district offers fantastic coastal scenery and charm along with great shops and restaurants.
Grab a bite to eat at O'Rourke's Bar and Grill before heading over to see Pawtuxet Falls, one of the prettiest little waterfalls in the state.
Pawtuxet Village is the epitome of understated small-town coastal charm.
Stay at NYLO Providence Warwick Hotel, Tapestry Collection by Hilton
400 Knight Street, Warwick, RI 02886
You've got options for where to stay in Warwick RI, but booking a room with a reputable brand like Hilton means you'll know exactly what to expect!
The NYLO Providence Warwick Hotel is a part of the Tapestry Collection, and it gives off a great industrial meets boutique hotel feel. Amenities include an onsite restaurant and an airport shuttle.
Click Here to Check Prices & Book!
Not only is Warwick a great place to visit, but it's also a great place for easy side trips!
Providence, Newport, Narragansett, and Bristol are all just about a half-hour drive or less away from Warwick, so as you plan your Rhode Island vacation, be sure to look into all the awesome side trips you can make, too!
You might also like: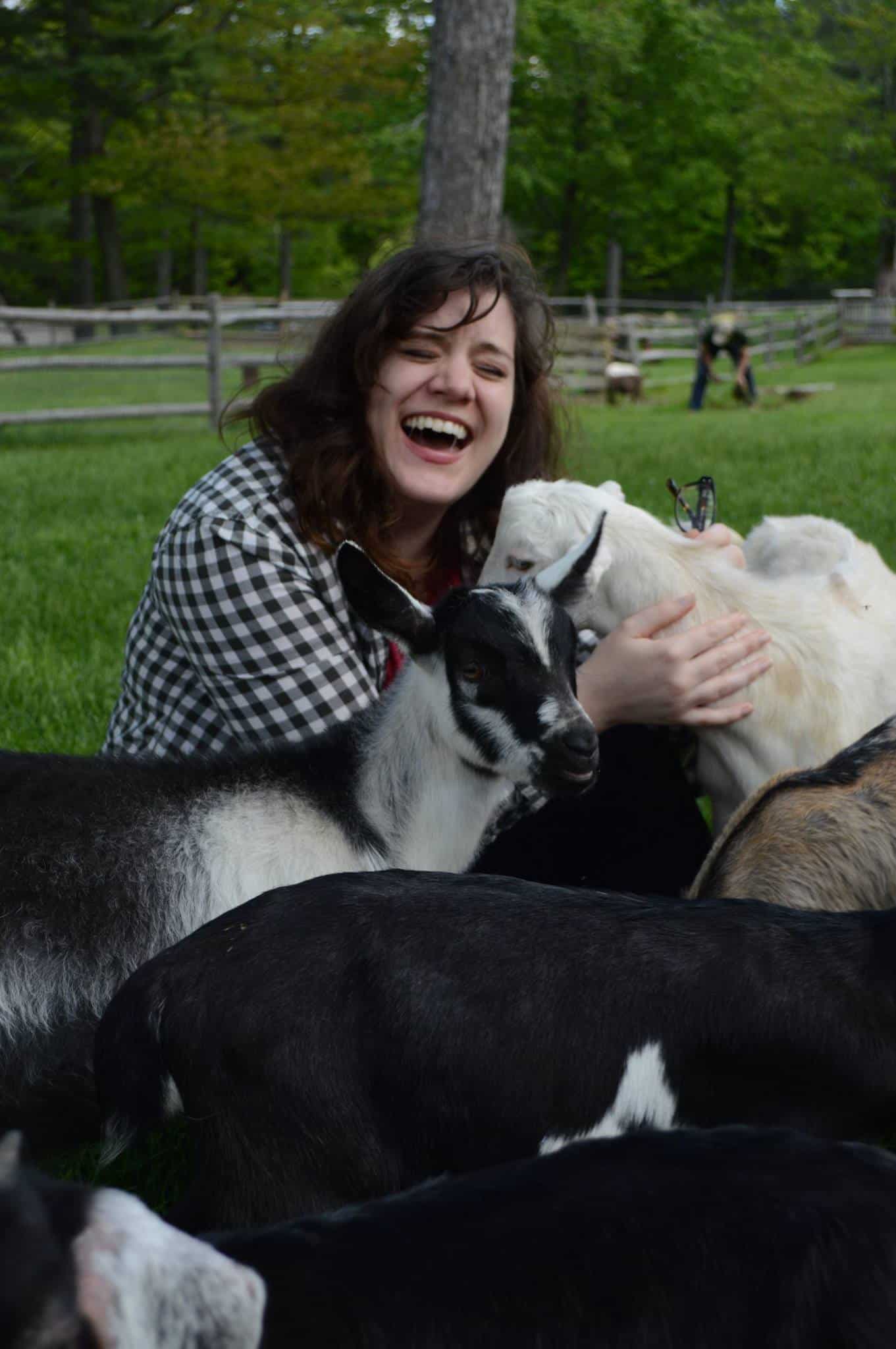 Amy Hartle is the founder and Editor-in-Chief of New England With Love, a comprehensive resource for travel in the New England region. Amy has been exploring New England since 2001. She lived in Vermont for many years and is a graduate of Plymouth State University in New Hampshire. On this site, Amy aims to share her love of New England and help you to have the best possible adventures!
Amy has been writing about travel for over a decade, and is a full time blogger, publishing both Two Drifters and Let's Adventure Baby. When not traveling the world or creating epic blog content, Amy can be found cuddling with her husband, son, and cats, & drinking a maple latte.