Are you in the midst of planning a trip to Tiverton and want to know what fun things there are to do there? Well, you're in luck! There are many amazing things to do in Tiverton RI for all types of travelers.
Located near the water in Rhode Island, Tiverton is a mid-size town that's absolutely beautiful. It's not far from Fall River MA or Newport, making for a great home base to explore other areas of New England.
From fun activities, including swimming or even shopping locally, there are many fun things to do in Tiverton RI. Keep reading to learn more!
Eat at Boat House Waterfront Dining
For a luxurious meal in Tiverton, be sure to stop by Boat House Waterfront Dining. This elegant restaurant is a great spot to go for a celebration or a romantic evening out. Plus, almost every seat has a fantastic view of the nearby Sakonnet River.
This is a more upscale restaurant to eat at, but the food is absolutely incredible. There are soups, salads, sandwiches, and more on the menu. Entrees include everything from grilled filet mignon to baked stuffed lobster. There are even more unique dishes like citrus brined Statler chicken.
The restaurant itself has a very light and airy beachfront feel to it. The entire restaurant consists of neutral colors and simplistic decor, but that truly adds to its beauty and lightness of it.
Kayak at Fogland Beach
One of the best places to kayak (or even swim) near Tiverton is at Fogland Beach. It's a black stone beach, too, and the views there are absolutely incredible. This beach is truly the perfect place to go on a hot summer's day. Note that it can get fairly busy at times, but in the mornings, it's pretty tranquil.
Amenities at Fogland Beach are great and make for an even more enjoyable beach day. There's a playground, lifeguard, showers, picnic tables, concession stands, restrooms, and more. There is a small parking fee each day, but it's lower than what you would find at other New England beaches and is pretty much equivalent to the cost of a cup of coffee.
Note that sometimes there are no swimming signs posted at the beach. If that's the case when you visit, be sure to follow the rules!
Shop Local at The Butterfly Farm
Located a short drive from Tiverton in Lincoln, RI is The Butterfly Farm. This is one of the more unique things to do in Tiverton RI. This farm was founded back in the early 1900s, and visiting it is a super fun way to learn more about farm life.
The farm has a wide variety of different fresh farm items for sale, including veggies and eggs. They do have limited hours throughout the week, but it's still worth stopping by their farm stand. When visiting, be sure to ask about the animals. They just might even introduce you to a few!
Go Bird Watching at the Sapowet Marsh
One of the absolute best spots to go bird watching in all of Rhode Island just happens to be in Tiverton at the Sapowet Marsh. It's over 250 acres large and has a few different birds to be on the lookout for, including the Willet and the Seaside Sparrow.
Many people say that this is genuinely one of Tiverton's hidden gems. It has incredible views, and there's even a little beach that you can visit and look out for shells. Another of the best things to do at the marsh is to go kayaking, which can be super peaceful here compared to other beaches in the area.
Take in the View at Sandy Point Beach
While it's technically located in Portsmouth, Sandy Point Beach is still in the Tiverton area and is one of the most tranquil places to visit in the area. It's one of the lesser-visited beaches in the area because it's a bit smaller.
Even though it's tinier, the view there is absolutely breathtaking. There's nothing better than relaxing on the beach and taking in the view from the sand.
Plus, there are excellent facilities available for anyone who visits Sandy Point Beach. There are showers and changing rooms, among others. Note that there is a small fee to visit unless you're visiting with someone who lives in Portsmouth, as the locals get to visit for free.
Grab Coffee at The Moose Cafe
The best spot to grab a coffee in Tiverton is at The Moose Cafe. This small shop has everything from coffees to ice cream to even sandwiches and is open from the morning all the way to the evening.
The inside of the cafe is very cozy and comfortable, with calming walls. The menu is written on a chalkboard, which adds to the cozy feeling of the atmosphere. There are also ample spots to sit inside.
Their menu is relatively extensive, and for coffee, they have pretty much every kind that you could imagine, plus fun flavors like cliffwalk dark roast or their mooseaccinos. Of course, they also have many food items too, like breakfast sandwiches, bagels, wraps, paninis, and more.
If you have to get any work done while you're here or you happen to be a digital nomad, this can be a great spot to grab some food, a nice cup of coffee, and get to work. Plus, it could be a great opportunity to meet locals and learn more about the area. You might even be able to chat with someone and learn about some hidden gems while they're waiting for their coffee!
Walk, Drive, or Bike the Sakonnet River Bridge
This may seem a bit odd, but one of the must-visit spots in Tiverton Rhode Island is the Sakonnet River Bridge. As the name suggests, the bridge covers the Sakonnet River and connects Tiverton to Portsmouth. It officially opened in 2012!
There is a walkway that goes across the bridge where visitors can walk all the way across it. There's a special feeling that you can have on the walkway while looking out to the river. What's not to love!?
If you'd rather not walk, don't fret. Other options include biking across the bridge or even hopping in the car, or driving across the bridge. Whatever option you choose, you'll truly enjoy the beauty of the river from it.
Explore Weetamoo Woods & Pardon Gray Preserve
Head out to this nature preserve at the Weetamoo Woods & Pardon Gray Preserve to immerse yourself in the outdoors. There are many different trails that go through the preserve that allow you to take in the view of the area.
The most popular trail is the easy Weetamoo Woods Trail. It's about 4.7 miles in length, so it is a bit long, but it gives you the perfect opportunity to see the beauty of this place. It's a loop trail that has around 260 feet of elevation. In winter, many people even cross-country ski on this trail. Other activities throughout the year include horseback riding, mountain biking, and snowshoeing.
Dogs are allowed on most of the trails here as long as they are on a leash. It's also fairly kid friendly. Of course, if you don't want to hike the entire trail, you can also make it an out-and-back route and turn around whenever you want to!
Visit the Tiverton Four Corners
Tiverton Four Corners is a historic area located in Tiverton. It's around 50 acres in size and encompasses a lot of the central area in Tiverton, so it's near impossible to miss. It's definitely worth visiting and exploring any time of year!
Throughout Tiverton Four Corners, there are tons of local shops in quaint and charming buildings that you won't want to miss out on. They range from thrift shops to ceramic studios to antique shops and even small boutiques.
Whether you want to purchase anything or not, it's super fun to pop into these shops and get to know the locals while you're there. During certain times of the year, you can even stop by the Tiverton Farmers Market and support local artisans and vendors.
Relax at Grinnell's Beach
This list of things to do in Tiverton RI wouldn't be complete without mentioning at least one more beach in the area! This is one of the more visited beaches in Tiverton, but it's still worth stopping by.
Grinnell's Beach has many great amenities, including a bathhouse and even a paved walkway that leads onto the Sakonnet River. There are also many different seating areas where you can sit and enjoy the true beauty of Grinnell's Beach while relaxing in the sun!
If you don't want to move much during your trip and want that true summer relaxation, you can even bring your own chair and sit it right in the sand. Take a quick stroll to the water, which may be cold, and dip your toes in! There's no better feeling.
Hopefully, this post has helped you find out all about the best things to do in Tiverton RI! Enjoy your trip and remember that no matter what you do from this list, you'll truly have an unforgettable experience in this beautiful coastal destination.
---
You might also like: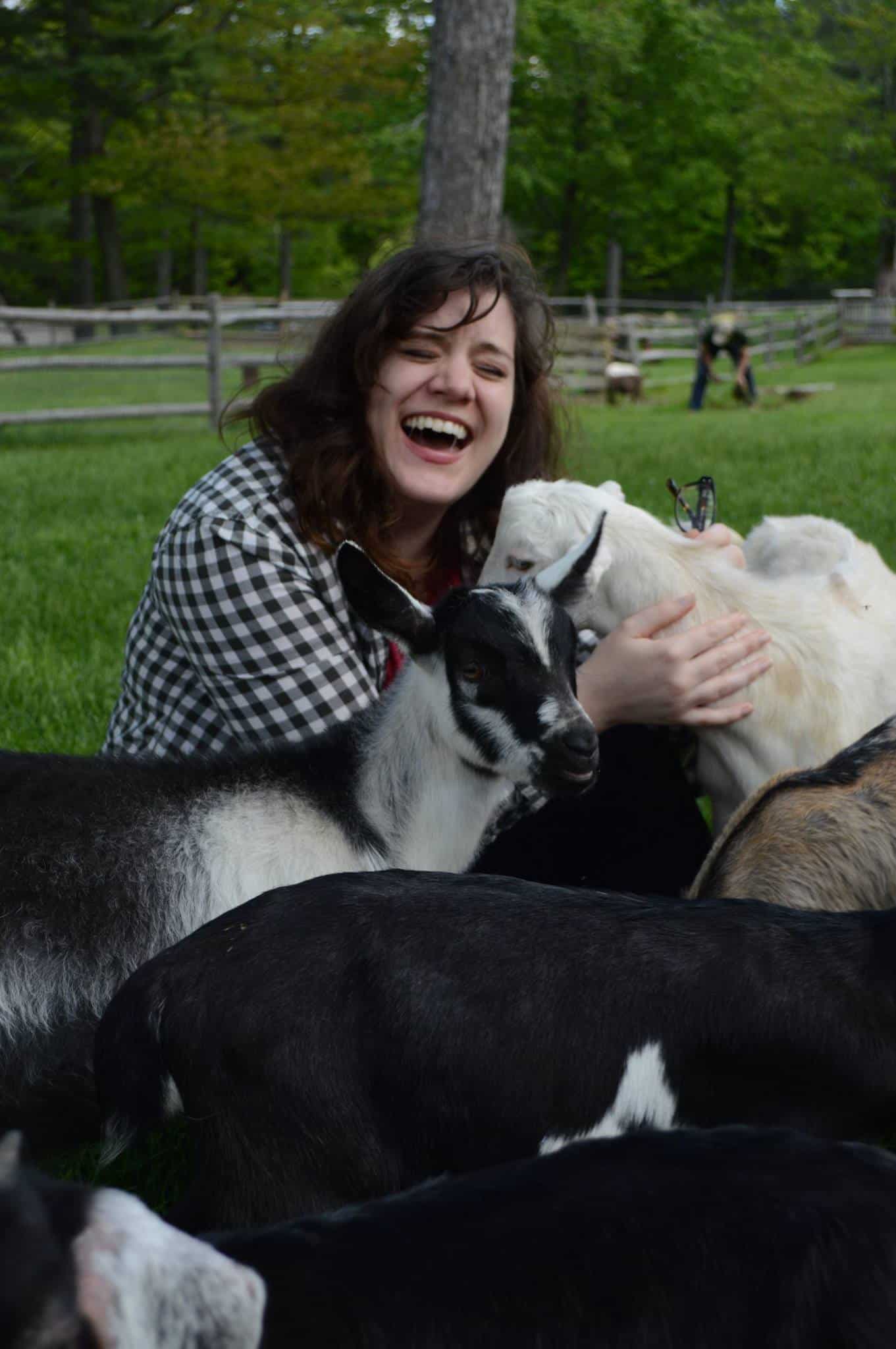 Amy Hartle is the founder and Editor-in-Chief of New England With Love, a comprehensive resource for travel in the New England region. Amy has been exploring New England since 2001. She lived in Vermont for many years and is a graduate of Plymouth State University in New Hampshire. On this site, Amy aims to share her love of New England and help you to have the best possible adventures!
Amy has been writing about travel for over a decade, and is a full time blogger, publishing both Two Drifters and Let's Adventure Baby. When not traveling the world or creating epic blog content, Amy can be found cuddling with her husband, son, and cats, & drinking a maple latte.