---
*Links in this article may be affiliate links, from which we may earn commission. See our
Privacy Policy
for full details.
---
One of the biggest cities in Connecticut, Stamford is full of fun and interesting things to do! Whether you're looking for greenspace to enjoy that cool, coastal breeze or are interested in more indoor activities, you'll find plenty of things to do in Stamford CT.
Stamford Museum and Nature Center
There is something for everyone to love at Stamford Museum and Nature Center. With 118-acres of interesting things to see and do, there's never a dull moment to be found here. Check out the Planetarium and Stamford Observatory for some incredible starry sky views, or focus your attention on the earth at the Heckscher Farm, home to a maple sugar house, barns, gardens, and of course, a whole lotta animals! The Bendel Mansion is the once-private residence, now museum that includes several pieces of artwork and sculpture that were original to the home in addition to all the pieces that have been moved in since. Events, workshops, and classes are regularly held at Stamford Museum and Nature Center, so check in with the events calendar to see what's coming up next.
The Palace Theater
The Palace Theater began as a 1,580-seat vaudeville house in 1927 and was lauded for years as "Connecticut's Most Magnificent" theater. Renovations over the years have restored The Palace to its former glory, with the intricacies of the original design now beautifully on display for all to see.
A variety of performances grace the stage at The Palace, including live theater, dance, opera, art exhibitions, music, and more, and it is also home to various groups such as the Ballet School of Stamford, the Stamford Symphony, and so many more. Be sure to check the events calendar so you can take in a performance at this gorgeous venue during your visit to Stamford!
Cove Island Park
Beautiful Cove Island Park is one of Stamford's most gorgeous parks, with a lovely one-mile walking path, two sandy beaches, a salt marsh, a biking trail, playground, BBQ spots, and more. Home to the Cove Island Wildlife Sanctuary and nature center, over 50 species of butterfly make their home at Cove Island Park. Cove Island Park is a great place to get away from the hustle and bustle of the city and enjoy beautiful waterfront views; Cove Beach North is a fun beach to swim at in the summer months, too, but bring the water shoes… you'll need it for this rocky beach!
The Avon Theatre Film Center
Since opening its doors originally in 1939, the Avon Theatre Film Center has served Stamford as the place to go to get your film fix! Over the years, the Avon Theatre has been the recipient of many ambitious efforts to renovate and restore this theatre to its original glory, and today, the Avon stands strong as an architectural delight that continues to bring in the crowds. Today, the Avon shows culturally significant classics, documentaries, foreign language, and independent films. Check the calendar to see what's playing now at the Avon.
Bartlett Arboretum and Gardens
Beautiful Bartlett Arboretum and Gardens is one of Stamford's most revered greenspaces. This natural preserve covers 93 acres of wildflower meadows, carefully tended gardens, woodland trails, and boardwalks through red maple wetlands. It is also home to a variety of local wildlife and regular community events that encourage all to come out and enjoy this outdoor gem of Stamford. There is no cost to visit the Bartlett Arboretum and Gardens unless you are attending a concert or event.
Stamford Town Center
Located in downtown Stamford, Stamford Town Center has all a person needs for a great day of shopping. With big names like Charlotte Russe, Macy's, Van's, Sephora and so much more, you'll find everything you need… and probably plenty you don't actually need, but still definitely want, at this shopping center! Check out upcoming events to see what's going on at Stamford Town Center next.
Capt. John's Tiki Tours
Get out and enjoy the scenery of Stamford's harbor with Capt. John's Tiki Tours! Take a Tiki Taxi Tour and enjoy the views of Stamford's skyline, waterfront mansions, and more as you enjoy your favorite beverages at the floating tiki bar. Different days have different specials offered, but one thing remains the same: what happens on the tiki taxi, stays on the tiki taxi!
Mianus River Park
Situated on the Stamford/Greenwich border, Mianus River Park is a nature reserve made up of a combined 391-acres, consisting of three official sections: Mianus River Park: 187-acres owned by the city of Stamford; Mianus River and Natural Park: 110-acres owned by the town of Greenwich; and Mianus River State Park, often referred to as Treetops: 94-acres owned by the state of Connecticut. They aren't physically separated and you can enter the park in Stamford and wander to your heart's content along the winding river and forests of this gorgeous space without worrying about what official section you are in.
The Basilica of Saint John the Evangelist
One of the city's historic architectural gems, The Basilica of Saint John the Evangelist is not just a popular local church in downtown Stamford, it also remains an impressive sight to see. Built in 1875, the Basilica is home to one of the largest collections of 19th-century stained glass on the east coast, and its Victorian Gothic style design scheme is a visual delight. Consider planning your visit around sundown to get some lovely photos of its dramatic towers and parapets against a stunning coastal Connecticut sunset.
Third Place by Half Full Brewery
Half Full Brewery is a staple for any New England brewery road trip, and their Third Place location on Pacific Street is a clever combination of brewery and coffee shop, all set in a modern, industrial space that feels comfortably hip. Light snack foods like bagels and donuts are available indoors and a food truck is outside most nights from 5pm on. Games like ping pong are available to keep you entertained while you taste some of Half Full's classics, like Liquid Hoptimism; at Half Full Brewery, the glass that is not half full should be refilled, ASAP!
Cummings Park
Cummings Park is a spacious 79-acre park offering spectacular Long Island Sound views and plenty of space to walk, play, or hang out. The sandy beach is very rocky with a lot of shells, so Cummings Park isn't probably your best bet for walking barefoot in the sand, but it is a lovely place to go spend a little time out in the fresh air. There are restroom facilities, a boardwalk, and a snack bar that is open seasonally. Cummings Park is also connected via marina to West Beach, one of Stamford's favorite beaches for swimming in the Sound! As with most beaches on the Sound, you'll want to bring your water shoes to protect your feet.
Connecticut is full of gorgeous places, charming towns, and great spots to travel to. Now you can add Stamford, Connecticut to your list of places to visit next!
---
You might also like:
---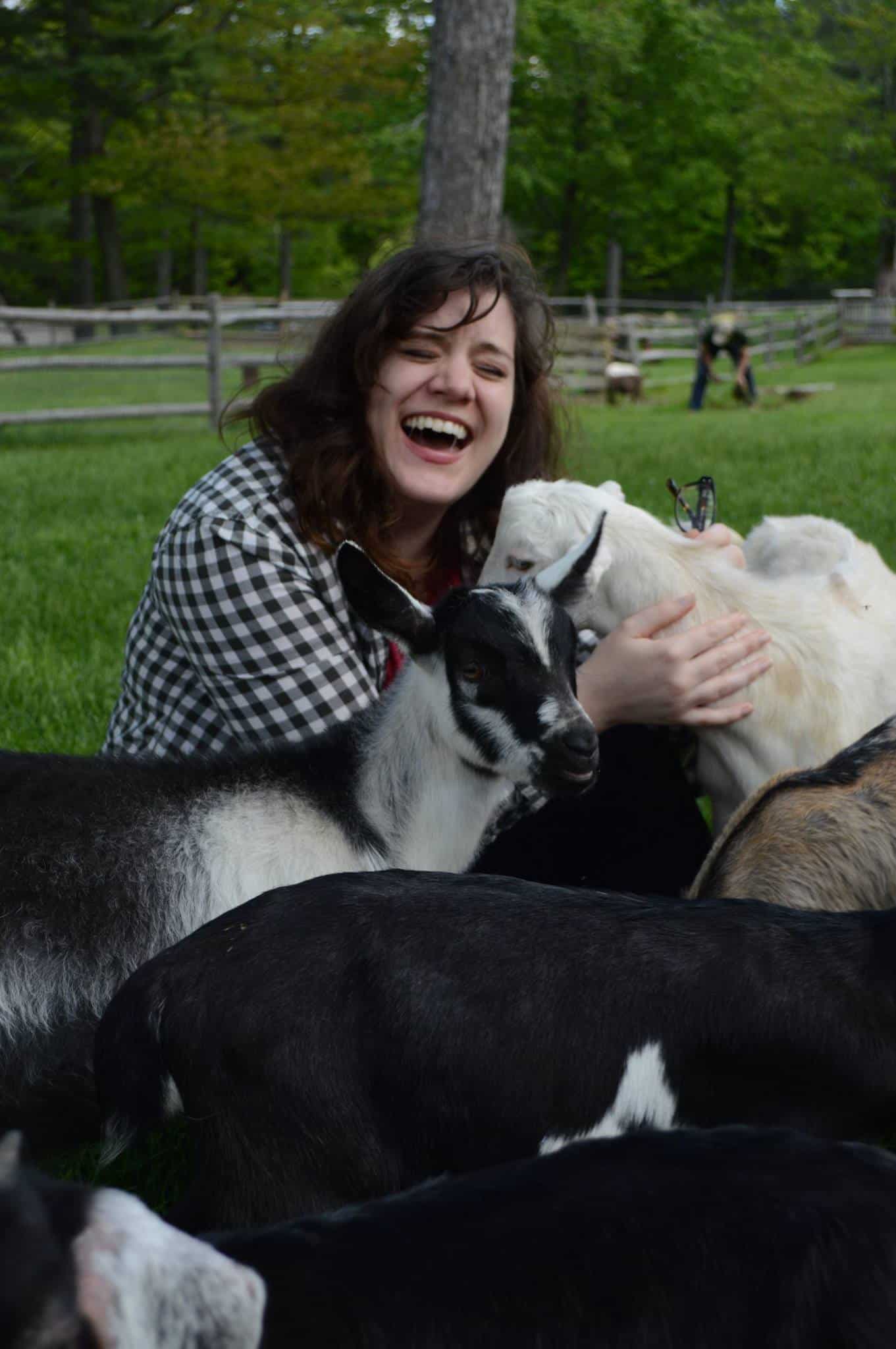 Amy Hartle is the owner and editor of New England With Love, a comprehensive resource for travel in the New England region. Amy lived in Vermont for 15 years, attended Plymouth State University in New Hampshire, and continues to travel regularly around the entire New England region. On this site, Amy aims to share her love of New England and help you to have the best possible adventures!
Amy has been a full time blogger since 2012, and is also the publisher of Two Drifters, where she writes about couples travel and relationships, as well as Let's Adventure Baby, a family travel site. When not traveling the world or creating epic blog content, Amy can be found cuddling with her husband, son, and cats, & drinking a maple latte.