Considering a vacation in Massachusetts? Cape Cod is the perfect place to visit, especially if you're looking for a getaway in New England during the summer. While there are many places around the Cape that you can stay in, Sandwich could be the perfect place for you. Plus, there are so many things to do in Sandwich, Massachusetts!
This small town is Cape Cod's oldest and most historic town, so there are many fun historical attractions. Plus, there are beaches, gardens, museums, and tasty seafood restaurants!
Below, find some of the best things to do in Sandwich Massachusetts.
Things to do in Sandwich Massachusetts
Explore Scusset Beach State Reservation
One of the best things to do in Sandwich, Massachusetts, is exploring Scusset Beach State Reservation. This public area is right along Cape Cod and is filled with significant coastal areas just waiting to be discovered by travelers like yourself.
There are many great things to do within this beach area. You can go cam
ping, swimming, hiking, and even fishing. The best hike here is the Cape Cod Canal Pathway, which is about seven miles long. (Read More: 9 Awesome Cape Cod Hikes and Walks)
There are also beachside areas, and a lifeguard is usually on duty during the hours that the park is open.
Visit the Heritage Museums & Gardens
The Heritage Museums and Gardens is one of the top-visited attractions in all of Sandwich. There are around 100 acres filled with beautiful flowers, plants, and more.
Throughout the gardens, you can also find tons of great birds and other wildlife.
There are quite a few rotating collections and exhibits within the museum, most of which are outdoors. They have had a historic carousel, toy exhibits, and even sculptures about some of the bugs that have been broadly found in the area.
Throughout the year, there are also many different events hosted here, so be sure to check the online schedule and see if you can attend one during your visit!
This gorgeous park is located right along the marina, making it one of the most breathtaking areas in all of Sandwich.
While sitting and relaxing in the park, you can take in the incredible views and watch the boats on the water, which is a peaceful experience. Young children also love doing this, if you're traveling as a family!
The park has been owned by the city since the 1980s and has been a staple among locals and tourists. One of the best things to do in Sandwich, Massachusetts is to purchase some snacks or pack yourself a picnic to eat right in the park.
Don't forget to bring a blanket to sit on!
This building is considered to be one of the oldest houses in all of Massachusetts, so it's one attraction in Sandwich that you won't want to miss out on. The house was built in the seventeenth century, and at one point, a family with thirteen children lived there!
The interior of the house has been completely restored so that when you enter, it feels exactly like you're stepping back in time. You can even find furniture that looks like it's from the seventeenth century.
The house isn't huge compared to most other museums in the area, so you won't need more than an hour or two to explore here.
Have a sandwich in Sandwich at Cafe Chew
What better way to celebrate being in Sandwich than by eating a sandwich? Cafe Chew is known for having some of the best easy meals for lunch and dinner in all of Sandwich. They also have an abundance of outdoor seating, which is perfect if you're visiting during the summer months.
The main item on the menu is sandwiches, for both breakfast and lunch. They even have paninis if you want a warm one!
If you're not a huge fan of sandwiches, then don't worry. Their menu is filled with many other great dishes, like bagels, croissants, salads, and more. Prices are mid-range for every meal.
Bike the Shining Sea Bikeway
The Shining Sea Bikeway is a rather unique trail that goes through a few towns in Cape Cod, but mainly through Falmouth. This means the trail is only a short drive from Sandwich.
Historically, it used to be a railroad but has since been paved over and become a popular trail.
The trail is rather long and is just shy of eleven miles, which is why it's mainly used for biking. Along the trail, you'll be taken through epic views and lots of greenery and eventually end up near the water at the end of the trail.
If you're not traveling to Sandwich with a bike, don't worry; there are places that you can rent them in the area for affordable prices.
Read Next: 25+ Things to Do on Cape Cod (Besides the Beach!)
Relax at Sandy Neck Beach
The main beach to relax at in Sandwich is Sandy Neck Beach! This beautiful beach has tons of areas for you to layout in the sun on the sand while looking out at the beautiful blue ocean. The beach covers approximately 4700 acres!
There are many great things to do at the beach. You can go fishing, swimming, and even paddleboarding. There are also areas to go camping if you want to spend the night near the water.
If you like biking or horseback riding, there are also some companies here that will allow you to do that as a tour.
Learn at the Sandwich Glass Museum
Visiting the Sandwich Glass Museum is one of the most unique things to do in Sandwich, Massachusetts! This museum opened in the nineteenth century and is filled with tons of exhibits all about the rare glass in the area. There aren't many museums like this!
The main attraction inside the museum is the demonstrations on how to do glass blowing. Watching someone trained in this art is truly mesmerizing and will take your breath away!
Like other museums in the area, this museum also hosts many events throughout the year, so it's worth checking their event schedule when you're planning your trip.
Visit the Sandwich Public Library
One of the best things to do when visiting a place is to check out some of the free attractions they have, like their libraries! The Sandwich Public Library is the perfect place to meet some locals.
Librarians are always so helpful when it comes to learning more about history in the area. You may even find out about a local hidden gem worth checking out!
Libraries also hold a multitude of events. Plus, they're a great place to go hang out and explore if the weather takes a turn during your visit. This can be a great place to visit whether you're a bibliophile or not.
Walk the Sandwich Boardwalk
The Sandwich Boardwalk is a historic landmark in Sandwich that you won't want to miss out on. It was built in the nineteenth century when it was first constructed, but it has gone through lots of renovations over the years so that it could keep up and survive with different weather conditions.
It's considered one of Sandwich's best viewpoints because it's in such a serene area. From standing on the boardwalk and looking out, you can see out to the nearby area as well as the beautiful body of water. What's not to love?
The boardwalk has even been ranked as one of the best boardwalks in the country before by National Geographic!
Drive Old King's Highway
Old King's Highway is one of the best drives to do in the area. It starts in Sandwich and goes through many other great places along the Cape, including Barnstable, Yarmouth, Dennis, and Brewster. It ends around Orleans.
If you want to explore more great towns in the area, then this is the perfect way to do it. Not only is the drive beautiful, but you'll easily be able to visit some of the best surrounding towns, each of which has its own unique attractions. This is truly one of the best day trips that you can do while visiting Sandwich!
Eat seafood at The Pilot House
No trip to Cape Cod is considered successful unless you try the seafood at least once! Arguably, the best place to get seafood in Sandwich is at the Pilot House Restaurant and Lounge. They have mid-range pricing and are a favorite among locals and tourists, which is how you know they're good!
The Pilot House is open for both lunch and dinner and offers a wide variety of entrees. The menu consists of meals including oysters, shrimp, calamari, scallops, tuna, crab, and more.
There are also seafood platters if you want to try a little bit of everything!
Cape Cod Canal Visitor Center
The Cape Cod Canal Visitor Center is a fun, family friendly, and free option to learn about the rich history and operation of the Cape Cod Canal.
The museum at the visitor center offers interactive exhibits for all ages, so it's a great option for families. You'll also be able to board and explore the 40-foot RENIER patrol boat!
Dexter Grist Mill
Looking for a historical and incredibly picturesque site to visit? Dexter Grist Mill is one of the most photographed sites on Cape Cod.
The mill was built in the 1600s, is still operational, and has all the historical charm you would expect. You can purchase freshly ground cornmeal packaged in cloth bags as a souvenir to take with you and to make recipes at home.
McDermott Glass Studio
McDermott Glass Studio allows you the unique experience to see the art of live glassblowing and learn more about the process.
They have many of their bold imaginative art pieces for sale in the gallery as well if something catches your eye. Definitely an experience worth your time!
—
Hopefully, this post has helped you plan your next trip to Sandwich, Massachusetts! There are so many fun things to do there, no matter the time of year. Plus, Sandwich is also a great home base if you plan on exploring more great attractions in the area.
---
You might also like:
---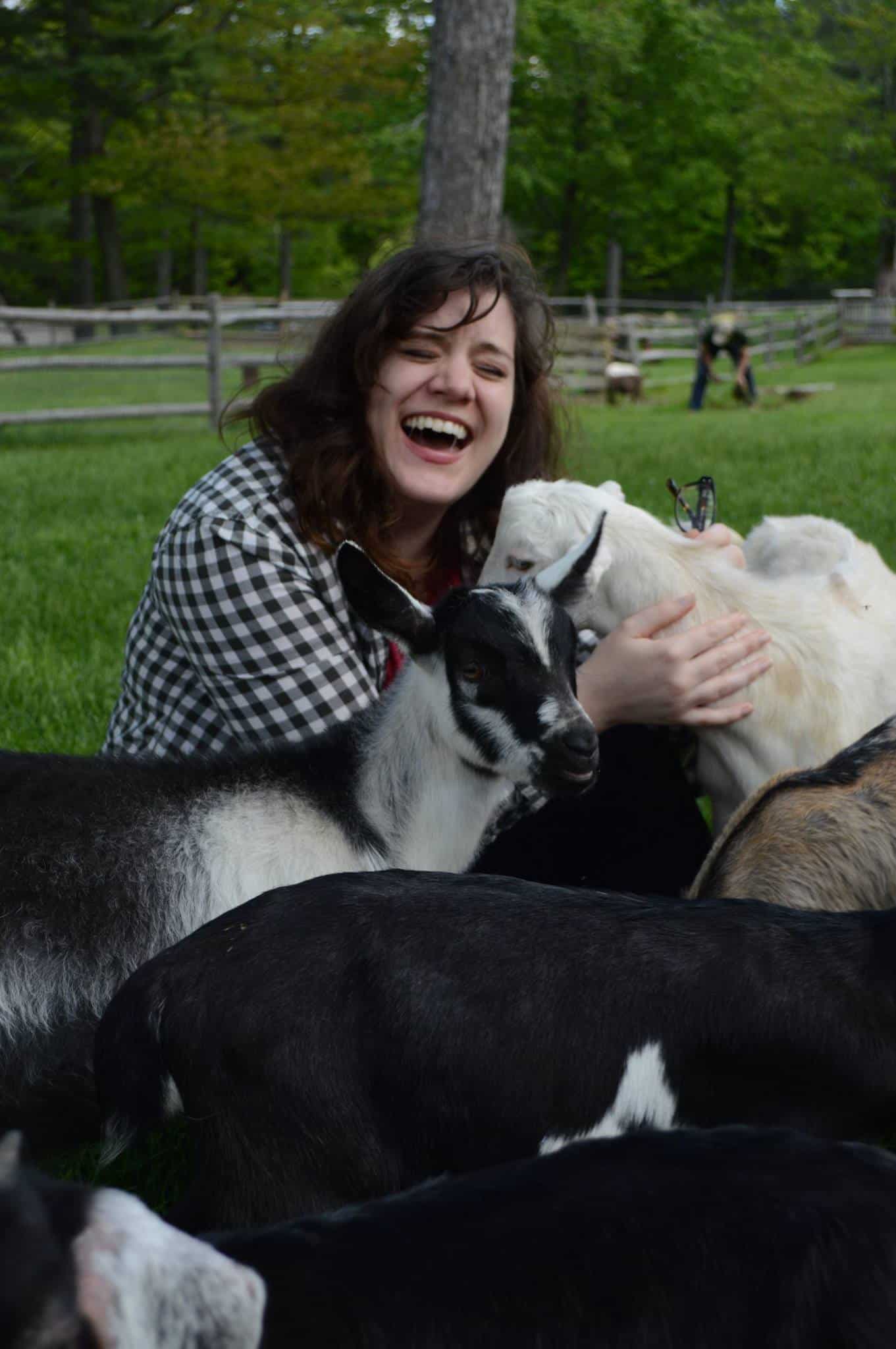 Amy Hartle is the founder and Editor-in-Chief of New England With Love, a comprehensive resource for travel in the New England region. Amy has been exploring New England since 2001. She lived in Vermont for many years and is a graduate of Plymouth State University in New Hampshire. Amy has been writing about travel for over a decade. On this site, Amy aims to share her love of New England and help you to have the best possible adventures!
Amy has been a full time blogger since 2012, and is also the publisher of Two Drifters, where she writes about couples travel and relationships, as well as Let's Adventure Baby, a family travel site. When not traveling the world or creating epic blog content, Amy can be found cuddling with her husband, son, and cats, & drinking a maple latte.